United States Hockey League (USHL)
USHL Season Preview: Eastern Conference Team Outlooks, Players To Watch
USHL Season Preview: Eastern Conference Team Outlooks, Players To Watch
USHL writer Jordan McAlpine previews the league's Eastern Conference.
Sep 20, 2022
by Jordan McAlpine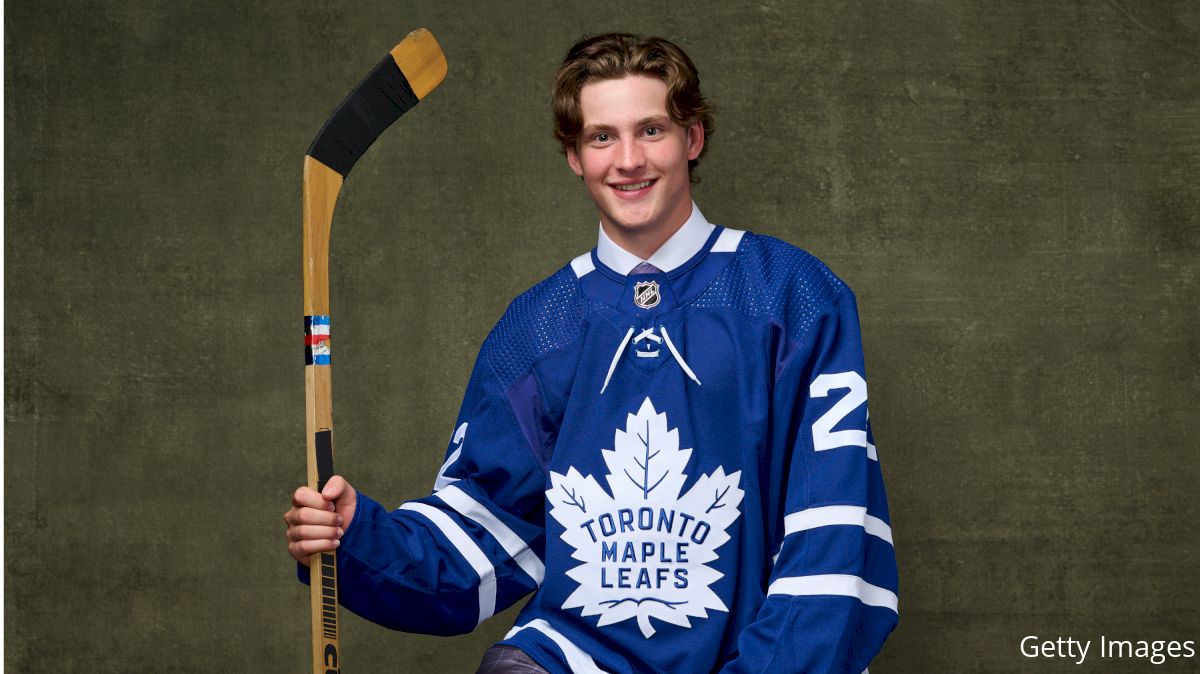 The 2022-23 USHL season begins Thursday at the DICK's Sporting Goods USHL Fall Classic near Pittsburgh, Pa. All 16 teams will play their first two regular-season games at the UPMC Lemieux Sports Complex as part of the league's annual season-opening showcase.
To help get you ready for the Fall Classic and the season ahead, FloHockey's USHL writer Jordan McAlpine is here to share a little bit about each team and a few players per team to watch.
As we continue our season preview series, here is a look at the eight teams that make up the Eastern Conference with teams listed by the order they finished the 2021-22 regular season in.
Chicago Steel
2021-22 Record: 39-13-9-1 (1st in East Division, lost to Madison in first round, 2-1).
2022-23 Outlook: It's one of the USHL's younger rosters, but head coach Mike Garman has a ton of skill and some experience to work with. And he's hoping the young bucks can lead the Steel to a repeat of last season - only this time with a deeper playoff run. Chicago's roster won't be short of talent with the likes of Macklin Celebrini, Nick Moldenhauer, Michael Hage and Jayden Perron up front. Along with Jake Livanavage on the back end. And after finishing the 2021-22 season with 39 regular-season wins, the talent is there to top that number this winter.
Players to watch
Macklin Celebrini (BU, 2024 Draft eligible): Arguably the top player in the 2024 NHL Draft class, the 16-year-old joins Chicago after putting up 117 points in 52 games at Shattuck St. Mary's. Steel fans were spoiled last season getting to watch Adam Fantilli and Jackson Blake on a nightly basis. However, they might be in for an even bigger treat with Celebrini.
Nicholas Moldenhauer (Toronto 2022 3rd round pick - 95th overall): One of Chicago's top returning and most talented forwards, Moldenhauer (pictured above) had 43 points (18 goals, 25 assists) in 41 games during his rookie season. The Ontario native added another goal and an assist in the playoffs, is back healthy and ready to go for a full season in the USHL.
Dubuque Fighting Saints
2021-22 Record: 40-16-3-3 (2nd in East Division, lost to Muskegon in first round, 2-0).
2022-23 Outlook: Dubuque finished last season with the most regulation wins in the east division. However, it'll be interesting to see how the Fighting Saints fare this winter as first-year head coach Kirk MacDonald takes over nearly an entirely new roster. But there's an influx of youth, plus the addition of both Ryan and Lucas St. Louis. Paxton Geisel returns between the pipes, too, bringing experience to the net Some expected the Fighting Saints to take a step back, but it wouldn't be a surprise if Dubuque is once again battling for one of the top spots in the east.
Players To Watch
Ryan St. Louis: The son of an NHL great, Martin St. Louis, Ryan played in 38 games at Northeastern last season. But he opted to return to the USHL, where he played for two seasons with the USNTDP. He's also reunited with his brother, Lucas, who will be on Dubuque's blue line this year. St. Louis got off to a strong start in Dubuque red and white with a pair of goals in his first weekend of preseason play with the Saints.
Paxton Geisel (Denver): The Denver commit was kept busy this summer as he attended the Colorado Avalanche development camp. Geisel played in 40 games for Dubuque last season and earned a spot on the USHL's All-Rookie Team. He stopped 1,058 of the 1,179 shots he saw, finishing with a .897 save percentage and 3.13 goals-against. He'll now look to build off that and head into this year as one of the league's top returning goaltenders.
Muskegon Lumberjacks
2021-22 Record: 33-23-3-3 (3rd in East Division, lost to Madison in second round, 3-2).
2022-23 Outlook: The Lumberjacks put up a strong fight against Madison last spring and ultimately fell one win short of advancing to the Clark Cup finals. But some of that playoff experience is back, two of them now as NHL picks, and Muskegon has added one of the USHL's top young talents in Sacha Boisvert. Expect the Lumberjacks to build off that and make a strong push in the East Division.
Players To Watch
Sacha Boisvert (North Dakota, 2024 Draft eligible): The UND commit put up an impressive 51 goals and 94 points in 56 games last season with Mount St. Charles U15 AAA. Boisvert heads into his rookie USHL season with a lot of promise and the 2006-born center should be a big part of Muskegon's offense.
Jake Richard (UConn, Buffalo 2022 6th round pick - 170th overall): Richard played in 56 games for the Lumberjacks last season and was a plus-10. The winger also had a solid rookie season offensively, scoring 18 goals and 30 assists. He'll be one of Muskegon's top returners and he also comes into this season as an NHL pick.
Youngstown Phantoms
2021-22 Record: 29-23-6-4 (4th in East Division, lost to Madison in qualifying round, 2-0).
2022-23 Outlook: It seems like a trend, but the Phantoms will also have a new head coach in Ryan Ward. Youngstown's roster is young, but the Phantoms have been active on the trade market all summer, highlighted by the addition of Andrew Strathmann and Jack Wilson on defense. Youngstown's roster also will boast several NHL draft picks to start the year in Lachance, Reese Laubach (San Jose Sharks), James Fisher (Columbus Blue Jackets) and Michael Fisher (San Jose Sharks), and potential future picks in Strathmann and goaltender Jacob Fowler. The pieces are in place, now it's a matter of seeing how that potential performs.
Players To Watch
Andrew Strathmann (North Dakota commit, 2023 Draft eligible). Strathmann was amongst the USHL's best rookie defensemen last season as he had 23 points and was a +13 for Tri-City. That earned him a spot on the USHL's All-Rookie First Team. The North Dakota commit was traded to Youngstown in July and will be a fixture on Youngstown's top pair and power-play unit this season.
Shane Lachance (BU commit, Edmonton Oilers 2021 6th round pick - 186th overall). The Youngstown captain scored 11 goals in 55 games last season and had seven power-play goals, which ranked second on the team. The 6-foot-5 winger brings experience and leadership, which will be key on a young Youngstown roster.
Madison Capitols
2021-22 Record: 30-29-3 (5th in East Division, lost to Sioux City in the Clark Cup Finals, 3-1).
2022-23 Outlook: Madison made an improbable run through the playoffs last year, knocking off top-seeded Chicago. The Capitols made it all the way to the finals where they ultimately fell short against Sioux City. For those who return from last year's group, that taste of postseason success could be huge. But the Madison roster has a drastically different look and a new head coach in Corey Leivermann. Losing veteran goalie Simon Latkoczy will be a huge blow, but Mason Kucenski has a year of USHL experience under his belt. His play between the pipes will be key.
Players To Watch
Quinn Finley (Wisconsin commit, New York Islanders 2022 3rd round pick - 78th overall): Finley only played in 39 games last season, but he did make an impact, scoring 12 goals and adding 17 assists. He also came up big in the playoffs where he had five goals and five assists. The New York pick is hoping for a big season in the USHL before moving across town to the University of Wisconsin.
Jack Musa (BU commit): On a team that lost a lot of its scoring punch, Musa does bring back 19 goals, which was tied for fourth on the Madison roster last season. Musa played in 57 regular-season games last year, finishing with a line of 19-16-35. He added another seven goals in 14 playoff games - including a pair of game-winners - which led Madison in the postseason.
Cedar Rapids Roughriders
2021-22 Record: 29-29-2-2 (6th in East Division, lost to Muskegon in qualifying round, 2-0).
2022-23 Outlook: The RoughRiders were the final east division team to make the playoffs last season, but Cedar Rapids was swept by Muskegon in the opening round. However, Mark Carlson's group returned some key pieces and did well in the USHL draft. Cedar Rapids might not have the NHL picks and firepower of a Chicago per se, but their depth is always a strength.
Players To Watch
Brendan Fitzgerald (New Hampshire commit): Fitzgerald brings back the most points on the Cedar Rapids roster with 31 (5 goals, 26 assists). The defenseman skated in 58 games last season and he also comes from a big hockey family. His father, Tom, is the New Jersey Devils general manager and his brothers Casey and Ryan both play professionally.
Bruno Bruveris: Bruveris is back for his second USHL season, but he heads into this one with a wealth of international experience and success. Bruveris stood on his head this summer in Edmonton and was named one of Latvia's three best players at the World Junior Championships. Bruveris, along with fellow Latvian, Martins Lavins, helped lead a Latvian team to the quarterfinals for the first time in World Junior history. Now the two will try to lead Cedar Rapids to success this season.
United States National Team Development Program
2021-22 Record: 27-29-5-1 (7th in East Division, missed playoffs).
2022-23 Outlook: Another year, another talented roster. That's the story for the U-18's and there's a lot to be excited about, especially at forward with Will Smith, Ryan Leonard, Charlie Cerrato, Oliver Moore and Gabe Perreault - the list keeps going. They also should have a reliable goaltender this season in Michigan State commit Trey Augustine.
The NTDP is composed of two teams, both an under-17 and under-18. Both play in the USHL, but split the schedule, with the U17s taking most of the games and the U18s playing a mixed schedule that also includes Division I and III college hockey programs. Their records are combined as one in the standings and the team is eligible to make the USHL playoffs, though they fell just shy last season.
Players To Watch
Will Smith (Boston College commit, 2023 Draft eligible): Considered a first-round pick by many next summer, Smith is one of the top prospects in the USNTDP. The BC commit had 37 points in 35 games with the U-17 team and another 27 points in 28 games with the U-18's last season. Smith will slot in as the U-18's top center this season and make no mistake, scouts will be watching.
Ryan Leonard (Boston College commit, 2023 Draft eligible): A fellow BC commit, Leonard has also been getting a lot of buzz as a potential first-round pick next summer. And in the preseason, he's showing why. Leonard started his 2022-23 campaign with a four-goal game. He suited up for both the U-17 and U-18 teams last season and scored five goals at the IIHF World Under-18 Championship last spring.
Green Bay Gamblers
2021-22 Record: 23-34-3-2 (8th in East Division, missed playoffs).
2022-23 Outlook: Green Bay finished last season with the third-fewest wins in the USHL, 23, and finished at the bottom of the East Division. The Gamblers hit the reset button this summer, starting at the top with new head coach Mike Leone. However, it's a young roster and there isn't a ton of USHL experience. Perhaps the Gamblers can build some early-season momentum and be a surprise in the east. They closed out the preseason with a 4-2 win over Madison.
Players To Watch
Barrett Hall (St. Cloud State commit, Seattle 2022 6th round pick - 164th overall): The lone NHL pick on Green Bay's roster, Hall enters his USHL rookie season off a 55-point campaign in 25 games at Gentry Academy (Minn.). Hall also played in 19 games with the NAHL's Minnesota Wilderness and had 20 points (5 goals, 15 assists).
Jayson Shaugabay (Minnesota Duluth commit, 2023 Draft eligible): An intriguing prospect for the upcoming draft, Shaugabay had 81 points for Warroad High School last season. He also appeared in nine games with the Gamblers in 2021-22, but did not record a point. Still, his offensive abilities are well known and give him a great chance to hear his name called by the NHL. Shaugabay is expected to start the season with Green Bay, but may go back to Warroad, as is a common practice among many Minnesota high school players with ties to the USHL.