United States Hockey League (USHL)
USHL Season Preview: Western Conference Team Outlooks, Players To Watch
USHL Season Preview: Western Conference Team Outlooks, Players To Watch
USHL writer Jordan McAlpine previews the league's Western Conference.
Sep 19, 2022
by Jordan McAlpine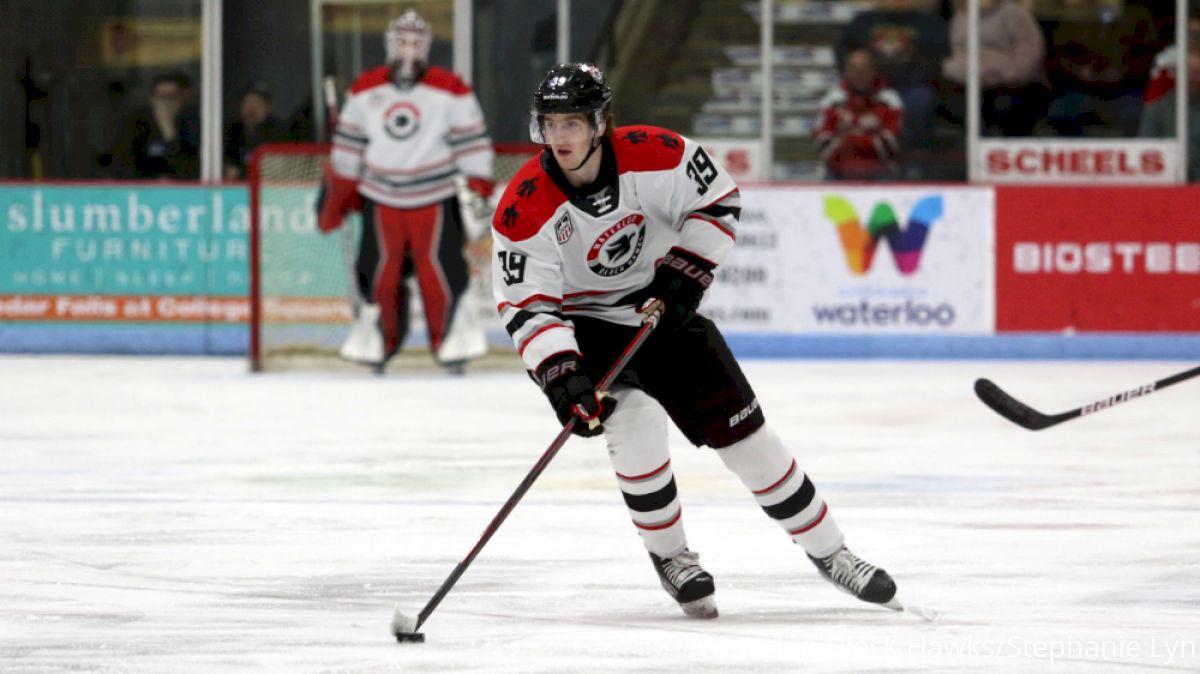 The 2022-23 USHL season begins Thursday at the DICK's Sporting Goods USHL Fall Classic near Pittsburgh, Pa. All 16 teams will play their first two regular-season games at the UPMC Lemieux Family Sports Complex as part of the league's annual season-opening showcase.
To help get you ready for the Fall Classic and the season ahead, FloHockey's USHL writer Jordan McAlpine is here to share a little bit about each team and a few players per team to watch.
We start our season preview series with the eight teams that make up the Western Conference with teams listed by the order they finished the 2021-22 regular season in..
Tri-City Storm
2021-22 Record: 47-11-3-1 (1st in West Division, lost to Sioux City in second round, 3-0).
2022-23 Outlook: If there's one word to describe the Tri-City Storm in recent years, it's consistent. The Storm won the Anderson Cup last season with 47 wins and were upended in the Western Conference Finals by Sioux City. But the Storm do return a lot of talent and have only added more young talent to the fold. If there's a question surrounding Anthony Noreen's team, it's the goaltending position - as Tri-City will look to fill the void of USHL Goaltender of the Year Arsenii Sergeev. But look for the Storm to once again be a factor in the west.
Players To Watch
Tanner Adams (Providence commit, 2023 Draft eligible): One of the USHL's top 2023 NHL draft-eligible players, Adams is back for his second season with the Storm. He skated in 62 games in 2021-22 and had 12 goals and 20 assists. His 12 goals were ninth on the Tri-City roster and he was also a plus-21. Now he's hoping to build off a strong rookie season and further improve his draft stock.
Tanner Adams with a huge goal on the doorstep for Team USA #HlinkaGretzkyCup pic.twitter.com/3L6os7pWof

— Spoked Z (@SpokedZ) August 3, 2022
Daimon Gardner (Clarkson commit, Vancouver 2022 4th round pick - 112th overall): Gardner played in just 14 USHL games last season - seven with Omaha and seven with Tri-City. But the Clarkson commit has been one of Tri-City's top players in the preseason and is poised for a strong 2022-23 campaign. Gardner also played a chunk of last season at Warroad (Minn.) High School where he had 83 points in 30 games.
Sioux City Musketeers
2021-22 Record: 41-16-4-1 (2nd in West Division, Clark Cup Champions, 3-1 over Madison).
2022-23 Outlook: The Musketeers would love nothing more than to defend the Clark Cup this winter, but Sioux City will have a much different look in 2022-23. It starts at the top with Jason Kersner taking over for Luke Strand behind the bench. The Musketeers lost a lot of offense in Owen McLaughlin, Dylan James and Ben Steeves. But there's a new crop of talent and the Musketeers seem to reload every year.
Players To Watch
Garrett Brown (Denver commit, Winnipeg 2022 4th round pick - 99th overall): Brown skated in all 62 regular-season games last year as a rookie. The Denver commit finished the year a plus-9, while adding four goals and 12 assists. Brown was picked by the Jets this summer and is back in Sioux City for year two, where he'll be one of the Musketeers' top defensemen.
Garrett Brown
Round 4
Pick 99 @NHLJets @Musketeerhockey #WhosNext pic.twitter.com/JlHZzR1OdF

— USHL (@USHL) July 8, 2022
Max Strand (Vermont commit, undrafted): Luke Strand might be gone from behind the Musketeers' bench. But there will be another Strand – no relation – in Sioux City this season as Max will join the Musketeers. The Vermont commit racked up 78 points (36 g, 42 a) in 27 games at Roseau High School and was named Minnesota's Mr. Hockey. He then added another 14 points in 16 games with the NAHL's St. Cloud Norsemen.
Lincoln Stars
2021-22 Record: 35-20-3-4 (3rd in West Division, lost to Waterloo in qualifying round, 2-1).
2022-23 Outlook: The Stars bring back one of the more experienced rosters in the USHL and were also active in the trade market this summer. Having a second-year goaltender in Cameron Whitehead brings optimism between the pipes and he'll have a solid defensive corps in front of him. Lincoln was upset by Waterloo in the playoffs last year and one would think that will only fuel this Stars team in 2022-23.
Players To Watch
Cameron Whitehead (Northeastern commit, Vegas 2022 4th round pick - 128th overall): It starts from the net out and although losing Kaidan Mbereko hurts, the Stars are optimistic Whitehead can carry the baton between the pipes. The Golden Knights pick is back for his second year in Lincoln after playing in 31 games last season. Whitehead finished his rookie year with a 16-8-4 record, .892 save percentage and 3.19 goals-against average.
Cameron Whitehead has that "Just Drafted" smile 😃 pic.twitter.com/Jz9whtA6Dh

— Vegas Golden Knights (@GoldenKnights) July 8, 2022
Mason Marcellus (Quinnipiac commit, undrafted): Marcellus is one of Lincoln's top returning scorers as he finished the 2021-22 season with a 10-36-46 line in 62 games. The Ontario native picked up right where he left off too, as Marcellus netted a power-play goal in the Stars' preseason opener.
Omaha Lancers
2021-22 Record: 30-26-4-2 (4th in West Division, lost to Tri-City in first round, 2-0).
2022-23 Outlook: What a difference a year makes for the organization. A tumultuous 2021-22 campaign that saw multiple coaching changes has given way to more optimism with new ownership and a familiar face behind the bench. David Wilkie is back as head coach after not coaching at all last season, which may bring a sense of normalcy around the organization. On top of that, Omaha's roster has a good mix of experience and talent heading into this season.
Players To Watch
Alex Bump: (Vermont commit, Philadelphia 2022 5th round pick - 133rd overall): One of three NHL picks on the Omaha roster (along with Nate Benoit, Minnesota, and Chris Romaine, Colorado), the left-shot winger has a lot of talent. Bump racked up 83 points in 31 games at Prior Lake (Minn.) High School last season and played in another 27 games with the Lancers. He scored 11 USHL goals in that stretch and is poised to top that number this winter.
Have a day Alex Bump ….4th player to score 5 goals in one state tournament game …. The number 48 ranked player in NA by NHL central scouting likely just leapfrogged a few spaces after that performance pic.twitter.com/QJulymGQIS

— Mark Hodgins (@markghodgins) March 11, 2022
Charlie Lurie (Omaha commit, undrafted): Lurie is back for his second full season in the USHL but his first with the Lancers. The Minnesota native was traded from Fargo to Youngstown last January and finished the season with 15 goals and 24 assists in 61 games. Lurie was dealt again in July and now finds himself blocks away from the place he'll potentially call home for the next four years.
Fargo Force
2021-22 Record: 28-28-4-2 (5th in West Division, lost to Omaha in qualifying round, 2-0).
2022-23 Outlook: Another team with a new head coach this season (Nick Oliver), the Force return some of the most players in the league. The two biggest pieces of the puzzle being Knuble and Link. And especially with those two leading the charge up front and the talent on the blueline, Fargo will be a team for USHL fans to keep an eye on this season.
Players To Watch
Cole Knuble (Notre Dame commit, undrafted): Knuble is one of Fargo's top returning skaters and will once again be a big part of the Force offense. The Notre Dame commit found the back of the net 20 times last season and also chipped in 29 assists.
Forehand, backhand, back of the net! @c_knubz22 shows off the mitts!#BAAG | @BioSteelSports pic.twitter.com/wH4ncBbCpg

— USA Hockey (@usahockey) January 17, 2022
Bret Link (Colorado College, undrafted): The right-shot winger led Fargo in scoring last season with 50 points (20-30-50) and will occupy the right side of Fargo's top line alongside Knuble. All Link has seemingly done the last two years is score. The Alaska native had 22 goals and 40 points in 2020-21 with the Fairbanks Ice Dogs in the NAHL.
Waterloo Black Hawks
2021-22 Record: 28-30-3-1 (6th in West Division, lost to Sioux City in first round, 2-1).
2022-23 Outlook: Waterloo's roster is amongst the deepest in the league, especially with the talent that Rinzel, Schifsky and Keith McInnis bring. But the roster is also balanced overall. The Blackhawks made a playoff run last spring and were ultimately eliminated by Sioux City, who went on to win the Clark Cup. They're hoping to go on a similar run this season and they have the talent to do so.
Players To Watch
Sam Rinzel (Minnesota commit, Chicago 2022 1st round pick - 25th overall): Rinzel was a first-round pick for a reason and he's amongst the most talented skaters in the USHL. Especially considering his size and skating ability. The Minnesota native got a taste of the USHL last season as he played 21 games for Waterloo. But he's back for a second season.
The pick is in! pic.twitter.com/UkDWQTWfOf

— Chicago Blackhawks (@NHLBlackhawks) July 8, 2022
Emmett Croteau (Clarkson commit, Montreal 2022 6th round pick - 162nd overall): Also back for another USHL season, Croteau will be back between the pipes for Waterloo. The 6-foot-4 goaltender finished last season with a 16-16-3 record, .899 save percentage and 3.00 goals-against, while showing enough upside for the Canadiens to draft him. Croteau pitched a 19-save shutout to grab Waterloo's first win of the preseason.
Sioux Falls Stampede
2021-22 Record: 19-37-3-3 (7th in West Division, missed playoffs).
2022-23 Outlook: After missing the playoffs for just the seventh time in franchise history, the Stampede will try to get back there next spring. Sioux Falls has a young roster and a new head coach in Eric Rud, but the preseason has treated the Stampede well so far. If that success carries over to the regular season and their young forwards have a good year, Sioux Falls could snap that playoff drought at two years.
Players To Watch
Will McDonough (Harvard commit, 2023 Draft eligible): McDonough played in 26 games with the Stampede last season and netted three goals. He picked up five points in his final five games of the season and will try to pick up where he left off this season, perhaps with some newfound confidence after representing the U.S. at the Hlinka-Gretzky Cup.
Will McDonough with the takeaway at one end and finish at the other. 5-1 USA #HlinkaGretzkyCup pic.twitter.com/4wcQ4AWXNp

— Spoked Z (@SpokedZ) July 31, 2022
Jaksen Panzer (North Dakota commit, undrafted): The Grand Forks native played in 18 games for the Stampede last year. Panzer netted three goals in his first USHL season and had six points over his final seven games. But the UND commit hopes to take another step this season before heading north to play collegiately in his hometown.
Des Moines Buccaneers
2021-22 Record: 18-39-3-2 (8th in West Division, missed playoffs).
2022-23 Outlook: It's a regrouping year as Des Moines looks to reach the playoffs after falling short last season. The Buccaneers finished last season with the USHL's worst record and it's been a summer of change, especially on Matt Curley's coaching staff, who is set to begin his second season in Iowa's capital city. Muldowney has led the Buccaneers' offense in the preseason and will try to do the same when the games count.
Players To Watch
Joey Muldowney (UConn commit, San Jose 2022 6th round pick - 172nd overall): The right-shot winger has a small taste of USHL experience under his belt as he played in three games at the end of last season. Muldowney found the back of the net once in those three games, something he hopes to do a lot this winter. The UConn commit racked up an impressive 57 goals and 97 points in 56 games at Nichols Prep School (New York) before joining Des Moines last spring.
With pick 172 we've selected Joey Muldowney.

Welcome to the Bay! #SharksDraft pic.twitter.com/3g25PY1DX1

— San Jose Sharks (@SanJoseSharks) July 8, 2022
Davis Borozinskis (Western Michigan commit, undrafted): It might be Borozinskis' first season with the Buccaneers, but he's no stranger to Des Moines. The Latvia product played in 47 games for the Des Moines Buccaneers 18U AAA program last season, where he scored 12 goals and added 58 assists. Now he hopes that production will follow him to the USHL.