Men's CCHA Hockey
Coast to Coast: Transfers Bring Change To CCHA
Coast to Coast: Transfers Bring Change To CCHA
Like everywhere else in college hockey, transfers were a big theme of offseason roster construction in the CCHA.
Aug 31, 2022
by Jacob Messing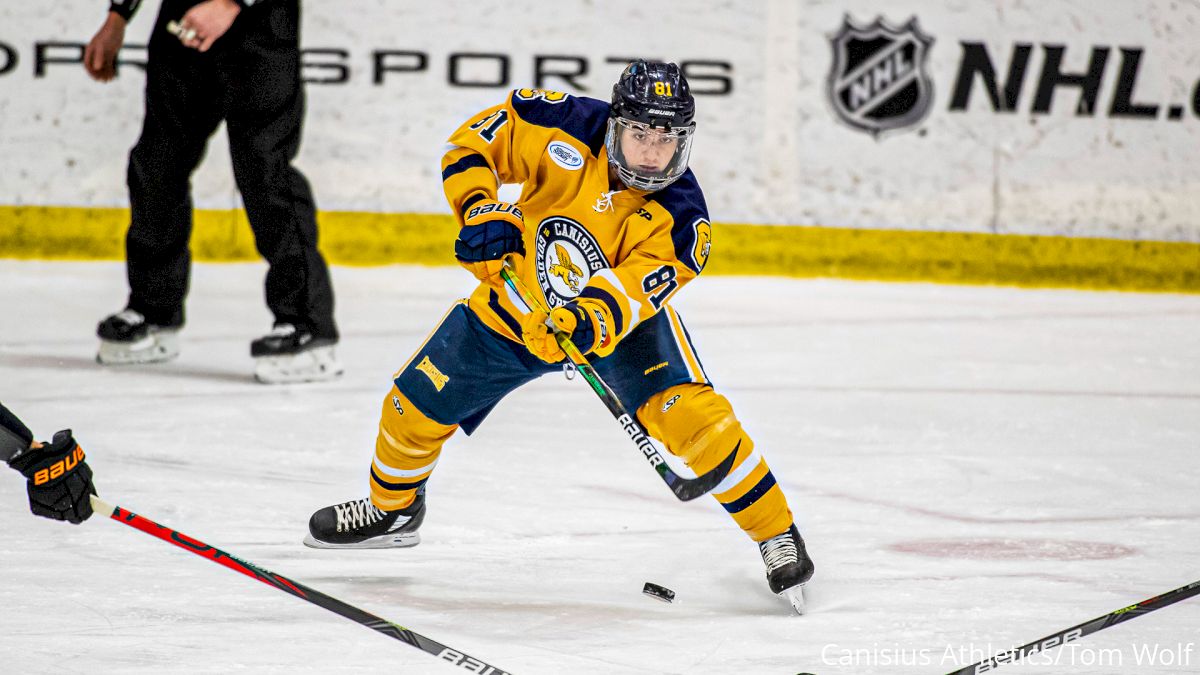 Coast to Coast is FloHockey's monthly, cohesive news on North American hockey and live-streaming partnerships.
The transfer portal has made watching player movement in the NCAA look just like the NHL's offseason transactions page. Player movement has become the norm in college athletics. The CCHA has seen its fair share of change over the course of this offseason with players on the move. All but one team, Minnesota State, will feature at least one transfer player on their roster when the season opens Oct. 1.
Just as we did in Part 1 of our August Coast to Coast, where we detailed the many roster shifts in Atlantic Hockey, here's a look at the big moves across the CCHA including who is in and who is out across the conference. Don't forget, you can catch every CCHA game live during the 2022-23 season, right here on FloHockey.
Bemidji State
The Beavers stacked up the offense with three forwards transferring in. Mitchell Martan (Canisius, pictured above), Kaden Pickering (St. Lawrence), and Jackson Jutting (Colorado College) each enter after career years with their former programs.
Martan posted a career-high 17 assists and 22 points with Canisius last season, finishing first and fourth, respectively, in team scoring. Pickering's 13 assists and 19 points (6 G, 13 A) both led St. Lawrence last season, while his playmaking took a step forward, eclipsing the 11 combined assists he had scored with the Saints over his previous 82 games.
Jutting enters as a junior after a ten-point, 35-game season in 2021-22. While he skated in 16 more games than his freshman season and added two more goals and five more helpers, Jutting is seeking a bigger opportunity in 2022-23.
Transferred out: F, Nick Cardelli (AIC); F, Lukas Sillinger (Arizona State)
Bowling Green
The Falcons took an expected step back in 2021-22 largely due to significant roster turnover. Still, they played hard hockey to make up for some of the natural skill lost.
But the maturation of last year's team and the addition of forward Chase Gresock will help the Falcons pull themselves back up the standings in a competitive CCHA conference. Gresock brings an NCAA career stat line of 35 G and 38 A for 73 pts in 99 games between Merrimack and Miami (Ohio).
Bowling Green has added Powell, OH native Chase Gresock from the transfer portal, per @MikeMcMahonCHN. The 23-year-old forward is entering his 5th season and has posted 73 career points in 99 games with Merrimack and Miami. Welcome, Chase! #FalconProud #AyZiggy

— BGSU Hockey Fans (@BGHockeyFans) April 5, 2022
Adding puck-moving defenseman Zach Vinnell, who posted 16 points in 35 games for a middling Merrimack team will bring more skill to the backend to help naturally push the offense from the blue line.
Next to Vinnell, Hunter Lellig enters from Minnesota Duluth, who despite minimal minutes was a member of the Bulldogs' championship teams in 2018 and 2019.
Transferred out: D, Garrett Daly (St. Thomas); D, TJ Lloyd (Alaska Fairbanks); F, Adam Conquest (Lindenwood); F, Chase Danol (uncommitted); D, Cam Babiak (uncommitted)
Ferris State
Named as Holy Cross captain in 2020-21, defenseman Matt Slick followed up a breakout offensive season with just two points in 16 games for the Crusaders. Slick was replaced as captain last season and either played with less weight on his shoulders, had a chip on his shoulder, or found a comfortable seat on a giant's shoulder as his play improved.
Slick played true to his name; while he didn't compete for any defensive scoring titles, the bulky defenseman recorded a bounce back 11 points in 37 games for a 12-23-2 program.
He's regained his confidence and while the Bulldogs aren't a significant improvement in regards to their record, Slick will find a fresh opportunity for another strong year.
Transferred out: G, Carter McPhail (Miami); F, Justin Michaelian (Maine); D, Nico DeVita (New Hampshire); D, Brendon Michaelian (Mercyhurst); G, Roni Salmenkangas (Lindenwood); D, Connor Fedorak (uncommitted)
Lake Superior State
At 6-foot-3, 203 pounds, Jared Kucharek is a sizable, yet slim defenseman who has played just one game since the 2019-20 season at Western Michigan. Kucharek's ability to read the play helps him be a strong defensive presence with an ability to chip in some offense.
He's not a game-changing transfer for the Lakers, but the strong tandem of goaltenders will have even more help in front of them and fewer goals against will help offset some offensive losses in Miroslav Mucha, Josh Nixon and others.
A deep offense with minimal turnover up top will help the Lakers compete in the CCHA.
Transferred out: F, Miroslav Mucha (Michigan State); D, Jacob Nordqvist (Quinnipiac), F, Josh Nixon (Union); F, Dustin Manz (AIC); D, Mitchell Oliver (uncommitted)
Michigan Tech
The Huskies loss of core players Brian Halonen and Trenton Bliss will bring change to a program that was in the national polls for most of last season and reached the NCAA tournament. The tools remain to stay among the top 16 teams in the nation, but the work will be hard.
Replacing offensive losses with forwards David Jankowski (St. Lawrence) and Jack Works (Denver) could bring big returns.
Jankowski has shown flashes with consistent production leading to 20 goals and 53 points over 110 games with St. Lawrence. The Huskies are banking on their deeper roster leading to improved offense.
Works skated in 15 games with Denver since 2020-21 with no offensive statistics. A deep, perennial contender, Works didn't find as many opportunities to contribute for the national champs. The Huskies are hoping a fresh start sparks the player that posted 43 goals and 92 points in 58 AJHL games in 2019-20.
Transferred out: D, Grant Docter (St. Thomas); D, Eric Gotz (Vermont); D, Tyrell Buckley (Canisius); D, Brenden Datema (Canisius); G, Cayden Bailey (uncommitted)
Northern Michigan
Forward transfers Artem Shlaine (UConn) and Kristoff Papp (Michigan State) both enjoyed strong years in 2021-22 and are likely to build on them in Marquette this coming season.
I am so thankful to everyone who made my two years at UConn so memorable. The relationships I have made will last a lifetime. I am very excited to announce that I will be continuing my journey at Northern Michigan University. #nmuwildcats pic.twitter.com/NtnB1lmtHs

— Artem Shlaine (@artem_shlaine) April 9, 2022
Schlaine, a 2020 fifth-round draft pick of the New Jersey Devils, is a pass-first player that finds a way to get the puck where he wants it to go and is simultaneously building confidence in his shooting. He'll have a number of potential line mates that will put his passes behind the opposing goalie including AJ Vanderbeck and Mikey Collela.
Papp brings speed and pace to carry the play fast and is another player that will look for the pass before taking the shot himself.
Bringing in the rear, defensemen Simon Kjellberg (RPI) and Aiden Gallacher (Michigan State) bring opposing skills to the table. Kjellberg posted an impressive eight goals and 27 points in 43 games with RPI last season, finishing 22nd in defensive scoring in the NCAA. Gallacher's stay-at-home mentality helps stabilize the defensie zone and could be the perfect complement to Kjellberg's risk-taking offense.
Transferred out: F Mack Byers (St. Thomas); F, Oscar Geschwind (AIC); F, Connor Merritt (Alaska Anchorage), G, Nolan Kent (Alaska Anchorage)
St. Thomas
The Tommies inaugural season went as many expected, jumping into their first D-I hockey season within the CCHA. Now with eight transfers on the way out, they're already retooling ahead of their second year.
With spots up for grabs, transfers Mack Byers (Northern Michigan), Garrett Daly (Bowling Green), and Grant Docter (Michigan Tech) got their looks at the program last year as CCHA opponents. Byers enters as the lone forward, coming off a five-goal, six-point season in 26 games played.
Throwback to 2015: Mack Byers playing for Holy Family. Mack is the newest member of @USTMensHockey team 😊👏👍🏻#RollToms
📸 @Romuald_Images pic.twitter.com/PWAe7HOFvb

— USTHOCKEYNEWS (@usthockey) April 5, 2022
Daly and Docter bring blue line experience and the ability to chip in offensively at times. Luke Perunovich comes in from Providence with a shutdown background but just 29 games of experience over his past four years.
Transferred out: F, Grant Loven (Canisius); D Vincent Weis (Augsburg, D-III); F, Justin Kelley (Bethel, D-III); F, Kyler Grundy (uncommitted); F, Aaron Swanson (uncommitted); F, Paul Schmid (uncommitted); D, Kimball Johnson (uncommitted); D, Michael Ferrandino (uncommittted)
---
Have a question or a comment for Jacob Messing? You can find him on Twitter @Jacob_Messing.