Atlantic Hockey
Coast To Coast: How Transfers Shake Up Atlantic Hockey
Coast To Coast: How Transfers Shake Up Atlantic Hockey
Transfers have significantly impacted college athletics and Atlantic Hockey is no different with a number of new players moving in and others moving out.
Aug 30, 2022
by Jacob Messing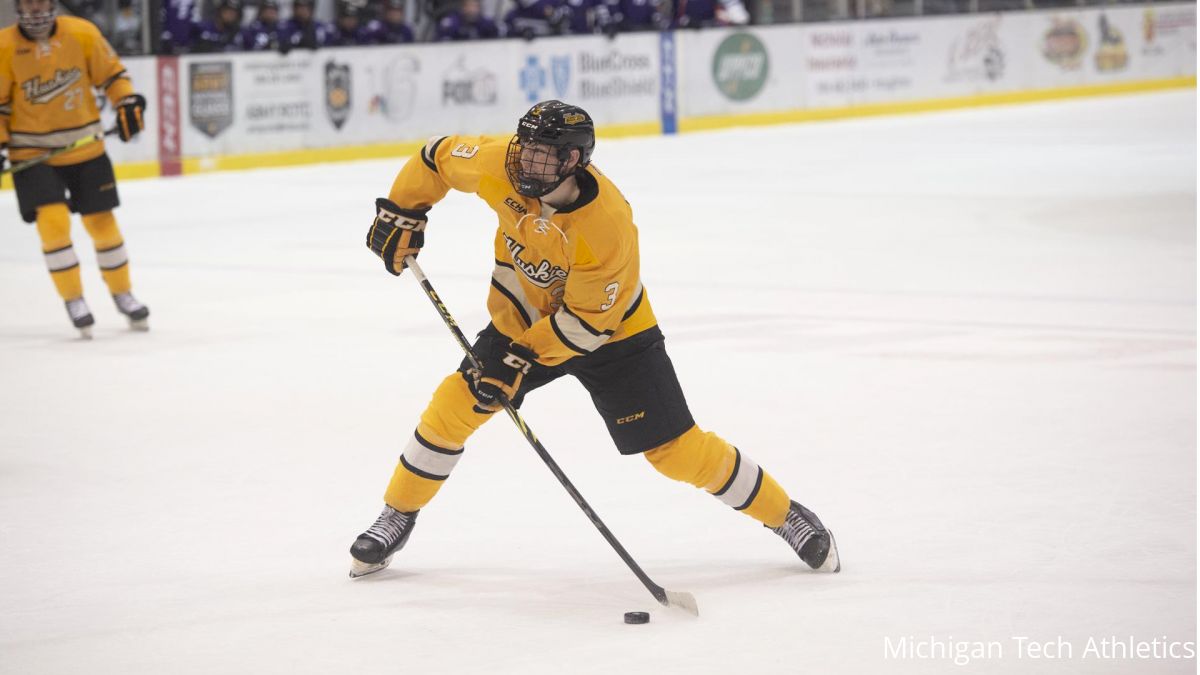 Coast To Coast is FloHockey's monthly, cohesive news on North American hockey and live-streaming partnerships.
As students of all ages return to school for the fall semester entering new grade levels, new schools, and new subjects, players across North America welcome similar changes as the 2022-23 hockey season approaches across the continent.
NHL free agency has been in full swing since mid-July, but the pro ranks are no longer the only place for summer transactions. In the NCAA, the transfer portal has been wide open as players shift clubs and prepare for new challenges. Atlantic Hockey has been right in the middle of those transfers, ready to show off new faces fans can watch during the 2022-23 season, right here on FloHockey.
American International
The Yellow Jackets have claimed four straight regular season titles in Atlantic Hockey and welcome seven transfers, replacing seven players that left via the portal.
Up front, Dustin Manz, Jordan Biro, Oscar Geschwind and Nick Cardelli, bring varying skill as depth players looking for a bigger chance with a fresh start. On the backend, Jake Rosenbaum will look for a regular role on the blue line after 44 games across four seasons with Minnesota Duluth (2018 and 2019 National Champions).
Finally, coming in the other direction, Jake Rosenbaum!

The California native brings an NCAA and two NCHC titles to Springfield alongside nearly 200 games of NAHL and NCAA experience!#AICommitted pic.twitter.com/b0D5drq8MF

— AIC Hockey (@AIC_Hockey) July 28, 2022
The Yellow Jackets also welcome goalies Brennan Boynton and Troy Kobryn, who each played just one game last season with their former programs.
Transferred Out: D, Zak Galambos (Western Michigan); F, Jake Stella (UMass Lowell); G, Ryan McInchak (Cornell); F, Chris Theodore (Union); F, Hunter Johannes (Lindenwood); F, Santeri Hartikainen (Long Island); G, Jake Kucharski (Nebraska Omaha)
Bentley
The Falcons welcome a pair from Quinnipiac in forward Ethan Leyh and defenseman Nick Bochen. Leyh recorded ten points in each of his three years with the Bobcats, bringing consistent depth scoring. Bochen saw his ice time diminish last season, playing just nine games (1 G) after a 24-game stint (3 G, 3 A) as a rookie in 2020-21.
The Falcons also preyed on a pair out of UMass Lowell, bringing in forward Josh Latta
and defenseman Jordan Schulting. Latta managed 18 points in 32 games his freshman season at Alabama Huntsville. He joined the River Hawks as a transfer after the Chargers' sudden folding. Latta skated in 12 games over the past two years, tallying just two assists.
A fresh start could see a return to his offensive flashes with the Chargers. Schulting skated in a career-high 25 games last season after a combined 20 games from 2019-21.
Transferred Out: D, Drew Bavaro (Notre Dame); G, Jason Grande (Holy Cross); D, Matt Clark (uncommitted)
Canisius
Forwards Grant Loven (St. Thomas), Erik Urbank (Dartmouth), Nick Bowman (RPI), and Markus Boguslavsky (Boston University) all join the Golden Griffins in hopes of bigger roles. Loven, who played with Northern Michigan for parts of three seasons transferred to St. Thomas, showing flashes in D-III in 2020-21 before the Tommies made the jump to D-I in 2021-22.
Urbank, Bowman, and Boguslavsky all bring depth skill from their former programs, hoping a bigger role may be on the docket at Canisius.
On the blue line, Tyrell Buckley (Michigan Tech, pictured above), Cody Schiavon (Vermont), and Brenden Datema (Michigan Tech) bring their own mix. Buckley found a bit more offensive flair last season. Shiavon found regular ice time and earned more trust from his coaches. Datema fell out of favor, skating in just two games, down from nine in 2020-21 and 24 as a freshman in 2019-20.
Transferred Out: G, Matt Ladd (Lindenwood); F, Mitchell Martin (Bemidji State); D, Derek Hamlin (Alaska Anchorage); F, Lee Lapid (uncommitted); F, Connor Zilisch (uncommitted); D, Nick Parody (uncommitted)
Holy Cross
The Crusaders have lost a total of seven to the transfer portal, bringing in just two to mitigate the losses. But the flier on forward Liam McLinskey out of Quinnipiac could be a game-changer. McLinskey brought consistent offense throughout his teenage years, scoring 24 goals and 67 points in 44 NCDC games in 2020-21. He went scoreless in two games with the Bobcats last season, but the tools are there to put Atlantic Hockey on notice.
Transfer Liam McLinskey is officially coming to The Hill!#GoCrossGo pic.twitter.com/TMXtRlAHER

— Holy Cross M. Hockey (@HCrossMHockey) May 23, 2022
Add in netminder Jason Grande out of Bentley, who is familiar with the conference and eager to put last season's .898 SV% and 3.37 GAA behind him with a workload heavier than just six games.
The Crusaders will look to climb out of the conference basement.
Transferred Out: D, Matt Slick (Ferris State); F, Ryan Leibold (Merrimack); G, Matt Radomsky (Alaska Fairbanks); F, Anthony Vincent (Long Island); F, Daniel Colabufo (Oswego State, D-III); D, Jack Hillman (uncommitted); D, Ryan Pineault (uncommitted)
Mercyhurst
Eric Esposito (New Hampshire) is the lone forward for a group that lost juniors Dante Sheriff, Austin Heidemann, and Noah Kane—which combined for 25 goals and 69 points last season.
But coach Rick Gotkin's run-and-gun offensive system should help alleviate some of the lost offense, allowing his players to push the play and compete for more ice time.
On the backend, where the Lakers often found themselves ironically drowning, Brendon Michaelian (Ferris State) and Adrien Bisson (Maine) bring a mix of two-way capability, Michaelian a bit riskier and offensive and Bisson a bit more cautious and calculated. A reduction in goals against will directly result in more offensive opportunities for the reworked top six.
Goaltender Tyler Harmon will help fill the void of Kyle McClellan, whose 12-13-2 record, .932 SV%, and 2.56 GAA was a factor in the Lakers' impressive late-season surge with nine wins over their final 11 games.
Transferred Out: F, Dante Sheriff (uncommitted); F, Austin Heidemann (RPI); G, Kyle McClellan (Wisconsin); F, Noah Kane (Long Island)
Niagara
After an eighth-place finish in 2021-22, the Purple Eagles welcome a number of exciting freshmen and four from the transfer portal.
Entering the program are forwards Casey Carreau (Boston College) and Mike Egan (Babson, D-III). Lucas Bahn (Alabama Huntsville, CHF) enters on the blue line and goaltender Ryan Ouellette (Wisconsin-Eau Claire, D-III) in the paint.
Carreau has improved offensively in each succeeding season with BC and should shift from nightly matchups with NHL prospects in Hockey East to more time and space in the new conference. Add in Egan's offensive confidence after 44 goals and 94 points in 86 games in D-III and the offense should see a significant uptick.
Transferred Out: None
RIT
Matt Kellenberger is the Tigers' lone transfer grab, but Kellenberger brings a defensive skillset honed for four years at Princeton. The Tigers spent last season as a scoring team often outdone by their goals-against totals.
NEW GUY | Say hello to Matt Kellenberger, a Princeton blue-liner trading his stripes for...more stripes - https://t.co/59VCxEfynz pic.twitter.com/ZU2SdDoEWG

— RIT Men's Hockey (@RITMHKY) July 11, 2022
The Tigers' 82 goals against were the most in the conference despite a fourth-place finish. Kellenberger's defensive-first game and vision should be a considerable help in their own zone in 2022-23.
Transferred Out: F, Will Calverley (Merrimack); D, Diarmad DiMurro (SUNY-Geneseo, D-III); F, Andrew Rinaldi (uncommitted); F, Merritt Oszytko (uncommitted)
Sacred Heart
The Pioneers add a defensive-defenseman in Julian Kislin to the blue line who mixes in offensive ability with defensive responsibility. Their balance on each pairing helped carry the team forward last season with a fifth-place finish and just one win away shy of second place.
Kislin will help deter opponents' offensive chances, potentially bringing the Pioneers goals-against total closer to that of the AHA's top teams.
Transferred Out: F, Adam Tisdale (Alaska Anchorage); F, Ryan Doolin (Colby, D-III)
---
Have a question or a comment for Jacob Messing? You can find him on Twitter @Jacob_Messing.