IIHF
2022 World Junior Championship: Team-By-Team Preview, Key Players To Watch
2022 World Junior Championship: Team-By-Team Preview, Key Players To Watch
Chris Peters takes a look at all 10 teams ahead of the 2022 World Junior Championship, slated to begin Tuesday in Edmonton.
Aug 8, 2022
by Chris Peters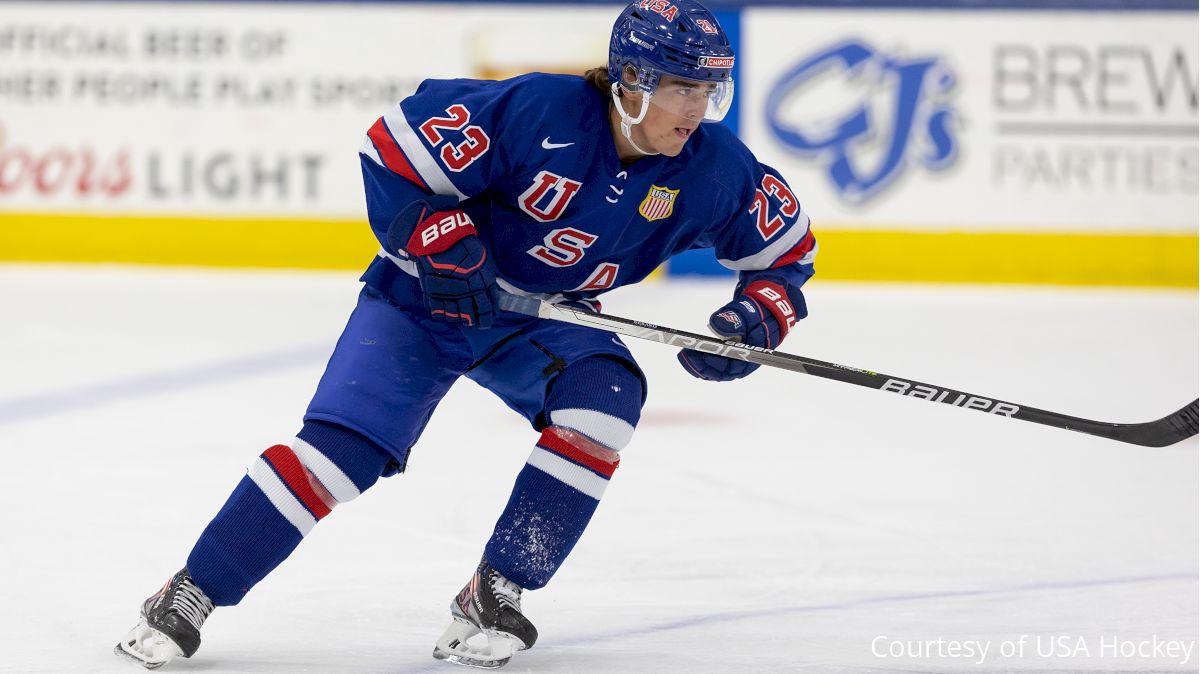 Here we go again. The 2022 IIHF World Junior Championship is all set to start from scratch after the December event was unable to be completed amid the coronavirus pandemic. This tournament will be different and it certainly feels odd to have the premier junior hockey event that has been a winter holiday tradition for decades in the heat of August, but here we are.
The tournament will look different, too. Many players who were part of the December event have opted out or their NHL teams would not release them to play. Many more, however, will return for their second try. Meanwhile, Russia has been barred from competition amid the ongoing war in Ukraine. They had a team in the December event, but have since been replaced by Latvia, which earned promotion from a lower division.
The event is also being played amid controversy as Hockey Canada officials remain under fire for the handling of a lawsuit that included allegations of sexual misconduct by members of the 2018 Canadian junior team after the banquet celebrating their gold medal win. Leadership of the organization has been called before parliament in a series of hearings which has led to many calls for senior officials to step down. Hockey Canada's chairman of the board of directors was one such person who has already resigned. It is impossible to ignore the significant implications that face one of the real power of international hockey for reasons that are no where near the ice. That cloud will continue to hang over the event even if its current participants had nothing to do with those serious allegations.
Regardless of what is happening away from the tournament, the players that have committed to play in this rebooted World Juniors are coming to win. There is still a gold medal on the line and for the teams competing, their goals have not changed. Canada looks like the favorite, but it's hard to count out Sweden, Finland or the United States as serious challengers.
Because of all the changes on these rosters, and given the unique timing of this event – it really feels like it could be wide open in terms of the competitiveness. I think there are four teams with a legitimate shot at gold and as many as six that should be in the hunt for a medal of some color. Either way, we're going to get a tremendous few weeks of hockey in August.
FloHockey will be on the scene as well as I'll be traveling to Edmonton for live viewings of the entire preliminary round. You can expect daily content right here on FloHockey.tv, including news, notes and analysis from throughout the tournament.
Group A
Canada
As they so often are, Canada will likely be considered the favorites to win the World Juniors. Being the favorites and finishing the job, however, are two different things. Canada's strengths include goaltending depth with two legit No. 1 goalies in Sebastian Cossa (DET) and Dylan Garand (NYR), and their scoring ability. With young Connor Bedard (2023) at the tip of their offensive attack, the hosts should not find scoring terribly difficult until they run into the higher-end teams in the tournament. Defensively the Canadians have two key holes to fill with Kaiden Guhle (MTL) and Owen Power (BUF) not playing in the summer tournament. They've got a lot of balance on the blue line even if this might not be the most high end group of the tournament. In addition to the offensive talent they have, there's a lot of size up front. Canada won't get pushed around in this tournament, but will have to make sure they can still push the pace. They look like the team to beat.
Key players:
Connor Bedard, C (2023): The top prospect for the 2023 NHL Draft is perhaps the biggest draw for this tournament in its restarted state. Though his stats won't count from the December event that was canceled, we can't unsee what he did. Bedard became the youngest player to score four goals in a game and is the only 16-year-old since Wayne Gretzky to record a hat trick at this event. Despite being Team Canada's youngest player by a lot, Bedard is going to be one of their most important offensive players. He scored 51 goals in the WHL and also went on a tear at the World U18 Championship. He's going to be a key of all the opposing teams, but that hasn't stopped him from scoring before.
Mason McTavish, C (ANA): Team Canada's captain and one of the toughest players to play against in this tournament, McTavish mixes brute strength with high-ens skill and impressive hockey sense. His ability to get to the interior and score goals make him a tough player to defend, but then he also has the physicality to make the game even tougher for the opposition. He had a dominant season in junior and should be pushing to make the Anaheim Ducks roster in a few months.
Captains for #WorldJuniors... 🇨🇦

C: Mason McTavish (@HEOhockey)
A: Kent Johnson (@BCHockey_Source)
A: Donovan Sebrango (@OHFHockey)

Hear from Captain Canada! 🗣️👇 pic.twitter.com/OXvrPsNRmj

— Hockey Canada (@HockeyCanada) August 2, 2022
Kent Johnson, C/W (CBJ): One of the best puckhandlers in this tournament, Johnson is an incredibly entertaining playmaker who finds creative ways to beat defenders and make those around him better. With his high-end skill and passing abilities, he should be an offensive catalyst for Canada.
Czechia
The Czechs have some talent in their lineup, but the question as it has been over these most recent years is if they'll have the depth to contend with the top teams. Czechia has been mired in the middle for some years now, with no medals since bronze in 2005. That said, with Russia knocked out, there's a path for them to contend for a medal in this tournament. They have a solid goalie in Jan Bednar (DET) and some intriguing talent among their skaters. David Jiricek (CBJ) was the sixth overall pick in the last draft and one of the best Czech defensemen to enter a draft in a long time. He'll play a ton of minutes. Additionally, there is some scoring potential in this group led by Jan Mysak (MTL) and Jiri Kulich (BUF). Could they catch one of Canada, Sweden, Finland or the U.S. napping at the wrong time? It's certainly possible. They're just going to need their depth players to show up and give them quality shifts against much more talented opponents. I'm not ruling Czechia out for ending their medal drought here, though it would still be a tall order.
Key players:
David Jiricek, D (CBJ): The most important player on this team, Jiricek could play upwards of 25 minutes a game and be an impact player in both the defensive and offensive zones. He skates well, defends at a high level and has good offensive skill to create some offense. Jiricek was late to Canada due to his having tested positive for coronavirus right before his team left. If he's fully healthy, he's going to play a whole bunch.
David Jiříček #45 is back in form and I think he's even better than before despite the long break. These are just a few clips from yesterday's game against Finland. His involvement in the offensive zone is getting way more aggressive...he's a huge offensive weapon. #2022NHLDraft pic.twitter.com/v2lEXtUkHj

— Marek Novotny (@MarekNovotny96) April 30, 2022
Jan Mysak, C (MTL): A key player for the OHL champion Hamilton Bulldogs last year, Mysak will be playing in his third World Juniors. Czechia desperately needs him to push the pace offensively and be a scoring threat, which he's proven he can be. His skill is at a high enough level where he should be able to make an impact in this his third and final WJC.
Jiri Kulich, LW (BUF): A talented scorer who really rose up draft boards after his brief stint at the December World Juniors before it was halted, Kulich put together an MVP performance at the spring's World U18 Championship. He needs to score goals if Czechia is going to go anywhere. Lucky for them, he's really exceptional at it. The Czech power play with weapons like Jiricek and Kulich should be pretty lethal.
Finland
The Finns have every reason to believe they can contend for a medal if not the top prize in this tournament. They have a good forward group with a mix of some speed and skill. Finland is always tough to play against in these tournaments because of their strong team game. They'll defend well and if they get a lead, it's hard to come back on them. Up front, their forward group has a lot of pop with Aatu Raty (NYI) playing a leading role. He got knocked out of the December tournament because of coronavirus protocols but really strengthens this team down the middle in his second chance. Brad Lambert (WPG) had a tough draft year but looked great in the early goings of the WJC before it was cancelled in the winter. On the back end Topi Niemela (TOR) should log big minutes and be a threat at both ends of the ice. He's an exceptional two-way defenseman who doesn't seem too far from the NHL. Meanwhile, Finland has a strong group in net led by Leevi Merilainen (OTT) who spent all of last season in North America playing in the OHL. Finland's depth is among the best in the tournament and a big reason why they should be viewed as a serious contender. If they establish their strong team game and get enough offensive output from their top players, there's a chance they'll pull some upsets late in the tournament.
Key players:
Aatu Raty, C (NYI): After missing out on the December event, Raty should be making the most of his second chance. He last played in the World Juniors as an underager in 2020, but got cut from the 2021 squad. Now he's back and ready to make a significant impact. He averaged nearly a point per game in Finland's top pro league last year and should be an offensive leader for his club.
Aatu Raty with a snipe for his seventh point since being drafted #Isles pic.twitter.com/Ydu9VxykZp

— Rob Taub (@RTaub_) July 28, 2021
Topi Niemela, D (TOR): A gifted two-way defenseman who can skate and make plays, Niemela should play big minutes. He was the top-scoring defenseman in the 2021 WJC and should be viewed as a scoring threat from the blue line in this one as well. His mobility and puck-moving are especially advanced, making him a defenseman that the opposition needs to be aware of at all times.
Brad Lambert, C/W (WPG): The best hockey Lambert played all of last season was at the December WJC. Those two games he was on fire and playing at the top of his talent. At his best, he has uncontainable speed and offensive precision. He lacked that consistency over the course of the season, but maybe returning to the event where he was able to play that well will give him the chance to rediscover his form.
Brad Lambert makes it 3-1 for Finland. #2022NHLDraft pic.twitter.com/LqQkGYqt5R

— Lassi Alanen (@lassialanen) July 24, 2021
Slovakia
No team has been more impacted by players not available to compete. Slovakia isn't going to be missing as many players from their December team as the U.S. or Canada, but they are going to be missing their best players. Juraj Slafkovsky (MTL) and Simon Nemec (NJD), the top two picks in the NHL Draft in July, are not participating in this event. Neither is Martin Chromiak (LAK), who was not healthy enough to join the team. Those losses are substantial because Slovakia looked like they had a chance to pull a few upsets before the tournament was shelved. Without those key players, more will be expected from young Adam Sykora (NYR) and Dalibor Dvorsky (2023) to help carry the offensive attack in the absence of Slafkovsky. Slovakia just has to get past Latvia to ensure themselves a spot in the quarterfinal. If they had their full roster available, I'd wonder if Slovakia could sneak onto the podium, but without them it looks unlikely at best.
Key players:
Adam Skykora, C/W (NYR): Though he didn't necessarily stand out over his two games at the cancelled WJC, he managed to earn a spot on Slovakia's senior national team at the end of the season. He played in the World Championship and didn't look out of place. Now he'll have no choice but to be one of Slovakia's most important players. He has the speed and tenacity to make a difference in all three zones, but they'll really need him to score.
Dalibor Dvorsky, C (2023): A top prospect for the upcoming draft, Dvorsky burst onto the scene at the 2020 Hlinka-Gretzky Cup where he had 13 points for Slovakia which finished in second. He was a menace offensively and showed a high goal-scoring ability. This team will need the youngster to step up in a big way as they're missing some of their best players. He has the skill to really turn heads here.
At the age of 15 years, 7 months and 18 days, Dalibor Dvorský has just become the youngest goal scorer in the history of Slovak top tier league. The #2023NHLDraft prospect scored in his 10th match.

The former record holder was Marián Gáborík (16 yrs, 27 days).

🎥: Tipsport TV pic.twitter.com/Dsx9YAqP9E

— Matej Deraj (@MatoDeraj) February 2, 2021
Simon Latkoczy, G: Playing in his second World Juniors, Latkoczy has shown that he has enough ability to steal some games. He looked great in December before the event was canceled and was one of the players who was most public in voicing their frustration with how things went in the winter. Perhaps that chip on his shoulder will help because he's played some of the best hockey of his junior hockey career on World Junior ice. After this event is over he'll be heading to Nebraska Omaha to play in the NCAA.
Latvia
Named as the replacement for Russia, which is barred from competition, Latvia earned their way into this tournament by winning the U20 Division 1A event last year. They are going to be missing the top scorer from that team, however, and will have to rely on some of their younger players like Dans Locmelis (BOS) and Sandis Vilmanis (FLA) to step up. Barring a ridiculous goaltending performance or two, the chance of Latvia advancing to the quarterfinals seem very slim. Teams still shouldn't take Latvia lightly, though. They played very well in that Division 1A tournament to get this chance and I'm sure they'll play with something to prove.
Key players:
Dans Locmelis, C (BOS): A hard-driving center who has a good motor, Locmelis was a top performer for the U18 and was a contributor to Latvia's promotion at the U20 level. He is hard to knock off the puck and always plays the game like he doesn't know how high the odds are stacked against him. Latvia doesn't have a ton of standout talents, but you'll notice Locmelis when he's on the ice.
Sandis Vilmanis, RW (FLA): Probably the most gifted offensive player of the group, Vilmanis has some good finishing ability and plays with similar drive to Locmelis. The puck will be on his stick a lot, though Latvia as a whole probably won't have the puck much. He has enough skill to keep the opposing team honest and they'll need to key in on him.
Group B
United States
The defending champions won't have many pieces from its gold-medal team in 2021 on this roster, but they've got some good experienced players. Missing some of their key contributors from the team in December, most notably starting goaltender Drew Commesso (CHI) who opted out of participation, the Americans are going to have their work cut out for them in this tournament. They've still got a ton of speed and a strong defense corps to help them dictate the pace of games and slow down the opposition's attack. The big question, however, is if the U.S. goaltending will hold up enough to give them a chance to contend. The scoring attack will be led by Logan Cooley (ARI), Matt Knies (TOR), Matt Coronato (CGY) and Thomas Bordeleau (SJS), but the goals are going to have to come from everywhere if the U.S. wants to put themselves in position to medal. Look for defenseman Brock Faber (MIN) to be a central figure in Team USA's success as well, as he has gold-medal experience and will wear the captain's C for the Americans. Commesso's absence significantly changes this team's chances, but if one of their three goalies get hot at the right time, they could pull a surprise or two.
Key players:
Brock Faber, D (MIN): If goaltending is going to be a concern, defense has to be sharp. Faber is one of the best defenders in this tournament and will probably play a lot of tough matchups. He was one of the best overall defenders in college hockey last season and was Team USA's most utilized defenseman at the 2022 Olympics in Beijing. He plays the game in a mature, confident way, which is exactly what the U.S. wants to see from its captain.
Matt Knies, LW (TOR): A power forward with scoring touch, Knies also played in the Olympics. He's a gifted goal scorer who can get his shot off from anywhere, but can also be difficult to contain along the walls and down low. He could be USA's most important scoring threat.
GOAL🚨: @usahockey is on the board!

Matt Knies takes the one-timer and buries it to grab the 1-0 lead!#WorldJuniors #USASVK pic.twitter.com/hnAf8fUhFd

— IIHF (@IIHFHockey) December 27, 2021
Logan Cooley, C (ARI): The No. 3 overall pick in the most recent NHL Draft was due to be a big part of the team in December but will be even more important now. Likely centering the No. 1 line with Knies and Matt Coronato (CGY), Cooley has the chance to be a driver of USA's offense. He's one of the quickest, most dynamic players in this tournament and will have to be to help USA score at a high enough rate to not worry as much about their goaltending.
🚨 LOGAN COOLEY PULLS A MICHIGAN! 🚨

Goal of the #U18Worlds so far! pic.twitter.com/0hDPuXDvwe

— TSN (@TSN_Sports) April 28, 2022
Sweden
Outside of Canada, Sweden may be the best team on paper for this event. They've got one of the best goalies in the tournament in Jesper Wallstedt (MIN), one of the best defensemen in the tournament in Simon Edvinsson (DET) and a forward attack that has versatility, speed and some really good goal scorers. Sweden's strength is probably in its goaltending and ability to defend well. Edvinsson should play significant minutes and be central to his team's success. Meanwhile, the scoring attack should have a lot of different weapons from the speedy, shifty Fabian Lysell (BOS) to the high-scoring Jonathan Lekkerimaki (VAN). This will also be the last tournament for Sweden's longtime U20 coach Tomas Monten whose tenure concludes with this event. There's going to be a lot of effort from this group to send him out with a win and to shake the notion that Sweden always falls short in the big games. Few teams are better equipped to make a run here.
Key players:
Simon Edvinsson, D (DET): Edvinsson took his game to another level last season while playing in Sweden's top pro division. He showed good overall defensive skill, but his offensive game came along more too. Now Sweden will need him to be a big-minutes, two-way presence. He should see the ice an awful lot and when he's out there, Sweden's going to be a lot better for it.
Frölunda takes game 2 in double (!) OT! Lasu gets the game winner, set up by Simon Edvinsson #LGRW pic.twitter.com/lzXUlEL505

— IcehockeyGifs (@IcehockeyG) April 3, 2022
Jesper Wallstedt, G (MIN): Playing in his second straight WJC, Wallstedt has been one of the most highly-touted Swedish goalie prospects in years. His ability to steal games is well known, but it's his poise in the net that should give Sweden reason to believe they have a chance to win gold. He's moving to North America for next season, but he'd love nothing more than a gold medal to start his North American pro career with.
Fabian Lysell, RW (BOS): There are a lot of forwards that can score for Sweden, but Lysell could be a game-breaker for them. His speed and soft-touch skill make him a threat every time he has the puck on his stick. He spent all of last season in the WHL and was a dominant scorer there. If he can bring that same energy to this team, they've got a chance for a very special tournament.
Fabian Lysell are you kidding me!? pic.twitter.com/qhMDgMcguI

— /Cam Robinson/ (@Hockey_Robinson) May 4, 2021
Switzerland
Missing a key defenseman in Lian Bichsel (DAL) is a pretty tough pill to swallow for this team. The Swiss really can't afford to be without any of their best players in order to have a chance. Expectations as such will probably be pretty low for this group, but this is not the strongest group to try and get out of. The Swiss should reasonably expect to make the quarterfinals, but going further than that seems unlikely. There aren't a ton of drafted players on this roster and the ones that are drafted are fairly low picks. The lack of top end offense in this group will make goals hard to come by. Their best hope is playing a simple game and letting their opposition make mistakes.
Key players:
Brian Zanetti, D (PHI): One of the few drafted players on this roster, Zanetti seemed to take a good step forward last year in the OHL. He's not a high scorer, but he defends at a decent level and has some physicality to him. He should play a substantial role for the Swiss team that is a little thin on the back end.
Simon Knak, RW (NSH): Playing in his third and final WJC, Knak has long been a staple of the Swiss national team. He has good size and strength, solid two-way sense and he knows how to score. The Swiss offense doesn't have a lot of weapons, but they should benefit from Knak's experience and versatility.
Germany
If Germany had all of its age-eligible players in this event, they'd have a team with designs on reaching the quarterfinals with ease. But without those players, like JJ Peterka (BUF), Tim Stutzle (OTT) or Lukas Reichel (CHI) at their disposal, and also not even having young Julian Lutz (ARI) on the roster, there's just not a ton of offense in this lineup. The D corps is more than serviceable with some players with size and a quality young goalie in Nikita Quapp (CAR), but it's hard to see where they're going to get their goals from. Perhaps they can finish ahead of Switzerland and Austria in group play, but that's not a guarantee.
Key players:
Luca Munzenberger, D (EDM): The University of Vermont blueliner played a pretty significant role on the December team before the event was canceled and also was part of the 2021 German WJC team. Munzenberger is big, has good mobility and he defends pretty well. He's going to log minutes against tough competition and need to shut them down as best he can to give Germany a chance.
Hakon Hanelt, C (WSH): There have been high hopes for Hanelt, but coronavirus disruptions have also disrupted his development. He only appeared in 16 games for Gatineau in the QMJHL last season after getting 22 games in Germany's top pro league the year before. There's no doubt he has skill and some intriguing upside. He'll have a perfect chance to showcase that here as Germany will be looking for offense from just about anywhere.
Austria
Austria will be without its best player in the age group in Marco Kasper (DET) who is not competing in this tournament. As a result, there's not a whole lot of players in this group that are at the level as their peer teams. That said, Austria has a goalie in Sebastian Wraneschitz who has had some big-time performances at the World Juniors before. He's going to have to put on a cape and become a superhero, though, in order to give this team a chance. Their best hope of advancing to the quarterfinals is if they catch one of Germany or Switzerland on a bad day. If Kasper were in the mix, and Vinzenz Rohrer (MTL) for that matter, they might have a better chance to do it. Without them, Austria is in tough to advance out of group play.
Key players:
Senna Peeters, C: With good size and strength, Peeters also has some North American experience. He played for Halifax in the QMJHL and will now be one of the offensive leaders for Austria in the absence of some of their higher-profile players. Peeters should play a lot for this team and will need to be a leader.
Sebastian Wraneschitz, G: He's going to be under siege, but Wraneschitz has been in this situation before. While he can't really steal games for his team, he has shown an ability to keep them in the hunt. Wraneschitz played the second half of last season in the USHL and performed well mostly. Perhaps that will help springboard him to another valiant effort at the WJC.Also Read: Team USA Roster Breakdown