IIHF
2022 World Juniors: Team Canada Roster Breakdown
2022 World Juniors: Team Canada Roster Breakdown
Chris Peters breaks down Canada's roster for the 2022 IIHF World Junior Championship
Aug 2, 2022
by Chris Peters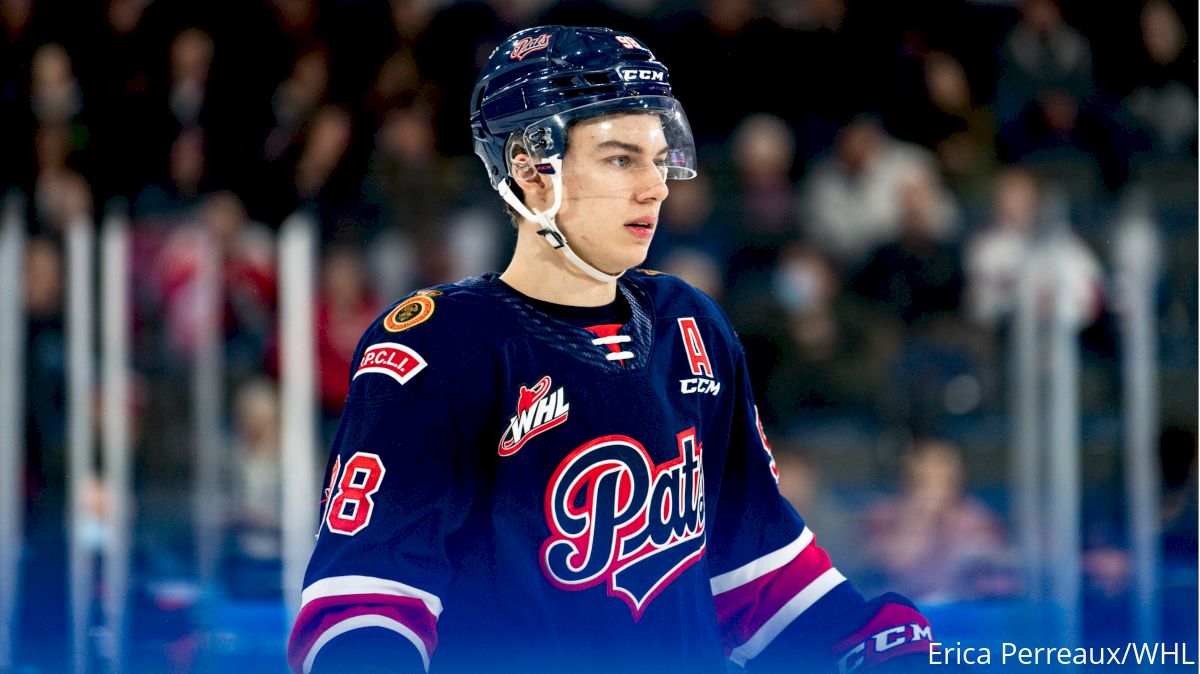 A lot has changed in the world since Canada initially was due to host the 2022 IIHF World Junior Championship last December before several positive tests among multiple teams led to that event's cancellation after a few days. Now as we get set to restart that tournament in Edmonton Aug. 9, Canada's roster will look quite a bit different, but that will be true of most teams.
The tournament itself will be different, too. During that December event, Russia had a team playing but since the invasion of Ukraine, the IIHF has joined with many other international sporting federations in banning Russia from its competitions. They were replaced for this event by Latvia, which is the team Canada will open the new tournament against on Aug. 10.
The circumstances of this tournament have also changed for Hockey Canada as it was revealed earlier this summer that the organization had settled a lawsuit that stemmed from an alleged sexual assault perpetrated by eight members of the 2018 Canadian national junior team. Additionally, Hockey Canada announced it had been made aware of a separate alleged incident involving members of the 2003 Canadian national junior team amid the fallout of the 2018 allegations.
Hockey Canada officials have had to testify before parliament and face tough questions about how they handled the situation. Additionally, numerous sponsors have announced they had pulled support specifically for the World Juniors until they are satisfied there is significant change within Hockey Canada as it relates to how they handle serious allegations like the ones brought against the 2018 team.
There's no doubt this tournament will be played under a bit of a cloud as Hockey Canada remains shrouded in controversy. While Hockey Canada's priority will have to be on rebuilding trust with its membership and the country as a whole, they still had to put a team together for this event and it's certainly not the current players' faults for what happened in the past.
This particular Canadian team is going to look significantly different from the team that started the tournament in December. Nine members of the previous Canadian team are not playing in this tournament either by their own choice, because of injury or because their NHL teams did not release them. The forward group was particularly hard hit and the defense corps will be without its top two players including previously-named captain Kaiden Guhle (MTL) and 2021 No. 1 overall pick, Owen Power (BUF). Other players that were part of the winter team that won't be back this year are Xavier Bourgault (EDM), Mavrik Bourque (DAL), Dylan Guenther (ARI), Jake Neighbours (STL), Cole Perfetti (WPG), Justin Sourdif (FLA) and Shane Wright (SEA).
Despite the losses, Canada will have a team very capable of winning the tournament. They have one of the best goaltending groups in the event and even with the forward losses, there are a number of players that can score. They also have a good defensive group, even though they lost two of the top players from the winter.
Canada is not going to be as good as they looked at the beginning of the winter tournament, but they have every reason to expect they can compete for the gold medal.
And as much as this tournament is about the chase for a gold medal, this is also the first major event for 2023 NHL Draft top prospect Connor Bedard, who will have all eyes on him throughout this season as he looks unlikely to be unseated from the top spot.
Forwards
Canada's forwards certainly have a lot of goals in them. There are five players on this roster that scored 50 or more goals for their respective junior teams this season and seven that had 95 or more points. Canada's team will also have a lot of size to it up front with four players 6-foot-3 or taller among the forwards. This group should have a mix of physicality, power and high-end skill. They might not end up being the fastest team in this tournament, though, so that will be interesting to watch play out. That said, there are few teams that will boast the scoring depth Canada brings to this tournament.
Connor Bedard, C, Regina Pats (2023 NHL Draft eligible): The presumptive No. 1 prospect heading into the 2023 NHL Draft season, Bedard is coming off of a truly remarkable 2021-22 as a U17 player. He is the first ever player granted exceptional status to play in the WHL at 15 and followed his pandemic-shortened rookie season in 2020-21 by becoming the youngest player to score 50 goals in a WHL season, posting 51 in 62 contests for Regina. Before the last WJC was canceled, Bedard also scored four goals in one game, the youngest player to ever accomplish that feat in WJC history. He's been racking up accomplishment after accomplishment and might be one of the most gifted goal scorers we've seen at the junior level. His shot is on another level and his ability to drive play is pretty special. His hockey sense is elite and his offensive intelligence and execution are off the charts. Despite his youth, he has significant international experience. In two appearances at the World Under-18 Championship, Bedard has accounted 13 goals over 11 contests in that tournament, with both years played among the youngest players in the tournament field. This tournament is very much going to be defined by Connor Bedard as he is easily the main attraction.
CONNOR BEDARD ARE YOU FOR REAL? 🤯

(🎥: @WHLPats) pic.twitter.com/PVxLM0YctD

— NHL (@NHL) February 7, 2022
Will Cuylle, LW, Windsor Spitfires (NYR): After spending a portion of the 2020-21 season in the AHL, Cuylle returned to the Windsor Spitfires last season and nearly doubled his goal and point totals from his second OHL season back in 2019-20. Cuylle scored 43 goals and had 80 points before going on a monumental postseason run that saw him score 31 points in 25 postseason contests as the Spitfires fell just short of the OHL title. At 6-foot-4, 209 pounds, Cuylle is one of a few big power-forward types for Team Canada. He was part of the winter team and could see his role expanded even further this time around.
Elliot Desnoyers, LW, Halifax Mooseheads (PHI): A dynamic player with an energetic style that can make him difficult to play against, Desnoyers is coming off of a career year with Halifax. The captain scored 42 goals and put up 88 points in 61 QMJHL games. Desnoyers made the winter team and was an impactful forward through the two games Canada managed to play before it was canceled. He's on track to head to Flyers camp and compete for an NHL spot, but more likely is destined to play some in the AHL as he adjusts from junior to pro.
William Dufour, RW, Saint John Sea Dogs (NYI): Not on the team in the winter, Dufour undoubtedly caught the eye of Hockey Canada with his incredible performance in leading Saint John to the Memorial Cup last season. The 6-foot-3, 205-pound forward has a devastating shot and managed to score seven goals over the four games on the way to the top title in Canada's junior hockey ranks. He was MVP for his performance, which came on the heels of a 56-goal, 116-point regular season. While Dufour lacks NHL quickness, his offensive instincts and scoring ability will give him a chance to play at the next level, though he may have to start in the AHL next season.
William Dufour scores for the Sea Dogs making it a 3-2 game! #MemorialCup pic.twitter.com/weZwP1crYG

— TSN (@TSN_Sports) June 22, 2022
Tyson Foerster, C/W, Barrie Colts (PHI): Foerster has been in a bit of developmental limbo the last two years given the OHL not playing in 2020-21 and then splitting time between the AHL and OHL this season. The pro experience should help Foerster, who has a goal-scorer's shot and some power to his game, make an impact within his own age group again. In his limited OHL time last season, he had 11 points in 13 games for Barrie. He should be back in the AHL next season.
Nathan Gaucher, C, Quebec Remparts (ANA): Canada had some holes to fill in their center group and tapped Gaucher who did not make the team in the winter. He makes a lot of sense to play down their lineup and give good, tough shifts as he has solid two-way skills and a real power-center's mentality. He had 57 points in 66 games for Quebec last season.
Ridley Greig, LW, Brandon Wheat Kings (OTT): In only 39 WHL games this season, Greig had an impressive 63 points while captaining Brandon. While he can absolutely score, he's impressively versatile and difficult to play against. His work rate off the puck is very strong and appears to relish the physical elements of the game. He can be a bit of a pest at times, which always seems to play into Canada's advantage so long as he avoids penalty trouble.
Kent Johnson, C/W, Columbus Blue Jackets (CBJ): It was an especially eventful year for Johnson, who played at the World Juniors, Olympics and Men's World Championship, while also helping Michigan reach the Frozen Four before signing his first NHL contract and getting nine games in with the Blue Jackets. That may be why there was some surprise that he was going to join Canada at this tournament, especially since he is probably going to be on Columbus's everyday roster next season. Johnson is an especially gifted playmaker who is one of Canada's best overall puckhandlers. After initially being named an alternate for Canada at the Olympics, he made the final roster, scoring five points in five games in Beijing. He then had seven points in 10 games as Canada took silver at the senior world championship. Expect him to be a top-six difference-maker for Canada.
Riley Kidney, C, Acadie Bathurst Titan (MTL): A gifted distributor with high-end vision, Kidney was lights out in the QMJHL last season. He had 70 assists on the way to 100 points. He was not part of this team in the winter and now will have a chance to play a role down the lineup for this team.
Mason McTavish, C, Hamilton Bulldogs (ANA): There were more than a few people surprised McTavish was on the roster for this tournament given that he appears to be a shoo in to make the Anaheim Ducks out of camp this year. McTavish has that unique mix of physicality and high-end skill. He looked dominant before the WJC was canceled in the winter. He ended up making Canada's Olympic team, where he had one assist over five games. McTavish played in the NHL, AHL and OHL last season, leading Hamilton to the OHL title with 29 points in 19 playoff games and another eight points in the Memorial Cup, where Hamilton fell just short. He's going to be a key player and may even end up wearing the C for Canada in this event. After the season McTavish just had, I'd look for him to be a dominant force.
Canada's first goal is ALL Mason McTavish pic.twitter.com/J4Xee5dFaT

— TSN (@TSN_Sports) December 27, 2021
Zack Ostapchuk, LW, Vancouver Giants (OTT): Canada's got a ton of size up front already and Ostapchuk just makes them bigger. He had a fair season with 43 points in 60 games for Vancouver, but his game really took off in the playoffs when he averaged nearly two points per game. He had 23 points in 12 postseason contests. For Canada, he probably won't be a huge source of production, but he's going to give them an element of size and physicality in their bottom six that could prove useful
Brennan Othmann, LW, Flint Firebirds (NYR): After not making Canada in the winter, it was no surprise to see Othmann make the roster for the summer after he put up 50 goals in 66 games for Flint. He has a sniper's shot and gets it off from anywhere in just about any way you can ask. He might have a chance to edge his way into a top-six role if he's able to bring that scoring touch with him to the World Juniors.
Joshua Roy, C/W, Sherbrooke Phoenix (MTL): Roy was a bit of a surprise omission from the winter team, at least in the eyes of those who saw him throughout the first half of the QMJHL season. He's on the team now, though, and certainly earned his shot with an incredible 51-goal, 119-point season which led all players in the QMJHL last season. He's always been a notable goal scorer, but last season Roy showed he can be a legit shot-pass threat and made others around him better. This tournament should be a good test for him after such a dominant season in his league.
Logan Stankoven, C/W, Kamloops Blazers (DAL): I thought Stankoven was a first-round talent in his draft season and he slipped to 47th overall. So what did he do with that? He went out and had a season for the ages. After 104 points in 59 regular-season games, he had an incredible 31 points in 17 games including 17 goals in the WHL playoffs. Kamloops fell just short in the final, but Stankoven was a driving force for their success. He'll arrive this summer a better player than when he made the team in December, highlighted by his quick hands and even more devastating shot.
An absolute snipe by Logan Stankoven has Canada up by three in the first! #WorldJuniors pic.twitter.com/mf8nQkCGwi

— TSN (@TSN_Sports) December 29, 2021
Defensemen
Despite losses of Owen Power and Kaiden Guhle, which are no small absences, this group has a dynamic puck-moving element to it. They have both the QMJHL and WHL defensemen of the year on their roster and a mix of players with AHL and junior experience. This group should be particularly mobile and move pucks effectively while not giving much away in terms of defensive prowess. This group should be viewed as dangerous offensively by all of their opponents.
Lukas Cormier, D, Charlottetown Islanders (VGK): The reigning QMJHL Defenseman of the Year, Cormier had an incredible 33 goals from the back end and put up 81 points. He is all about the offensive elements of the game, using excellent puck-moving capabilities and awareness to exploit the opposition. Teams just didn't know how to slow him down, so they didn't. Defensively, Cormier still needs work, but he's going to have a chance to make a big impact on Canada's power play.
UPDATED: 9/8/2022
Ethan Del Mastro, D, Missassauga Steelheads (CHI): Named as a replacement for Daemon Hunt, who sustained a hand injury just before the tournament, Del Mastro was rewarded after a breakout season in 2021-22. The 6-foot-4 blueliner provides a steady presence on the back end with some improved two-way skills. His offensive game really found its footing last season. For Team Canada, as a late replacement, he might not get a ton of ice time, but this will be good experience for a player who is still eligible for the team next December.
Carson Lambos, D, Winnipeg ICE (MIN): After a bizarre draft season that saw him start in Finland and then have to drop out of his WHL season with an illness, he came back with a vengeance in 2021-22. Lambos posted 47 points in 51 games while playing big time minutes for one of junior hockey's best overall teams. He had eight assists in 15 playoff contests as well. Lambos is a good puck-mover who is able to escape pressure well and has such poise with the puck that makes him very effective in all three zones.
Ryan O'Rourke, D, Soo Greyhounds (MIN): The Minnesota Wild have to be thrilled that they'll have three players on Canada's blue line for this tournament. O'Rourke is probably going to get some significant minutes, too. He had a career year while captaining the Soo Greyhounds, posting 46 points in 51 games and averaging better than a point per game in the playoffs. He can do a little bit of everything, which is why he should see the ice an awful lot. It should be a good warmup for him as he gets set to rejoin the Iowa Wild in the AHL, which is who he spent the 2020-21 season with.
Donovan Sebrango, D, Grand Rapids Griffins (DET): The Red Wings made the choice to keep Sebrango in the AHL last season instead of send him back to junior. It may not have been good for his offensive numbers, but it was good to help him scale up his development. Sebrango is a very good skater and quality defender who spent the last two seasons playing against men in the AHL. This tournament should give him a chance to play a prominent role, getting tough matchups and possibly playing on the PK.
Ronan Seeley, D, Everett Silvertips (CAR): Last season was quite memorable for Seeley, who captained the Everett Silvertips and put up a career-best 44 points in 52 games. He also was one of the surprise adds to the Canadian team in the winter, but really earned it. Seeley plays a steady two-way game with an ability to effectively get pucks out of his zone and make some plays. He saw pretty regular minutes in the winter event, so it's likely he is going to do the same this time around.
Jack Thompson, D, Soo Greyhounds (TBL): Thompson may have made Team Canada in the winter, but a poorly-timed coronavirus outbreak on his team cost him the shot. This time, he'll be able to play and will do so after a season during which he had 57 points 65 games between the Sudbury Wolves and Soo Greyhounds. He's got plenty of offensive ability, having scored 21 goals last season. He might have to fight for his ice time on this roster because they've got a lot of guys that can do what he does, but he's a worthy inclusion after the season he just had.
Olen Zellweger, D, Everett Silvertips (ANA): There's not much you can say about Zellweger's 2021-22 campaign without having to pick your jaw up off the floor. The offensive defenseman and power-play weapon had an astonishing 78 points in 55 games. He was named the top defenseman in the WHL. He should get a long look on Canada's top power play unit and be involved heavily in their offensive attack. Zellweger took such a huge step year over year, he's looking like a top-end prospect for the Ducks now.
The leading point getter amongst WHL defensemen strikes again!

That's goal No. 14 and point No. 75 for @AnahiemDucks draft chip, Olen Zellweger!@WHLsilvertips pic.twitter.com/hSXWn6APJd

— The WHL (@TheWHL) April 7, 2022
Goaltenders
To me, this could be the strength of Canada's team overall. The goalies are all capable of being the No. 1 guy, though I think that job will ultimately belong to reigning CHL Goalie of the Year, Dylan Garand. But to have options is a lot more than most teams can say in this tournament. Canada's trio has experience, pedigree and a track record of success. That ultimately could be the difference for them in this event.
Brett Brochu, G, London Knights (undrafted): Though he is undersized and undrafted, Brochu is a battler in the net. He has a career .915 save percentage in the OHL with 85 games under his belt. While Brochu is likely to be Canada's No. 3, he's very capable if needed.
Sebastian Cossa, G, Edmonton Oil Kings (DET): Selected in the first round by Detroit in 2021, Cossa is big, quick and has immense potential to be a really good No. 1 goalie in the NHL down the line. Last year he was the goaltender for one of junior hockey's best teams, but his numbers dipped quite a bit from his draft campaign. He had a .913 save percentage in the regular season, but then posted a .919 mark in the playoffs as Edmonton won the WHL title. Despite that pedigree, he may end up as Canada's No. 2 in this tournament, but he should still see some playing time.
🎥 Hear from goaltender Sebastian Cossa after his Edmonton Oil Kings won the 2022 #WHLChampionship.@EdmOilKings | @DetroitRedWings pic.twitter.com/576mh3cRUp

— The WHL (@TheWHL) June 14, 2022
Dylan Garand, G, Kamloops Blazers (NYR): Kamloops had an incredible season and Garand was a major part of it. He was the CHL Goalie of the year after posting a .925 save percentage over 45 starts, going 34-9-1 between the pipes. In the playoffs, he was even better, with a .933 save percentage over 17 contests. Garand lacks the size of Cossa, but he is a technically sound goalie who doesn't beat himself. He has a good chance to be the No. 1 the whole way for Canada, as long as he plays to his standard.