2022 NHL Draft: First Round Pick-By-Pick Analysis
2022 NHL Draft: First Round Pick-By-Pick Analysis
Veteran prospect analyst Chris Peters analyzes each team's pick during the first round of the 2022 NHL Entry Draft.
Jul 7, 2022
by Chris Peters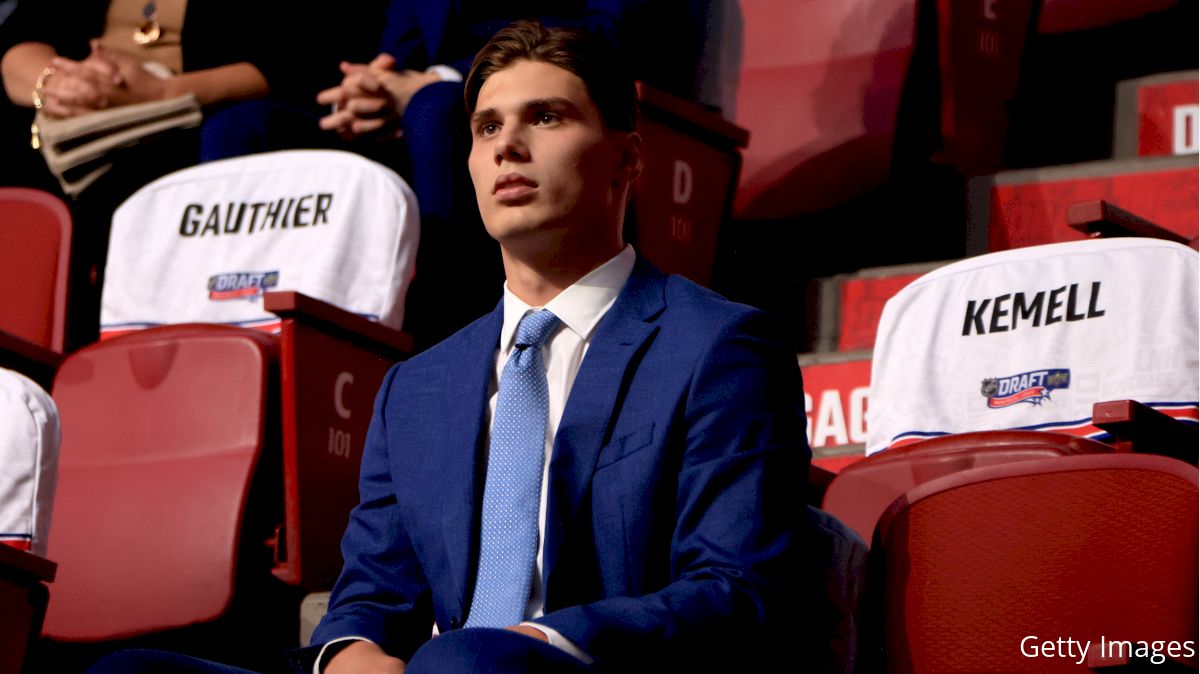 Every team that is making a selection, or multiple selections, during tonight's first round does so with the hope that one of these prospects are going to become major contributors to a team in its ongoing quest to win the Stanley Cup. If they're lucky, they'll land a star player with a chance to change the face of their franchise.
It all starts with the host team as the Montreal Canadiens hold the rights to the No. 1 overall selection. The Habs have been secretive about what they'll ultimately do with the pick, only revealing that one of the consensus top-three ranked players in this draft are the three they're considering -- Kingston Frontenacs Center Shane Wright, Slovakian winger Juraj Slafkovsky and U.S. National Under-18 Team center Logan Cooley. One of those three players will hear their name called, throw on the iconic Montreal bleu, blanc, et rouge sweater and be one of the new faces of the NHL's oldest franchise.
The spotlight is always bright in the NHL, but it shines a little brighter in Montreal as the league gets set to welcome its newest crop of future players. We'll have you covered all the way through the first round with analysis from veteran NHL Draft analyst Chris Peters, who will be breaking down all of the picks as they happen right here on FloHockey.tv.
The draft is set for 7 p.m. ET and we'll be sharing scouting reports and team fit analysis for all 32 picks immediately after they happen. You can also follow Chris on Twitter for additional commentary: @chrismpeters.
---
2022 NHL Draft First Round Order of Selections
1. Montreal Canadiens: Juraj Slafkovsky, LW, TPS (Finland)
Peters rank: 3
Report: With his tremendous 6-foot-4, 220-pound frame, Slafkovsky is physically imposing. Then he adds in his skills, a high-end release on his shot and the ability to drive the net. He has all the makings of a higher-end NHL power forward. A lot of his offensive production was in international competition, which has some scouts wondering if those small-sample events should override the fact that his production in Finland's top pro league – 10 points in 31 games. Internationally, he did show high-end scoring ability against professionals. At the Olympics, Slafkovsky won a bronze medal and scored seven goals to be named the tournament's MVP. He also had nine points in eight games at the Men's World Championship. His size, his skill and success at those particular events suggest a high ceiling to be as top-line power forward. He also may be the most NHL-ready prospect of this entire class.
Team Fit: The Canadiens provided some early fireworks by picking Slafkovsky first overall as opposed to Canadian-born Shane Wright, who spent much of the year as the presumed No. 1. Slafkovsky gives the Habs a big, strong, skilled winger for their top line that should include Nick Suzuki and Cole Caufield long term. Slafkovsky could make the jump to the NHL as soon as next season. Though I had Slafkovsky ranked third on my final rankings at Daily Faceoff before joining Flo Sports, I did move him to No. 2 on my updated top-10 rankings yesterday. I think very little separates the top three players in this draft and each has the potential to become an impact NHLer. Slafkovsky's goal scoring ability and size had to be especially attractive to the Canadiens in making this pick and he should help bolster scoring in the long-term.
Two quick goals including penalty show by Juraj Slafkovsky for Slovakia.🇸🇰💥#KAZSVK #IIHFWorlds pic.twitter.com/LGuaNZK5LN

— IIHF (@IIHFHockey) May 20, 2022
2. New Jersey Devils: Simon Nemec, D, HK Nitra (Slovakia)
Peters rank: 5
Report: A sensational draft season that broke records in Slovakia, no U18 defenseman has ever produced at the level Nemec did in his home country's top pro league. Nemec had 26 points in 39 games this season before rattling off 17 points in 19 postseason contents. He made Slovakia's Olympic and World Championship teams, showcasing his puck-moving abilities at the latter event to the tune of six points in eight games. Nemec is one of the draft's most effective offensive defensemen and is good-enough defensively, but will have to improve in his own end to make a larger impact. The fact that he's played as well as he has at the professional level from such a young age speaks to Nemec's maturity and skillset, leading many to believe he's a long-term lock as a top-four defenseman longterm in the NHL.
Team Fit: The Devils probably would have liked to see Slafkovsky slip down to them at No. 2 because they definitely don't need centers. So they decided to select Simon Nemec who is one of the best offensive defensemen in this draft. They took Luke Hughes last year who is a highly-talented offensive left-shot defensemen, Nemec is a right shot and can play a similar style. He's still going to need some more time to develop physically, but his mental game is very strong. He will be given a chance to make the Devils out of camp and may even be eligible to go to the American Hockey League. The Devils are building a very strong blue line for the future that already includes longterm pieces like Ty Smith and Dougie Hamilton, now they've got a pair of blue-chippers in Hughes and Nemec.
3. Arizona Coyotes: Logan Cooley, C, U.S. National Under-18 Team (USHL)
Peters rank: 1
Report: The most dynamic player in this draft in my opinion, Cooley was my No. 1 prospect since the midterm. I think his offensive tools give him the chance to be a bigger scoring threat at the next level. Cooley is one of the best skaters among forwards and can make plays at speed. He looks like the kind of player the modern NHL is built for, where speed and transition can be a separating factor for teams just as it was for the Stanley Cup champion Avalanche. Cooley does not have the size of other top prospects and his being just below 5-foot-11 does give some teams concern about his ability to be a big-minutes center at the NHL level. Additionally, as skilled as Cooley is, he can be caught doing too much at times and can get himself into trouble. Mostly, however, he looks like the kind of player that can slot into the top six and of any player in this draft, I believe he has the highest ceiling and perhaps the best chance to become a true star at the NHL level.
Team Fit: Cooley immediately becomes the No. 1 prospect in a system that already has a few blue-chippers. Arizona is in a full-on rebuild and do not need players immediately. Cooley is heading to the University of Minnesota next season and is likely to be a one-and-done. It will allow him to get stronger and gain experience before embarking on his NHL career where he will be one of the centerpieces of Arizona's future. The Pittsburgh native is going to help this team become more dynamic as soon as he arrives. He could be this team's No. 1 center of the future.
Another day, another Logan Cooley highlight 🥱#USAvsMUS pic.twitter.com/i3qqjov6eR

— USA Hockey's NTDP (@USAHockeyNTDP) March 13, 2022
4. Seattle Kraken: Shane Wright, C, Kingston Frontenacs (OHL)
Peters rank: 2
Report: A heady two-way center with a lethal shot and elite-level hockey sense, Wright is one of the most well-rounded players in the draft. Though there are some concerns about his overall ceiling due to a relative lack of progression, perhaps spurred by not playing during the 2020-21 season due to COVID-19 restrictions shutting down the OHL, there is a large belief he can still be a strong piece down the middle. He had 94 points this season for Kingston and showed flashes of dominance. Wright doesn't seem to have any one weakness, but outside of his hockey sense he may not have any other true standout traits. He's the classic "does everything well" guy that can be versatile and valuable. The question is if he can be a more lethal offensive player to maximize his potential as a top-six center.
Team Fit: No one really saw Wright slipping this far, but now the Kraken have their top two centers of the future after drafting Matty Beniers last year. The Kraken will also be getting a player that probably has a huge chip on his shoulder after sliding on draft day. The big question the Kraken have to ask themselves now is if Wright is best served in the NHL next year or if he could use another year of junior. He missed all of last season due to the Covid shutdown, but now has a chance to play and dominate, allowing him to arrive ready to make an impact. He'll have every chance to make their roster right away, though.
What makes top #NHLDraft prospect Shane Wright so special?

We'll let the players who go up against the @KingstonFronts star let you in on it 🎥 pic.twitter.com/reiPlE6gPM

— OntarioHockeyLeague (@OHLHockey) July 7, 2022
5. Philadelphia Flyers: Cutter Gauthier, C/W, U.S. National Under-18 Team (USHL)
Peters rank: 6
Report: A big, athletic forward who can play center or wing has a good combination of skills to go along with his 6-foot-3 frame. Gauthier's father was a professional goaltender which may be why young Cutter developed one of the draft's heaviest shots. He is a goal-scorer with a good work ethic and the skill to get to the interior and be a more dangerous scoring threat. He doesn't have dynamic hands, but protects the puck well, skates at a good clip for a man his size and has the work ethic to win a lot of battles. As one of the draft's best athletes, there is a ton of belief in his upside.
Team Fit: The Flyers are bigger up front and bet big on upside. If Gauthier is going to be a center at the NHL level, he needs to refine some of the details, but he has the work ethic and the skill to be very good at that position. A goal-scoring center with size and some toughness is just what the Flyers need in a prospect system that's a little lighter at the moment. Gauthier is heading to Boston College next year where he is slated to play center. He might be one to two years away from being able to challenge for a spot on the roster.
6. Columbus Blue Jackets (via CHI): David Jiricek, D, HC Plzen (Czechia)
Peters rank: 4
Report: A 6-foot-3 defenseman with good mobility, Jiricek missed the last half of the season with an injury. He did, however, return in time to make Czechia's senior national team for the World Championship and showed no ill-effects from the injury. Jiricek is one of the better two-way defensemen in this draft as he's defensively responsible, physical and then shows a proclivity for offense. His skillset is highlighted by one of the draft's heaviest slap shots and high-end one-timers. He looks like he could project into being a top-four defenseman with the added value that he's a right-shooting blueliner.
Team Fit: The Blue Jackets have been drafting quite well of late, but needed to bolster their D corps. As a big right-shot guy, Jiricek looks like he should fit in nicely as a top-four option around Zach Werenski, who is under long-term contract in Columbus. Jiricek is probably going to need some time after missing half of the season with an injury, but he should be in the mix to go to training camp with the Blue Jackets. If he doesn't, he can spend another year at home developing or even go to the AHL. Either way, the upside Columbus just secured for its defensive corps is especially high. Jiricek has a chance to be a big-time player. His two-way skills and overall athleticism are why he was my top defenseman this year. It is also notable that this was the pick that Columbus acquired when they traded away star blueliner Seth Jones last summer.
7. Chicago Blackhawks (via OTT): Kevin Korchinski, D, Seattle Thunderbirds (WHL)
Peters rank: 14
Report: There is a rawness to Korchinski that had a lot of teams intrigued. Throughout this season, he just kept getting better and better and suddenly emerged into one of the top-producing offensive defensemen available this season. He helped Seattle go on a deep run to the WHL championship series with 19 points in 25 postseason contests. He'll need to work on his shot some as he's not much of a shooting threat, but his passing ability rates very highly among top draft-eligibles on the back end. He is viewed as one of the defensemen in this draft with the highest overall ceiling.
Team Fit: This is a big upside play by the Blackhawks here. Korchinski is one of the better offensive defensemen available and he put up major points this year. That said, there's a lot of risk to him as well. His defensive skills need a lot of work and he has to get stronger, but that latter concern is going to be true of just about every defenseman selected. Chicago has some quality puck-movers in their system, but Korchinski moves right to the top of that list. I was a little surprised they didn't go after one of the higher-end forwards, but I understand the allure of Korchinski's potential, especially with what he showed over the course of the season. Since this pick was part of the Alex DeBrincat trade, there will be a lot of scrutiny on the selection.
🎥 If the 2022 WHL Playoffs didn't confirm Kevin Korchinski as a household name, the 2022 NHL Draft will.@SeattleTbirds | #NHLDraft pic.twitter.com/IXEWkCtc2O

— The WHL (@TheWHL) July 7, 2022
8. Detroit Red Wings: Marco Kasper, C, Rogle (Sweden)
Peters rank: 12
Report: A rangy center who can play especially well at both ends of the ice, Kasper has endeared himself to scouts with his unrelenting motor and unwillingness to quit on any puck or play. He has an aggressive, abrasive style that makes him a thorn in the side of the opposition. The big question with him is if he has the offensive upside to safely project as a middle-six center. He has the skating ability and skill to suggest more points could be coming, but 11 points in 46 games doesn't really jump out at you. Teams really do love that motor he has, though, and with good reason.
Team Fit: Steve Yzerman is often full of surprises, but this pick seems very much on-brand. The Red Wings need a center and they also needed some size up front in their system. Kasper is a gritty guy that might have more offense than he's shown. He reminds me so much of Anton Lundell, who is looking like a steal for the Florida Panthers. The Red Wings can make a decision on Kasper, either keep him for the NHL roster next year or maybe send him back to Sweden for more development time. Either option is good. The Red Wings have had a ton of success drafting out of Europe historically.
9. Buffalo Sabres: Matthew Savoie, C, Winnipeg ICE (WHL)
Peters rank: 10
Report: A shifty, dynamic center who plays with a lot of competitive fire, Savoie is a natural center who is more likely to shift to wing as a pro due to his size. He is a solid skater who can get to the net quickly and has the offensive tools and mindset to be an effective shot-pass threat. He had 90 points this season in 65 games with Winnipeg in the WHL. Despite his stature, he doesn't shy away from the physical parts of the game and can hold his own in puck battles. The size remains a concern, but he's heard that long enough to know how to overcome it. Savoie is likely going to need a year or two more before he can hop into an NHL lineup.
Team Fit: The Sabres have been getting more and more skilled over these last few years. I'm not sure if they see Savoie as a center or a wing, but regardless he makes them more dynamic up front. They've got a young core of forwards with Dylan Cozens, Peyton Krebs, Jack Quinn and J.J. Peterka just to name a few. Savoie fits right in with that collection of talent with a good dose of goal-scoring ability. At one point Savoie was viewed as a top-five guy in this class. He's still got a chance to reach that level of potential He should be a lot of fun to watch, though I'd expect he needs another year of junior before he can challenge for a spot with Buffalo.
Silky smooth Matt Savoie builds on his WHL rookie scoring lead. He has 63 points in 47 games.@WHLWpgICE | #NHLDraft pic.twitter.com/4kvcD8tlcc

— The WHL (@TheWHL) February 28, 2022
10. Anaheim Ducks: Pavel Mintyukov, D, Saginaw Spirit (OHL)
Peters rank: 17
Report: An especially gifted goal scorer from the back end, Mintyukov is able to jump into plays offensively and create better scoring opportunities for himself or his teammates. His ability to walk the offensive blue line and get to the interior with the puck on his stick allowed him to score pretty consistently this season. He has the frame to defend adequately, but it's the offensive elements that are especially exciting. Though there remains a lot of concern about Russian players given the current geopolitical landscape involving Russia, Mintyukov has been in North America the last two years and is believed to be the lowest risk of the Russian prospects in terms of being available to play in the U.S. or Canada going forward.
Team Fit: Mintyukov joins a stable of young defensemen that is quickly becoming one of the more offensively exciting, led by Jamie Drysdale who just completed his first full season in the NHL and WHL standout Olen Zellweger. Mintyukov is a little bigger than both and has the strength to play in his own end while not giving much away offensively. The Ducks are going to have a very skilled team as they keep betting big on skill as they have in their most recent several drafts. While I dropped Mintyukov on my rankings a bit, he's got a lot of exciting elements that fit well with what the Ducks are building. Lastly, the Russian factor clearly did not scare Anaheim, which could be to their benefit in the end.
11. Arizona Coyotes (via SJS): Conor Geekie, C, Winnipeg ICE (WHL)
Peters rank: 19
Report: One of the draft's biggest centers, Geekie is an especially intelligent two-way player who always seems to be around the puck. The big concern with him is that he has a heavier skating stride that can leave him behind the play sometimes. Despite that, his hockey sense and awareness allow him to often be in the right place at the right time. With his size, strength and good soft-touch skills for a big man, he has a chance to be a two-way power center that produces for his NHL club.
Team Fit: By trading up, the Coyotes used some of their significant draft capital, trading pick No. 27 and two second-round picks. It shows how much they wanted to land Geekie. The draft board has to do you some favors sometimes and clearly that happened here. After drafting a quick, dynamic center who isn't that big in Cooley, they get a big two-way center who doesn't have great footspeed, but has high-end hockey sense. He's a really interesting player here. My ranking reflects my concern about his skating, but I really like how much the puck seems to find him anyway. The Coyotes are rebuilding through the middle of the ice. Geekie probably will return to junior next year, but he might not be far from making his NHL debut.
12. Columbus Blue Jackets: Denton Mateychuk, D, Moose Jaw Warriors (WHL)
Peters rank: 13
Report: With high-end puck-moving skills and excellent decisionmaking, Mateychuk is one of those players who may just be scratching the surface of his overall game. He's got higher-end skating ability and sees the ice especially well. His ability to escape pressure and give himself more time and space to make good decisions feeds into his elite reads in transition. He can benefit his forwards with decisive puck-movement and can stretch the ice to allow them to transition even more effectively. Mateychuk produced at nearly a point-per-game clip in the WHL this season. Among the concerns about his game as his strength and refining his defensive details. There's a lot to work with, though.
Team Fit: The fact that the Blue Jackets went with defensemen in their two top-12 picks is a bit of a surprise, but shows how much they value building a blue line. Mateychuk was my no. 3 defenseman available and he fits right into the kind of D corps Columbus is building. Adding him to Werenski, Jiricek and last year's first-rounder Corson Ceulemans, this Columbus blue line is going to be super skilled. Mateychuk could provide tremendous value as a potential No. 4 Dman.
🎥 "OHHHH BABY. Denton Mateychuk! Roll The Highlight Reel!"@MJWARRIORS | #NHLDraft pic.twitter.com/wAvuozYgio

— The WHL (@TheWHL) July 7, 2022
13. Chicago Blackhawks (via MTL, NYI): Frank Nazar, C, U.S. National Under-18 Team (USHL)
Peters rank: 7
Report: A sneaky, speedy center, Nazar is another one of this draft's more dynamic talents. He has the speed to get through defenses and seems to find himself on breakaways an awful lot. Nazar's got a good motor, too, that allows him to not rely solely on his skill. At 5-foot-10, he's on the slighter side for a center and some teams felt they needed to be cautious with his projection of playing down the middle. I think he's got top-six upside, however, and played his role perfectly at the National Team Development Program this year. The speed and skill be brings to the table make him an especially exciting prospect.
Team Fit: The Blackhawks traded Kirby Dach who they took No. 3 overall just three years ago. By moving him, they get to make this pick and I think they were fortunate to find this kind of value this late. Nazar was the best forward available on my list and I think they've got great value here. He's not the biggest guy, but he fits in with the Blackhawks style of old. They were one of the faster, more skilled teams in the league in their Stanley Cup years and will have a long way to go to get back there. Either way, Nazar is in a great spot. He is committed to play for the University of Michigan next season and probably needs a few years in school before he's ready to come out.
14. Winnipeg Jets: Rutger McGroarty, LW, U.S. National Under-18 Team (USHL)
Peters rank: 18
Report: A rugged winger with good goal-scoring ability from both near the net and at distance, McGroarty gives teams a lot to like. He plays the game physically and is hard to beat along the walls or at the net front. The biggest drawback to his game at the moment is his skating, though it appeared to improve some over the course of last season. Despite the feet, he manages to get to where he needs to be a lot and is tough to move when he gets there. His hard-nosed style and booming shot resonates with teams, but it's probably his character that is one of the biggest separating factors for him among his peers.
Team Fit: McGroarty is the exact kind of player I expected the Jets to pick. As a high-character guy, he will play any role you need him. The Jets have also had great success drafting players that are on the college path. McGroarty will go to Michigan and be an impact player. The skating isn't enough of a concern for me to think he won't be able to keep up with the pace the Jets want to play at. It's been one of his most improved elements. He could be a future captain for this team, just as he wore the C for Team USA at the National Team Development Program.
🔒 of the century? Rutger McGroarty scoring against Muskegon! 🚨#USAvsMUS pic.twitter.com/YAP7Z1OO6Q

— USA Hockey's NTDP (@USAHockeyNTDP) March 13, 2022
15. Vancouver Canucks: Jonathan Lekkerimaki, RW, Djugardens (Sweden)
Peters rank: 9
Report: A highly-skilled winger that spent half his season in Sweden's U20 ranks and the other half in its top professional league, Lekkerimaki produced wherever he went. He had 35 points in 26 games at the U20 level before scoring seven goals and adding two assists in 26 games in the pros. Additionally, he led Sweden to the gold medal at the U18 Men's World Championship with 15 points. Lekkerimaki has good hands and one of the best shots in this draft. He has a sniper's mentality, but a playmaker's touch. He does a little bit of everything in the offensive zone and has the skating ability to separate from defenders. He can be a bit one-dimensional at times, but he plays with enough competitiveness that he's not an easy player to contain.
Team Fit: Lekkerimaki is a no-brainer selection in this range. He's a shooter who can get behind defenses with his puck skills. He will probably play with the pro side in Djugardens next year in Sweden's second division. That's a good spot for him to continue developing as he showcased well in the SHL in the second half of the season. I think the Canucks are fortunate to land a player of his caliber at this range of the first round. He's only beginning to scratch the surface of his overall game.
16. Buffalo Sabres (via VGK): Noah Ostlund, C, Djugardens (Sweden)
Peters rank: 32
Report: Ostlund is a dynamic center who can read plays extremely well. He is decisive with the puck on this stick and makes good decisions to maximize his linemates' abilities. At the World U18 Championship, he played a leading role for Sweden at the center position, often playing every third shift. His work ethic is solid and even though he lacks size and strength, he's committed to playing in his own end.
Team Fit: Acquired in the blockbuster Jack Eichel trade, the Sabres went a little further off the board from what I thought they could do in this range. That said, they have to feel great about what they ended up with in this draft having already taken Matt Savoie earlier. Ostlund is an especially skilled center who can do a lot with the puck on his stick. What's surprising, however, is that the Sabres drafted two undersized centers. This shows they're less concerned about size and more concerned about skill. That's a bet I'd be willing to make. I think there were better prospects on the board as you can tell from my ranking, but Ostlund was a player that grew on me a lot more in the second half of the season.
17. Nashville Predators: Joakim Kemell, LW, JYP (Finland)
Peters rank: 8
Report: Kemell has floated around the top of this draft all season thanks to his tremendous start in Finland's top pro league. His production slowed a bit down the stretch as he dealt with injuries, but he still had 15 goals in 39 games, a respectable number for a U18 player against pros. He also had a solid showing at the World U18 Championship where he scored six goals in five games. Kemell is a true finisher, with quick hands and a quicker release. He can be a high-volume shooter, but he scores enough goals where you have to like that. He's not the biggest player and his injury troubles this year do raise some concerns about durability, but on skill alone, there is a lot to like.
Team Fit: The Preds land one of the draft's most gifted goal scorers. He has an elite release and good hand skills to make plays in traffic. He's always looking for the best shot and can score from distance. This is a very fortunate draft-day fall as I think he was by far the best player available on the board. He's already played at the top pro level in Finland and probably could use another year there at least before bringing him along to the big club. This should be tremendous value for Nashville. It's not going to be too long before the Preds need more scoring help and Kemell should provide that when he's ready to debut.
Joakim Kemell: Unreal hands. Unreal plays. Will be an unreal player for the @PredsNHL @leijonat @JYPJyvaskyla pic.twitter.com/Kin46KSyM6

— IIHF (@IIHFHockey) July 8, 2022
18. Dallas Stars: Lian Bichsel, D, Leksands (Sweden)
Peters rank: 27
Report: A massive defenseman with tremendous feet, Bichsel really came into his own this season playing in Sweden's top pro division. His physical tools are among the best in this draft and he is a tremendous overall athlete. He's got some meanness and is defensively responsible. The big question with him is if he has much offensive upside. There are flashes of his skill, but it's not necessarily what you're going to expect from him at the NHL level. HIs season was cut short by a concussion, but there is a lot of runway for a player at his size (6-foot-5, 216) and his age. He's got a tremendous ceiling.
Team Fit: The Stars have a cornerstone defenseman in their system already with Miro Heiskanen, but Bichsel is going to be a guy that they can let develop at his own pace and maybe be another foundational piece for their future. Heiskanen is great at the two-way play, but Bichsel looks like he could be the modern day shutdown defenseman. Patience will be required for his development, but he's well on his way to getting to that massive potential he has.
19. Minnesota Wild (via LAK): Liam Ohgren, LW, Djugardens (Sweden)
Peters rank: 23
Report: A high-end goal scorer with a heavy shot, Ohgren plays a mature game with good physical strength. He has deceptively excellent hands and skates just well enough to not really view it as a concern. He really came alive at the World Under-18 Championship where he captained Sweden to the gold medal, and that was the perfect last impression for scouts. His competitiveness is another standout trait that NHL teams really liked about him.
Team Fit: The Wild got this pick in their trade of Kevin Fiala to the Kings in addition to strong young defenseman Brock Faber. Now they get a quality goal-scoring forward who has one of the heavier shots among forwards in this draft. Ohgren is physically strong, which may give him a shorter timeline to reach the NHL. He hasn't gotten a ton of pro experience yet, which is why I think he'll be in Sweden at least for another year, but there's going to be a chance for him to get to the NHL as early as 2023-24. Ohgren has been one of the late risers of this class and I wondered if he would go even higher than this slot.
🚨 2-on-1 ! @Trekronorse extends their lead to 5-3 over @usahockey

Liam Ohgren gets his second of the game#USASWE #U18Worlds pic.twitter.com/pCesX9bJ29

— IIHF (@IIHFHockey) May 1, 2022
20. Washington Capitals: Ivan Miroshnichenko, LW, Omsk (Russia)
Peters rank: 20
Report: The risks with selecting Miroshnichenko are well known. He's under contract in Russia and worse yet, he dealt with a scary diagnosis of Hodgkins lymphoma that sidelined him as he underwent treatment. With a positive prognosis and a brighter outlook for his health, the focus is returning to what Miroshnichenko can be as a player. The risk factor may be high, but so is the potential for reward. Prior to that diagnosis, Miroshnichenko came into this year as one of the most highly-touted prospects of the draft due to his strength and high-end scoring ability. Miroshnichenko, when healthy, is a powerful skater with quick hands and a highly-competitive nature. A team that is willing to take on the risk and be patient for Miroshnichenko's arrival very well could end up with one of this draft's most talented players.
Team Fit: I think he would have been a top-five player in this draft if not for his cancer diagnosis and the Russian factor. That Washington decided to take on the risk isn't at all surprising. They've had the greatest Russian NHLer of all time, they have experience dealing with political issues that surround Russian players and will be able to provide Miroshnichenko the support and mentorship he'll need to recover from his illness and get back on track. This has home-run potential for the Caps because I think Miroshnichenko is that good. My ranking reflects the risk that came with him, but I think there could be incredible reward here.
Ivan Miroshnichenko AGAIN! Back-to-back!

Miroshnichenko with a dirty dangle returns the 3-goal lead to @russiahockey #U18Worlds pic.twitter.com/NJfwATOOXu

— IIHF (@IIHFHockey) May 6, 2021
21. Pittsburgh Penguins: Owen Pickering, D, Swift Current Broncos (WHL)
Peters rank: 28
Report: Pickering is a big defenseman with excellent skating ability for his size. His defensive capabilities are strong, but it's his growing offensive game that brings intrigue. Pickering is a raw talent that is going to need time to develop. His decisions with the puck need to mature some, which means he's probably a few years away. He makes a good first pass and can get pucks out of the zone, and that foundation of skating he has should allow him a lot of runway to develop. Just be patient.
Team Fit: The Penguins are still in win-now mode and won't need Pickering for the next little while. Years of trading away first-round picks has left the Pittsburgh pipeline mostly bare, especially on the blue line. This is going to fill a glaring organizational need, while also giving the Penguins a player that has pretty good upside. As Pickering gets stronger, he'll only get better. He's probably two to three years away, though.
22. Anaheim Ducks (via BOS): Nathan Gaucher, C, Quebec (QMJHL)
Peters rank: 34
Report: Rugged two-way play with some solid scoring ability come with Nathan Gaucher who has a lot of power in his game. He doesn't get pushed around and could bully players at the junior level. While he isn't especially skilled in terms of his hands, he has that power element that allows him to push through defenders. He had 31 goals this season, so he can sling it a bit.
Team Fit: Gaucher looks like a Western Conference kind of player. The Ducks have one of the most skilled centers in the game today in Trevor Zegras, but will back him up with a couple of bulldogs. Mason McTavish, who announced the Gaucher pick, is probably the No. 2 center and Gaucher will have a chance to be No. 3. He's defensively responsible and mean. He will endear himself to the Anaheim Ducks alumni from their rugged 2007 Stanley Cup Champion for sure. My concern with him is that the offense might be harder to come by at the NHL level for him, but he fits a role well for the Ducks.
After folllowing in brother Jacob's footsteps in becoming a solid two-way QMJHL player, @quebec_remparts forward Nathan Gaucher is looking to one-up his older sibling by getting selected in the #NHLDraft.#MeetTheFuture | @KubotaCanadaLtd pic.twitter.com/190r96Dipy

— QMJHL (@QMJHL) July 7, 2022
23. St. Louis Blues: Jimmy Snuggerud, RW, U.S. National Under-18 Team (USHL)
Peters rank: 26
Report: A power winger who is good on the forecheck, Snuggerud can also score. He's responsible in all three zones, has some toughness to him and really makes defenders think twice when they go into the corners with him. Having that edge to him is one thing, but he combines it with pretty decent soft-touch skills and good puck protection abilities. He can score from distance, but also drives the net well. I think his offensive upside might be a little bit behind some of the defensive skills he has, but he's just a versatile wing that should fit in a lot of different roles. He is the son of former NHL player Dave Snuggerud.
Team fit: The Blues continue to beef up their forward group after drafting guys like Jake Neighbours and Zachary Bolduc in their last two first rounds. Snuggerud plays a heavy, responsible game. He likely slots more into the middle six of a lineup. He's heading to the University of Minnesota and may need two to three years there. His competitive drive should endear him to Blues fans really quickly.
24. Minnesota Wild: Danila Yurov, RW, Magnitogorsk (Russia)
Peters rank: 11
Report: Yurov does not have a power winger's size, but he does have a power winger's mentality. He uses his physical strength to his advantage, even against older opponents and finds ways to drive the net. He's a good north-south player in that he has good enough puck skills, but doesn't overuse them. Yurov has a smooth offensive game that allows him to beat goatlenders in tight and slip behind defenders easily. He's probably not as dynamic as some of the other forwards in this draft, but he has a nose for the net and knows how to get there and if you're in his way, watch out. The fact that he barely played when called up to Magnitogorsk's KHL roster this season makes his numbers look dreary, but he should see a bigger role next year. However, the concern over the ability to get Russian players to come back to the United States is at an all-time high, especially with players that are already signed by KHL teams.
Team Fit: The Wild take advantage of other teams being nervous about taking Russian players. He was my best player available for quite some time. Minnesota is dealing with a situation right now with Kirill Kaprizov, but are not speaking publicly about it. This pick may tip that the Wild are not as concerned as some of the reports have suggested. Yurov is under contract for one more season in the KHL. Minnesota won't be able to do much until then, but they get a year to figure out if there's a way to bring him to North America. It's higher risk, but incredibly high reward potential here.
25. Chicago Blackhawks (via TOR): Sam Rinzel, D, Chaska H.S./Waterloo Blackhawks (MN-HS/USHL)
Peters rank: 29
Report: Rinzel is one of the fun projects of this draft. He is so raw, but there are plays that he makes that give you reason to believe there's some offensive upside for him to unlike. He's a 6-foot-3, lanky right-shot defenseman who can skate. His defending needs a lot of work, but his play with the puck shows flashes of skill. There is always risk in drafting high school players, but I got a lot of looks at him in the USHL and was impressed with how he performed in that setting.
Team Fit: The Blackhawks acquired the contract of Petr Mrazek to get this pick from the Toronto Maple Leafs on the draft floor, giving them a third first-round pick. They go after one of the higher-upside players in this draft, but he's a bit of a project. Rinzel likely will play another year of junior before going to the University of Minnesota. He's going to be a project, but a fun one because there are plays he can make that give you a ton of belief there's a lot more for him to unlock. He'll require a lot of patience.
Here's a closer look at Sam Rinzel's first goal in this week's #clipoftheweek brought to you by @greatclips. pic.twitter.com/6ZJFY4ddpu

— Waterloo Black Hawks (@BlckHawksHockey) November 16, 2021
26. Montreal Canadiens (via CGY): Filip Mesar, RW, Poprad (Slovakia)
Peters rank: 30
Report: A quick and shifty offensive player with the ability to score, Mesar has some electricity in his game. He is good through the neutral zone and has a chance to drive play. He's competitive and doesn't let his size get in his way at all. He played against men in the pro ranks all season and his speed gave those guys problems. He also was a dominant player in his own age group internationally for Slovakia.
Team fit: The Habs get another Slovak forward but on the opposite end of the size spectrum. You have to think the Habs looked no further than head coach Marty St. Louis as an example of the benefit of quick players who show higher-end skill. Mesar is going to need a few more years before he can make his way to the NHL, but he's going to get a lot of runway to develop properly. This is a very fair range for him to be selected.
27. San Jose Sharks (via ARI, CAR): Filip Bystedt, C, Linkoping (Sweden)
Peters rank: 44
Report: Bystedt is a big, quick center who can play off the rush very well. He's 6-foot-4 with good footspeed that he uses to zoom through the neutral zone. His size and strength make him a force down the middle of the ice as well. He had 49 points in 40 games in Sweden's junior ranks this year. I have some concerns about his hockey sense and ability to finish at the highest levels. He's going to need some time to find the offensive elements of his game as he rises up the ranks.
Team Fit: The Sharks traded down and still got great value in this range while picking up two second-round picks from Arizona. San Jose has never shied away from taking risks on the draft floor. That's what this is, but I think getting more draft picks in the trade emboldens them to make some bigger swings with their picks. The Sharks were drafting with heavy hearts themselves after the tragic passing of scout Bryan Marchment in Montreal Wednesday. It could not have been easy, but they made a strong pick and picked up more assets, continuing to do the work under the worst of circumstances.
28. Buffalo Sabres (via FLA): Jiri Kulich, C/W, Karlovy Vary (Czechia)
Peters rank: 26
Report: A standout performer at the World U18 Championship, Kulich was named the MVP of that tournament with nine goals. He has the best one-timer in this draft and a goal-scorer's mentality. On top of that, Kulich is a competitive player who is committed to playing on both sides of the puck. His skating is strong enough to give him the edge on defenders when he drives the net. He's not afraid to go to the hard areas and has tremendous offensive timing. He might not have an imposing frame, but he's an effective offensive player.
Team Fit: I really like the value for the Sabres here. They went with some smaller, skilled centers with their first picks and land an average-sized goal scorer with their next. Kulich showed a lot of offensive upside last season and it's clear the Sabres feel good about the D corps they've built with two No. 1 overall picks in Rasmus Dahlin and Owen Power. Their young forward corps just looks more and more exciting by the pick.
What a shot! Jiri Kulich with the absolute cannon!@narodnitym up 1-0 over @usahockey #U18Worlds pic.twitter.com/Z4tLq5nvQ1

— IIHF (@IIHFHockey) April 30, 2022
29. Arizona Coyotes (via EDM): Maveric Lamoureux, D, Drummondville Voltigeurs (QMJHL)
Peters rank: 68
Report: Lamoureux is one of the draft's biggest players. He has good mobility for a big player and was one of the best performers at the NHL scouting combine, showcasing his high-end athleticism. The big concern about Lamoureux is that he doesn't make great decisions with the puck and can get himself into trouble. He has the length and the skating to cover up some of those mistakes, but I think he's got a long way to go in the hockey sense department before I can comfortably project him into an NHL role beyond depth.
Team Fit: The Coyotes can take chances with the number of picks they had. They traded up to make this pick, giving Edmonton the No. 32 selection and taking on Zack Kassian. I really like what Arizona did earlier in the draft, but I think this is a pick that may not end up maximizing its value. Lamoureux has that size, but I just don't see more than that right now.
30. Winnipeg Jets (via NYR): Brad Lembert, C/W, Lahti Pelicans (Finland)
Peters rank: 25
Report: One of the most polarizing, yet most dynamic players in this draft, Lambert at one point was viewed as among the best in this draft class. His projection has been dimmed a bit by two years where he didn't really produce and only showed flashes of his immense skillset. Still, he is one of this draft's best skaters and with elite feet, you can go a long way. Another concern about Lambert is that he's been a bit too perimeter and struggles to get inside for better offensive opportunities. It's something he's going to have to improve on if he's going to make an impact at the NHL level. However, the foundation of his game is skating and if he can get himself back on track offensively, there could be a big reward at the end for the team that selects him.
Team fit: This pick came from the Andrew Copp trade and the Rangers making a deep playoff run, which is great news for the Jets because the risk is there, but you can't ignore the elite talent that Lambert has. There's plenty more of his game that he needs to unlock to be an NHL player, but the Jets are getting great value at No. 30 here. He needs more development time and the Jets face an immediate decision about where he should play next year. He can return to Finland, he can go play in the WHL where the Seattle Thunderbirds own his rights, or he can potentially start in the American Hockey League. Whatever decision the Jets make, they need to start working on helping Lambert unlock the upside he's shown since he was 15 years old lighting up international tournaments. He didn't have a good draft season, but his next steps are more important.
So…which GM is gonna step up to the plate and draft Brad Lambert tonight? #2022NHLDraft pic.twitter.com/peAywbWmu2

— Spoked Z (@SpokedZ) July 7, 2022
31. Tampa Bay Lightning: Isaac Howard, LW, U.S. National Under-18 Team (USHL)
Peters rank: 16
Report: Quick and shifty, Howard is another dynamic offensive talent. He led the U.S. National Under-18 Team in scoring this season and was a scoring force at the World U18s. He has hands and feet that seem to move equally quick, which makes him difficult to defend. Howard also has impeccable offensive timing that puts him into threatening positions without defenders being able to close it off in time. His size is probably the primary drawback to Howard and his compete level can wane a little at times, but largely he gives his team quality minutes and a legitimate scoring threat. He is headed to Minnesota Duluth next season and will be one of that school's highest-drafted recruits.
Team fit: Of course the Lightning got a pick like this at 31st. Howard is one of the most purely skilled wingers in this draft. His puck skills and feet make him so dangerous. This is a classic Lightning pick. They always seem to get value no matter how low they pick or even if they're outside of the first round. This team continually bets on skill and I think it's worked out for them with four runs to the Stanley Cup Final since 2015. Howard is headed to the University of Minnesota Duluth and is probably a three-year college player.
32. Edmonton Oilers (via ARI, COL): Reid Schaefer, LW, Seattle Thunderbirds (WHL)
Peters rank: 39
Report: Reid Schaefer is a power winger that knows how to score. He's a bit of a late-bloomer that really found his game as this season progressed. He played his best hockey into the playoffs, but also had 32 goals in 66 games for Seattle this season. His footspeed is closer to average, but he has the size and power game that gives you a lot to work with. He was probably one of the bigger late risers of this class as more teams became familiar with him. It's not a surprise to see him go in the first round.
Team Fit: The Oilers get bigger up front as Schaefer is 6-foot-3, 214 pounds. He knows how to score and makes a lot of smart plays. Adding a toughness element without giving much away offensively makes a lot of sense. Though I ranked Schaefer in the second round with ranking him 39th, he was still in a tier where going in the first round was very reasonable. I think he's going to need some more time in junior, but could challenge for a spot in the next two years. Big scoring wingers will always carry a lot of value.