2022 NHL Draft Primer: Players, Teams To Watch; Updated Top 10
2022 NHL Draft Primer: Players, Teams To Watch; Updated Top 10
FloHockey's Chris Peters previews the 2022 NHL Draft with players and teams to watch as well as his updated Top 10 list for the first round.
Jul 7, 2022
by Chris Peters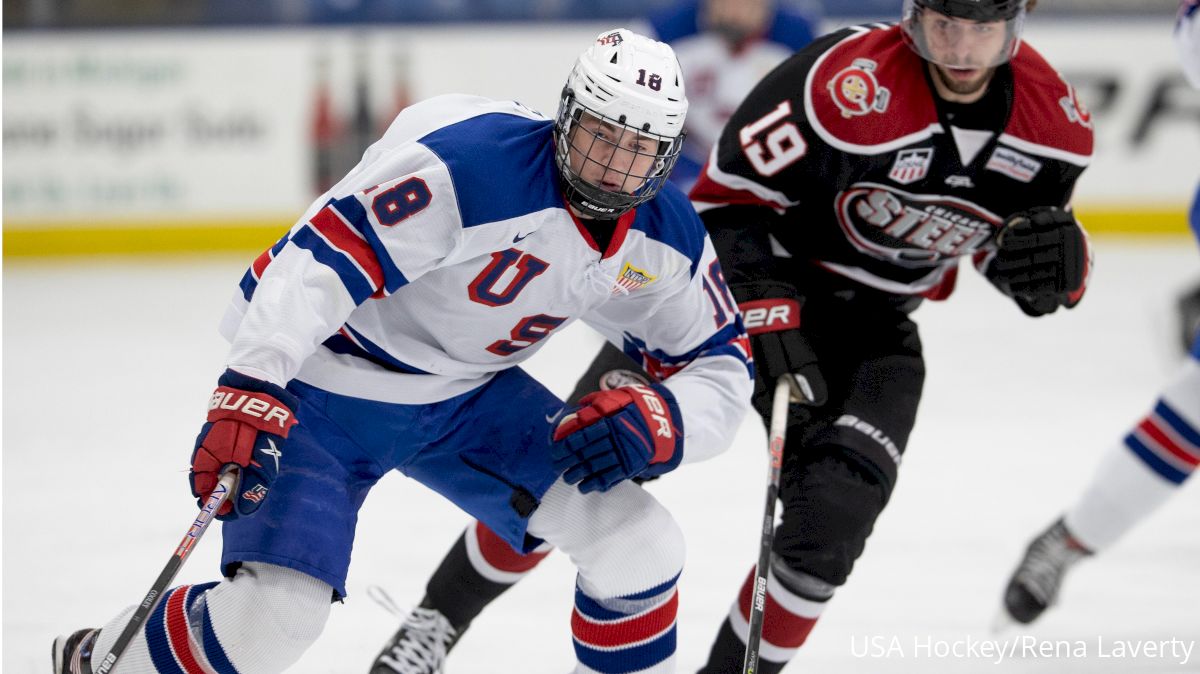 The 2022 NHL Draft in Montreal is set up to be one of the more entertaining and unpredictable drafts in recent memory. The host Montreal Canadiens hold the No. 1 overall pick and have been playing their cards close to the vest about who will be the player they ultimately select.
With this being the first draft we're covering here on FloHockey, I wanted to catch you up with a draft primer of sorts as you get ready to watch the 2022 NHL Draft on Thursday night and Friday, along with some players and teams to watch particularly closely as the draft unfolds.
You can expect a lot more 2022 NHL Draft coverage from FloHockey this week, as I will be providing pick-by-pick analysis for all 32 selections made during the first round Thursday night. After rounds 2-7 are complete on Friday, I'll be analyzing all 32 draft classes to give you my thoughts on some of the best value picks as well as which teams picked their new No. 1 prospect. You won't want to miss it.
But before we can get to that, let's preview the draft.
Breaking down the top prospects
This year's draft seemed to have a consensus top prospect for a good portion of the season as the Ontario Hockey League's Shane Wright had been a top player in his age group for years. However, as the season has gone on, others have emerged to challenge Wright for that top spot. Big Slovakian winger Juraj Slafkovsky and speedy American center Logan Cooley have been the primary challengers and were also the two players that Canadiens general manager Kent Hughes has said are under consideration by the club for the No. 1 selection.
The winner of the CHL Top Draft Prospect Award, presented by @KubotaCanadaLtd, is Shane Wright of the @KingstonFronts! #CHLAwards pic.twitter.com/AIGOCgZLZx

— Canadian Hockey League (@CHLHockey) June 28, 2022
Each of those three players offers something a little different. Wright is the heady two-way center who uses superior hockey sense to find the right lanes and get pucks into dangerous positions for himself or his teammates. He had 94 points in the OHL this season for the Kingston Frontenacs. Slafkovsky casts an imposing 6-foot-4 frame and did most of his offensive damage in international hockey, earning MVP honors at the 2022 Olympic Winter Games in Beijing where he helped guide Slovakia to its first Olympic medal in men's ice hockey. Meanwhile, Cooley was a standout performer at the U.S. National Team Development Program, culminating with his being named the best forward at the 2022 IIHF World Men's Under-18 Championship.
Among defensemen, two right-shot rearguards – Slovak Simon Nemec and Czech David Jiricek – have emerged as the consensus top two. What order they go in depends on the team as they are both viewed to be very close. Nemec is a shifty puck-mover who had an unprecedented season of production in Slovakia's top pro division, while Jiricek had a tremendous season going before a midseason knee injury knocked him out for nearly three months.
For goalies, this is not necessarily going to be a memorable draft, as none are expected to go until the late second round at the earliest. Canadian netminder Tyler Brennan and Finnish goalie Topias Leinonen are the top two contenders to be the first goalie off the board.
All eyes on the Montreal Canadiens
Did we mention we're hosting the #NHLDraft?#GoHabsGo | @NarcityQuebec pic.twitter.com/PNVcn6JZbH

— Canadiens Montréal (@CanadiensMTL) July 6, 2022
When you have the No. 1 pick, invariably, everyone is waiting to see what you're going to do. The Canadiens have the added pressure of making the pick in front of the home crowd. The spotlight will never be brighter on the new GM and the player they select. But that's the big question as we head into Draft Day.
Will it be Wright, Slafkovsky or Cooley? The Habs have no reason to let that slip. There's been a lot of chatter in the scouting community that Montreal could be leaning toward Slafkovsky as he could be a long-term fit for their top line. Wright has been the odds on favorite to be the guy at No. 1, but throughout the season, there have been holes poked in his game and whether he has the highest ceiling of the three picks.
If Montreal indeed selects Slafkovsky, it could cause an intriguing domino effect that could shake up both the top of the NHL Draft board and the trade market.
Teams to watch
Aside from Montreal, there are a few teams that could really shake things up at the draft and create some extra fireworks, either by the picks they make or through trades.
New Jersey Devils: Outside of Montreal, there is going to be a lot of focus on the team with the No. 2 pick, the New Jersey Devils. Slafkovsky looks like a natural draft fit for them, but if he's off the board, it's hard to see the Devils picking a center. They already have Nico Hischier and Jack Hughes as their potential top-two centers for a long time. Both of them were selected first overall in their respective draft years.
So what do the Devils do? General manager Tom Fitzgerald has made it known that the No. 2 pick could be available in a trade for the right price. Would there be extra motivation to move the pick if the top wing in the draft is not available? Or could the Devils consider nabbing one of Jiricek or Nemec to balance out their defensive pipeline that already includes blue-chip prospect Luke Hughes. The Devils have options and can have a large say in how the rest of the first round goes.
Arizona Coyotes: The owners of the No. 3 pick in the draft, the Coyotes have seven selections total within the first 45 picks – three first-rounders and four second-rounders. That gives them a lot of assets to use in a lot of different ways. The Coyotes are essentially in rebuilding mode, which puts an added focus on their draft and building a strong prospect pool. That said, having seven picks could make the Coyotes active on the trade market, especially in scenarios where they could package the picks to move up in the draft if there are prospects they particularly covet.
The Coyotes are set to play their games at the new hockey facility at Arizona State University for the next few years as the club works to secure a long-term home in the desert. GM Bill Armstrong has said he wants players that want to be Arizona Coyotes in the long-term, which likely means adding players that are open to embracing the challenge of the team's in-flux arena situation and being part of a rebuild. This could be one of the most important drafts in this franchise's history.
Things are getting going here in Montreal. 🏒

This morning, the top prospects in the 2022 #NHLDraft participated in a youth hockey clinic. pic.twitter.com/qepnDqchXS

— Arizona Coyotes (@ArizonaCoyotes) July 6, 2022
Columbus Blue Jackets: With two top-12 picks including the No. 6 pick that was acquired in a trade with the Chicago Blackhawks last summer, Columbus has a chance to make a big splash to propel the organization forward. General manager Jarmo Kekalainen has been open about the possibility of trading one of the picks for a young roster player that is already established in the NHL. If they can land an impact player for the short-term and add a key prospect with one of their high draft picks for the long-term, it could be a win-win for Columbus.
You never really know what Kekalainen has up his sleeve, but he has done a lot of his maneuvering over the years around the draft, so the Jackets should be an exciting team to track.
Wildcard prospects to watch in the first round
The top of the draft class looks fairly set. We have a reasonable idea who could go in those first six picks, with maybe one or two surprises thrown in the mix. There are other players to watch, however that could provide significant value to the teams that draft them, but have enough question marks about where they'll ultimately land in the draft order.
Brad Lambert, C/W, Lahti Pelicans (Finland): One of the most polarizing prospects of this year's draft class, Lambert was once believed to be among the best players in this class. Slowed production and frequent team changes over the last three years have cooled his projection, however. That said, Lambert is one of the draft's best skaters and has a unique skill set. Will that elite skating ability carry him to the top 15 of the draft? It remains to be seen. Teams are going to be cautious about Lambert, but there's no doubting that he has enough NHL traits that some NHL teams are going to value him much higher than others. Still, trying to predict where he'll land is one of the biggest challenges of this particular draft year.
Brad Lambert's ears must've been burning because he nabbed a goal and an assist this morning.

Little chip, chase, wheel and snipe.

Not bad. pic.twitter.com/5akLw5ZQyR

— /Cam Robinson/ (@Hockey_Robinson) March 11, 2022
The Russian Prospects: Depending on who you ask, there could be as many as three, possibly four Russian prospects selected in the NHL entry draft. Forwards Danila Yurov and Ivan Miroshnichenko, and defenseman Pavel Mintyukov are all highly regarded players, but the geopolitical situation with Russia and the conflict in Ukraine has caused some concerns to be raised and some teams may want to avoid the risk. The primary concern at this point, among NHL teams, is being able to secure visas for these players when the time comes for them to join their NHL clubs. The good news is that none of these players are projected to make the NHL next season, so there is time for this to get sorted out, but there's no question that world affairs will impact just how high and to what teams these players go.
Liam Ohgren, LW, Djugardens (Sweden): There seems to be some late buzz for Ohgren and he could go much higher than was previously predicted. The 6-foot-1, 200-pound winger has a sturdy frame and a lethal shot that gets on goaltenders in a hurry and can be tough to handle. He captained Sweden to the gold medal at the IIHF World Men's Under-18 Championship and was a dominant goal scorer in Sweden's U20 league. Teams really liked him coming out of the combine and there's belief he could land in the top-15 range after being projected closer to the lower third of the first round.
Lane Hutson, D, U.S. National Under-18 Team: One of the most intriguing prospects of this draft, Hutson might also be one of its most dynamic talents. The only problem in the eyes of NHL teams is how you project a player that is 5-foot-8 and 165 pounds. The hope is that Hutson might still have time to grow a little bit and round out into an average to below-average sized defenseman instead of one of the smaller players at that position. I've been a big fan of the player throughout the season though and believe he should be a first-round talent. He had the second highest scoring season for a defensman at USA Hockey's National Team Development Program and was named the best defenseman at the IIHF World Men's Under-18 Championship. He's always seemed to prove doubters wrong, so why can't he keep on that trend? He might slip out of the first round entirely, but if he does, some NHL team is going to be very, very happy about their pick.
Hello, @Sportscenter.

Just gross from Lane Hutson 🤮#USAvsBUF pic.twitter.com/p5khbimf9e

— USA Hockey's NTDP (@USAHockeyNTDP) November 27, 2021
Chris Peters' Updated Top 10 Rankings for 2022
1. Logan Cooley, C, U.S. National Under-18 Team (USHL)
2. Juraj Slafkovsky, LW, TPS (Finland)
3. Shane Wright, C, Kingston Frontenacs (OHL)
4. Cutter Gauthier, C/W, U.S. National Under-18 Team (USHL)
5. David Jiricek, D, HC Plzen (Czechia)
6. Simon Nemec, D, HK Nitra (Slovakia)
7. Joakim Kemell, LW, JYP (Finland)
8. Frank Nazar, C, U.S. National Under-18 Team (USHL)
9. Jonathan Lekkerimaki, RW, Djugardens (Sweden)
10. Marco Kasper, C, Rogle (Sweden)