2022 Mercyhurst vs American International - SF #1
Atlantic Hockey Semifinals Preview: AIC, Mercyhurst Is Must-Watch Hockey
Atlantic Hockey Semifinals Preview: AIC, Mercyhurst Is Must-Watch Hockey
AIC holds a 3-1 record over Mercyhurst this season, outscoring them 19-14, but in their last meeting, Mercyhurst took the 6-3 win.
Mar 15, 2022
by Jacob Messing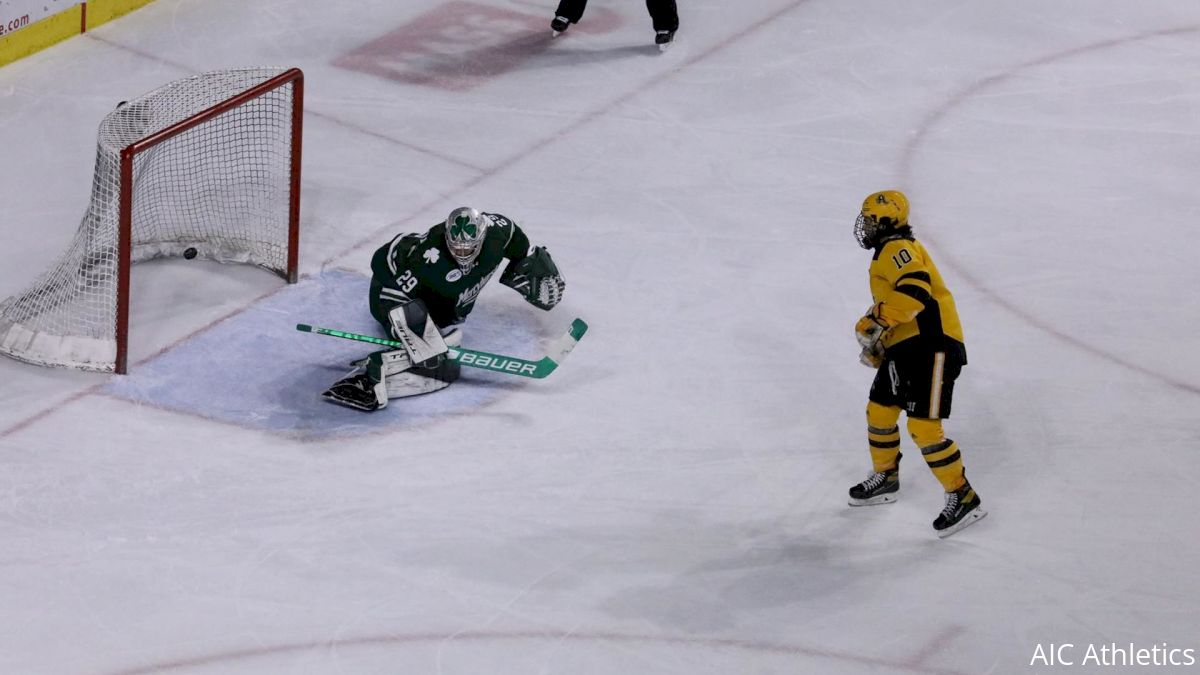 The stage is set for the Atlantic Hockey semifinals and red-hot Mercyhurst will take on conference powerhouse American International for a trip to the championship game.
This is must-watch hockey, the hottest team going head-to-head with the consecutive four-time regular season champ.
Catch every second of the action live, Friday, March 18, right here on FloHockey. RIT and Air Force will meet in the other semifinals matchup.
The No. 7-seeded Mercyhurst Lakers have earned their shot at the four-time champion No. 1-seeded AIC Yellow Jackets, which has also earned the conference's last three automatic berths to the national tournament.
Lakers netminder Kyle McClellan has been the undebatable MVP during their tournament run, allowing just one goal in each of their four wins over two series sweeps against No. 10-seeded Holy Cross and No. 2-seeded Canisius.
Good morning Erie! #RoadtoUtica #OneGoAllGo pic.twitter.com/y8cOxOBgc6

— Mercyhurst Men's Hockey (@HurstMensHockey) March 13, 2022
The sophomore's emergence has been other-worldly for a team that packs an offensive punch to carry itself with a "last goal wins" mentality. Since backstopping Mercyhurst to a 6-3 win over none other than AIC on Feb. 16, McClellan has allowed just five goals in his past six starts and hasn't surrendered more than one goal.
Accounting for two overtime games, those five goals have come in his past 386:48 minutes of game time. Statistically, McClellan is riding a 0.78 GAA and a whopping .974 save percentage over his past six games.
But, even streaking teams have faults. The Lakers' sophomore-run offense has been chipping in just enough goal support to help McClellan snag the wins—the narrow gaps become forgettable.
The offense isn't likely to keep quiet for long. Leading scorer Carson Briere was shut-down by the Golden Griffins and in 52 career NCAA games, he has never gone more than two contests without recording a point. As the type of player to make those around him better, he's due for a bounce back against AIC.
But the Yellow Jackets hold a 3-1 record over Mercyhurst this season, outscoring them 19-14. In their last meeting, though, the Lakers took the 6-3 decision, a win that sparked their current seven-game winning streak.
No team gets to four-straight conference titles by taking opponents too lightly. Coach Eric Lang's team knows the parity in college hockey and knows how to prime his program to take every opponent seriously and fight for every inch.
It's a major part of the 2022 turnaround his team showed after an uncharacteristic first half. Rattling off an 11-game winning streak to storm to the top of the conference standings should have been enough to put everyone on notice.
The Jackets have a nice streak of their own going as winners of three straight and four consecutive unbeaten games. Additionally, with just two losses in their past ten outings, the Jackets are showing just how tough of an out they are.
Bennett gets the 🎩🎩🎩 and we get our ticket to Utica!#RoadtoUtica #HiveDefended #TicketPunched pic.twitter.com/I64k9pCVzl

— AIC Hockey (@AIC_Hockey) March 13, 2022
Offense. Defense. Goaltending. Coaching. If you can name it, the Jackets probably have it. They've built a winning culture and expect to win—something that stems from recent history, not arrogance. Special teams? They have those too. Depth? You bet.
But there is one statistic that can be exposed—time. The Jackets are a head-scratching 1-4-3 when it comes to overtime this season. Considering the elimination of ties in the playoffs, statistically the Jackets have just one win in their eight games that have gone past 60 minutes this season.
The Lakers? In addition to their two recent overtime wins, they sit at 3-1-4, which by the same logic means they've won three of their eight overtime games. Extra time could be their key. But the Jackets have shown over and again they may not even need the full 60.
Don't miss the battle for semifinals this Friday, March 18. Stream the entire game and rest of the Atlantic Hockey Tournament live, right here on FloHockey.
---
Have a question or a comment for Jacob Messing? You can find him on Twitter @Jacob_Messing.