2022 Bentley vs Canisius - Men's
Atlantic Hockey's Canisius, Bentley Meet Up For Must-Watch Weekend Series
Atlantic Hockey's Canisius, Bentley Meet Up For Must-Watch Weekend Series
Canisius and Bentley meet Friday and Saturday for a series that will help decide the top of the CCHA standings.
Jan 20, 2022
by Jacob Messing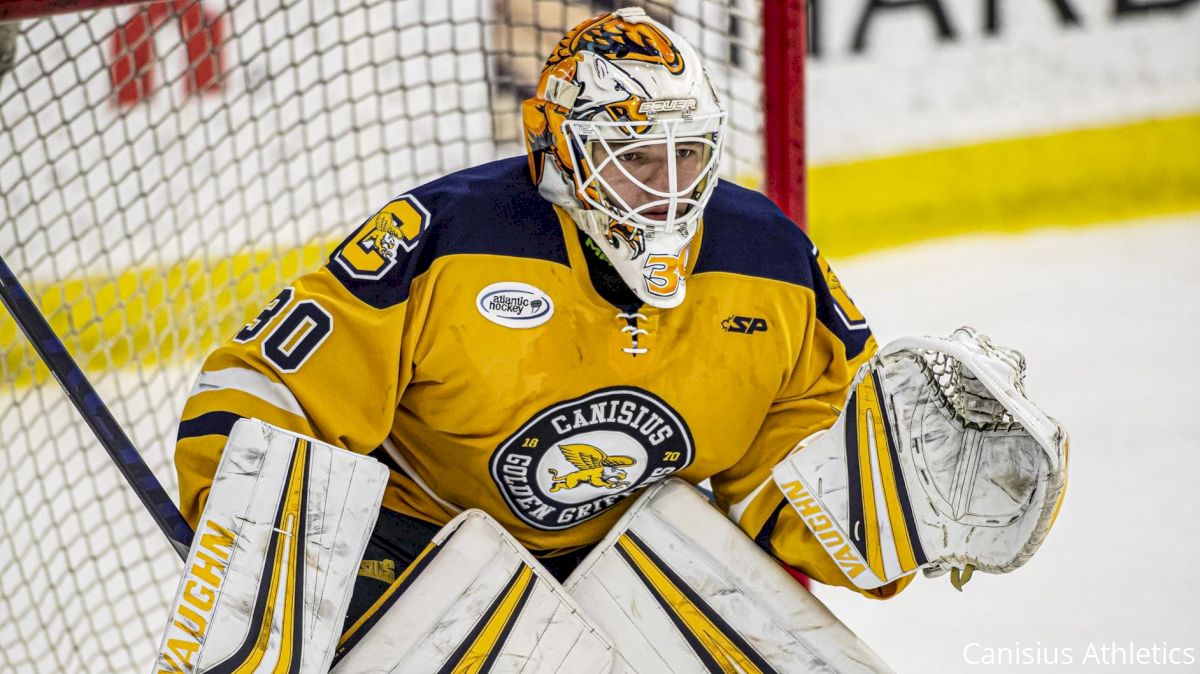 Atlantic Hockey first-place challengers Canisius and Bentley meet this weekend for six pivotal points in their pursuit of American International as the conference leader.
The Golden Griffins sit in second place among Atlantic Hockey's ten programs, accumulating 28 points with an 8-6-2-1-1 record (11-9-3 overall). The Griffins have gone 2-1-1 in four games since the turn of the calendar. The series with Bentley will be their first contests on home ice in 2022, where they sit at 5-3.
"There is obviously a good feeling for everybody, us included, when you're able to be at home," Griffins coach Trevor Large said. "It does bring that clear focus or excitement with fans here."
The Griffins enter the series with the conference's leading scorer, Keaton Mastrodonato. The center has accumulated 10 goals and 22 points in 20 games this season. Mastrodonato has proven to excel at every task, chipping in two short-handed goals and three game-winning goals this season.
While the offense has been a strength for the Griffins, netminder Jacob Barczewski has been another standout. The junior has earned four AHA Player of the Week honors this season on the heels of a 2.42 GAA and .926 SV percentage and a 10-7-1 overall record.
"He's always there," Large said, adding that 'Barzo' is quick to give credit to his teammates.
The Griffins' success has largely hinged on the duo's play this season, but the lineup extends beyond Mastrodonato and Barczewski. A handful of second-chance transfers have added to the Griffins' vengeful mentality after AIC edged them out in the 2021 conference championship game.
But Large's team is only focused on the present and knows his leadership group is ensuring they work in short increments.
"They're a skilled team who works very hard," Large said. "We have a game plan for some areas we think we can exploit in how they play."
Large kept those areas to himself, as coaches typically do, but the first increment is one that will set the tone. For a pair of programs that have shown to get better as the game progresses, the Griffins will surely look to strike first.
The pair faced off in early November, splitting the series with a 2-1 win for Bentley before a 6-3 response by Canisius the next night, led by a three-goal opening period.
The Griffins will want to utilize their return to home ice for the first time since Dec. 9, especially against a Falcons team that sits at 1-6 when surrendering the first goal.
The Falcons entered the New Year behind only Canisius, but a 1-2 record in 2022—coupled with AIC's surge—has dropped them to third place in the conference with 26 points and a 9-5-0-0-1 record (11-9 overall).
The Falcons closed out 2021 on a five-game winning streak, averaging 3.4 goals per-game in that span. After a month off, the offense mustered just a goal in each of its first games back before a 4-3 win over Sacred Heart.
With 12 different skaters earning a point in the contest, the Falcons showed off their team effort as all four lines contributed to the win. It was reflective of their individual games, where the team is similar to the Griffins in the ability to get better as the game goes on.
The Falcons' defense locks in with each progressing period, allowing just 16 total third-period goals this season, a 0.8 average. The Falcons will look to build on their recent win and know that second place could be theirs Saturday night.
We caught up with team captain Ethan Roswell, who talked about

🔵 The keys to the turnaround from Friday to Saturday's win over Sacred Heart
🔵 What the team needs to do this weekend at Canisius pic.twitter.com/kI6BDl75pG

— Bentley Hockey (@BentleyHockey) January 20, 2022
A key to defeating Canisius will be their powerplay, where their 18.7 percent conversion rate would be up against the Griffins' 77.4 percent penalty kill rate.
Leading scorer and defenseman Drew Bavaro has tallied seven goals and 17 points in 20 games with two powerplay goals. His seven goals are sixth nationally among defensemen. Add defenseman Matt Lombardozzi's five powerplay goals, which are tied for tenth in the NCAA, and the blue line is certain to cause trouble for the Griffins on the man advantage.
On the opposite end of the ice, goaltender Evan Debrouwer, who joins Barczewski and Army netminder Gavin Abric as three AHA goaltenders added to the Mike Richter Award Watchlist. The goaltending battle only adds to the must-watch series.
Debrouwer has split time in the crease this season, but holds a 6-1 record with a 1.90 GAA, and .939 SV percentage as one of the best in college hockey, and he's giving his team a chance every night he gets the call. The Arizona State transfer has been among the best additions on the portal and is helping guide the Falcons toward a lengthy conference tournament.
Don't miss the Griffins host the Falcons or any Atlantic Hockey action; catch it all live, right here on FloHockey.
---
Have a question or a comment for Jacob Messing? You can find him on Twitter @Jacob_Messing.