2021 Bowling Green vs Northern Michigan - Men's
CCHA Reasons To Watch: Minnesota State Vs. Lake State; Ferris Vs. MTU
CCHA Reasons To Watch: Minnesota State Vs. Lake State; Ferris Vs. MTU
Two NCAA tournament teams pointed in opposite directions clash in the Soo and a pick'em battle for home ice contention in Marquette.
Nov 24, 2021
by Tim Rappleye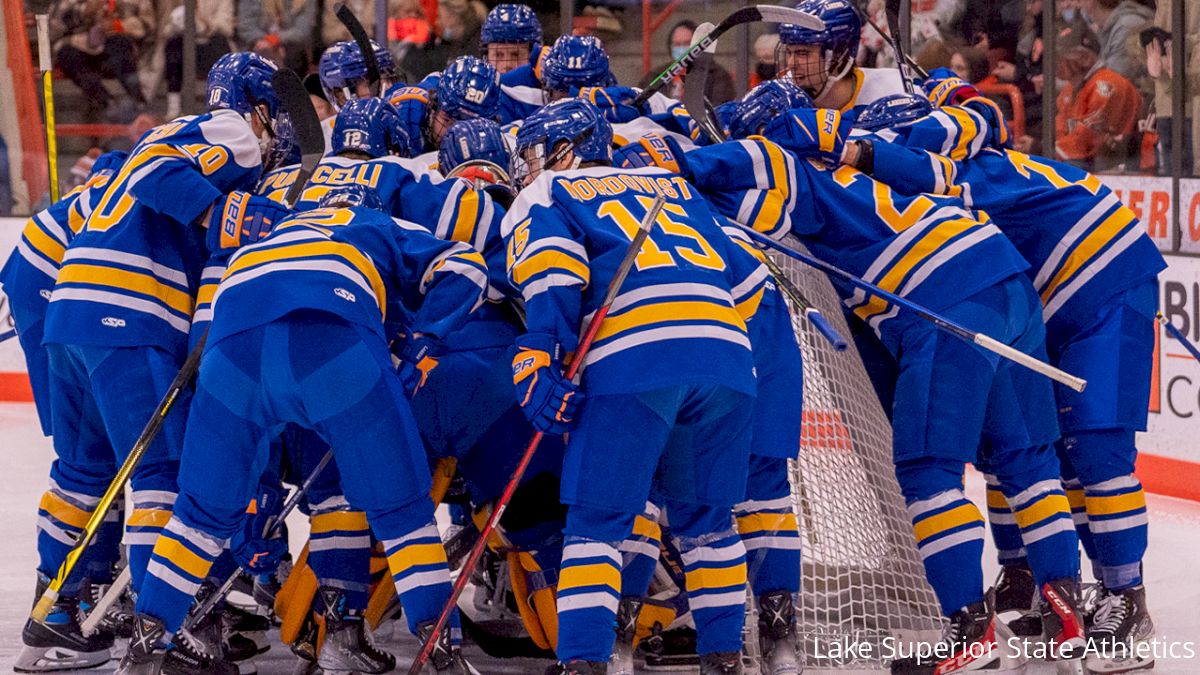 College hockey reigns supreme in Michigan's Upper Peninsula. Their three Division I programs share seven NCAA titles and too many conference banners to count. Hockey is the talk of the town even during football season, so it is only fitting that the Yoopers have turned Thanksgiving weekend into a hockey holiday: six tasty games covering all three venues.
Moving east to west, two NCAA tournament teams pointed in opposite directions clash in the Soo; a pick'em battle for home ice contention in Marquette; and Tech looks to avoid an upset in Houghton.
No. 1 Minnesota State Vs. Lake Superior State
Fueled by their twin shutout weekend over St. Thomas, the Mavericks of Mankato have jumped to the top of the heap in college rankings. In addition to their record-setting goaltending, they have four lines in high gear, and veterans on the blue line playing shut-down D. There is never a good time to play Minnesota State, but this might be the worst.
Their opponents LSSU, who have a fresh conference tournament banner hanging from the Taffy Abel banners, are in disarray. Two weeks ago they were poised to make a run at the CCHA top spot and puncture the national rankings, today they have lost four conference games in a row, seen a virus rage through their locker room, and are in danger of having their season slip away.
Damon Whitten and his LSSU staff hope that a healthy return to home ice will reverse their fortunes, and get the Laker high-octane offense untracked. Even if everything falls into place for the men in blue and gold this weekend, it won't be enough against the top-ranked Mavericks.
Likely a Mavericks sweep to solidify their top spot in the polls. Whitten and company search for answers.
Bowling Green Vs. Northern Michigan
This is the main course of the holiday weekend, the basted bird with all the fixings. Both teams are coming off sweeps, both are resting in coveted top-four positions in the standings. As stated earlier, this is a "pick'em" series between two evenly matched clubs.
BGSU's Coale Norris is the CCHA's reigning forward of the week, a one-man wrecking crew last Friday against Lake State with his 2-2-4 scoring line. At the other end of the ice, Wildcats Mike Colella and AJ Vanderbeck share the CCHA goal scoring lead with 10 snipes apiece. Northern has the most efficient power play in the circuit at 28 percent. There were stretches against Ferris last week in which the Wildcats looked unstoppable while a man up.
Magic hands of Andre Ghantous. PP Helper to Nardi stretches Cats lead 6-3 #NMUWildcats pic.twitter.com/Jcb2AMVLDX

— Tim Rappleye (@teeraps) November 20, 2021
Bowling Green coach Ty Eigner has hoped his newly constructed team would write it's own story this season, and it is, knocking on the door of national contention with a No. 16 ranking in the all-important pairwise rankings. Look for freshman Austen Swankler to exploit the Berry Center's cavernous ice surface and dominate stretches of these games.
Should be a very entertaining split, with no points gained or lost in their CCHA standings battle.
Ferris State Vs. Michigan Tech
Despite being in fifth place in the CCHA standings, the pairwise rankings have Tech 11th nationally, second best in the conference. This weekend is the perfect opportunity for the stingy Huskies to claim six points in the standings and climb the ladder. Tech fans should hold off before projecting those points.
Ferris State may be in 7th place, but they are a very tough out, having given Minnesota State, Michigan State and Northern Michigan fits in three consecutive weekends. The last two opponents stole wins from Ferris in Big Rapids, so a change of scenery might be the best medicine for Bob Daniels' Bulldogs.
Ferris should scrape a point or two from Tech this weekend, either by victory or by extending at least one game into overtime.
Enjoy the feast hockey peeps!