Men's CCHA Hockey
FloHockey Sits Down With Northern Michigan's Mikey Colella
FloHockey Sits Down With Northern Michigan's Mikey Colella
Mikey Colella currently leads the CCHA in scoring, FloHockey sits down with the forward to talk about hat tricks, Marquette and Dallas Drake.
Nov 23, 2021
by Tim Rappleye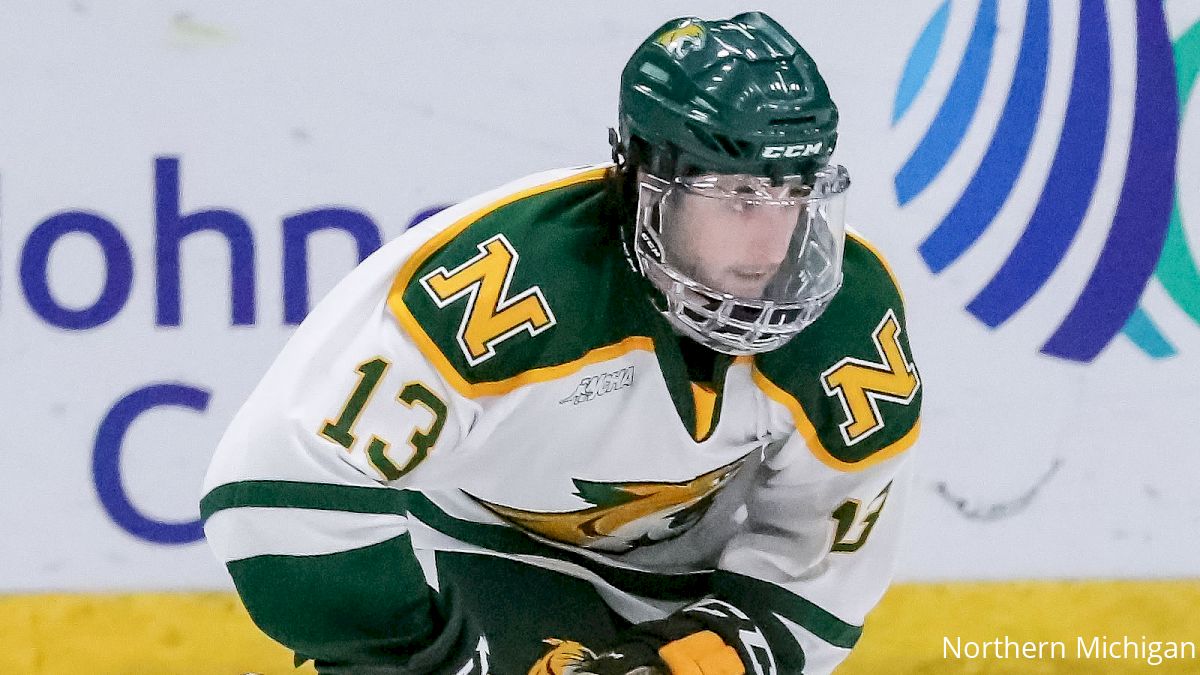 Last Friday, Northern Michigan's 5-foot-7 sophomore Mikey Colella fired in his 9th and 10th goals versus Ferris State to take the CCHA goal scoring lead. RinkRap's @TeeRaps caught up with the Wildcats "Jersey Guy" to discuss his growing list of college hockey accolades, his affinity for all microphones, and the joy of playing alongside two gifted puck pals.
---
FloHockey: As a college sophomore, you couldn't dream of playing with a couple of better linemates than Andre Ghantous and Joe Nardi
Colella: Yes. Those two obviously are exceptional players, we're really all close off the ice, it helps, too, on the ice; we all know where to find each other. 'Dre's vision and Joe's speed, the way they think the game, it's a great combo that can be deadly no matter who we play.
On your second goal, did you just know Ghantous would deliver that puck?
Oh yeah. 'Dre and I always talk about when I come in late I always yell for the puck, he knows exactly where to put it, where I'm going to be.
Tic Tac Toe, Colella and Cats take lead at Ferris #NMUHockey pic.twitter.com/333KUsyULl

— Tim Rappleye (@teeraps) November 20, 2021
You're a Jersey Guy, from a dense population. How's the adjustment to Marquette?
I love it. I'm a communications major and I think it's really good. Schoolwise it's been fun. I love Marquette, love the area. I love the group of guys, a special group we have in there, want to keep this going as much as we can.
You're not even halfway through your second season, yet you've achieved some very cool milestones: playoff winning goals at Bowling Green; scoring the first goal in new CCHA history; a hat trick wearing Dallas Drake's jersey in the 1991 championship tribute game. Are you proud of those accomplishments?
I think anyone would be. Growing up I always had this mentality of proving people wrong, to be doing it at this stage. Every year I keep trying to get better. Beating Bowling Green, and my parents being there was really good for my dad and me. We always talked about being on that kind of stage and performing well. For the first CCHA goal, I didn't really understand that, the first goal in the first real game, but that, too, was something special. My first college hat trick against Boston University was another special moment. I look back on all these moments and just got to keep building on them.
Have you met Dallas Drake? Are you familiar with his legacy at NMU?
I've never met him. I think Grant [Potulny] is going to try and get a little FaceTime with him before Christmas. I heard some stories about the guy; I know he was a big reason they won that national championship. It was an honor to wear his last name and number on my back that night.
Take us inside the game if you could. You were in a back and forth battle tonight, tied after two periods, and you came out in the third and simply ran away with it. What was the mindset in that second intermission?
I think it was knowing that our third periods have gotten better, and we've been working on our conditioning to make sure that when we get to those third periods we're not outscored. Tonight we wanted to make sure we came out hard. Those two goals right off the bat gave us energy, and that's how we've got to play every game. We've got to be able to shut the door, and that's what we did tonight. If we can do that going forward, we're going to be really successful.
Grant talked about for you to be successful, your 'legs and your lungs' have to be carrying you. That appeared to be the case tonight.
I've always been that guy that's good with my cardio, I can keep going no matter what. My legs are the key part of it, because when I'm playing fast and hard and playing my kind of grind game, being around the net and scoring those goals, that's when I'm at my best. Playing with Joe and 'Dre, it gives our team a chance to win at the end of the day.
I've seen you on the NBC local station in Marquette doing some standup work, you look pretty comfortable with a microphone in your hand.
I think all the guys in there know I'm pretty talkative, definitely know my way around the mic. Those guys make it funny. The relationships we have in that room with all the guys in there, it's pretty easy to talk and not be afraid, just take the mic and go. It's just my personality.