ECHL
ECHL's South Division Is Back At Full Strength
ECHL's South Division Is Back At Full Strength
The South Carolina Stingrays went on a Cinderella run all the way to the Kelly Cup Final, while the Florida Everblades fell short in the playoffs again.
Oct 19, 2021
by Mike Ashmore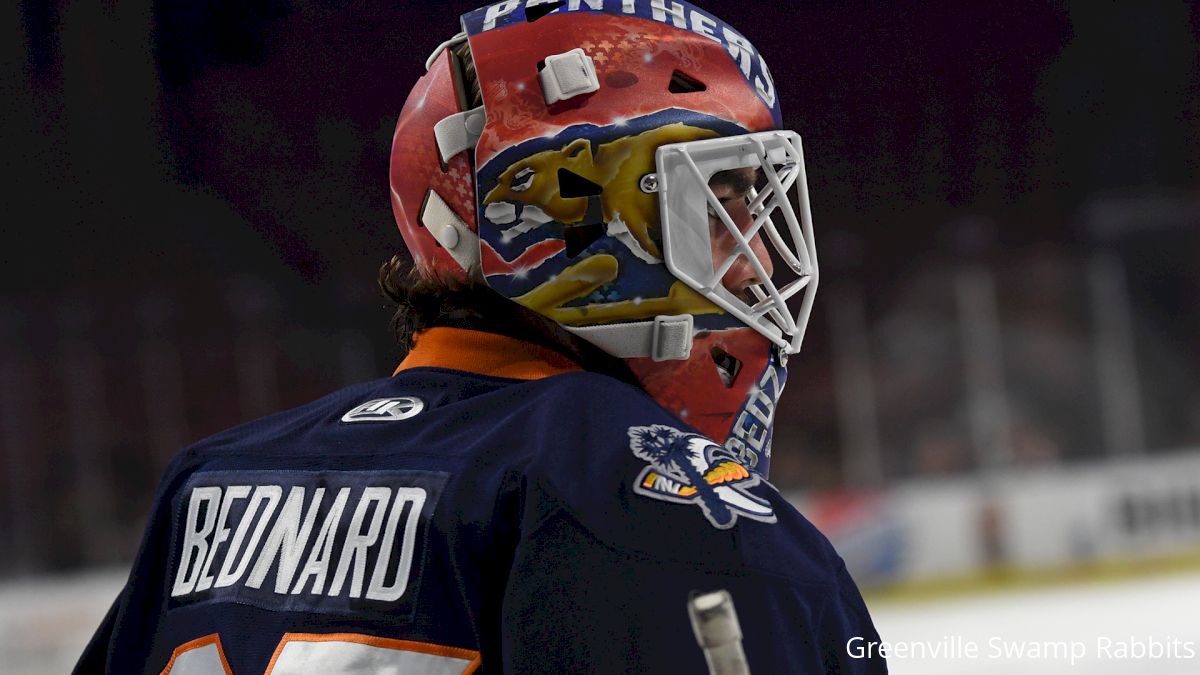 Five of the South Division's seven teams suited up last season, and they combined to produce some of the league's most fascinating storylines all year long.
The South Carolina Stingrays went on a Cinderella run all the way to the Kelly Cup Final in 2021 despite not being able to play in their home arena through the majority of the postseason, while the Florida Everblades once again stunningly fell short in their quest for the league's biggest prize after nearly a decade without it.
With three of the seven teams having also announced new affiliations with NHL teams, there will be plenty of new faces to watch in the division this season.
JACKSONVILLE ICEMEN
KEY ADDITIONS: Francois Brassard, James Sanchez, Brandon Fortunato, Joey Sides
KEY DEPARTURES: Nick Saracino, Mike Szmatula, Pascal Aquin, Trevor Hamilton, Erik Bradford
KEY RETURNEES: Ara Nazarian, Abbott Girduckis, Christopher Brown
OUTLOOK: The Icemen fell into the affiliation carousel after their agreement with the Winnipeg Jets came to an end, but found themselves a good match for this season and beyond with the NHL's New York Rangers and AHL's Hartford WolfPack.
The Icemen struggled for the majority of the 2020-21 season, with a 34-30-3-4 record, not quite enough to earn a playoff berth in the league's unique year, with only 14 teams having opted in to play.
Jacksonville has a big boost with last year's leading scorer, Ara Nazarian, returning for this season, and seem to have found a solid tandem-mate for the returning Charles Williams with the Hartford-assigned Francois Brassard. Two ECHL veterans in Joey Sides, who posted 46 points in 57 games with the Kansas City Mavericks back in 2018-19, and defenseman Brandon Fortunato, who last played in the league with Florida two seasons ago, could also be in line to make a big impact on their new club.
NORFOLK ADMIRALS
KEY ADDITIONS: Chase Lang, Connor Brickley, Dylan Wells
KEY DEPARTURES: Alex Rodriguez, J.C. Campagna, Josh Holmstrom, Brandon Halverson
KEY RETURNEES: Alex Tonge
OUTLOOK: It was as bad as it gets the last time the Norfolk Admirals took the ice, as they were hopelessly buried in last place in the entire league with a 14-38-8-0 record before the 2019-20 season mercifully came to an end for them thanks to the COVID shutdown. They'd also allowed the most goals in the ECHL with 248, good for more than four against per game, and were the only team in the circuit that didn't have any sort of affiliation with an NHL or AHL club.
Much has changed since then. Norfolk has since announced an affiliation agreement with the NHL's Carolina Hurricanes and AHL's Chicago Wolves, and received several players who could help turn things around for the franchise, including former NHL defenseman Connor Brickley, and third-year pro goaltender Dylan Wells, who was traded to the Hurricanes from the Edmonton Oilers this past off-season.
Alex Tonge, who played just 20 games for Norfolk in the 2019-20 season, is the club's lone returnee, with their top nine leading scorers from that year having all moved on. Chase Lang, last with Jacksonville, could pick up some of the slack; he scored a career-high 19 goals for the Icemen in 57 games.
ORLANDO SOLAR BEARS
KEY ADDITIONS: Zachary Emond, Jake McGrew, Nick Bligh
KEY DEPARTURES: Mark Auk, Chris Leblanc, Clint Windsor, Jerry D'Amigo
KEY RETURNEES: Aaron Luchuk, Dmitri Semykin, Tristin Langan, Tyler Bird
OUTLOOK: The Orlando Solar Bears find themselves in a unique position, still currently serving as the ECHL affiliate for the two-time defending Stanley Cup Champion Tampa Bay Lightning and AHL's Syracuse Crunch, but also have taken on a handful of prospects from the San Jose Sharks organization, who are one of five NHL clubs currently without an ECHL affiliate.
With that, an Orlando roster that finished two points shy of a playoff spot in 2020-21 looks a little different under returning bench boss Drake Berehowsky. Even with two recalls prior to the start of the year, the club is currently carrying eight players on either NHL or AHL deals; first-year pro goaltender Zachary Emond was a sixth-round draft pick of the Sharks in 2018, Jake McGrew preceded him in the sixth-round a year prior, while Tampa Bay's third rounder in 2018, Dmitri Semykin returns to the club as one of two players assigned by the Lightning.
Remarkably, with all that shuffling, the team's top two scorers from last season, Aaron Luchuk and Tristin Langan, are returning. The team may add another goaltender late, however, as Amir Miftakhov was recalled by Syracuse and stalwart Clint Windsor recently departed for Europe.
GREENVILLE SWAMP RABBITS
KEY ADDITIONS: Evan Fitzpatrick, Cedric Pare, Kevin McKernan, Alec Rauhauser
KEY DEPARTURES: Sam Jardine, Garrett Thompson, Joey Haddad, Patrick Bajkov, Ryan Bednard
KEY RETURNEES: Matt Bradley, John Lethemon, Max Zimmer, Liam Pecoraro
OUTLOOK: Greenville fell just one point shy of finishing with the Eastern Conference's highest point total last year, with a 38-win season, not enough to get them past the Stingrays to advance to the Kelly Cup Final.
The Swamp Rabbits have maintained their affiliations with the NHL's Florida Panthers and AHL's Charlotte Checkers, but have also taken on a handful of players from the AHL's Ontario Reign, whose parent team, the Los Angeles Kings, do not have an NHL affiliate. Among those players is goaltender John Lethemon, who attended Kings rookie camp after playing in 25 games for Greenville last season under a similar arrangement. Evan Fitzpatrick, a second-round pick of the St. Louis Blues in 2016, who performed well in a brief AHL stint with Utica last season, will share the net with Lethemon this year.
Last season's leading scorer, Matt Bradley, is back for another year with the Swamp Rabbits. Sam Jardine, who was second among all ECHL defensemen with 41 assists, has since moved on to play in Austria.
SOUTH CAROLINA STINGRAYS
KEY ADDITIONS: Ryan Bednard, Jordan Subban, Lawton Courtnall, Ben Holmstrom, Jake Massie
KEY DEPARTURES: Cole Ully, Dan Desalvo, Hunter Shepard, Alex Dubeau
KEY RETURNEES: Andrew Cherniwchan, Justin Florek
OUTLOOK: The Stingrays made a dream run all the way to the Kelly Cup Final, falling to the Fort Wayne Komets in four games. Last year's leading scorer, Cole Ully, has left to play in Slovakia, with the team only returning a handful of players who were a part of last season's group.
Looking at the club's new additions starts and stops with goaltender Ryan Bednard, who was sent back to the ECHL out of AHL Hershey's camp, and returns to a league that he dominated at times last season with the rival Greenville Swamp Rabbits; Hershey's press release after signing him pointed out that he led all ECHL goaltenders in shutouts (4) and earned ECHL Goaltender of the Week honors three times, while sporting a 20-6-8 record, 2.43 goals-against average, and .915 save percentage. He finished in the top five among ECHL goaltenders in games played (35), wins (20), goals-against average (2.43), saves (1,011), and minutes (2,074).
South Carolina did make some other interesting additions, receiving veteran defenseman Jordan Subban from Hershey as well as signing former Philadelphia Flyers forward Ben Holmstrom to an ECHL deal this offseason.
ATLANTA GLADIATORS
KEY ADDITIONS: Cody Sylvester, Tyler Parks, Dalton Thrower, Tim Davison
KEY DEPARTURES: Eric Neiley, Samuel Asselin, Sean Bonar
KEY RETURNEES: Derek Nesbitt, Luke Nogard, Chris Nell
OUTLOOK: The Gladiators were one of just two South Division teams to opt out of last season. Atlanta finished the COVID-shortened 2019-20 campaign in the thick of the race for the division's final playoff spots, ultimately ending up in third place with a 29-28-2-2 record.
The former Mobile Mysticks and Gwinnett Gladiators franchise finds itself with a new affiliation with the season, as they've partnered up with the NHL's Ottawa Senators after their previous partnership with the Boston Bruins expired.
As you may imagine, the roster has experienced significant turnover since then, with only two of the team's top ten scorers from their most recent year on the ice, Derek Nesbitt and Luke Nogard, set to return for the 2021-22 season.
Goaltender Chris Nell is also set to return to Atlanta for the year—the former Rangers prospect appeared in seven games for the AHL's Tucson Roadrunners last season—and will be joined by ECHL veteran Tyler Parks, who was assigned by AHL Belleville and returns to North America after a very successful season overseas in Slovakia.
FLORIDA EVERBLADES
KEY ADDITIONS: Tomas Vomacka, Nathan Perkovich, Alex Aleardi, Cam Bakker
KEY DEPARTURES: Jake Hildebrand, Alex Kile, Michael Huntebrinker, Myles Powell
KEY RETURNEES: John McCarron, Joe Pendenza, Levko Koper, Blake Winiecki, Ben Masella, Stefan Leblanc, Cam Johnson
OUTLOOK: It can be argued that the best has been saved for last, as the Everblades have made the playoffs in each of the last six seasons. Incredibly, they haven't won the Kelly Cup since 2012, and suffered a stunning first-round exit at the hands of the Stingrays last year.
One of the league's top players and Florida's leading scorer, John McCarron, returns for a sixth season with the Everblades and is coming off his best season yet. A strong returning core group of players will be missing some key pieces; the league's top goaltender, Jake Hildebrand, departed for a deal in Europe, joining Michael Huntebrinker and Myles Powell, while Alex Kile went back to play for Maine.
Replacing Hildebrand will be Nashville Predators goaltending prospect Tomas Vomacka, who was a fifth-round draft pick back in 2017, and will be making his pro debut after three years at UConn. Cam Johnson, who posted a 6-1 mark with a 1.77 goals-against average in seven games with the Everblades last season before being signed to an NHL contract by the Columbus Blue Jackets, was reassigned to Florida by AHL Cleveland on Monday.