ECHL
Championship Or Bust For Everblades' Leader John McCarron
Championship Or Bust For Everblades' Leader John McCarron
The 29-year-old captain of the Florida Everblades turned in his best year yet in 2020-21, being named to the All-ECHL First Team.
Oct 11, 2021
by Mike Ashmore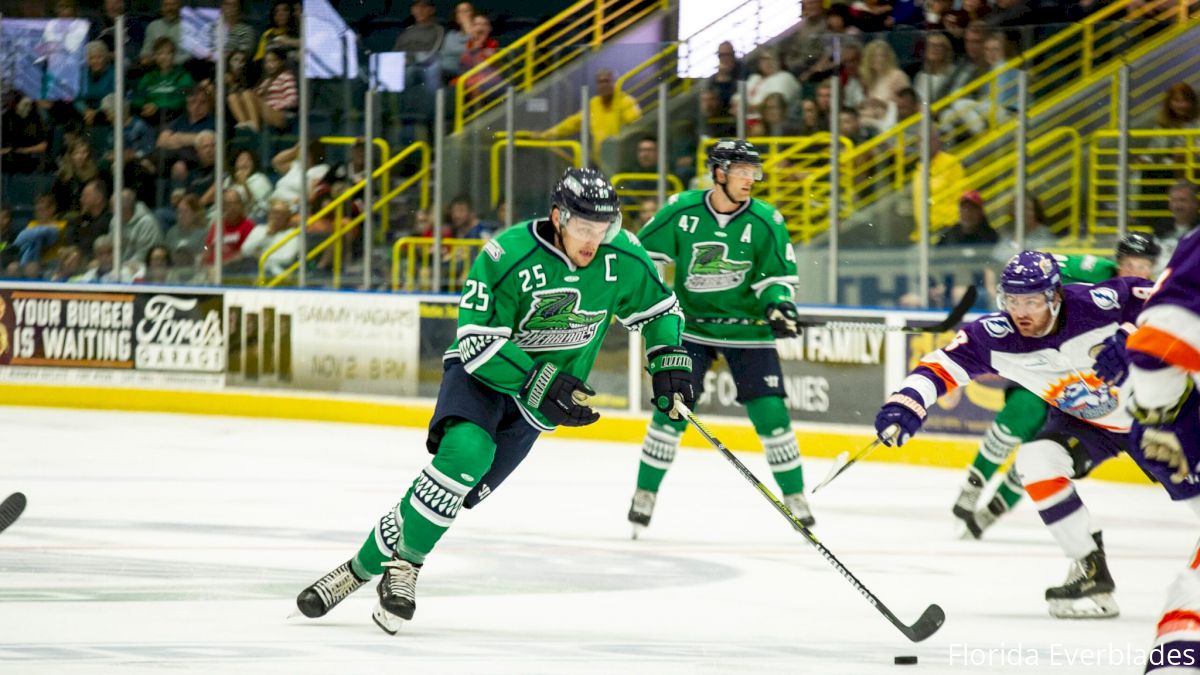 Much like a fine wine, John McCarron simply gets better with age.
Soon, he gets back to work, with the goal of popping bottles once the season is over.
The 29-year-old captain of the Florida Everblades turned in his best year yet in 2020-21, being named to the All-ECHL First Team thanks to a regular season in which he potted 31 goals, adding 37 assists. He also earned a plus-29 rating on the ice, which won him the ECHL Plus Performer Award for his efforts with the best plus/minus mark in the league.
"Definitely every year, you kind of learn the league a little bit more and the different scoring areas," McCarron told FloHockey via cell phone.
"I think the league in general was a lot better last year, just based on the smaller number of teams, and guys that weren't able to play for their teams as they normally would were loaned out throughout the league. And the same goes for their being less American (Hockey) League contracts given out last year, so some of those fringe guys ended up playing in the (ECHL). So, it was just really good hockey, and I was benefited by having really good linemates and teammates. Individually and as a team, I thought we were really good."
Not good enough, however, and that's something that's eaten at McCarron seemingly year after year, having twice reached the Kelly Cup Finals—first with Wheeling in 2016 and then with the Everblades in 2018—only to lose both times. This past year, despite Florida having been the class of the league for a long stretch, they suffered a stunning first-round elimination at the hands of the eventual Eastern Conference champion-South Carolina Stingrays, a series in which the gritty Cornell alum was unable to contribute much after being sidelined by an early concussion.
"I've been beating a dead horse here the last few seasons," McCarron said. "I thought we've had really good teams, but our postseason efforts have fallen short. This season in particular, I can't really speak on, I had a concussion and only ended up playing half of the first game and then came back in Game 5 to try to see if I could do anything to help, but I thought we played them hard.
"It's getting annoying having to keep having these conversations about being that first seed going and not getting the job done, but I can look at myself in the mirror, and being a leader, I need to do a better job. I've been all the way to Game 6 and Game 7 in the Finals and ended up falling short. I know what it takes, and I need to relay that message. From our coaching staff on down, we need to learn from these opportunities and the mistakes we're making moving forward."
With reflection on past chances slipping through his fingers largely done, McCarron shifts his focus to the present, as another season of Everblades hockey begins exclusively on FloHockey on October 23 with a home opener against the cross-state rival Jacksonville Icemen.
Florida officially opens training camp on Monday, so between that and players currently in American Hockey League camp as part of their recently extended affiliation with the Nashville Predators, a full roster isn't available just yet, but with some of the players the team has already announced—skilled forward Alex Aleardi is back with the team, joining Blake Winiecki, McCarron and former New York Rangers goaltender Brandon Halverson, among others—McCarron is hopeful that this will be the year that the Kelly Cup is finally coming back to Estero.
"I think we have a good core coming back," McCarron said. "It definitely was a weird scenario, everybody was out of the room after a week or so, and we didn't know who was coming back, so it's nice to see some familiar faces coming back. We've had some good additions and some good trades that we've made. I definitely like the guys we have in place so far. I think we're going to be really good again."