NCAA
Michigan Wolverines Strut NCAA Hockey In 2021 NHL Draft
Michigan Wolverines Strut NCAA Hockey In 2021 NHL Draft
U. of Michigan had its hockey program on display during the 2021 NHL Entry Draft saw three Wolverines selected top five overall.
Jul 30, 2021
by Jacob Messing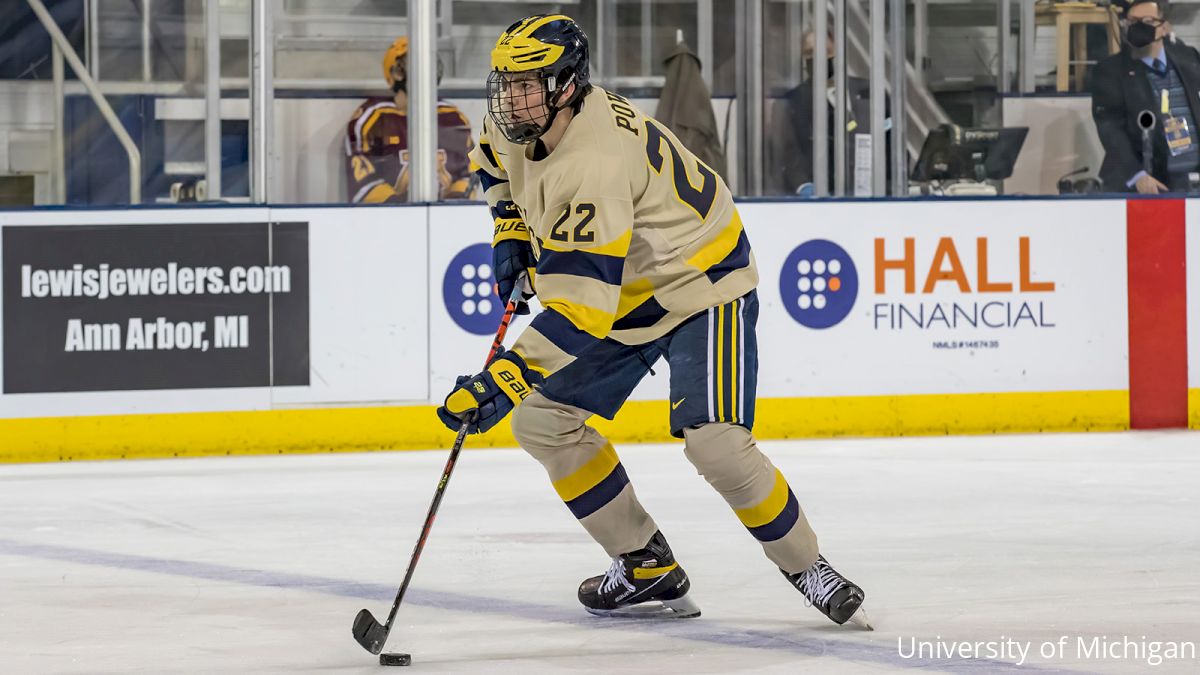 The University of Michigan had its hockey program on display Friday night when the 2021 NHL Entry Draft saw three Wolverines selected top five overall.
Wolverines defenseman Owen Power led the way as the No. 1 overall pick for the Buffalo Sabres, followed by the Seattle Kraken selection of center Matty Beniers at No. 2, and winger Kent Johnson at No. 5 to the Columbus Blue Jackets.
For good measure, the New Jersey Devils selected defenseman Luke Hughes, brother to 2018 No. 7 overall pick Quinn Hughes and 2019 No. 1 overall pick Jack Hughes. Luke is slated to join Michigan as a freshman in the upcoming 2021-22 season.
With discussion of Power, Beniers, and Johnson each returning to Michigan this fall, the trio would ultimately join Hughes on one of the most stacked—by draft selection—NCAA teams of all time.
Add in forward Mackie Samoskevich, the 24th overall selection by the Florida Panthers, who is set to join the Wolverines for the upcoming season and there will be plenty of hype in Ann Arbor this year.
Michigan had made hockey HISTORY with 4️⃣ of the top 5️⃣ picks in the 2021 #NHLDraftDay #GoBlue〽️ #ProBlue pic.twitter.com/7WseEQUXJP

— Michigan Hockey (@umichhockey) July 24, 2021
After the pandemic left the 2020-21 hockey world in shambles, forcing canceled or abbreviated seasons through too many leagues across the world, the 2021 NHL Draft shaped up differently than previous years.
Some leagues, including the NCAA, largely operated with regular season games and seemed to have a leg-up on scouting ability. Regular contests invited the opportunity for a handful of players to raise their draft stock with consistent play. But that was ultimately not the case as organizations opted to pick from the usual drafting spots, appearing to ignore plenty of NCAA talent available.
Still, beyond the University of Michigan, the NCAA was well-represented at the 2021 NHL Draft with committed players for the 2021-22 campaign.
In addition to the aforementioned five Michigan players, four other first-round picks are committed to NCAA programs this season. Another seven NCAA commitments were selected in the second round.
Following the influx of maize and blue—the official colors of the Michigan Wolverines—Tyler Boucher was selected at No. 10 overall by the Ottawa Senators and is committed to Boston University. The Calgary Flames drafted Harvard-commit Matthew Coronato 13th overall. Five picks later at No. 18, the Winnipeg Jets took Chaz Lucius, a Minnesota Golden Gophers commit.
Boucher and Lucius played with both Hughes and Samoskevich with the United States Development Team in 2020-21. With a Big Ten rivalry between Michigan and Minnesota, plenty of familiar faces will clash several times this season.
The Detroit Red Wings drafted a pair of Denver Pioneers commits out of the USHL in defenseman Shai Buium (second-round, 36th overall) and forward Carter Mazur (third-round, 70th overall). The pair will join red Wings 2019 second-round pick, defenseman Antti Tuomisto in Denver this fall.
University of Denver incoming freshman defenseman Shai Buium, a potential first-round NHL draft pick entering Friday, was selected by the Detroit Red Wings four picks into the second round. https://t.co/KLHnCYwm5o

— Denver Post Sports (@DPostSports) July 25, 2021
Between Detroit's selections, the Arizona Coyotes drafted son of long-time captain and career-Coyote Shane Doan in Josh Doan in the second-round at No. 37. Doan will join a rising hockey program with the Arizona State Sun Devils.
Joining Lucius at Minnesota are Matthew Knies (Toronto Maple Leafs; second-round, No. 57 overall) and Tristan Broz (Pittsburgh Penguins; second-round, No. 58 overall).
Additionally, Scott Morrow (Carolina Hurricanes, No. 40 overall), Jack Peart (Minnesota Wild, No. 54 overall), and Sean Behrens (Colorado Avalanche, No. 61 overall) rounded out second-round selections of NCAA commits.
As college hockey continues to be a developmental stepping stone for the NHL, the 2021-22 NCAA hockey season will be loaded with exciting players and budding talent.
---
Have a question or a comment for Jacob Messing? You can find him on Twitter @Jacob_Messing.