2021 FloHockey PBHH Invitational
PBHH Invitational: James Hardie Raising His 2021 NHL Draft Stock
PBHH Invitational: James Hardie Raising His 2021 NHL Draft Stock
James Hardie has made some serious noise at the PBHH Invitational, which is exactly why the tournament was created in the first place.
Jun 10, 2021
by FloHockey Staff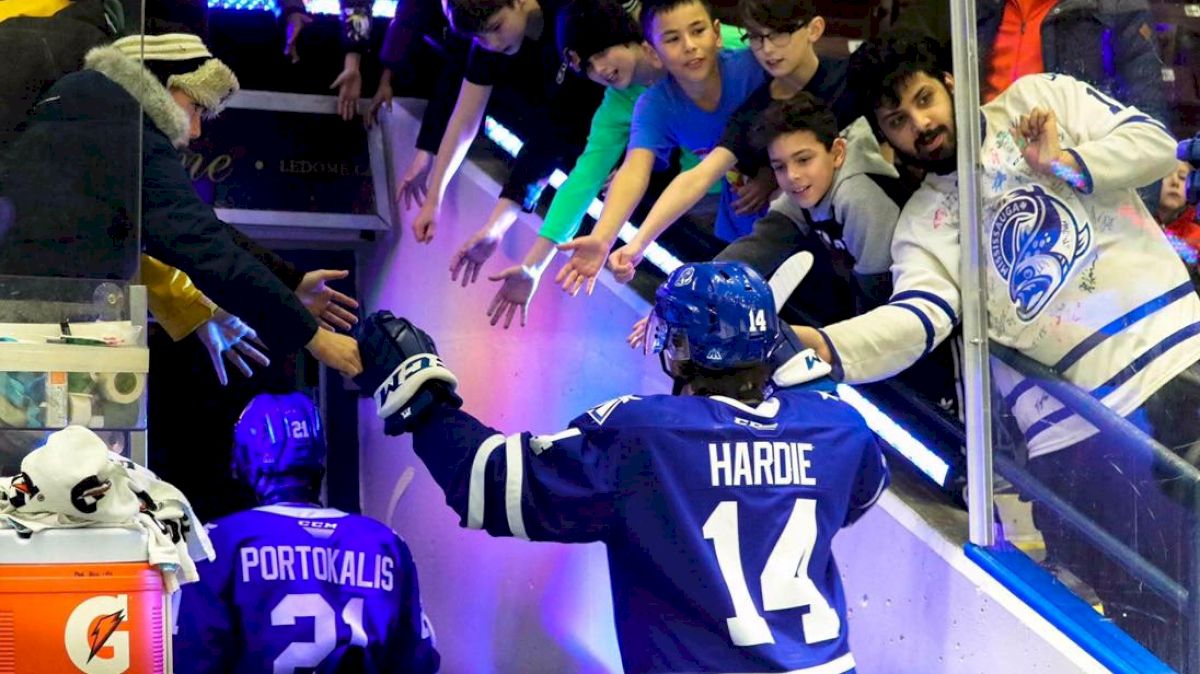 What is the cost of an NHL Draft pick?
No, not in the analytical average term of packaging an unwanted contract with a future draft selection. Rather, the cost of raising your reputation in your draft year.
In a typical year, junior players would use what is normally their age-17 season as one last chance to show the values they could bring to an NHL organization should a front office elect to use one of their limited draft spots to select them.
But "typical" and "normal" are not words that correctly describe the 2020-21 sports world.
With little to no play for many junior players across the OHL, WHL, QMJHL, and other draft-developing leagues, many players did not earn that chance, and it has created a bevy of stories on the lack of information and scouting available to the NHL's soon-to-be 32 teams for the 2021 NHL Entry Draft.
Enter the PBHH Invitational, an acronym of the four OHL players who founded the idea given the loss of the 2020-21 season: Andrew Perrott, Ryan Beck, Ryan Humphrey, and Brendan Hoffmann. For these players, that rhetorical question of the cost of a draft pick has an answer: $750, the entry fee of all players, dedicated to tournament costs.
The Invitational is a non-profit, juniors showcase allowing six teams of 19 players — for a total of 114 players — the opportunity to showcase their skills and growth after a long offseason and compete in front of NHL scouts.
Every second of the PBHH Invitational is available to stream live, right here on FloHockey, through the June 13 championship Top Prospect Game.
These 114 players contributed a $750 entry fee toward the cost of the showcase for this unique chance to lift their draft stock and display values they believe will end in their name being called in the 2021 NHL draft this summer.
Heads Up For James Hardie
The top-tier players of the 2021 draft class are not likely to see significant change with the draft two months away, but for those pegged as late second-round picks and beyond, every bit of information scouts have to go on could make the difference of these players' draft position.
A handful of players have already skated their way into this grouping, starting with tournament scoring leader James Hardie.
Hardie, 19, finished 48th in OHL scoring during the 2019-20 season, while his 34 goals were 18th. Despite strong offense and a modest build at 5-foot-11, 176-pounds, Hardie was not among the 216 draftees in 2020, his first year of NHL draft eligibility.
James Hardie really should've been drafted last year. It was baffling that he wasn't. Looking out for him in this upcoming draft... https://t.co/Dt8WU651g6

— Caitlin Berry (@caitlinsports) June 1, 2021
Hardie is not the first undrafted player to add to his stock post-draft, but he has shown no hesitation to use the PBHH to his advantage, regardless of sitting at the No. 154 rank on the most recent NHL Central Scouting draft rankings.
Through six games, Hardie has accumulated seven goals and 13 points as the Invitational's leading goal- and point-scorer. His strong play could be the difference-maker in raising that No. 154 projection — which equates to a fifth-round selection — into a higher pick closer to the fourth-round that wraps up at No. 128.
Beyond Hardie, forwards including but not limited to, Ty Voit, Tucker Robertson, and Avery Hayes, as well as defensemen Ryan Mast and Simon Motew are a handful of more 2021 draft-eligible names using the showcase to display their talents and upside.
Add in 2022 draft-eligible prospect Ryan Abraham, and the PBHH has been a good chance for players to get back into competition and prep for their respective 2021-22 campaigns.
Don't miss any of the remaining action, catch the final days of the PBHH Invitational live, right here on FloHockey.
---
Have a question or a comment for Jacob Messing? You can find him on Twitter @Jacob_Messing.