2021 FloHockey PBHH Invitational
Hoffman, Perrott, Beck & Humphrey Spearhead PBHH Invitational On FloHockey
Hoffman, Perrott, Beck & Humphrey Spearhead PBHH Invitational On FloHockey
With the Erie Otters sidelined because of COVID-19, Brendan Hoffman and co. took matters into their own hands to create the 2021 PBHH Invitational.
Jun 8, 2021
by Tim Rappleye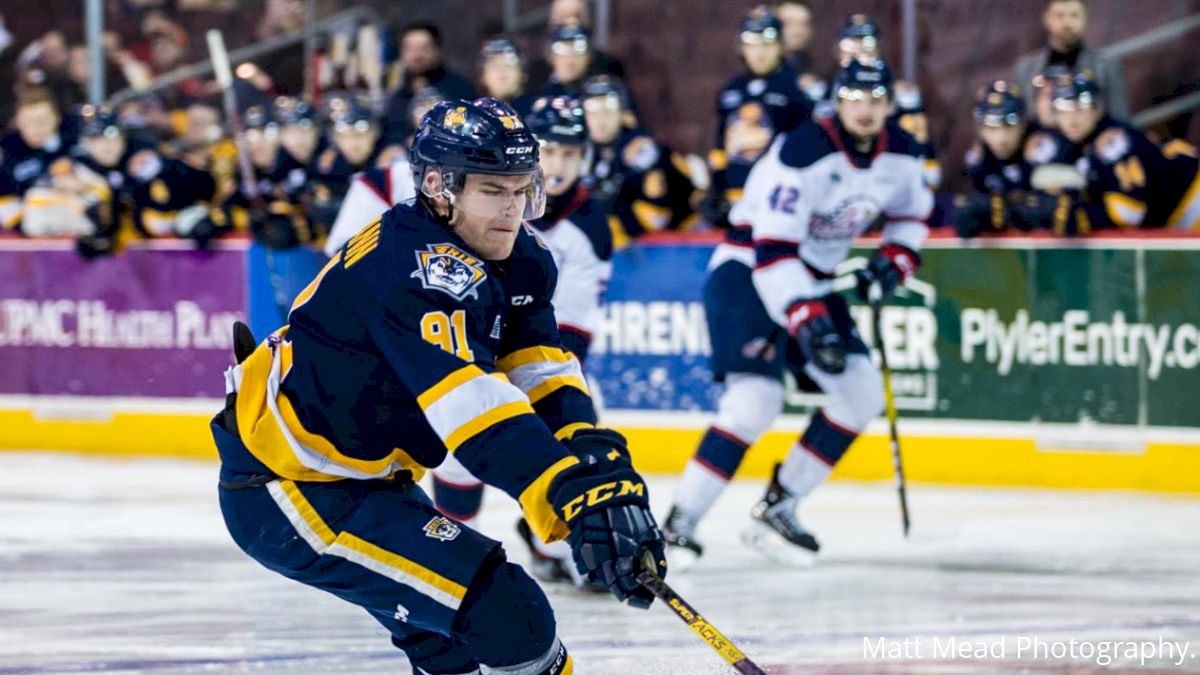 This past Sunday, the hockey world celebrated the five-goal mark: The Vegas Golden Knights exploded for five goals to even up their Stanley Cup series with Colorado; the storied Montreal Canadiens woke the echoes with five goals to put a stranglehold on their series with Winnipeg; and in Erie, Pennsylvania, undrafted junior player Brendan Hoffman fired in five goals by himself for his makeshift club Instat in the inaugural PBHH Invitational.
As strange as it may sound, Hoffman's feat might be the most impressive hockey result of the day, though his accomplishments off the ice actually overshadowed his five-goal circus act inside the glass.
For those readers stuck in an NHL bubble, a major hockey happening has blossomed on the southern banks of Lake Erie. Four teenage players from the OHL, their season wiped out by COVID-19 — and with it a lost chance to showcase their skills to NHL scouts — decided to take matters into their own hands rather than sit and bitch. Led by Hoffman, Andrew Perrott, Ryan Beck and Ryan Humphrey, the four OHL players created their own showcase to give NHL scouts a chance to see them and over 100 other players compete in live games six weeks before draft day.
The PBHH Invitational (the acronym representing each last name of the teenage founders) is now thriving in its second week, thanks to the tireless efforts of four determined dudes. Shopping for a venue and raising funds was daunting. Chasing the money was job one.
"The financial aspect of it," said Hoffman to The Athletic's Sean Shapiro, "some ludicrous amount of money was what we needed. That was the biggest hurdle, it seemed insurmountable."
It was a clear case of desperate times generating desperate measures, and the boys embraced the challenge. They crunched numbers, rounded up sponsors (full disclosure, FloHockey is a contributor) and came up with a reasonable player fee of $750. A month's worth of sweating the details culminated on June 1 at 12:30 ET, as Hoffman's Instat club took the ice against Skills Corp, and it was Game On.
Fifteen games have been played at this writing, and though the scores resemble summer league hockey, the intensity is real. The professional hockey tribe: scouts, management and player agents, have all journeyed to Erie. Information is key to making wise draft selections, and live action tops aging video clips.
"It's an actual opportunity to see some of these kids live, since many haven't played," said Flyers assistant GM Brent Flahr to The Athletic. We've only done video on most of these kids, if we even have that. To get the visual...that's good."
Player agent Kevin Magnuson has two players in the showcase, and acknowledges how vital this competition is on the eve of the draft.
"There are a lot of players who have worked out for over a year but have played in zero sanctioned games," said Magnuson via email. "They have been pining for the opportunity to compete and the boys are skating and executing really well. The competition is legitimate."
The games are player-centric, exemplified by dangling and dishing, not tenacious two-way checking enforced by autocratic coaches. There will be plenty of time for that at rookie camps if and when the prospects get their shot at pro hockey. For the four founders of this daring startup, their gumption is not lost on the scouts in the far corners of the ErieBank Sports Park. No sport takes intangibles as seriously as hockey when it comes to evaluating prospects, and these four teens from the OHL have raised the bar.
"Anybody's that got that ambition, willing to show a little bit more, that's always exciting when I'm finding out about a player," said an NHL scout by phone. "You know it's real when they show they can actually do it. Something like this, that's pretty impressive."
It's very unlikely that prospects themselves—not corporate opportunists—will create another such showcase. It required a confluence of events centered around a pandemic that affected two bordering countries differently. Four boys became men over the one element that has affected history since time immemorial—opportunity.
"Think about how weird the situation actually looks," said Hoffman. "Four American OHL players putting together a tournament for junior players across the U.S. and Canada." Desperate times, desperate measures.
---
Tim Rappleye is the author of two books: Jack Parker's Wiseguys and Hobey Baker, Upon Further Review. You can find him on Twitter.