ECHL
Greenville Swamp Rabbits Captain Haddad Has Come Full Circle In ECHL Return
Greenville Swamp Rabbits Captain Haddad Has Come Full Circle In ECHL Return
Joey Haddad, now with the Swamp Rabbits, is on year No. 12 in his professional hockey career. That experience is paying dividends in Greenville.
Apr 29, 2021
by Mike Ashmore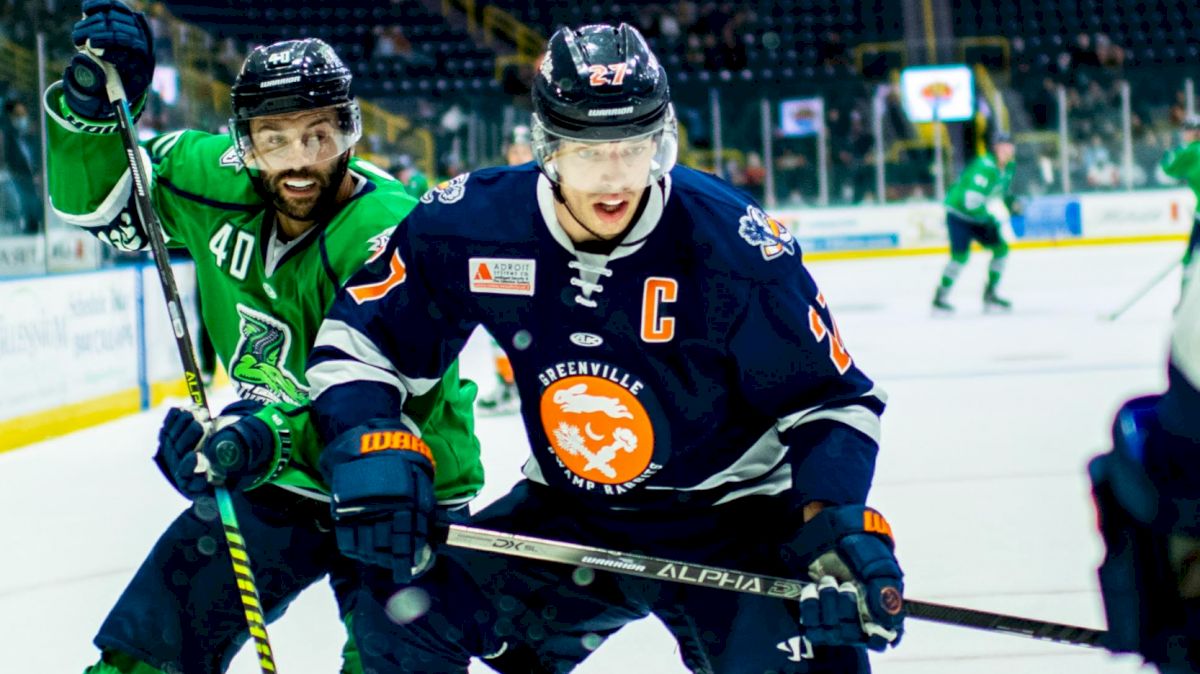 Life has come full circle for Joey Haddad in the ECHL.
The Sydney, Nova Scotia, native had just turned 21 years old when his first professional season started, one he split between the Wheeling Nailers and the American Hockey League's Wilkes-Barre Scranton Penguins.
Haddad spent more seasons in North America, split between a mix of the Nailers and Gwinnett Gladiators on the ECHL side and the Penguins, Bridgeport Sound Tigers, and Hamilton Bulldogs in the AHL before he made the jump to Europe for a very successful six-season stay in Europe with the Cardiff Devils.
Now 32, Haddad is back in the E, wearing the captain's "C" for the Greenville Swamp Rabbits, who are currently on one of the league's hottest streaks as they push their way up the standings.
He's clearly taken the time to appreciate what a whirlwind it's been to get from Point A to Point B since he got started.
"I think I've definitely gained some perspective," Haddad recently told FloHockey.
"This is my 12th year, so I think at the start of my career and growing up as a young man and trying to figure out that pro game, I had a different kind of perception of everything (at that level) and maybe a different kind of excitement, when you're getting into something new and you have those big dreams and aspirations of what it's going to be. I had time to kind of live through all of that, and really enjoy my career and just playing. Funny enough with the pandemic and everything, I never thought I'd be back in the E, but it's been fun and it's been interesting.
"Coming back after a six-year hiatus, it's been different because I don't really know any of the players anymore, and it's different because I'm an older guy and there's all these young 20- to 25-year-olds who are my teammates, so there's a different dynamic there. And it's been cool seeing the league, and where it was at when I was young, compared to where it's at now. The skill level, the competition level, I think it's all moved in the right direction. Especially this year, with the AHL having had such a hard time of getting their season going, it really made the talent level very competitive in the (ECHL)."
An increase in that skill – a "half AHL, half ECHL" level, he says – has made it a more physically and mentally taxing season for Haddad, but has also increased the league's prestige going forward. Perhaps that's made once again wearing the "C," which is something he also did in his last season with the Gladiators in 2013-14, all the more meaningful, as his role as one a respected veteran has continued to evolve over time.
"You have to be a little more self-aware when you're a 32-year-old talking to a 22-year-old teammate, there's a little difference with the age gap and the mentality that you've got to be aware of as a leader," he said.
"It's just in terms of connecting with your teammates and relating to them, whereas when I was younger and I was captain when I was 25 in Gwinnett, I was 25 with those 25-year-olds, and the perspective and the relatability was there right off the bat and it was something that was natural and something I fit in with. Now, coming back and wearing a "C" on a new team like this year, it's had its challenge, but it hasn't been a negative in any way. If anything, it's been a personal builder, and a challenge for me to do the best I can and support the coaching staff and organization and be that mature professional that's played 12 years, can answer some questions and lead the group in the right direction."
It surely wasn't a particularly difficult decision for Swamp Rabbits head coach Andrew Lord to bestow the captaincy honors on Haddad. The two were teammates in Wheeling and then Cardiff, before Lord took over as head coach with the Devils, where Haddad first played under him. Haddad never thought he'd be back in North America or the ECHL, but when COVID-19 protocols overseas forced his hand and it came time to find a team, it was an equally easy decision for the two to reunite.
"It reassured me quite a bit," Haddad said. "A lot of my big questions away from hockey were wondering what the living arrangements were going to be like, what's the day-to-day, how safe will the league be…I don't want to make plans to get over there, and then we're shut down in a month. I had a lot of off-ice questions, and having somebody like 'Lordo' to answer them, I just felt that I could trust him. I've known him 12 years; we've been teammates, he's coached me, he was my captain at one point. He's just a really solid base for me in North America to understand the logistics and how the league was going to open…for me and my wife, we were in the U.K. for a bit, then we came back to Canada, but as far as that safety and that travel with the pandemic, it really helped to have a friend reassuring me that everything was OK.
"Hockey-wise, this was a no-brainer, I think both ways. I think for him to bring a player he's had for six years and knows what to expect and what he wants on a day-to-day basis, I think that's huge for him. And then for me, as a player, I know what I can expect day in and day out, I know what he wants out of the group, and I know the systems he's going to use. For ease of transitions leaving Cardiff and coming to Greenville, this was pretty good for me."
---
Mike Ashmore has 17 years of experience covering professional and college sports. You can follow him on all social media channels at @mashmore98.