ECHL
From Maine To Florida, Alex Kile Just Keeps On Scoring In The ECHL
From Maine To Florida, Alex Kile Just Keeps On Scoring In The ECHL
Alex Kile landed on the Florida Everblades after leading the Maine Mariners in scoring — but the move south hasn't been without its difficulties.
Jan 22, 2021
by Mike Ashmore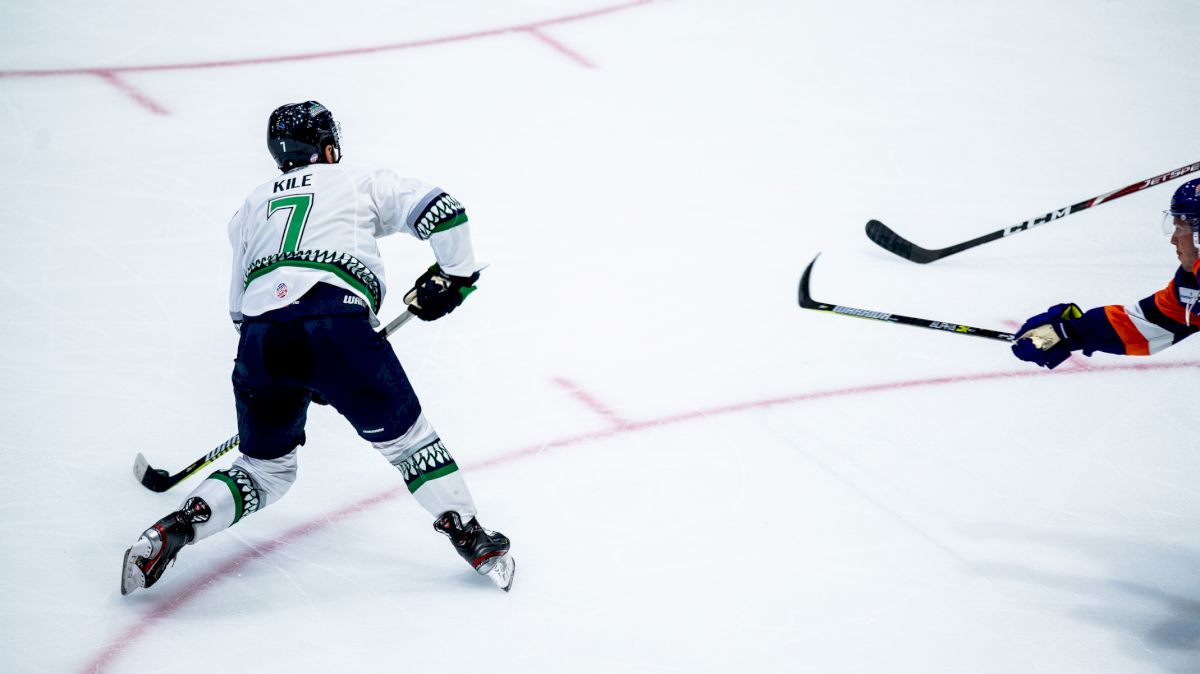 From the outside looking in, you might have wondered if Alex Kile might have a difficult time fitting in with the Florida Everblades on short notice.
After all, last year's leading scorer for the Maine Mariners was left without a place to play on short notice after the ECHL's entire North Division opted out of the 2020-21 season, leaving the skilled 26-year-old scrambling to find a new home with opening night for the teams that were moving forward rapidly approaching.
You may have wondered.
Kile himself did not.
"Not really," he told FloHockey via cellphone.
"I knew wherever I would go, I'd probably be (a) top-six (forward), and I knew wherever I went, I could just show the coaches how I could play. So, I wasn't really worried about playing time, and I wasn't really worried about fitting in either, because two of my best friends were already on the team."
Kile credits two fellow Michigan natives — now former Florida goaltender Cam Johnson and current Everblades defenseman Michael Downing — who were Kile's college teammates with the Wolverines, as helping make the transition a smooth one.
"It was huge having them there, it made me feel like I was already a part of the team right away," Kile said. "And I still knew maybe four or five other guys just from playing against each other for so long, so I felt like I was able to fit in pretty quickly."
A good fit doesn't mean it wasn't still an unexpected one to have to make, however. Kile said that the Mariners not playing this season came "out of left field at first" since, according to Kile, coaches and managements were told that would be the case, and that's what they'd been relaying to players.
"I needed to find somewhere to play quick," Kile said. "That December start for the other teams was like two-three weeks away at that time. I had one team reach out to me, but how I ended up in Florida was (Johnson and Downing) put in a word to the coach, and then he called me and we figured it all out."
Kile has figured it out and then some in Florida; he's off to a point-per-game start with the Everblades, having potted four goals while adding 10 assists in his first 14 games, and is tied for third among the league's leading scorers. Making that all the more impressive is having to switch divisions after gaining such a familiarity with the North; although the ECHL is one big league, the style of play can tend to vary from division to division, which is especially significant this year given a schedule that features almost solely intra-division play.
"The skill is the same, but obviously this year, there's more players looking for jobs, so maybe the depth is a little better," Kile said. "The top six forwards are the same skill as the North Division, but maybe this division is a little tougher, there's been a decent amount of fights so far, but that's about it."
That's just one of many adjustments Kile has had to make this season, although changes related to the league's strict COVID-19 protocols would have had to happen regardless of which team he ended up on this season. Regardless, it's taken some getting used to.
"It's definitely a lot different at the rink," he said. "I would say you're always wearing a mask at the rink at all times, and we don't have any fan interactions at any time either, so that's been different too. Even away from the rink, probably the biggest thing is in previous years, we'd always go out to eat a ton or go to a bar or stuff like that, and now we only have five restaurants we can physically go to and dine in. The rest, if you're going to a Chipotle or something like that, you have to get takeout every time.
"Being in Florida, it isn't that big of a deal, because it's always nice out, so you can go to the beach or the pool and find things to do. We've been finding things to do: board games, card games, cooking for ourselves a lot more now. But it hasn't been too bad, honestly."
---
Mike Ashmore has 17 years of experience covering professional and college sports. You can follow him on all social media channels at @mashmore98.