Atlantic Hockey 2020-21
Robert Morris, AIC Lead The Way In Atlantic Hockey Race
Robert Morris, AIC Lead The Way In Atlantic Hockey Race
Just a couple months out from conference tournaments, we check in to see the overall picture of Atlantic Hockey.
Jan 11, 2021
by Jacob Messing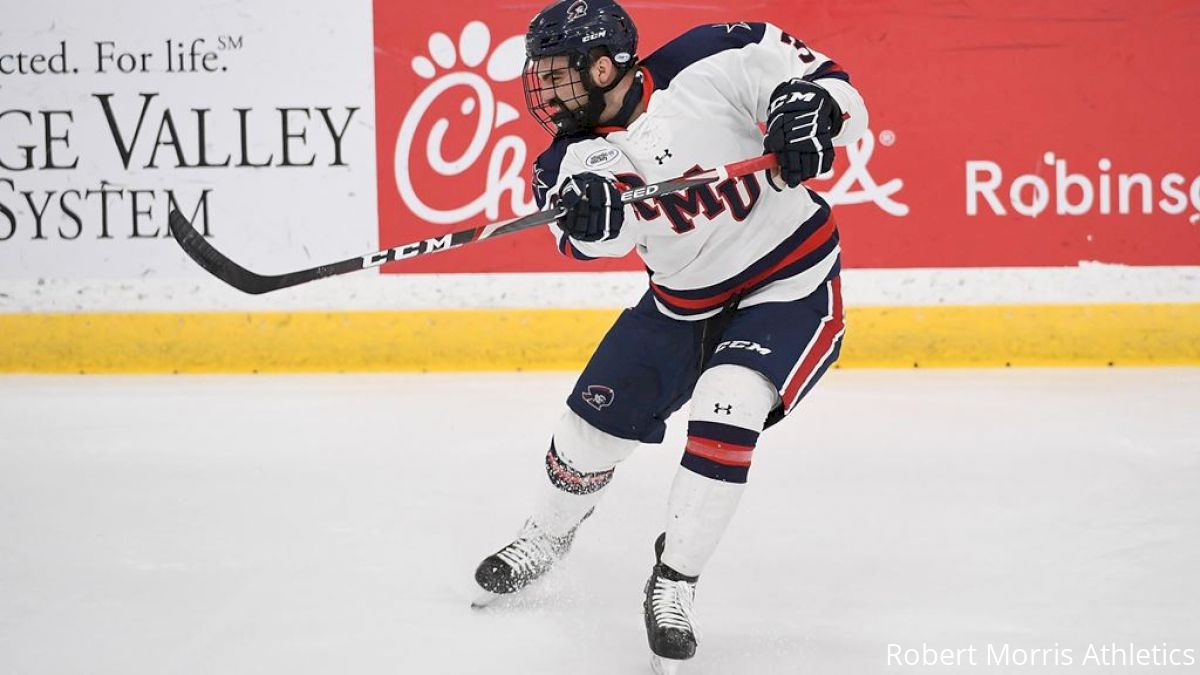 As a method to navigate the unprecedented 2020-21 season, Atlantic Hockey made an effort to curb the travel and exposure of its athletes by splitting the 11-team conference into two "pods."
First, a brief recap: the East and West pods — each icing five teams, with Air Force acting as a floater — mean teams would only play one another five total times for a total of 20 conference games. At regular season's end, all 11 teams would be seeded by their points percentage in those 20 games ahead of the 2021 AHA Tournament.
Long Island, which in its inaugural season aligned itself with AHA, will be excluded from the conference tournament.
With imbalanced schedules caused by the continual battle against last-minute postponements and cancellations, overall games played are skewed, but the pods are currently shaping up a bit lopsided.
Overall Standings
With the final playoff seedings based on points percentage, versus the old normal of total points, the overall standings are as follows:
| | | | | |
| --- | --- | --- | --- | --- |
| Standing | Program | Games Played | Win Percentage | Pod |
| 1 | Robert Morris | 10 | 0.900% | East |
| 2 | AIC | 8 | 0.857% | West |
| t-3 | Canisius | 4 | 0.750% | West |
| t-3 | Holy Cross | 4 | 0.750% | East |
| 5 | Sacred Heart | 3 | 0.667% | East |
| 6 | Mercyhurst | 6 | 0.583% | West |
| 7 | RIT | 5 | 0.500% | West |
| 8 | Army | 6 | 0.333% | East |
| 9 | Niagara | 11 | 0.227% | West |
| 10 | Bentley | 6 | 0.167% | East |
| 11 | Air Force | 9 | 0.056% | Floater |
With the imbalanced scheduling, ties are filed in order of point potential (games remaining). Back-to-back conference champion American International (AIC) sits in second place behind Robert Morris, albeit with two games in hand.
In a typical year, the two schools would go skate-to-skate for a series or possibly two series, leaving six to 12 points up for grabs. Those points could ultimately be split or cause a serious swing in the standings. But in the revamped format of 2021, the programs playing in separate pods means there will be no face-to-face play; pods that could play a big part in seeding for the playoffs.
With the new weight of points-percentage, the pods are shaping up dead even in the east and the west. The current overall conference standing of each team pits an average standing value of 5.4 "place" (second place, third place (tie), sixth, seventh, and ninth places; divided by five teams).
Compare that average standing placement to the west, where the first place, third place (tie), fifth, eighth, and tenth places, average out to an average standing value of 5.4 "place." The competition value of each pod is equally matched.
East Pod
In the East, made up of AIC, Army, Bentley, Holy Cross, and Sacred Heart, AIC is leading the way. The defensively-minded, back-to-back reigning conference champs hold an 8-3 overall record.
Army has been dragged down by a weak offense and a porous defense. Only one player has more than two goals, while their defense has allowed 21 goals through six games.
Bentley is facing similar problems with weak play on both sides of the ice. More playing time for junior goalie Fraser Kirk, who holds a 1.37 GAA and .951 SV%, could be the answer, but he's finding himself on the bench 75 percent of the time.
Fraser Kirk of Bentley University getting in some work! #GetBetter pic.twitter.com/sCeN2avz4W

— Stop It Goaltending (@StopItGoalies) January 1, 2021
The East pod's average standing value is lifted up by Holy Cross and Sacred Heart, which sit tied for third and fifth place, respectively. The Crusaders' offense has been their strong point, but has been inconsistent overall with high-scoring outings followed by low-scoring droughts.
Sacred Heart, the surprise team of 2019-20, is tentatively finding its way through a season without its offensive punch of a year ago. The Pioneers have been further plagued by rough defensive numbers.
West Pod
The West, made up of Canisius, Mercyhurst, Niagara, RIT, and Robert Morris, the lattermost team is running the ship. Robert Morris has been an offensive dynamo, averaging 3.7 goals per game and lead by Grant Hebert, one of the nation's top scorers.
Third place Canisius is being carried by its goaltending tandem, where junior Matt Ladd has some of the best numbers in the country with a 1.00 GAA and .962 S%. If he can start to earn the bulk of the starts, the Griffins could make a play at Robert Morris and the conference title.
Mercyhurst has turned the page from last season, while the Lakers aren't currently a threat in the standings, a pair of freshmen are making waves and putting opponents on their toes.
Similarly, Niagara's up-and-down play is leaving opponents unsuspecting of which team will show up. The Eagles have shown they can score but are struggling to support their goaltenders on the nights the offense does burn the barn.
RIT has also been heavy in the offensive zone, relying on the forwards to outscore defensive deficiencies that are being exposed by opponents' offenses. A tad more support for the defense should start to see the Tigers' wins rise.
Air Force
The odd number of teams in AHA coupled with Air Force being a geographical outlier, left the Falcons as a "floater," playing their 20 conference games split as a traveler between both pods; playing each program two times.
The constant travel from Colorado to New England seems to have drained the Falcons of their fuel with an 0-6-1 record, which represents their overall and conference play. Having to regularly face teams with much less travel lag is taking its toll.
---
Have a question or a comment for Jacob Messing? You can find him on Twitter @Jacob_Messing.