Atlantic Hockey 2020-21
Coast To Coast: WCHA, AHA Boast NCAA Breakouts & NHL Hopefuls In 2021
Coast To Coast: WCHA, AHA Boast NCAA Breakouts & NHL Hopefuls In 2021
NCAA breakout players, NHL hopefuls, and ECHL impact from WCHA and Atlantic Hockey players.
Jan 5, 2021
by Jacob Messing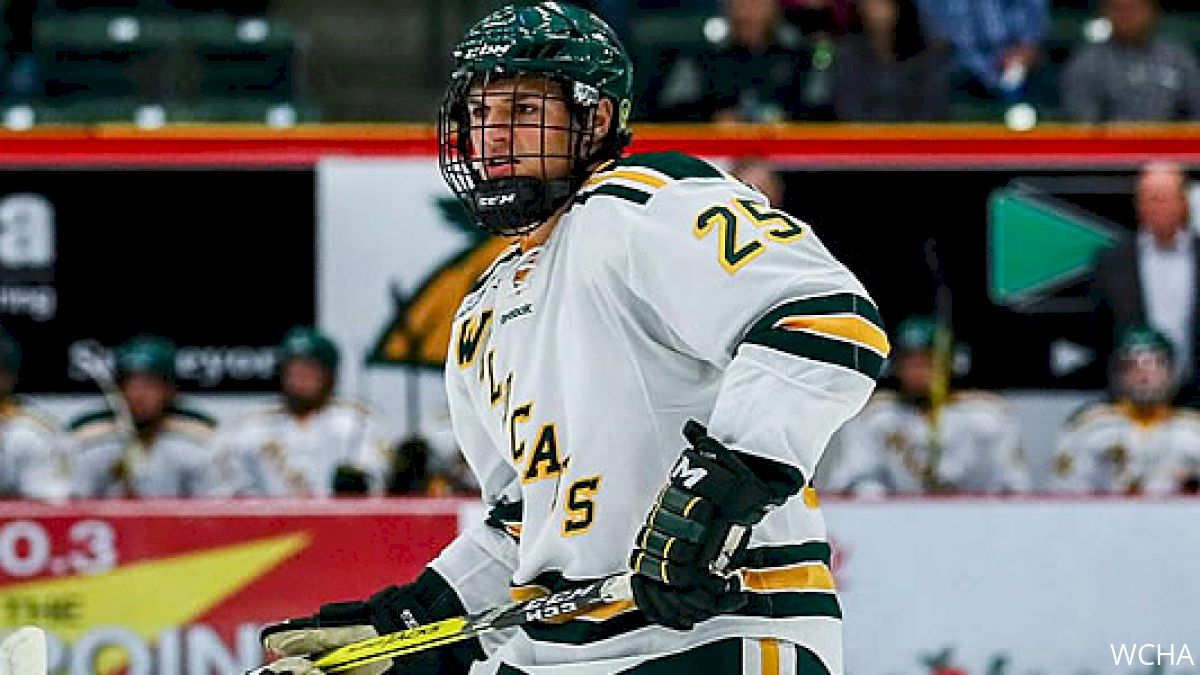 Coast To Coast is FloHockey's bimonthly, cohesive news on North American hockey and live-streaming partnerships.
New seasons always bring new faces and in the New Year, the WCHA and Atlantic Hockey have delivered with breakout performances, pro rookies, and NHL hopefuls.
With the WCHA and Atlantic Hockey entering conference-heavy play, breakout players will offer bigger impacts on standings and hopes of a National Tournament berth. In the ECHL, several prominent WCHA and AHA names from the 2019-20 season are adjusting to life as a pro and looking to earn full-time roles.
NHL training camps are also underway, where more WCHA and AHA alumni are hoping to leave a lasting impression and find themselves on opening night rosters ahead of January 13.
ECHL Rookies
Last season during Sacred Heart's historic campaign, defenseman Mike Lee more than doubled his collegiate stat line of three seasons. In his senior season, he put up 33 points (5 G, 28 A) in 33 games — eclipsing his 25 points in 86 games in his first three seasons — pushing the Pioneers from the blue line and raising hopes of a National Tournament bid, prior to the season cancellation.
As a rookie with the ECHL's Indy Fuel, Lee has scratched together three helpers in five games, tied for first among team defensemen in two fewer games following placement on the reserve list. He's already shown his offensive flash for the Fuel, who are eager for Lee to return to the lineup and build on their 6-1 record.
Another defenseman feeling his way as a rookie is Northern Michigan alumnus, Philip Beaulieu. Beaulieu pushed the Wildcats offense from the blue line, amassing 26 goals and 121 points in 158 games in Marquette.
The 25-year-old has put up an assist in two games with the Allen Americans, who hold a 6-2 record and are building on their momentum from last season, where they sat first in the Mountain Division at season cancellation, up 15 wins and six places from 2018-19. Beaulieu is surrounded by strong players and will need to steal ice time with his play.
At a powerhouse program like Minnesota State, a deep forward group can offer developing players a chance to match up with other depth players. That was the case for Charlie Gerard, who found out what eased development can produce. After just 10 points in 42 games as an underclassman, his junior season would be a different story. The 5-foot-9 forward broke out for 12 goals and 30 points as a junior before scoring another 13 goals and 30 points as a senior.
Now, skating with the Utah Grizzlies, Gerard remains confident and has two goals and four points in five games, helping the Grizzlies to a 4-1 record along with his teammate Diego Cuglietta, another WCHA alumnus, finding his way as a sophomore in the ECHL.
NCAA Breakouts
In Atlantic Hockey
Often overshadowed by NHL prospects and the "name-brand" programs, it is not often AHA finds itself among NCAA leaderboards. But RIT's Will Calverley has been an offensive machine through the Tigers' first 10 games.
Calverley was a formidable player for the Tigers in his first two seasons, scoring 20 goals and 39 points in 69 games. Now a junior, he's a leader on the team and is carrying the torch on the offense with six goals and 16 points in just 10 games.
🎩🎩🎩
Will Calverley had a hat trick in leading @RITMHKY to an 8-5 upset victory of No. 9 Clarkson.#ncaahockey pic.twitter.com/qi2tibAYQl

— NCAA Ice Hockey (@NCAAIceHockey) November 28, 2020
The 22-year-old is second in the NCAA with 1.6 points per game. His breakout is creating some buzz around RIT as they look to upset back-to-back conference winner AIC.
RIT is not the only program ready to dethrone AIC, as Grant Hebert's breakout has led Robert Morris to a 6-1 conference record (8-3 overall). Hebert was in the progress of a strong sophomore season last year, but his season was limited to just 17 games.
Now he's back and has five goals and 14 points in 11 games, already establishing career highs with 17 regular-season games remaining on the schedule. He's leading a deep offense that features five point-per-game players through 10 games.
In The WCHA
Several key losses at Minnesota State left some wondering how the Mavericks would react after 2020 was lined up as their best shot at a National Tournament following several years of immense success. There were some names with heightened expectations with roles to fill, but Cade Borchardt was further down on the list.
As a freshman, Borchardt went scoreless in 10 games with the Mavericks last season. Enter 2020-21 and his five goals and nine points lead the team in each category as the Mavericks remain a dangerous team sitting at 5-1-1. They aren't ready to be written off.
Last season, Michigan Tech finished sixth in the WCHA, despite a 21-15-3 overall record. But now with goaltender Blake Pietila (not to be confused with former MTU captain Blake Pietila) taking the reigns, the crease is solidified and the Huskies are looking dangerous.
Nationally, Pietila's 1.22 GAA ranks sixth, his .959 SV% ranks fifth, and his two shutouts are tied for second. The sophomore has carried the Huskies to a 6-3-1 overall record and a perfect 2-0 conference record.
NHL Hopefuls
With NHL training camps opening ahead of the January 13 season start date, several WCHA and AHA rookies are looking to turn their camp invites into NHL roster spots.
Another undrafted free agent (and former Mike Lee teammate), Jason Cotton's breakout year with Sacred Heart earned him a contract with the Carolina Hurricanes, joining his brother David in the organization. The 25-year-old is in a similar position as Michaelis, being just 25 years old but still older than the team's core group.
Sacred Heart has never had a player sign an NHL contract. But Jason Cotton and Hamden's Mike Lee are both drawing interest, according to @SHUHockey coach C.J. Marottolo.

— Chip Malafronte (@ChipMalafronte) March 19, 2020
Cotton scored 20 goals and 37 points in 34 games as the Pioneers' captain last season, leading the program to a historic campaign. After three consecutive seasons on offensive growth and in fewer games each season, nonetheless, Cotton will have hefty competition, but at 6-foot-3, he's got a size advantage over some other Hurricanes forward prospects.
The Calgary Flames have undergone some rebuilding on the blue line and Connor Mackey is going to get a chance to show himself ahead of the 2020-21 season. Mackey, 24, spent three years with the Minnesota State Mavericks where he accumulated 18 goals and 61 points in 118 games.
He played a large role in the Mavericks' defensive-minded system, which helped him form a solid two-way game. Standing at 6-foot-2, Mackey is on the larger size for undrafted college free agents, which tends to lean towards breakout forwards built on offense. There will be stiff competition among other prospects for the Flames, and his left shot from the point might hurt his chances with other left-handed NHL invites.
Former Mavericks teammate, Marc Michaelis, is just 600 miles (or 970 km) away looking to earn an NHL spot himself with the Vancouver Canucks. The Canucks forward group is packed with young, promising forwards, leaving Michaelis on the older side, even at 25 years old.
His resume doesn't hold the same "professional experience" as some of his camp competition, but his NCAA career proves he's ready for the next level. Michaelis posted three-straight 40-point seasons in Mankato and finished his career with 162 points (71 G, 91 A) in 148 games. His strong two-way game and versatility on the wing or up the middle make him an interesting component for the Canucks in 2020-21.
---
Have a question or a comment for Jacob Messing? You can find him on Twitter @Jacob_Messing.