WCHA
Lake State Alumnus Diego Cuglietta Finds Footing In ECHL With Grizzlies
Lake State Alumnus Diego Cuglietta Finds Footing In ECHL With Grizzlies
Lake Superior alum Diego Cuglietta is finding his footing in the ECHL with the Utah Grizzlies.
Dec 15, 2020
by Jacob Messing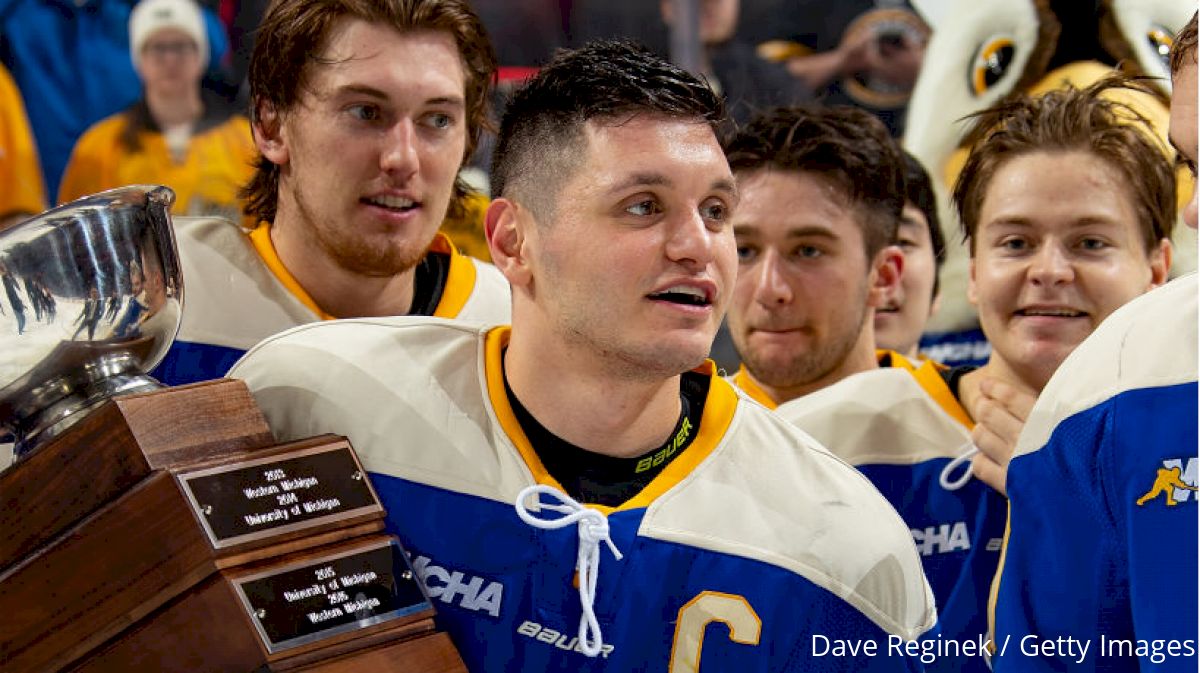 A season removed from living the often-cruel path to professional hockey, Diego Cuglietta sits in a once-familiar position among his colleagues: atop the statistics sheet, this time with the Utah Grizzlies.
In the NCAA, Cuglietta had the senior season every fourth-year player dreams about — scoring a nation-leading 25 goals, winning an MVP trophy (at the 2018 Great Lakes Invitational), and signing his name to a contract for a shot at professional hockey.
Watch Tulsa vs Utah LIVE on FloHockey!
As team captain in 2018-19, Cuglietta led the once-great Lake Superior State Lakers to their best record since the 1995-96 season, paving the way for the underclassmen to learn from his work ethic and carry on his work in Sault Ste. Marie.
Cuglietta's amateur tryout contract with the Dallas Stars sent him to their AHL affiliate, the Texas Stars, where he joined the team for their playoff push with 11 games remaining. Cuglietta saw three games, in which he recorded a game-winning goal and four shots, but he was outmatched against bigger, stronger AHL veterans.
Listed at 5-foot-10, Cuglietta belongs to the shorter side of the average pro forward, making his transition to the next level more reliant on the vision, speed, and shooting that rewarded him with his impressive senior season with LSSU.
The following season, his first full campaign in professional hockey, saw him split time with Texas and ECHL affiliate, the Idaho Steelheads. Cuglietta's play remained erratic among AHL talent, managing just one goal and four points in 23 games with Texas. Sent to Idaho, Cuglietta's skillset was a better fit. But he still struggled somewhat, as his goal-scoring remained underwhelming with two goals and five points in 11 games.
With a full season of professional hockey to his name, Cuglietta is now showing his perseverance with a new contract with the Utah Grizzlies, determined to find his footing in the ECHL in 2020-21.
The 25-year-old opened the season with a pair of promising games over the weekend, recording a league-leading four points (1 G, 3 A) for Utah, which split its series with Rapid City. The former Laker was even tabbed Player of the Week by the ECHL.
Cuglietta was noticeably more confident with the puck and stayed true to the same style that earned him his first contract back in the spring of 2019. Like all great players, Cuglietta had an uncanny ability to continually draw the puck to him; he was dishing it to his teammates like an old-fashioned game of shinny.
There is a visible difference between players who force plays and players who make plays; Cuglietta was doing the latter of those two things with poise and fun, finding some synchronization between his ability and confidence level. The element of fun in a player's game not only helps the flow on the ice come more naturally, but it also rubs off on teammates.
Specifically, for a team with five rookies fresh out of the NCAA — Denis Smirnov, Brayden Gelsinger, Charlie Gerard, Jared Pike, and Matt Hoover — watching Cuglietta's adaptation to the next level can calm nerves for the young team with heightened expectations.
General manager and coach Tim Branham led the Grizzlies to a franchise-best winning percentage last season, but only returned seven players. Cuglietta is grabbing hold of the leftover ice time and his play can help inspire his fellow alumni to do the same.
The Grizzlies are back in action this weekend as they host the Tulsa Oilers (1-0-0-1) on Friday, Dec, 18 and the following night. Catch both games live, right here on FloHockey.
---
Have a question or a comment for Jacob Messing? You can find him on Twitter @Jacob_Messing.