Atlantic Hockey 2020-21
Coast To Coast: Weekend Streaming, NCAA & ECHL Schedules
Coast To Coast: Weekend Streaming, NCAA & ECHL Schedules
College hockey is officially back! For news on the WCHA, Atlantic Hockey, and ECHL, check out FloHockey's brand-new regular column "Coast to Coast."
Nov 9, 2020
by Jacob Messing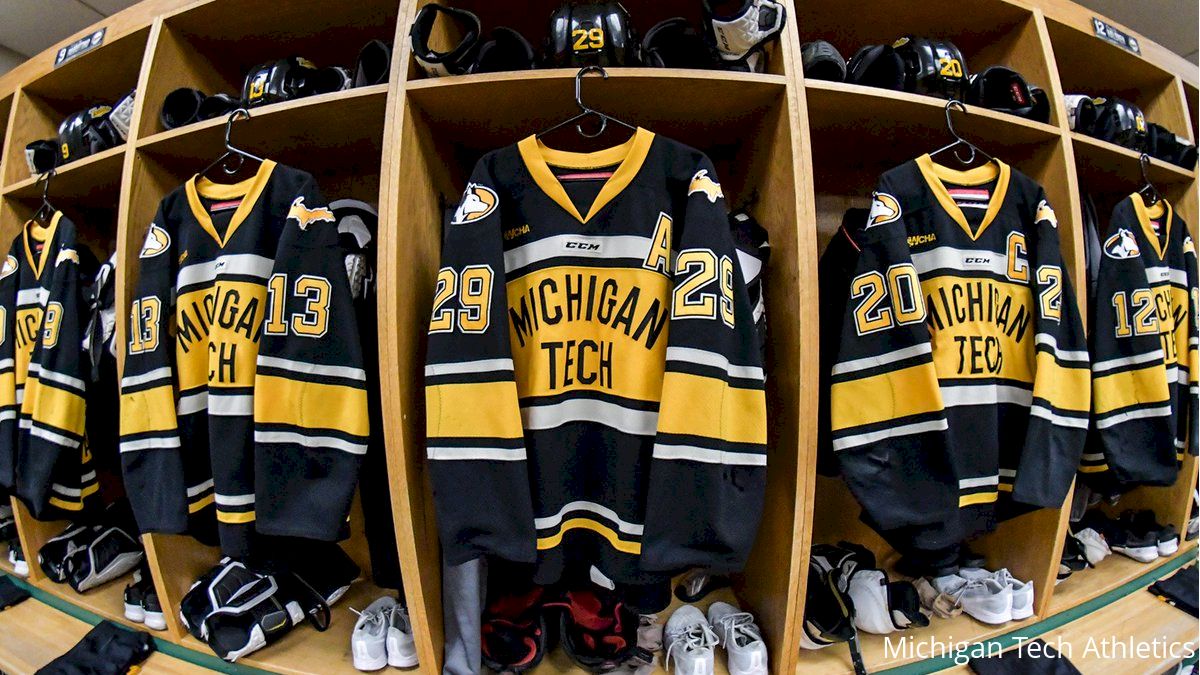 "Coast to Coast" is FloHockey's bi-monthly, cohesive news source on North American hockey.
Live hockey is finally returning to FloHockey as Adrian College and Bowling Green kick off the NCAA schedule on Friday, Nov. 13.
The game will be live-streamed right here on FloHockey for the first action in nearly eight months, following the cancellation of the 2019-20 NCAA season due to COVID-19. Months of patience, observation, and contingency plans have led to the 2020-21 NCAA season returning roughly a month behind its annual schedule.
WCHA Leads The Way
The WCHA released its abbreviated schedule last week, in which teams will play only within the conference.
The conference's 10 teams will begin the season with eight non-league games spread in four interleague series prior to any effect on league standings. At the turn of the calendar, the WCHA will enter league play via an 18-game schedule that will make up the league's standings prior to the conference tournament.
The format for the 2021 conference tournament remains undetermined, but is slated for mid-March.
Mike Hastings' Minnesota State Mavericks finished atop the WCHA for the third consecutive year and fifth time in the past six. The Mavericks will face the Beavers in a back-to-back (non-conference) series to open the 2020-21 season, in addition to a one-conference matchup — a home-and-home series to end each program's regular season.
Minnesota State went 3-2 in five games against the Beavers last season.
Mo' Hockey, Mo' Streaming
The upcoming weekend will also mark the return of Atlantic Hockey. Army West Point and new Division I independent program, Long Island University, will face off on FloHockey, Saturday, Nov. 14.
Atlantic Hockey has announced that games will be played in "pods," similar to the NHL's use of "bubbles" during the 2020 NHL postseason, which saw tremendous success.
Eastern teams will be placed inside the Eastern pod, which includes AIC, Army, Bentley, Holy Cross, and Sacred Heart. In the Western pod will be Canisius, Mercyhurst, Niagara, RIT, and Robert Morris. Programs will play each other five times for a total of 20 games in their respective pod; no regular-season matchups will take place between the separate pods.
The conference has announced Air Force as a floating team, which will play two games against each of the five teams in each pod, accumulating the 20-game mark for AHA standings.
AIC has won each of the past two AHA regular seasons but will enter 2020-21 having lost its top two scorers, starter goaltender, and seven additional seniors. Runner-up Sacred Heart also faces significant roster turnover in the departure of its top three scorers. RIT has the makings to give each aforementioned program a run for the top, but don't count any of the three out.
ECHL Testing Split-Season
New FloHockey streaming partner, the ECHL, is running a split-season format for the 2020-21 season, which includes two different start dates and two different sets of schedules.
On Dec. 11, 13 teams will begin a 72-game schedule — including Allen, Florida, Greenville, Indy, Jacksonville, Kansas City, Orlando, Rapid City, South Carlina, Tulsa, Utah, Wheeling, and Wichita.
The 11 remaining teams — Adirondack, Brampton, Cincinnati, Fort Wayne, Idaho, Kalamazoo, Maine, Newfoundland, Reading, Toledo, and Worcester — will begin a 62-game season on Jan. 15. The postseason will be determined via winning percentage. The Atlanta Gladiators and Norfolk Admirals opted out of the 2020-21 season via a Voluntary Suspension, relinquishing the rights to each of their respective players.
"Our ECHL members have been looking forward to getting back on the ice since March 16, and providing the fans with exciting hockey in a safe environment," Professional Hockey players Association Executive Director Larry Landon announced last month, via ECHL.com.
The ECHL has a proven development track for notable NHL goaltenders, and has averaged more than 4,000 fans in 28 of the past 30 years, including 16 consecutively.
FloHockey will be live streaming all ECHL games when the puck drops on Dec. 11.
---
Have a question or a comment for Jacob Messing? You can find him on Twitter @Jacob_Messing.