Atlantic Hockey
Atlantic Hockey Preview: RIT Reloads On Scorers, Plus Niagara & Holy Cross
Atlantic Hockey Preview: RIT Reloads On Scorers, Plus Niagara & Holy Cross
With Atlantic Hockey right around the corner, we take a deep dive into every team from the conference, starting with RIT, Niagara, and Holy Cross.
Oct 30, 2020
by Matty OBrien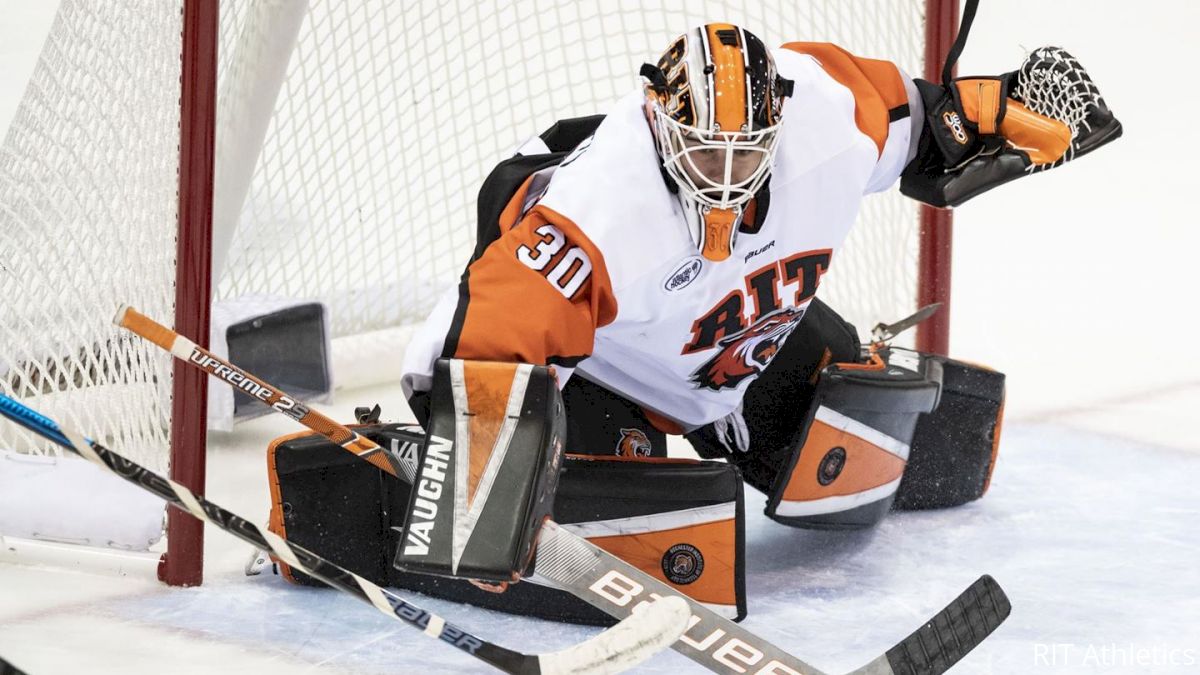 With Atlantic Hockey announcing return-to-play schedules to begin as early as November 13, the dream that was college hockey being played in 2020 seems to finally be a reality. In its 17th year of existence, Atlantic Hockey looks to set the standard for safe, exciting, and competitive hockey to be played. In honor of the season starting next month, here is installment one of four team preview issues that will identify every need to know factor for all 11 teams in the conference.
Rochester Institute of Technology
2019-2020 Record: 19-13-4 (15-9-4 AH)
The Tigers improved their record for the fourth consecutive season last year finishing third in the Atlantic Hockey standings. With a solid season last year, stemming from strong senior leadership and an incredibly talented core group, the Tigers are primed to make another run in Atlantic Hockey.
Returning
The Tigers are returning a boatload of experience and production from last season. Eight of their top 10 scorers return for RIT, all producing more than 15 points last season. Headlining this group are 2020-21 captains Will Calverley, Alden Dupuis, and Dan Willet. Calverley and Dupuis combined for 42 points and six power-play goals upfront, while Willet provides valuable experience on the blue line with 16 points last season.
Adding to this experience is the ability for forwards 1-6 to put up big numbers for the Tigers. Look for Jake Hamacher, Elijah Gonsalves, Caleb Moretz, and Andrew Rinaldi to build off their scoring last year combining for 89 points in 2019-20. While scoring probably won't be an issue for the Tigers, they return senior goaltender Logan Drackett. Drackett has won many big games throughout his career and posted a .907 save percentage last season.
Departures
While the 2020-21 season looks bright for RIT, the Tigers did lose two vital members of the team last season. Leading this pair is Tiger's defensemen Adam Brubacher. Brubacher tallied 106 points over his career. Earning Atlantic Hockey Rookie of the Year honors as a freshman, Brubacher's impact was noticed right away for the Tigers. His presence on the blue line has been one teams have scouted for over the last four years, and now they don't have to. This is a void RIT will feel early on this season.
A second loss for the Tigers is forward Shaw Cameron. Cameron netted 18 goals last season (20th in the country) and added 11 assists to lead the Tigers in scoring with 29 points. While becoming a go-to scorer in his final two seasons, Cameron was a major factor on the penalty kill, earning special team's time in all four years with RIT.
Additions
The Tigers add a talented group of five freshmen this season. Diarmad DiMurro and Dimitri Mikrogiannakis look to help fill the void left Brubacher on the blue line. Mikrogiannakis finished as a finalist for MVP in the BCHL last season. Forwards Aiden Hansen-Bukata and Cody Laskosky, as well as goaltender Daniel Chenard also look for roles this season.
Niagara University
2019-20 Record: 12-18-4 (12-12-4 AH)
The Purple Eagles come into the 2020-21 season building off a successful run after Christmas break last spring. Niagara won six of their last eight games last season, and are primed to continue that success come November 13.
Returning
The Purple Eagles are returning a lot of their core group that leads to their late-season success last season. Headlining retuning players for Niagara is senior Jack Billings who lead the Purple Eagles squad with 27 points. In his first season with the team, the Salve Regina transfer earned all-conference third-team honors.
In addition to Billing's presence upfront, Niagara returns a talented and experienced group on the back end. The Purple Eagles return both goaltenders from last season, sophomore Chad Veltri and senior Brian Wilson. Each netminder offered strong play between the pipes, posting save percentages of .931 and .916, respectively. Returning to the blue line for the Purple Eagles is senior Jared Brandt. Brandt was fourth in goals scored last season and will look to provide more offensive production with the departure of Noah Delmas.
Departures
The two largest losses from last season are Noah Delmas and Ben Sokay. Delmas graduated as the Purple Eagle's all-time scoring defenseman, eclipsing 100 career points last season. Beyond his point production, Delmas' absence on special teams may cause problems early on. Ben Sokay was second in scoring last season, netting 11 goals along the way. Sokay's presence as a goal scorer and playmaker was vital for an already struggling man-up unit last season.
Additions
The Purple Eagles add Umass Lowell transfer, and Winnipeg Jets Draft pick, Croix Evingson, as well as Air Force transfer Walker Sommer for the 20-21 season. Sommer played in 53 games while at Air Force, winning an Atlantic Hockey championship along the way. While both rostered last year, both look to make their debuts this season.
Holy Cross
2019-20 Record: 11-21-5 (9-16-3 AH)
Finishing in 10th place in the regular season Atlantic Hockey standings, Holy Cross fell in three games to Robert Morris in the opening round of the AHA Tournament.
Returning
The good news for Holy Cross is that they return five of their top seven scorers from last season. Logan Ferguson, Connor Jean, and Pete Kessel look to lead the way for the Crusaders, tallying 58 together. Ferguson was second in scoring with 22 points, while Jean and Kessel paced scoring for Holy Cross with 12 goals apiece. Apart from the scoring, the Crusaders return starting goalie Matt Radomsky. In his freshman campaign, Radomsky posted a .904 save percentage and 2.90 goals-against average. The Manitoba product looks to build off his rookie season, where he was named Atlantic Hockey Goalie of the Month in January.
Departures
While scoring returns for Holy Cross, experienced depth at defense does not. The Crusaders lose four senior defensemen from last season, with all four playing in more than 26 games in 2019-20. Leading this group are Dalton Skelly and Will Brophy. Skelly led all Holy Cross defenders with 13 points last season, while Brophy tallied nine from the blue line. Charlie Barrow and Pat O'Leary also leave roles to fill in the Crusader's defensive committee. Adding to defensive losses, the Crusaders also lose senior forward Neil Robinson. Robinson led the team in scoring last season with 23 points.
Additions
Holy Cross adds seven new freshmen to the team this season. With three defensemen and four forwards, the Crusaders look for members of this group to step in right away. Leading this incoming class is two-way forward Lucas Thorne. The AJHL product developed the scoring touch in his final season, totaling 81 points in 53 games. The Crusaders also add junior Matthew Coughlin between the pipes.
Be on the lookout for the remaining Atlantic Hockey previews soon. You can catch all the games right here on FloHockey.