2018-19 WCHA Season Calendar
WCHA Tournament Seeding In Flux Ahead Of Final Weekend
WCHA Tournament Seeding In Flux Ahead Of Final Weekend
Just 10 games remain in the WCHA regular season and the seeds for the conference tournament are very much still up for grabs.
Feb 25, 2019
by Jacob Messing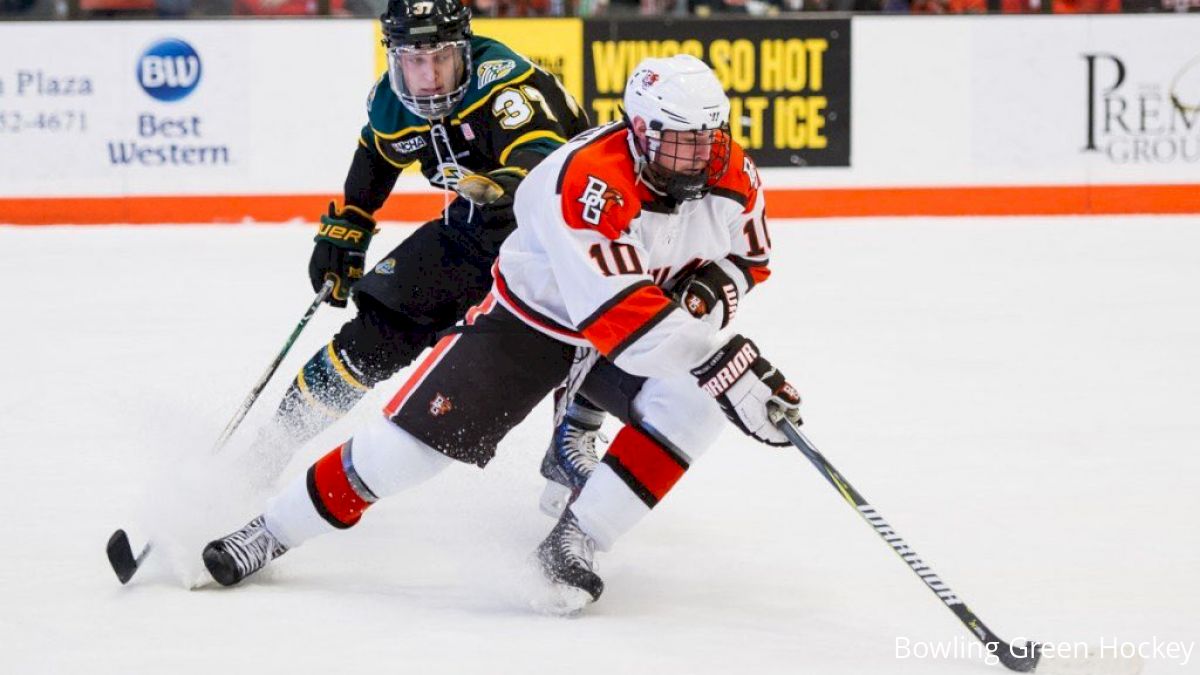 One week. Five series. Ten games. That's all that remains in the WCHA regular season as seeds and point totals remain largely undetermined ahead of the conference tournament.
The tournament is open to the top eight teams in the final standings and as the three-week event unfolds March 8-23, the last team standing will earn an automatic bid to the 2019 NCAA Tournament.
No. 4 Minnesota State ran away with the MacNaughton Cup and locked up the top seed in the tournament. Only two other teams have determined their fate: Bemidji State earned the seven seed, while Alaska Anchorage has been mathematically eliminated.
Position
Team
Points
GP
W
L
T

1
MINNESOTA STATE
MAVERICKS
62
26
20
5
1
2
BOWLING GREEN
FALCONS
52
26
15
7
4
3
NORTHERN MICHIGAN
WILDCATS
50
26
16
8
2
4
LAKE SUPERIOR STATE
LAKERS
47
26
15
9
2
5
BEMIDJI STATE
BEAVERS
45
26
13
9
4
6
MICHIGAN TECH
HUSKIES
43
26
13
10
3
7
ALASKA
NANOOKS
34
26
10
14
2
8
ALABAMA HUNTSVILLE
CHARGERS
25
26
7
17
2
9
FERRIS STATE
BULLDOGS
21
26
6
17
3
10
ALASKA ANCHORAGE
SEAWOLVES
11
26
2
21
3
While six other teams have also locked in playoff spots, the final six points on the line this weekend can shift final matchups to varying degrees dependent on each team's final series.
Alabama Huntsville at No. 15 Bowling Green
Season matchup: Bowling Green, 2-0
The Falcons, 25-7-2 overall, head into the final weekend in second place with 52 points. Taking at least four of six points would guarantee them the second seed in the WCHA Tournament. They're deep at every position and hungry for the national tournament.
Seeding options: two to four.
The Chargers, 7-25-2 overall, are in eighth place; their 25 points are just four more than Ferris State's 21 as the two teams battle for the eight seed. All seven of the Chargers' wins have come against WCHA opponents. They're sure to bring their A-game as they fight for the playoffs.
Seeding options: eight or elimination.
Northern Michigan Home-and-home with Michigan Tech
Season matchup: 1-1 split
The Wildcats, 17-4-2 overall, enter the final series with confidence following a sweep of No. 18 Lake Superior State, which they jumped over the weekend for third place. The stingy Wildcats will be seeking revenge against the Huskies, who defeated them in the WCHA Championship in 2018, costing Northern Michigan a trip to the NCAA Tournament.
Seeding options: two to five.
The Huskies, 14-16-4 overall, will look to feed off of the rivalry and find the same success as last year that helped them stave off the Wildcats for a trip to nationals. They're also coming off of a sweep over Alaska Anchorage, on the heel of a five-game winless streak.
Seeding options: four to six.
Ferris State at No. 18 Lake Superior State
Season matchup: Lake Superior State, 2-0
The Lakers, 20-10-2 overall, were swept for just the second time this season last weekend by NMU, the first coming from then-No. 4 Minnesota State to start December. The Lakers have been a surging surprise all season long on the back of several seniors who will look to keep the momentum going into the WCHA Tournament.
Seeding options: two to six.
The Bulldogs, 9-22-3 overall, have struggled to offset last season's valley, with consecutive subpar seasons. It comes after earning an NCAA Tournament bid in three of the previous five seasons. They're fighting for the last spot in the WCHA Tournament to keep their season alive.
Seeding options: eight to elimination.
Alaska at Alaska Anchorage
Season matchup: 1-1 split
The Nanooks, 10-19-3 overall, are locked into the seven seed, but won't let up against a weaker, intrastate foe in their quest for the rivalry's Governor's Cup after defeating the Mavericks last weekend. Alaska took last season's cup with a 4-0 record, but the two teams split the first series earlier this month.
Seeding: seven.
FINAL | The Nooks upset the #4 Minnesota State Mavericks 1-0 in their final home game of the season! Recap coming up later on https://t.co/oNHgcpiLdp #RollNooks

— Alaska Hockey (@NanooksHockey) February 24, 2019
The Seawolves, 3-26-3 overall, continue to struggle with their third season below 10 wins over the last four campaigns. Even with a potential sweep this weekend, they'll post their worst record over the last four years.
Seeding: eliminated.
Bemidji State at No. 4 Minnesota State
Season matchup: 1-1 split
The Beavers, 15-13-6 overall, have lost just one game over their past seven contests (3-1-3). The Beavers have been a steadier team than their record indicates, but have a dangerous final matchup against the top team in the conference. A strong outing could instill confidence and earn them as high as the three seed.
Seeding options: three to six.
The Mavericks, 25-7-2 overall, have been dominant all season long. Coming off a loss after a seven-game unbeaten streak, the Mavericks will be hungry to add a tournament title to their MacNaughton Cup title on their way to a near-guaranteed NCAA bid.
Seeding: one.
Stream the WCHA Tournament live, right here on FloHockey, when the best-of-three first round opens on March 8. FloHockey will also bring you the Big Ten Tournament and Hockey East Tournament opening in March, as well.
---
Have a question or a comment for Jacob Messing? You can find him on Twitter @Jacob_Messing.