USHL
Arizona Coyotes Prospect Julian Lutz Joining USHL's Green Bay Gamblers
Arizona Coyotes Prospect Julian Lutz Joining USHL's Green Bay Gamblers
Second-round pick Julian Lutz will be joining the Green Bay Gamblers after attending Arizona Coyotes rookie camp.
Sep 27, 2023
by Chris Peters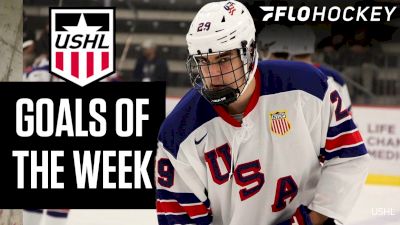 After winning each of their first two games at the USHL Fall Classic, the Green Bay Gamblers are going to get a big boost to an already-strong roster. The Arizona Coyotes announced Tuesday that it was assigning second-round pick Julian Lutz to Green Bay after he took part in their rookie camp. A Green Bay source confirmed to FloHockey that Lutz was indeed on his way and will be activated as soon as his international transfer is completed.
ALSO READ: Standouts From The 2023 USHL Fall Classic
Lutz, who was the 43rd overall pick at the 2022 NHL Draft, was expected to play this season in his native Germany with EHC Munich in the DEL. He appeared in 24 games with the German pro side last season and registered eight points. He had opened his season with Munich and was on the active roster for one game in the Champions Hockey League tournament, but did not play a shift. It appears as though his plans for this season have changed.
With the No. 43 pick in the 2022 NHL Draft, we've selected Julian Lutz. 🙌

Welcome to the desert, Julian! pic.twitter.com/wlNJVC7Ms2

— Arizona Coyotes (@ArizonaCoyotes) July 8, 2022
The Gamblers are currently awaiting the completion of an IIHF transfer for Lutz, which has to be approved by both the German Hockey Federation and USA Hockey, though such transfers are often a formality. A source confirmed that Lutz was on his way to Green Bay and if the transfer is completed, he will be able to suit up in a USHL game as early as this weekend, though it is more likely he will be active for Green Bay's home-and-home series with the Dubuque Fighting Saints next week.
Lutz is still eligible to play in the USHL because he has not yet signed an NHL contract with Arizona.
The 19-year-old left wing appeared in two IIHF World Men's Under-18 Championships with Germany and was part of the German squad at the most recent IIHF World Junior Championship.
🚨 Julian Lutz is @deb_teams' lucky charm tonight as he puts Germany within 1 goal just 24 seconds into the 3rd. #U18Worlds #GERCAN pic.twitter.com/qWjtxmyQyM

— IIHF (@IIHFHockey) April 24, 2022
At 6-foot-2, 187, Lutz has good size and can play a skilled, offensive-minded game. He also has a good shot with a nose for the net and an ability to make plays between the faceoff dots.
Having played each of the last two seasons in Germany's top pro league, Lutz now will get a chance to familiarize himself with the North American style game, while also getting significantly more ice time than he was as a younger player in the pro ranks. Additionally, with his skillset, he should be an impactful player among his age peers in junior hockey.
With the addition of Lutz, the Gamblers will now have two top-50 NHL draft picks on their roster as Lutz was selected 43rd in 2022 and goaltender Adam Gajan was drafted by the Chicago Blackhawks in June at 35th overall. The Gamblers also boast three additional NHL picks on their roster including Rasmus Larsson (New York Rangers), Jayson Shauagabay (Tampa Bay Lightning) and Chris Romaine (Colorado Avalanche).
Bringing in Lutz also helps soften the offseason blow the Gamblers took late in the process when key forward Jimmy Clark was called to the University of Minnesota a year earlier than expected and star defenseman Artyom Levshunov, a potential lottery pick int he 2024 NHL Draft, committed to play at Michigan State over the summer.
Green Bay started their season with a 4-1 win over the Lincoln Stars and 4-3 overtime victory over the Sioux City Musketeers. The Gamblers are on the road for a pair of games to take on both teams at the U.S. National Team Development Program including the U17s on Friday and U18s on Saturday.