2023 NHL Draft
2023 NHL Draft Mock 1.0: Connor Bedard, Adam Fantilli, Leo Carlsson On Top
2023 NHL Draft Mock 1.0: Connor Bedard, Adam Fantilli, Leo Carlsson On Top
1. Chicago Blackhawks: Connor Bedard; 2. Anaheim Ducks; Adam Fantilli; 3. Columbus Blue Jackets: Leo Carlsson; 4. San Jose Sharks: Will Smith.
Jun 7, 2023
by Chris Peters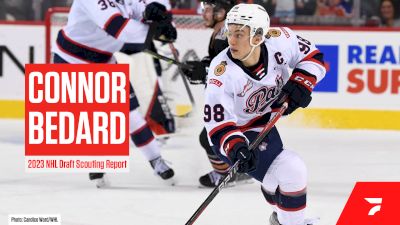 It's the final stages of the 2023 NHL Draft season as all of the draft-eligible players have completed anything they can do on ice at this point. The playoffs across junior hockey and relevant European leagues have all concluded, international tournaments have handed out their medals. All that's left is the NHL Scouting Combine this week in Buffalo and then NHL teams start making picks in Nashville on June 28.
There can be some movement after the combine, but those are often marginal differences unless something dramatic is discovered medically, which has happened in the past. Mostly, teams know what they're going to do and are simply solidifying or moderately adjusting positions this week. So now is a good time to take stock of how the first round of the 2023 NHL Draft could shake out.
Keep in mind, a mock draft isn't the same of draft rankings. If you want my top 100 rankings, you can read them in full right here. However, if you're wondering how I think the first round will go based on previous draft trends, organizational needs, additional research and some reporting, you're at the right place.
So let's get to it.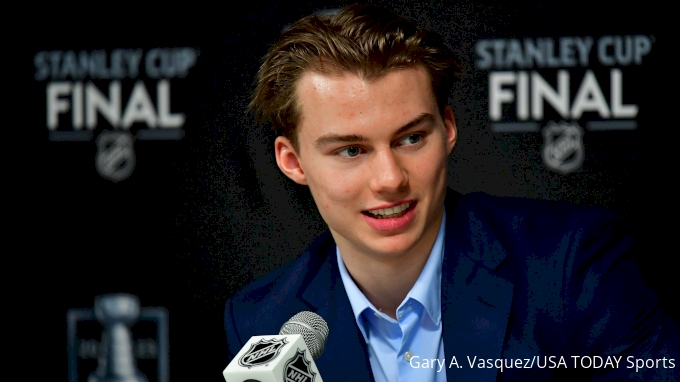 1. Chicago Blackhawks: Connor Bedard, C, Regina Pats
Kyle Davidson has had to make a lot of tough decisions in his early tenure as general manager of the Blackhawks. He'll never have an easier one than on draft night. Bedard will inject immediate optimism into the Blackhawks organization and give the team a brand new centerpiece to build around.
2. Anaheim Ducks: Adam Fantilli, C, Michigan
The Ducks certainly should be doing their due diligence on this pick, but it's especially hard to see them passing on Fantilli. He is an aggressive, physical forward with loads of skill who should complement the higher-end talents the Ducks have been collecting the last few years. He should be a foundational piece of their future.
3. Columbus Blue Jackets: Leo Carlsson, C, Orebro
The Blue Jackets have told anyone that will listen that they're taking a center. Whether it's Will Smith or Leo Carlsson, or if by some chance Fantilli slips, they have nothing but good options. Carlsson's strong showing at the Men's World Championship likely created enough separation between him and the rest of the field. The Blue Jackets have been trying to find a true No. 1 center for a long, long time. Carlsson may be their best shot at one.
4. San Jose Sharks: Will Smith, C, U.S. National Under-18 Team
One of the most skilled players in the draft, San Jose simply needs to collect talent regardless of position. Smith has a chance to be a play-driving forward that creates offense in bunches. He wants the puck a lot and he makes those around him better. While the Sharks could flirt with some risk and take Michkov or maybe draft need with a defenseman, Smith seems like the best option available.
5. Montreal Canadiens: David Reinbacher, D, Kloten
The Habs have so many options with this pick and I'll be fascinated to see which direction they go, but Reinbacher has built up more and more consensus that he is the top draft-eligible defenseman. He has size, mobility and some good offensive upside. I think a scoring forward could tempt Montreal, but strengthening their back end could be the best long-term play here.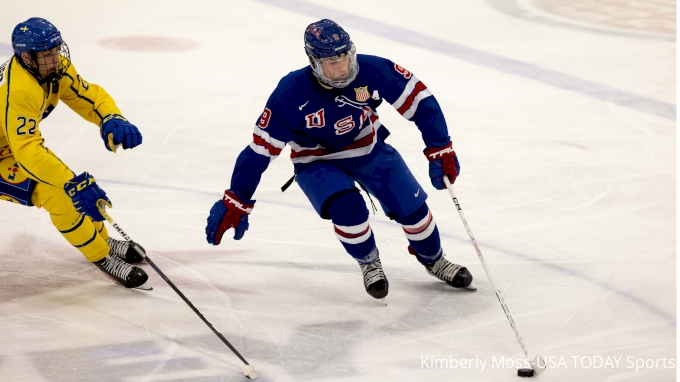 6. Arizona Coyotes: Ryan Leonard, RW, U.S. National Under-18 Team
The Coyotes are another team that just needs to keep compiling talent. With Leonard, they get a hard-nosed player who can score and has the kind of character to battle through any and all adversity. In the Coyotes organization, there can be a little too much of that adversity lately. Leonard should check a lot of boxes for them.
7. Philadelphia Flyers: Matvei Michkov, RW, HK Sochi
Daniel Briere is about to run his first draft as GM and the Flyers are in the position to land a major impact piece. As the team appears poised to rebuild to a certain extent, they shouldn't be in the market for near-term help. Having just swung a trade to add draft picks, including No. 22 in this year's first round, there is no better player on the board right here. We don't know what Briere will be like as a GM, but this would be a major chance to take on some high risk for landing a potential superstar player when Michkov's KHL contract is up in three years. Also, wouldn't be surprised to see Philly picking especially high in next year's draft, too.
8. Washington Capitals: Dalibor Dvorsky, C, AIK
If the Flyers don't take Michkov, I can't see him dropping past the Caps. That said, Washington has a shallow prospect pool that can use a boost at really any position. The best play for them may be to take the highly-skilled Dvorsky who projects as a play-driving center with scoring pop.
9. Detroit Red Wings: Matthew Wood, RW, UConn
The Red Wings have plenty they can go after as they continue building up the roster. Wood offers them size, scoring ability and upside. One thing to note, however, is that Wood doesn't play with a ton of pace and that may make him less of a fit, but I do think the Red Wings can afford to get bigger up front and increase their scoring potential, which Wood will help them do.
10. St. Louis Blues: Nate Danielson, C, Brandon Wheat Kings
A good two-way center, he seems to check a number of boxes that the Blues routinely look for in draftees. Danielson has a good frame, battles well, has a good understanding of how to play off the puck and has precision with the puck on his stick. He is not always flashy, but he is efficient.
11. Vancouver Canucks: Samuel Honzek, LW, Vancouver Giants
The Canucks are another team that just need to compile. Honzek has been highly-regarded all season and has the combination of size and finish that will help a lot of teams. There are a lot of below-average sized prospect among the top offensive producers in this draft, but Honzek is one who can provide some heaviness to a lineup in addition to scoring.
12. Arizona Coyotes (via OTT): Tom Willander, D, Rogle U20
The Coyotes are in desperate need of more blue line help for their future and Willander would be a significant add in this range. He's a talented two-way defenseman who is much better in the defensive end. His skating is among the best for defensemen in this draft and while he doesn't have high-end offensive upside, he moves pucks well enough and can make the odd play.
13. Buffalo Sabres: Oliver Moore, C, U.S. National Under-18 Team
The Sabres don't have a ton of glaring needs in their system and Moore is headed to the University of Minnesota for probably the next three years, at least. He's the best skater in the draft and any time you can add more explosiveness to your lineup, it helps. As the Sabres have more openings in a few years, a player like Moore could slide in to a middle-six forward role.
14. Pittsburgh Penguins: Colby Barlow, LW, Owen Sound Attack
Barlow is a legit goal scorer who also plays with a little grind in his game. He was a captain in Owen Sound this year and was a standout for Canada at multiple international events. The Penguins need everything in their system. Barlow has clear projectable traits and a goal-scorer's touch that no one else in their prospect pool possesses.
15. Nashville Predators: Dmitriy Simashev, D, Yaroslavl
The Predators have a new GM and Barry Trotz has said he wants his team to take swings. Simashev isn't a swing from an ability standpoint as he's big, mobile and showed more offensive capabilities as this season wore on. He very well could be a top-four defenseman that moves pucks and defends at a high level. The Preds have not shied away from Russia with first-rounders Yaroslav Askarov and Fedor Svechkov in recent years. No need to back off now.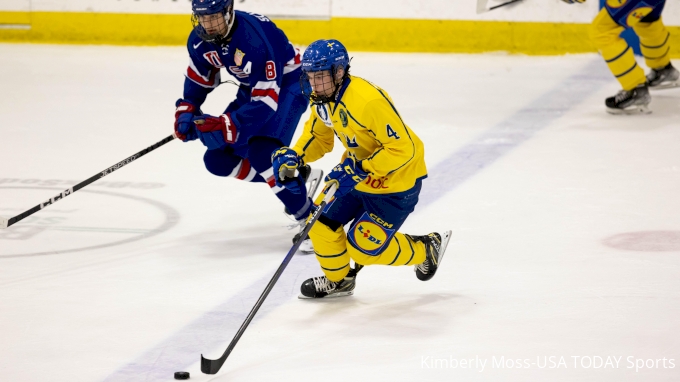 16. Calgary Flames: Axel Sandin Pellikka, D, Skelleftea
One of the more gifted puck movers of this class, Sandin Pellikka is not the biggest, but he is one of the smartest. The Flames can use a lot of different pieces in their prospect pool, but they're particularly shallow on the back end. We don't know exactly how Craig Conroy will want to structure his team as he takes over as GM, but there's a lot of sense in drafting blue line help and there wouldn't be a better defenseman on the board at this point than ASP.
17. Detroit Red Wings (via NYI): Zach Benson, LW, Winnipeg Ice
Benson is a very difficult player to place in the mock because he has his fans, but there is still concern about his size. The Red Wings could probably stand to get bigger up front still, but if they can land a player of Benson's caliber with their second first-rounder after getting the big scorer that Wood is earlier, that should be viewed as a win for them.
18. Winnipeg Jets: Gabe Perreault, LW, U.S. National Under-18 Team
The Jets have never been shy about taking players from the National Team Development Program and Perreault may be one with some of the most upside they've seen. He's one of the smartest players in the draft, an elite playmaker and while he lacks the size teams covet, the Jets are about to go through an organizational transition and need to compile skill and scoring talent. Perreault set the NTDP's single-season scoring record with 132 points this season.
19. Chicago Blackhawks (via TBL): Calum Ritchie, C/W, Oshawa Generals
After landing a franchise-changer at the top, the Blackhawks should be looking to address more needs and it might also be a good idea to seek some size. Ritchie played through a shoulder injury this year, which may have impacted his production. At his best, he can score and make good, skilled plays. Plus, he's a 6-2 forward who can play center or wing and provide some offensive upside.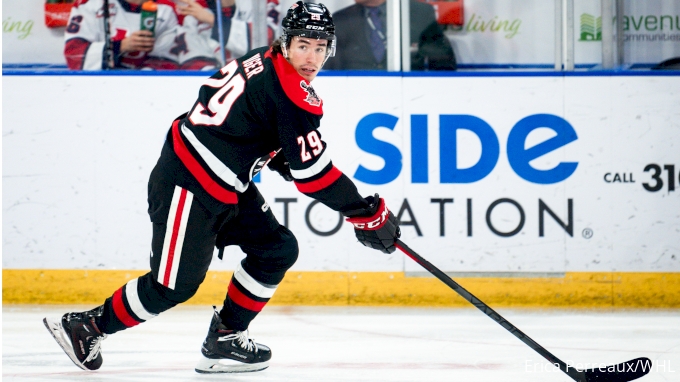 20. Seattle Kraken: Brayden Yager, C, Moose Jaw Warriors
Like Benson, Yager has been very hard to pin down. There's a wide array of opinions on him and where he'll go. This seems really low to me, but it's also not out of the realm of possibility. Yager has legitimate scoring talent that took a slight dip this year. The Kraken could get great value here on a skilled player.
21. Minnesota Wild: Daniil But, LW, Yaroslavl U20
The size and scoring ability of But are well documented and the Wild may have some latitude here to take a bigger swing with their pick. The Wild did take Danila Yurov last draft, probably taking advantage of a draft-day dip due to the inherent risk of drafting Russian players at this point in history. That said, the Wild have young players on the way and can get bigger and more skilled by adding But to the mix.
22. Philadelphia Flyers (via CBJ via LAK): David Edstrom, C, Frolunda U20
The Flyers have needs all through their prospect pool. After taking a big swing to land Michkov at No. 7, they can get a pivot with size here in Edstrom, who checks in at 6-3, 185, and plays with skill and some pace. Briere was at the World U18 Championship where Edstrom shined brightly and has been among the fastest rising players in this draft. It's another higher-risk play here, but the payoff could be enormous to land a skilled center with size.
23. New York Rangers: Quentin Musty, LW, Sudbury Wolves
The Rangers can use additional scoring help long-term and that's what Musty brings. He's a talented player who can make plays all over the ice and has some power, too. His skating needs work, but he's going to have a lot of teams interested in a player that can make the plays he does with the sturdier frame.
24. Nashville Predators (via EDM): Eduard Sale, LW, Brno
A talented playmaker, Sale would give the Preds a higher-value forward in this range. Once considered among the top 10 players in this draft, Sale's inconsistent play saw him drop down the list. The skill, however, is there to suggest he has plenty of offensive upside.
25. St. Louis Blues (via TOR): Charlie Stramel, C, Wisconsin
A big, physical center who can skate, Stramel struggled this season, but there is still a lot that can be coaxed out of his game. The Blues certainly seem to have a type and they're going to lean on big, heavy players when they can. Stramel offers a middle-six, scoring-depth option with versatility.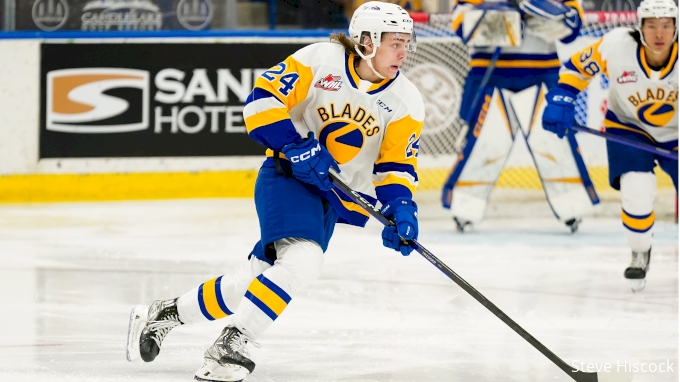 26. San Jose Sharks (via NJD): Tanner Molendyk, D, Saskatoon Blades
After getting a center at No. 4, the Sharks can address another area of need with defense. They've made some moves to strengthen their blue line prospect pool with additions of Henry Thrun and Shakir Mukhamadullin in trades, but Molendyk has a little bit of spark from the back end. He's one of the best skaters in the draft and has raw offensive potential that he hasn't quite tapped into yet.
27. Colorado Avalanche: Michael Hrabal, G, Omaha Lancers
The Avalanche have never really drafted and developed a No. 1 goalie, not one that had any staying power. They have a shallow prospect pool at the moment and taking a goalie can be a pretty aggressive move when there are other needs. That said, the Avs have no other picks until the fifth round. In a year where there is a number of talented goaltenders, even amid the risk, landing the one with the highest upside could provide substantial value if he hits. Big if, but if you can land a No. 1 goalie at 27th overall, you've hit the jackpot.
28. Toronto Maple Leafs (via BOS): Otto Stenberg, C/W, Frolunda U20
In addition to being among the most skilled players still on the board, Stenberg plays with jump and competitiveness. He's not one to shy away from the hard areas and he can play with some pace. He's not a star player, but a good complementary player that can help provide some support for the team's long-term core that's already established.
29. St. Louis Blues (via DAL): Oliver Bonk, D, London Knights
Getting centers with their other two picks, perhaps the Blues can find some good value among defensemen in this range. Bonk is a solid defender who hounds opposing forwards. He has some two-way value, but is still establishing his offensive game. He has top-four potential and could be a good matchups defenseman, too.
30. Carolina Hurricanes: Gavin Brindley, C/W, Michigan
Undersized, but tenacious and quick, the Hurricanes have not traditionally been a team that gets too hung up on physical measurables. Brindley is a spark-plug player that endears himself to coaches immediately. He plays hard with and without the puck and has enough skill to finish when his speed allows him to get behind defenders.
31. Montreal Canadiens (via FLA): Ethan Gauthier, RW, Sherbrooke Phoenix
The Habs managed to get a defenseman with their first pick, so now they can focus on boosting their scoring. Gauthier has the ability to get to the interior and make plays and if he happens to still be available in this range, it wouldn't be a shock to see Montreal take one of the QMJHL's best prospects and a noted goal scorer.
32. Vegas Golden Knights: Riley Heidt, C, Prince George Cougars
This pick would be a little against type as Heidt doesn't have the size factor in his favor, but he absolutely torched the WHL this season, has high-end vision and can make some really good soft-skill plays. Vegas has plenty of brutes in its system at the NHL level and beneath. It wouldn't hurt to get a little more skilled here.