United States Hockey League (USHL)
2024 Top Prospect Macklin Celebrini Reflects On Historic Season, Surgery
2024 Top Prospect Macklin Celebrini Reflects On Historic Season, Surgery
Macklin Celebrini, projected top pick for the 2024 NHL Draft, reflects on his historic rookie campaign and playing through a shoulder injury in the USHL.
May 25, 2023
by Ryan Sikes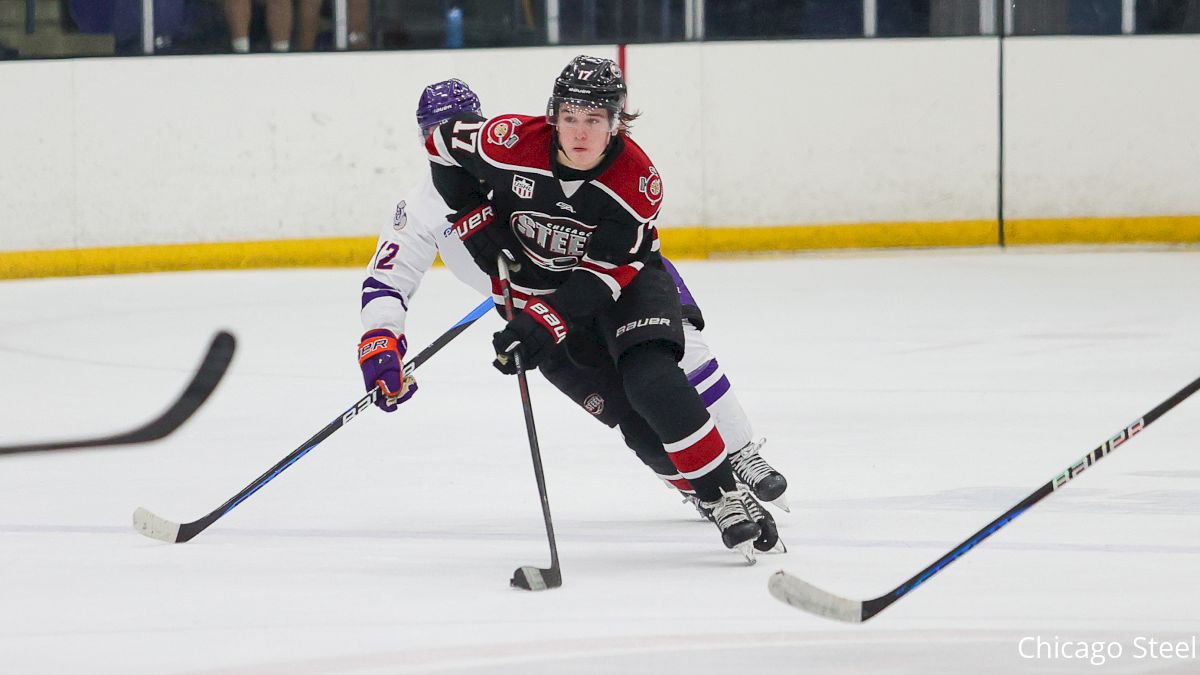 It's difficult to fathom all that Macklin Celebrini accomplished this season as a member of the Chicago Steel.
The Vancouver, B.C. native led the USHL with 86 points (46 goals, 40 assists) and broke the single-season scoring record by a U17 player. Celebrini also became the first player in the USHL's Tier I era to be named USHL Player of the Year, Rookie of the Year, and Forward of the Year in the same season.
Now imagine if he had been 100 percent healthy.
ALSO READ: Macklin Celebrini Named USHL Player Of The Year
Celebrini injured his shoulder early on in his rookie year but managed to play through it. The 16-year-old center sustained another hit at the U18 World Championships in Switzerland at the end of April, re-injuring the same shoulder. After returning to the Steel following the tournament, he attempted to keep playing in the Clark Cup Playoffs, but soon realized it wouldn't be possible.
"(The injury) happened at the start of the year, and I kind of played with it all year," Celebrini told FloHockey. "In Switzerland, I got hit and re-injured it. When I came back [with the Steel], my shoulder shifted (on a faceoff), and I couldn't play anymore."
As soon as Chicago was eliminated, Celebrini underwent surgery to repair the shoulder.
It is possible his recovery timeline will delay when he'll be able to start his season with Boston University.
"That's something that is still unsure," Celebrini said. "That decision will have to be made based on how I'm feeling and how the shoulder has healed when that time comes."
Of course, that also likely means that he'll be unavailable to play in the 2023 Hlinka-Gretzky Cup in August but figures to compete on the international stage again at the 2024 World Juniors.
Despite the injury, Celebrini performed at a remarkably high level this season.
With Team Canada, he managed to finish the tournament, scoring the game-winning goal for Canada in overtime of the bronze-medal game and also tied Canada's single-tournament scoring record.
BRONZE FOR CANADA! MACK CELEBRINI IS THE HERO! #U18MensWorlds pic.twitter.com/XTZ3bUEBiZ

— TSN (@TSN_Sports) April 30, 2023
But his season wasn't done yet.
With his Chicago Steel teammates sweeping Dubuque in the second round of the Clark Cup Playoffs, things, at least Stateside, looked positive for their Eastern Conference Finals showdown with the No. 2 seed Youngstown Phantoms.
However, something just wasn't right. Despite tying the series in Game 2, Celebrini took a couple of shifts early on in the second period, but he never saw the ice again for the rest of the postseason.
Youngstown went on to win the series in four games.
The way things ended, especially with Youngstown going on to win the Clark Cup, there are plenty of "what ifs?"
What if Celebrini had been healthy for the Eastern Conference Finals? Would that series have played out differently?
It's a tough question to answer, however, there's no denying Celebrini's production during the regular season.
The teenage phenom came to the USHL with plenty of hype after scoring a league-leading 117 points (50 goals, 67 assists) with the Shattuck St. Mary's 18U Prep team during the 2021-22 season.
Celebrini became just the sixth player to sign a tender agreement with the Chicago Steel since its inception in 2012, following up on previous notable tender signings of Jayden Perron, Adam Fantilli, and Jake Livanavage.
Most players require an acclimation period to the speed of the USHL, but Celebrini wasted no time filling out the scoresheet.
With 23 points (13 goals, 10 assists), including five multi-point efforts, in his first 15 games, the young forward had no shortage of confidence to begin his rookie campaign.
Top 2024 NHL Draft prospect Macklin Celebrini with a @USHL Goal Of The Year candidate for the @ChicagoSteel last night. Celebrini leads the league with 30 goals in 35 games. He's 16 years old. 🤯 pic.twitter.com/GwS54qh064

— FloHockey (@FloHockey) February 18, 2023
It was the only goal that he set out for himself coming into the season: finding that same confidence that made him such a dominant player at Shattuck St. Mary's.
He found it and then some.
Celebrini quickly developed a connection with Perron, as the duo became must-watch television.
With Perron as the setup man, the North Dakota commit fit seam passes through the narrowest windows to find his roommate for the backdoor tap-in.
"He's up there," Celebrini said when asked where Perron ranks in terms of players he's played with.
"He's a very, very special player, and I was very lucky to play with him this year. He's one of the best players I've ever seen, and I feel like our chemistry and our friendship went a long way in playing a role in (our on-ice production)."
As a highly-gifted, highly-offensive player, it's easy to understand why Celebrini, who turns 17 next month, is widely projected to be the top pick in the 2024 NHL Draft.
He can skate, he can shoot, he can put up highlight-reel goals – there are really no limitations with the puck on his stick.
However, Celebrini made significant improvements this past season away from the puck.
Putting himself in a position to succeed, get the puck, and make plays was an area that the young forward knew he needed to improve, and he worked diligently with the Steel coaching staff.
Chicago Steel star Macklin Celebrini (2024) putting on a show at the World U17 Hockey Challenge playing for Canada Black. pic.twitter.com/gXzr5IZLhn

— Chris Peters (@chrismpeters) November 5, 2022
"That was a huge part of my game that improved over the season," he recalled. "The whole coaching staff helped me in various ways through video or on the ice when they just pulled me aside and showed me a couple of things."
Celebrini finished with an impressive 30 points in 19 games before the holiday break. After the team resumed play in the second half, the Boston University commit was a man on a mission.
Celebrini accumulated 56 points (30 goals, 26 assists) in 31 games, including eight multi-goal games and three three-plus goal games.
For Team Canada at the U18 World Championships, the 16-year-old recorded 15 points. For added context, Celebrini tied Tyson Jost's single-tournament record set in 2016 while besting previous marks set by Connor Bedard, Shane Wright, and Connor McDavid.
"It was really special to represent your country," he said of the U18 Worlds. "It wasn't the medal we wanted, but it was a special memory that will last a lifetime."
Just like when he broke the USHL single-season U17 scoring record, Celebrini was unaware he had matched Jost's single-tournament record.
ALSO READ: Macklin Celebrini Breaks USHL U17 Scoring Record
Individual accolades aren't all that important to the forward, who focuses more on the team's goal.
Aside from not winning a Clark Cup, Celebrini likely couldn't have drawn up a better rookie campaign in the USHL. The body of work that the young forward pieced together is a feat that may not be seen again for quite some time.
Next year, Celebrini will dip his toes into collegiate hockey, kick-starting his draft year at Boston University.
ALSO READ: Boston University Lands Top 2024 Prospect Macklin Celebrini
He'll have a whole new set of challenges adapting to the next level of hockey, but the young forward will always look back fondly during his time with the Chicago Steel.
"I couldn't have been happier," he said, reflecting on his rookie year. "This last season, all my teammates, we just became such a close group. Development-wise, from a hockey sense, it was a special team, and every day was amazing. Go to the rink and train, all the coaches– I couldn't have asked for a better year and how special that organization is."