United States Hockey League (USHL)
Chicago Steel's Macklin Celebrini Is USHL Player Of The Year
Chicago Steel's Macklin Celebrini Is USHL Player Of The Year
Top 2024 NHL Draft prospect Macklin Celebrini completed a clean sweep of USHL awards, winning Rookie, Forward and Player of the Year honors.
May 5, 2023
by Chris Peters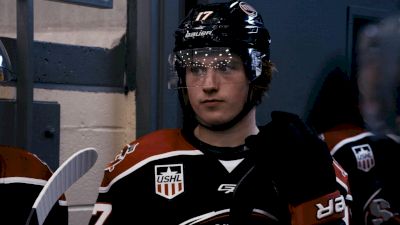 Macklin Celebrini completed a very rare sweep of USHL postseason awards Friday. After being named Rookie of the Year and Forward of the Year on previous days, the USHL announced that the Chicago Steel forward was the league's Player of the Year.
The 16-year-old from Vancouver, B.C., is only the third player in USHL history win both the rookie of the year and player of the year in the same season. The last player to do it was Steve MacSwain of the Dubuque Fighting Saints in 1983. Mike Carlson of Dubuque also did it in 1981.
As a result, Celebrini is the first player to complete such a sweep in the USHL's Tier 1 era, which began in 2001.
Top 2024 NHL Draft prospect Macklin Celebrini with a @USHL Goal Of The Year candidate for the @ChicagoSteel last night. Celebrini leads the league with 30 goals in 35 games. He's 16 years old. 🤯 pic.twitter.com/GwS54qh064

— FloHockey (@FloHockey) February 18, 2023
Celebrini produced at an astonishing rate this season, scoring 86 points with 46 goals and 40 assists. His goals and point totals were both records for a U17 player in the USHL.
Committed to attend Boston University next fall, where he'll likely be the youngest player in college hockey, Celebrini has made the most of his one USHL season.
He led the league in scoring and propelled the Steel to the top seed in the Eastern Conference. After playing for Canada at the World Men's Under-18 Championship last week, Celebrini has returned to join his Steel teammates in their Eastern Conference final series against the Youngstown Phantoms.
Celebrini is the odds on favorite to go first overall in the 2024 NHL Draft. After the season he just had, it only seems to has solidified his status. Given the player's age, Celebrini's season should go down as one of the all-time great individual performances in the history of the USHL.
Here's a look at the other players and team staff that the league honored for the 2022-23 season.
USHL Award Winners
Defenseman of the Year: Eric Pohlkamp, Cedar Rapids RoughRiders
Goaltender of the Year: Jacob Fowler, Youngstown Phantoms
Coach of the Year: Nick Oliver, Fargo Force
GM of the Year: Bryn Chyzyk, Waterloo Black Hawks
All-USHL First Team
Macklin Celebrini, Chicago Steel
Cole Knuble, Fargo Force
Ryan Walsh, Cedar Rapids RoughRiders
Eric Pohlkamp, Cedar Rapids RoughRiders
Joe Palodichuk, Fargo Force
Jacob Fowler, Youngstown Phantoms
All-USHL Second Team
Jack Harvey, Chicago Steel
Ryan St. Louis, Dubuque Fighting Saints
Mason Marcellus, Lincoln Stars
Max Burkholder, Dubuque Fighting Saints
Aaron Pionk, Waterloo Black Hawks
Matej Marinov, Fargo Force
All-USHL Third Team
Ryan Conmy, Sioux City Musketeers
Garrett Schifsky, Waterloo Black Hawks
Nick Moldenhauer, Chicago Steel
Artyon Levshunov, Green Bay Gamblers
Boston Buckberger, Lincoln Stars
Cameron Whitehead, Lincoln Stars
USHL All-Rookie First Team
Mack Celebrini, Chicago Steel
Mac Swanson, Fargo Force
Ryan Conmy, Sioux City Musketeers
Artyom Levshunov, Green Bay Gamblers
Will Felicio, Madison Capitols
Michael Hrabal, Omaha Lancers
USHL All-Rookie Second Team
Sacha Boisvert, Muskegon Lumberjacks
Trevor Connelly, Tri-City Storm
William Whitelaw, Youngstown Phantoms
Ty Hanson, Sioux City Musketeers
Michael Hagens, Chicago Steel