2023 Fargo Force vs Youngstown Phantoms
Nick Oliver Coaches Former Team To Clark Cup Finals
Nick Oliver Coaches Former Team To Clark Cup Finals
The Fargo Force hope first-year coach Nick Oliver's steady hand can bring them back from the brink of elimination in this year's USHL Clark Cup Finals.
May 16, 2023
by Ryan Sikes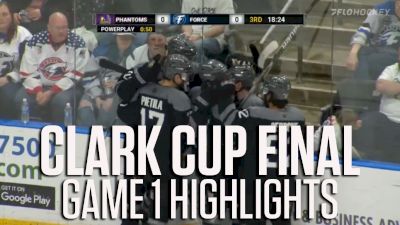 It's rare for a former player to have coached at two of his previous stops, but that's exactly what the Fargo Force's Nick Oliver has achieved.
The 32-year-old played in 12 games in the franchise's inaugural 2008-09 season and went on to spend two full seasons with the club, serving as an alternate captain in his final season before heading off to St. Cloud State.
With the Force, Oliver collected 37 points (13 goals, 24 assists), helping the organization reach the Clark Cup Finals in each of its first two seasons.
Now, the Wannaska, Minn., native has Fargo in the Clark Cup Finals again as a first-year head coach.
Although he was drafted by the Nashville Predators in the fourth round, 110th overall, of the 2009 NHL Draft, Oliver retired from his playing days after four seasons at St. Cloud State and jump-started his coaching career.
He spent the next seven seasons gaining valuable experience. First in a dual role as Director of Scouting and assistant coach for the USHL's Sioux Falls Stampede, and in the last four seasons he worked under Brett Larson's tutelage as an assistant coach at his alma mater.
Last summer, the USHL came calling again.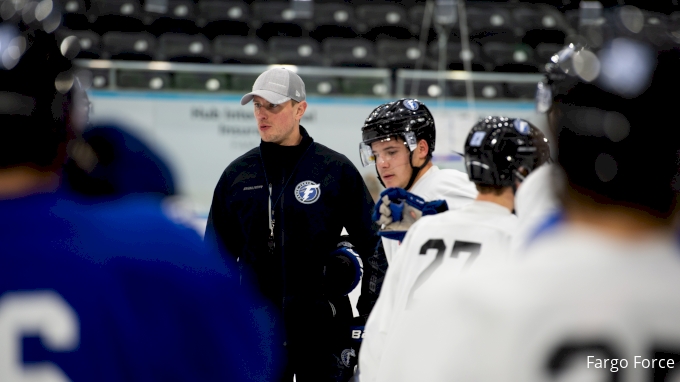 This time, a familiar face wanted Oliver to fill their head coaching vacancy, and he was named the Fargo Force's new bench boss two days before his 31st birthday.
"Fargo was such a good experience as a player," he recalled.
"It was something that I was very excited about; the challenge and the learning and the growth that I would be getting as a head coach and getting a chance to do it in a place that meant a lot to me and in a place that I knew does it the right way and provides the right environment for their players."
Thrown into the deep end, so to speak, he was excited by the challenges that the USHL presented, a league loaded with talent both on the ice and behind the benches.
Despite considerable roster turnover, Fargo returned its top two point producers from a season ago.
That said, Oliver wasn't overly familiar with the roster or the team's makeup when he initially took the position. However, it didn't take long for the young coach to realize the potential of this year's group.
"That realization happened pretty early on," he said.
"Just being around our players, getting to know them, learning about the type of people they are and how strong the leadership on our team was going to be, to me, early on, it was evident that this would be a great group to just go along for the ride with."
Led by Cole Knuble and Bret Link once again this season, the Force received significant contributions from rookie Mac Swanson and goaltender Matej Marinov.
They were also one of the most active team's before the trade deadline, acquiring veterans Owen Mehlenbacher and Zam Plante to bolster their second-half run.
Fargo finished the regular season with the league's best record, earning the Anderson Cup trophy for the first time in franchise history. Additionally, the league recognized Oliver with USHL Coach of the Year honors.
Oliver has adjusted well to the head coaching role and showed tremendous poise throughout the season—Fargo's players followed his lead.
WHAT A FINISH!

The @FargoForce are moving on to the Western Conference final of the @USHL's #ClarkCup Playoffs thanks to Charlie Russell's shorthanded game-winner in overtime! ⚡️🚨 #StarsRise pic.twitter.com/VU5Q2gobXy

— FloHockey (@FloHockey) April 30, 2023
"My experience as an assistant coach gave me a good perspective when I took on this position. There's a lot you don't know, right? And I'm still learning, and I'm still figuring that all out every day as I go. I can tell you I don't know nearly as much as I need to as a young coach, and I think that's the fun part of it," Oliver said.
"The challenge is continuing to learn and grow and get better, but I just think it's been a year and a lot of firsts. There's a lot of things that, having gone through it, I'd probably do differently the second go around. I think that's what I've just tried to do with our staff that we've had as we go through these things. You just learn from them."
Securing the No. 1 seed in the West, Fargo earned a bye in the first round of the playoffs. The Force made quick work of Tri-City, sweeping the Storm in a best-of-three series in the second round.
After splitting the first two games of their series with Lincoln in the Western Conference Finals, Fargo took both games at The Ice Box to punch their ticket to the Clark Cup Finals.
After the first two games of the Clark Cup Finals, the Force find themselves in a 2-0 hole as the series shifts back to the Covelli Centre where Youngstown was the best home team during the regular season.
Fargo was the best road team during the regular season, going 20-7-3-1 away from Scheels Arena.
The Force haven't been in a spot like this yet this season, but their track record shows that they're capable of stringing two road wins together.
Oliver is confident that if they continue to stick with the structure and details that got them this far, they can force a decisive Game 5 on home ice.
"I think it's all about not trying to really change how you do things or why you're doing this. We found success through our first couple of rounds, just trying to be the best version of how we've been all season. It's collectively trusting what we built, understanding what gives us success, and then going out and fighting for that," he said.