2023 Youngstown Phantoms vs Fargo Force
USHL Clark Cup Final: Cole Knuble, Jacob Fowler Among 10 Players To Watch
USHL Clark Cup Final: Cole Knuble, Jacob Fowler Among 10 Players To Watch
The Clark Cup Final will feature numerous notable players including NHL prospects and NHL Draft-eligible players.
May 12, 2023
by Chris Peters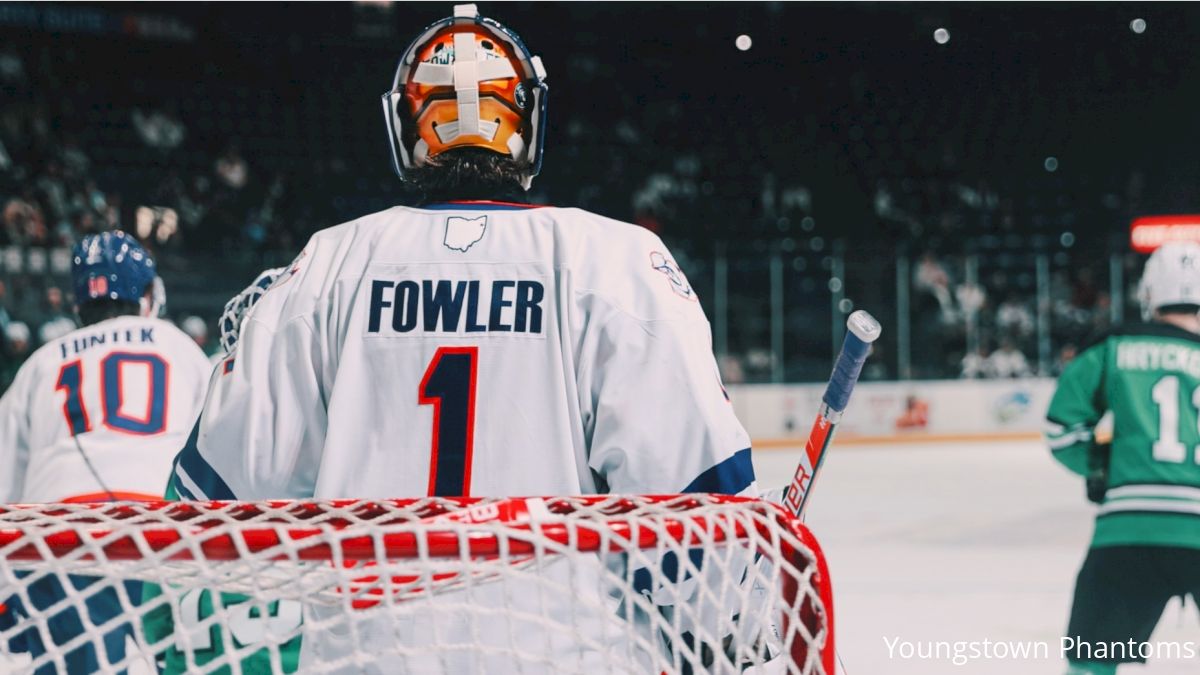 The 2023 Clark Cup Final is going to be an especially exciting matchup between two teams that have brought entertainment value with their winning brand of hockey. They're two of the league's top five goal-scoring teams, but they're also the top two in fewest goals allowed.
You've got each of the top two goaltenders in the USHL as Youngstown's Jacob Fowler was Goalie of the Year and a first-team All-USHL selection, while Matej Marinov was the second-team All-USHL selection. There are also numerous NHL prospects and soon-to-be drafted players.
To get you set for an especially exciting Clark Cup Final, here is a look at 10 players to watch.
READ: Clark Cup Final Preview, Schedule
Players To Watch
Cole Knuble, F, Fargo
The leading goal scorer in the playoffs with six tallies in six games, Knuble has been among the USHL's top players all season. After being passed over in the draft last year, he's made a case to get picked in 2023. More importantly for his team, he's scored a ton of big goals and saved one of his best performances of the season for the game that eliminated Lincoln, factoring in on six of his team's eight goals including scoring four of them.
TOSS YOUR HATS FARGO🧢

Cole Knuble gets his third of the night on the powerplay giving the force a 6-4 lead with 10:25 left to play! pic.twitter.com/cfRqKhL8dN

— Fargo Force (@FargoForce) May 9, 2023
Jacob Fowler, G, Youngstown
The USHL's top goaltender this season, Fowler should hear his name called early enough on Day 2 of the 2023 NHL Draft. Among primary starters in the playoffs, Fowler leads all with a .942 save percentage. He's gone 5-1 and has allowed just 11 goals over six starts. The Boston College commit stood tall in the Eastern Conference Final against a high-scoring Chicago squad, allowing just one goal in three of the four games. If Youngstown beats Fargo, Fowler will have his fingerprints all over it.
Mac Swanson, F, Fargo
Not NHL Draft-eligible until 2024 as a U17 player, Swanson has had a remarkable rookie season in the USHL. He is currently leading Fargo with 10 points in the postseason after averaging nearly a point per game in the regular season. A smaller forward, Swanson has good speed and skill that has allowed him to slither through defenses and make a lot of plays.
Martin Misiak, F, Youngstown
With eight points in the postseason, Misiak is leading the Phantoms in scoring. He's put up points in every playoff game except his first and was one of the players in on the assist on the game-winner against Chicago in the Eastern Conference Final. The 6-foot-2 forward is expected to be a mid-round pick in the 2023 NHL Draft.
What a goal by Martin Misiak!! pic.twitter.com/sxZpEiiLwz

— Youngstown Phantoms (@YtownPhantoms) May 9, 2023
Joe Palodichuk, D, Fargo
One of the top defenders in the USHL, Palodichuk is in his last year of junior hockey. He's not going to put up a ton of points, but plays a critical role in Fargo's defensive game. He has good strength and plays a smart, mature game. He'll be headed to the University of Wisconsin next season.
William Whitelaw, F, Youngstown
You can't miss Whitelaw on the ice. A dazzling skillset and creativity make him a dangerous offensive threat. He had 61 points during the regular season and has seven so far in the playoffs including that massive game-winner in Game 4 of the Eastern Conference Final. Whitelaw makes a ton of plays and will have to do his best to create time and space against a tight-checking Fargo squad.
🚨PLAYOFF HERO.🔥

The @YtownPhantoms are going to the @USHL's Clark Cup Final thanks to William Whitelaw's overtime-winning goal. And a lucky fan just got a new hockey stick from the OT hero, too. pic.twitter.com/pbQ9bP7mXV

— FloHockey (@FloHockey) May 10, 2023
Matej Marinov, G, Fargo
Marinov has gotten the bulk of the starts in the postseason and has performed well throughout the postseason. He's 3-1 with a .910 save percentage after going 21-4-2 in the regular season with a .917 save percentage. An average-sized goalie, Marinov has good quickness and can make the big save. He was part of Slovakia's World Junior team and is headed to Quinnipiac next year.
Shane Lachance, F, Youngstown (EDM)
Lachance casts an imposing 6-foot-4, 194-pound frame and he can score. With 33 goals in the regular season, he was a constant threat. He has two goals through six games in the playoffs and four points total. He did have the spectacular feed to Whitelaw for the game-winner in the ECF. Lachance plays the brand of hockey teams need to win and his heaviness will come in handy against a Fargo team that has plenty of quality throughout their lineup.
Owen Mehlenbacher, F, Fargo (DET)
Mehlenbacher was acquired in a trade near the deadline to bolster Fargo's scoring attack and has he ever. He put up 26 points in 26 games since joining the force in the regular season and has three goals through six games of the Clark Cup playoffs. Now in his third USHL season, the Wisconsin commit has become a much more difficult player to defend with his ability to get to the interior and make plays. After going on a deep run with the Muskegon Lumberjacks last postseason, he's got a real shot to walk out of the league a champion.
Owen Mehlenbacher takes it himself and gives the Force a 1-0 lead :52 seconds into the first period! pic.twitter.com/cNvtJ1Uyfi

— Fargo Force (@FargoForce) May 9, 2023
Andrew Strathmann, D, Youngstown
A 2023 NHL Draft eligible who played at the Hlinka-Gretzky Cup and the World Junior A Challenge for Team USA, Strathmann was an important offseason addition for the Phantoms. After playing for Tri-City last season, he's played big minutes and made a positive offensive impact on the Phantoms with 38 points this season. Strathmann was also just named the defenseman of the conference finals by the USHL last week after a four-point performance against the Chicago Steel. Strathmann has six points total in the postseason and is slated to head to North Dakota next season.