2023 Youngstown Phantoms vs Fargo Force
USHL Clark Cup Final: Fargo Force Vs. Youngstown Phantoms Preview, Schedule
USHL Clark Cup Final: Fargo Force Vs. Youngstown Phantoms Preview, Schedule
The Youngstown Phantoms and Fargo Force will meet for the USHL's Clark Cup in a best-of-five series starting Friday.
May 11, 2023
by Chris Peters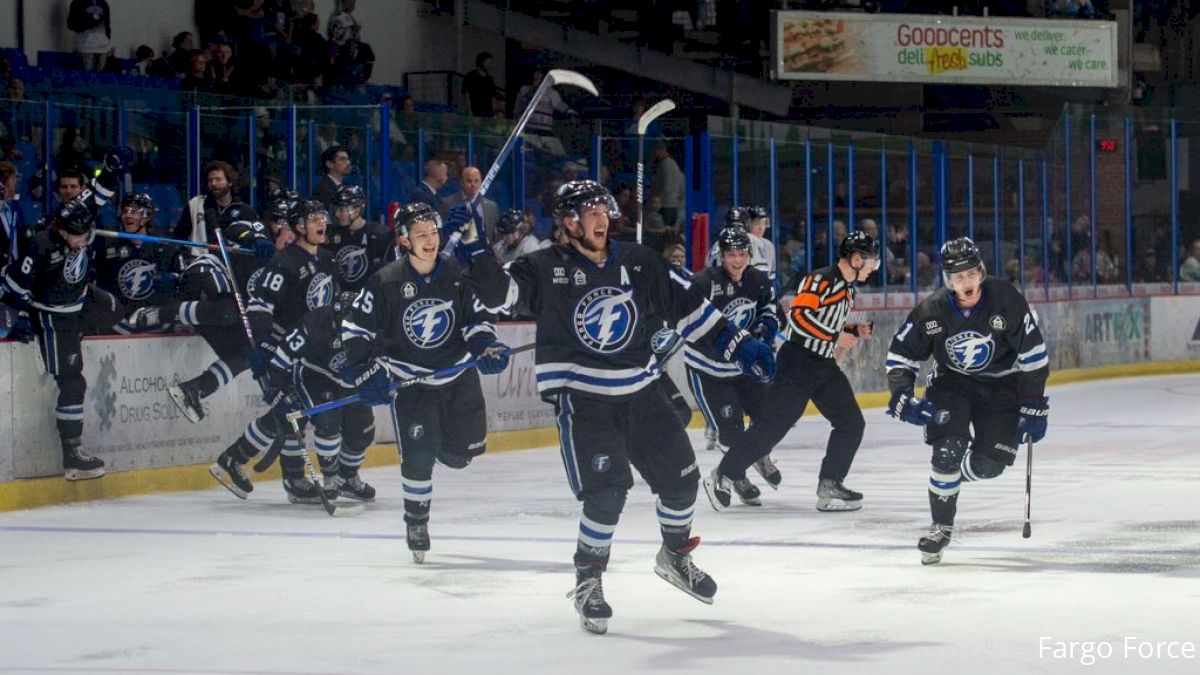 It all comes down to this. The Clark Cup Final will feature two of the league's most explosive teams as the Fargo Force meet the Youngstown Phantoms in a best-of-five series.
The Force will be going for a double after winning the Anderson Cup as regular-season champions. They're also trying to win the second Clark Cup in team history, last winning in 2017-18. And who did they defeat in that championship series? None other than the Youngstown Phantoms.
Youngstown is seeking its first ever Clark Cup, having only gotten as close as a runner up in that 2018 final that Fargo won three games to one.
The two teams are advancing to the championship series after each winning their respective conference finals in four games.
The Force closed out the Lincoln Stars in a wild game that saw Cole Knuble net six points including four goals as Fargo earned a 8-4 win in Game 4. Meanwhile, the Phantoms won an overtime thriller with the Chicago Steel, earning a 2-1 decision with William Whitelaw scoring the game-winner in the extra period.
This series will feature the USHL's Goaltender of the Year (Youngstown's Jacob Fowler), USHL Coach of the Year (Fargo's Nick Oliver), three first-team All-USHL Selections (Fowler, Fargo's Knuble and Joe Palodichuk), a second-team All-USHL goalie (Fargo's Matej Marinov) and two All-Rookie selections (Fargo's Mac Swanson and Youngstown's Whitelaw).
On top of that, there will be four drafted NHL prospects playing in the final including Youngstown's Shane Lachance (Edmonton Oilers) and Tomas Machu (New York Islanders), and Fargo's Owen Mehlenbacher (Detroit Red Wings) and Zam Plante (Pittsburgh Penguins). Additionally, there will be seven players that appeared on NHL Central Scouting's final 2023 NHL Draft Rankings.
There is no shortage of star power and high-precision play from both of these teams.
Here are a few key things to know about the teams participating. And stay tuned for my players to watch in the Clark Cup Final coming soon.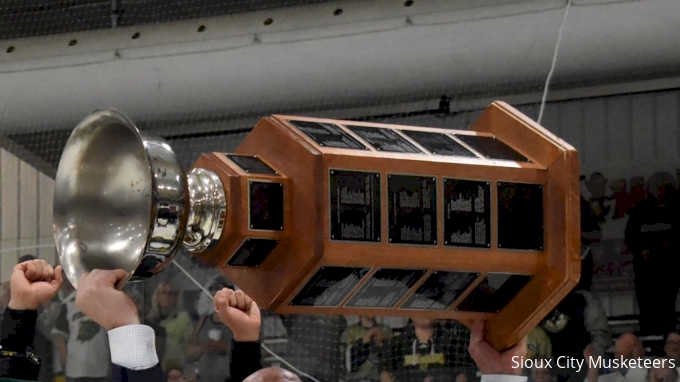 Series Schedule
Game 1: Youngstown at Fargo (Friday, May 12 at 8:05 p.m. ET)
Game 2: Youngstown at Fargo (Saturday, May 13 at 7:05 p.m. ET)
Game 3: Fargo at Youngstown (Friday, May 19 at 7:05 p.m. ET)
Game 4*: Fargo at Youngstown (Saturday, May 20 at 7:05 p.m. ET)
Game 5*: Youngstown at Fargo (Tuesday, May 23 at 8:05 p.m. ET)
*If necessary
Fargo Looking To Complete Historic Season With First-Year Head Coach
The Force were won of only two teams to hit the 40-win mark this season in the USHL. Their .710 points percentage was by far the best in the league and the team had never had a better record than their 40-14-4-4 mark this season, which earned them the league's regular-season title.
Not done yet⚡️ #OneForce pic.twitter.com/niJpBfY9uv

— Fargo Force (@FargoForce) May 11, 2023
They're doing it with a first-year head coach in Nick Oliver, who actually played for the Force in their first year of existence and two seasons after that before embarking on his collegiate career. Oliver started his coaching career immediately after graduating from St. Cloud State, joining the Sioux Falls Stampede as an assistant coach and learning from Scott Owens who had a decorated career in the league. Oliver then went back to St. Cloud State, where he was an assistant for.four seasons before the opportunity to return to Fargo arose.
It's been a successful run for the rookie head coach as he was named the league's Coach of the Year and has gained a ton of respect in the hockey world in very short order. At just 32 years old, his future will only look even brighter if the Force can secure their second Clark Cup. Stay tuned for a forthcoming feature from USHL writer Ryan Sikes and Oliver's remarkable rise on FloHockey.
Oliver's prowess behind the bench was maximized with a good roster. Veteran players have made a significant difference throughout the postseason with Cole Knuble playing a leading role for the team, especially in the last series. Others like Joe Palodichuk, Bret Link, Verner Miettinen, Owen Mehlenbacher have played key roles for the team throughout the season and into the postseason.
Despite all of that veteran experience, though, it's been rookie Mac Swanson who has played a leading offensive role in the postseason. He has a team-high 10 points so far despite just turning 17 in January.
There's depth and scoring ability throughout the lineup, a senior defensive unit that doesn't allow offense to come easy for the opposition and a solid last line of defense in goalie Matej Marinov. They've gone practically wire to wire as the best team in the USHL, but they'll want the big trophy at the end to make sure this season is as memorable as it can be.
Youngstown Engineering Dramatic Turnaround
Two years ago, the Youngstown Phantoms were dead last in the USHL. They played 49 of a possible 54 games in a season that was still being impacted by the coronavirus pandemic. They only won 12 of those games. The team improved to 29 wins and 68 points in 2021-22, earning a playoff spot but got swept out of the first round.
Fast forward to this year, the Phantoms fell two points shy of the top spot in the Eastern Conference with 38 wins and 81 points in the standings. They outscored the opposition 225-173 this season and proved they were among the top class of teams in the USHL.
We're heading to the Clark Cup Finals! 🏆#IgniteTheValley pic.twitter.com/d7vbwTDQML

— Youngstown Phantoms (@YtownPhantoms) May 10, 2023
Youngstown had one last step to prove, though, and that was beating longtime nemesis Chicago in the playoffs, which they did in four games including both contests on home ice.
A lot of credit belongs to co-GMs Jason Deskins and Ryan Kosecki, who managed to help build up the team and strengthen it with a few key deals.
One included bringing in Andrew Strathmann to shore up the blue line in the offseason. The team also secured a commitment from William Whitelaw who had designs on returning to Shattuck-St. Mary's this year before opting to stay in the USHL. Whitelaw averaged nearly a point per game for the Phantoms.
An early-season trade with Omaha to acquire Andon Cerbone also proved incredibly beneficial to the Phantoms as Cerbone put up 49 points in 43 games after joining Youngstown.
The group also managed to secure a mid-season commitment from Martin Misiak who had been playing overseas. Misiak has been a big-time performer in the postseason, leading the team with eight points.
The Phantoms also made a key move behind the bench as they added first-year head coach Ryan Ward to the mix. He joined Youngstown after two seasons with the Tri-City Storm in various capacities with that organization. Ward had also been a video coach at levels as high as the NHL, including time spent with the New York Islanders and Toronto Maple Leafs.
Just two years removed from a dismal season that saw them finish with the league's worst record, the Phantoms are three wins from the franchise's first Clark Cup. There's still a lot of work to do to get there against a highly-motivated Fargo team, however, but getting to this point is a major accomplishment considering where they started from.
Stay tuned for more Clark Cup Final coverage, coming soon on FloHockey.