Atlantic Hockey
Atlantic Hockey Transfer Portal Update: Part 2
Atlantic Hockey Transfer Portal Update: Part 2
The NCAA's "free agency" has been active this spring, with the transfer portal wide open and programs restocking for the 2023-2024 season. Here's Part 2.
May 11, 2023
by Jacob Messing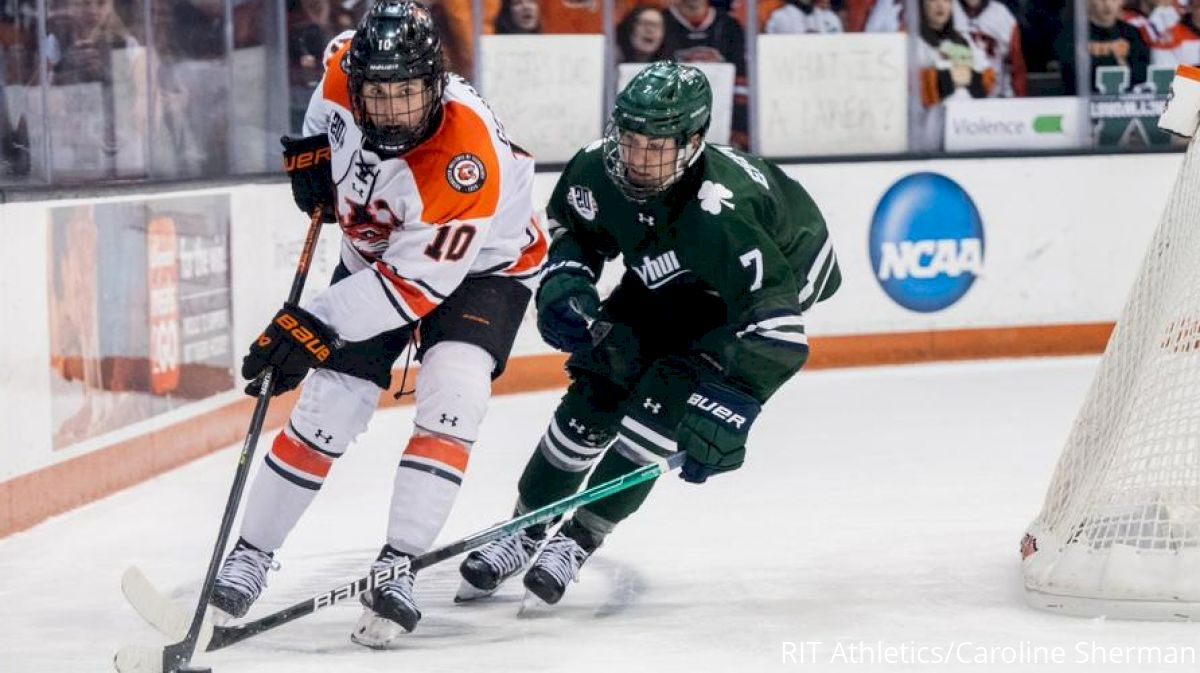 The NCAA's "free agency" has been active this spring, with the transfer portal wide open and programs restocking for the 2023-2024 season.
As Atlantic Hockey programs take their slice of the pie, academies Army West Point and Air Force look on, sticking to their recruitment plans and reliance on chemistry and locker room cohesion.
RELATED: Atlantic Hockey Transfer Portal Update: Part 1
Mercyhurst
After losing numerous key pieces to the transfer portal last spring, the Lakers have yet to see an early departure in 2023.
In: So., F, Barrett Brooks (Western Michigan).
Brooks enters Mercyhurst without any NCAA action to his name.
The Broncos' deep roster for the 2022-2023 season didn't have room for him, but he'll be eager to earn ice time and bring a goal-scoring touch he had in the NAHL.
Out: N/A
Niagara
The Purple Eagles are losing five of their seven leading scorers ahead of the 2023-2024 campaign, plus their starting goaltender.
A few transfers will be looking to take over that ice time.
In: Gr., G, Jarrett Fiske (AIC).
Fiske earned the brunt of action at AIC last season, earning a 6-5-3 record with a 2.38 GAA and strong .923 SV%.
He'll bring plenty of energy and AHA experience to the Eagles after single game seasons in 2020-2021 and 2021-2022 with AIC.
In: Sr., F, Luke Mylymok (Minnesota Duluth).
Mylymok joins the Eagles after three seasons with the Bulldogs.
He'll be searching for larger role than his depth spot and is joined by a familiar face.
In: Sr, F, Connor Mylymok (Alaska).
Connor joins brother Luke at Niagara, where the duo brings a similar role, albeit with Connor adding a bit more grit and physicality.
Well this is very neat! @NDHoundsHockey Junior alums and brothers Connor and Luke Mylymok will be playing NCAA D1 for @NiagaraMHKY next year together! They both played for us in 2017-18! @theSJHL https://t.co/Tnc8uuDIDQ

— Notre Dame Jr A Hounds (@ndjrahounds) March 29, 2023
Out: Grad, G, Chad Veltri (Robert Morris).
Veltri is coming off a slight resurgent season, pulling up his numbers from a shaky junior season.
He's anticipating the bulk of starts, with the task of bringing Robert Morris back up to speed in its return.
Out: Sr., F, Ryan Naumovski (Augustana).
Naumovski's senior season was his best, earning nine goals and 26 points in 40 games with the Eagles finishing fourth in team scoring.
RIT
The runaway regular-season champs aren't experiencing much turnover this spring and taking a similar approach to last spring's transfer portal – less can mean more.
In: Gr, G, Luke Lush (Sacred Heart).
There's no concern of Tommy Scarfone's return, but the addition of Lush brings an experienced netminder who has spent the past four seasons facing and learning the talent within Atlantic Hockey.
He brings an extra level of durability and reliability to the Tigers' crease.
Out: N/A
Robert Morris
The Colonials officially return for the 2023-2024 season and have been active on the portal with a wide-open roster for incomers to earn plenty of ice time.
In: Sr., G, Chad Veltri (Niagara).
The loss of Veltri means a complete change in net, as Veltri started 85 of the Eagles last 98 games, dating back to the spring semester of the 2020-2021 season.
In: Sr., F, Dallas Tulik (Ferris State).
Tulik's two-way dedication and flashes of offense, should help him settle irregular ice time as he joins the Colonials.
‼️ROSTER UPDATE‼️

The Colonials have signed forward Dallas Tulik from Kalamazoo, Michigan.

❗️Welcome to the RMU Family❗️#BobbyMo | 🔵🏒🔴 | #RMUnite pic.twitter.com/khSNYvLH1J

— RMU Men's Hockey (@RMUMHockey) May 9, 2023
In: Sr., D, Luke Johnson (Providence).
Johnson's stay-at-home style earned him 12 games last season with Providence, where he chipped in three helpers.
He'll help establish a stingy blue line for Veltri.
In: Gr., D, Mitch Andres (Boston College).
Another defensive defenseman, Andres comes to Robert Morris after 83 games with Boston College, where his stay-at-home capabilities offset just one goal and seven points in that span.
Out: N/A
Sacred Heart
A new arena is drawing attention, despite losing five of the Pioneers top six scorers from the 2022-2023 season, plus their starting goaltender.
In: Jr., F, TJ Walsh (RPI).
Walsh spent his first two NCAA seasons with Northern Michigan, before a transfer for RPI.
A full-time spot with RPI saw him add quality depth scoring for 11 goals and 36 points in 71 games.
Another move could see a bigger role.
In: Gr., D, Tyler Spott (Northeastern).
Spott brings reliable defense and the capability to chip in offensively without too much risk on the defensive side of the ice.
Out: Sr., D, Jeppe Urup Mogensen (Northern Michigan).
Mogensen's role decreased in each season limiting him to just a single game this season.
Out: Gr., G, Luke Lush (RIT).
Lush played in 35 of the Pioneers' 37 games this season, and his departure leaves some questions for the crease next year, as he jumps to intra-conference rival RIT.
---
Have a question or a comment for Jacob Messing? You can find him on Twitter @Jacob_Messing.