NCAA DI Men's Hockey
2023 Frozen Four: Minnesota To Meet Quinnipiac For National Championship
2023 Frozen Four: Minnesota To Meet Quinnipiac For National Championship
Minnesota will seek their first NCAA title in 20 years, while Quinnipiac will be battling for their first in program history Saturday in Tampa.
Apr 7, 2023
by Chris Peters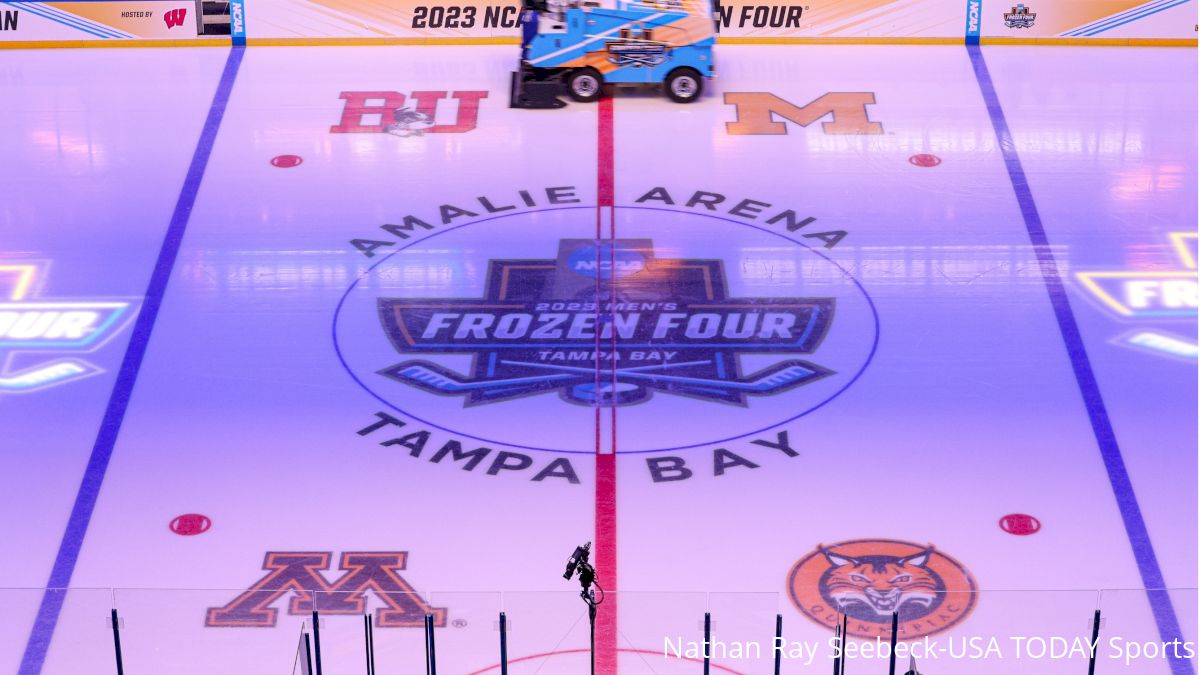 The stage is set for the last game of the 2023 men's college hockey season and it should be a doozy. No. 1 overall Minnesota will meet No. 2 Quinnipiac for the national championship in Tampa Saturday at 8 p.m.
The Golden Gophers will be seeking their sixth NCAA title and first since 2003, while the Bobcats will be playing for their first national championship in program history in their third try since 2013. These two teams spent most of the season at Nos. 1 and 2 in both the Pairwise computer rankings and the national polls.
One step closer! @Brockfaber14 pic.twitter.com/4BlbRo1xgP

— Minnesota Men's Hockey (@GopherHockey) April 7, 2023
Minnesota features two of the three Hobey Hat Trick finalists, a plethora of high-end NHL draft picks and future NHL stars, while Quinnipiac has a potential Richter Award-winning goalie and just three NHL draft picks on their roster. But that's the beauty of college hockey. It's not just all about who has more NHL prospects.
Quinnipiac has more wins than any team in the country with 33, a program record. They also have a team full of veterans including seven fifth-year seniors that took their extra year of eligibility granted due to the pandemic for the chance to compete for the title. They're now one win away from competing for the goal.
Minnesota was the first to punch their ticket to the title game, pulling away late from Boston University in a 6-2 win in the first national semifinal.
Highlights from tonight's Frozen Four W! 🎥#PrideOnIce pic.twitter.com/jvrHVTap4n

— Minnesota Men's Hockey (@GopherHockey) April 7, 2023
The Gophers have a lot of returners of their own with a defensive corps full of upper-classmen. On top of that, they have the nation's most dangerous scoring line featuring NHL prospects Logan Cooley (ARI), Matt Knies (TOR) and Jimmy Snuggerud (STL). Cooley and Knies are up for the Hobey Baker, which will be awarded Friday.
Quinnipiac had a tighter game against Michigan, but got some good insurance late in the game to pull out a 5-2 win.
W😮W

📺 ESPN2#MFrozenFour x @QU_MIH pic.twitter.com/hmjoUIs0Zi

— NCAA Ice Hockey (@NCAAIceHockey) April 7, 2023
They got a key insurance goal from fifth-year senior captain Zach Metsa, who has been among the most productive defensemen in the NCAA over his career. They also got spectacular goaltending from Yaniv Perets, who is up for the Mike Richter Award as national goalie of the year.
Movin' on 😎#BobcatNation x #MFrozenFour pic.twitter.com/ceGr9JQwmj

— Quinnipiac Men's Ice Hockey (@QU_MIH) April 7, 2023
Should the Bobcats claim the national title, they'll have had to go through two of the most historically successful programs in NCAA history. The Wolverines had been seeking their record 10th national title, but QU wasn't about to let them even get the chance.
Now it will be a battle between a program that's still young compared to a Minnesota program that has existed for more than 100 years.
History won't matte much Saturday after the puck drops. The 2023 men's college hockey season just has 60 minutes left and the champion will be one of the two teams that spent almost the entire season looking down at the rest of the nation. It should be an incredible finish to a truly entertaining year.