2023 NHL Draft
Hobey Baker Top Three Finalists: Adam Fantilli, Logan Cooley, Matthew Knies
Hobey Baker Top Three Finalists: Adam Fantilli, Logan Cooley, Matthew Knies
Minnesota teammates Logan Cooley and Matthew Knies, and Michigan freshman Adam Fantilli are the three players still in the hunt for the 2023 Hobey Baker.
Mar 30, 2023
by Chris Peters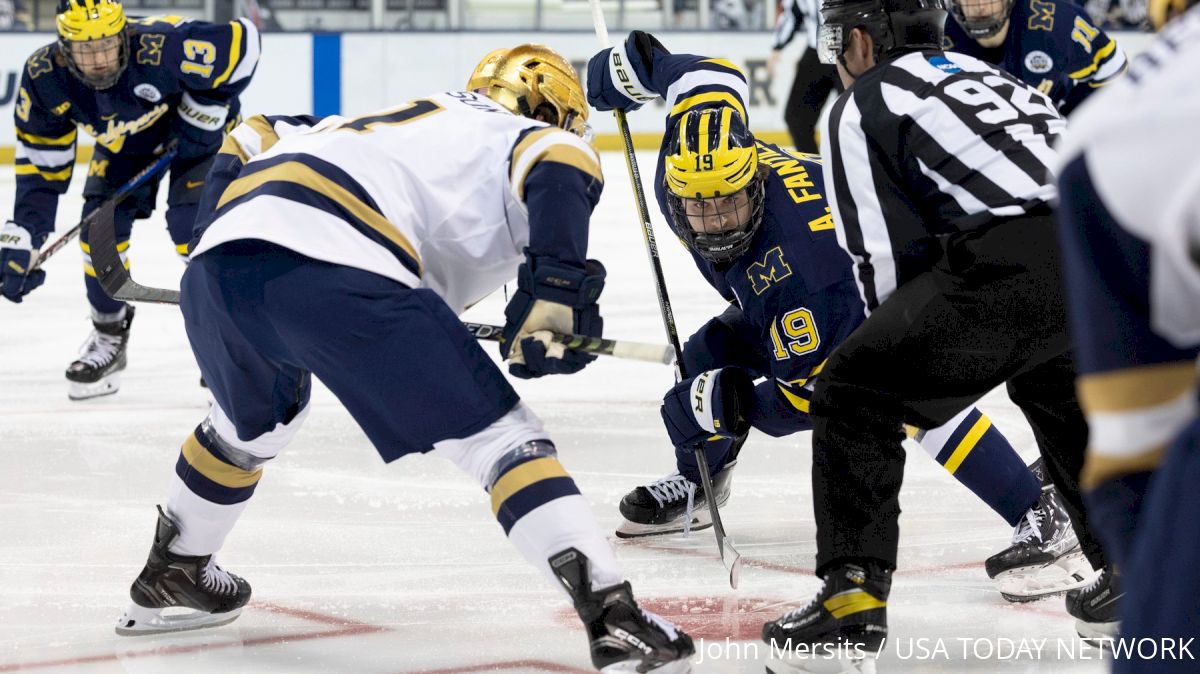 The 2023 Hobey Baker Memorial Award is down to its top three finalists and no matter who wins, the Hobey is going back to the Big Ten. Minnesota teammates Logan Cooley and Matthew Knies, and Michigan freshman sensation Adam Fantilli make up the "Hobey Hat Trick" after the selection committee whittled down its top 10 finalists to the three that will be on hand at the award ceremony April 7 in Tampa.
The Hobey Baker Memorial Award Committee is pleased to announce the three Hobey Baker Hat Trick finalists for the 2023 award, honoring college hockey's top player. Alphabetically, they are: Logan Cooley, a freshman forward from the University of Minnesota; https://t.co/0Wyth7htuI… pic.twitter.com/q77cHp81L0

— Hobey Baker Award (@HobeyBakerAward) March 30, 2023
All three players are competing in the 2023 NCAA Men's Frozen Four which begins Thursday, April 6. Additionally, all three are among the best NHL prospects currently playing in college hockey. Cooley was a third-overall pick of the Arizona Coyotes last summer, while Fantilli is expected to go as high as No. 2 in the 2023 NHL Draft, and Knies was a second-round pick of Toronto, but has already far exceeded expectations throughout his college career.
Fantilli is the nation's leading scorer with 29 goals and 64 points, while Cooley is second with 57 points. Meanwhile, Knies currently ranks 18th in scoring in the NCAA, but was named Big Ten Player of the Year.
Cooley and Knies are the first teammates to be part of the Hobey Hat Trick since 2009 when Matt Gilroy and Colin Wilson were part of the final three. Gilroy won the Hobey that year.
Logan Cooley, C, Minnesota (ARI)
One of the top NHL prospects in the game, Cooley has had a spectacular freshman season. His 57 points are the most by a University of Minnesota freshman since Thomas Vanek had 64 20 years ago. He has been the driver of the Gophers' top line alongside fellow first-rounder Jimmy Snuggerud (STL) and Knies. That trio has been largely unstoppable and Cooley is a big reason for it.
One of the best skaters in college hockey this season, Cooley is both explosive and elusive. He beats defenders one-on-one and can make plays out of seemingly nothing. He's often charged with carrying the puck into the offensive zone and setting the table for the two gifted goal scorers on his flanks. Despite his playmaking preference, Cooley also scored 20 goals this year.
COMBER ➡️ COOLEY

📺: ESPNU pic.twitter.com/8GTABsrrHM

— Minnesota Men's Hockey (@GopherHockey) March 25, 2023
He is second behind Fantilli in scoring and I think the biggest reason he's part of the Hobey Hat Trick is how dominant he's been in the second half of the season with 32 of his 57 points coming after returning from the World Junior Championship where he won bronze with Team USA. Additionally, Cooley has had multi-point outings in each of Minnesota's four postseason contests this spring.
Being the most productive player on the nation's best team is often a way to get a lot of support in the Hobey vote. It's very rare for freshmen to win this award, but even rarer to have two in the Hobey Hat Trick. Cooley's dominant second half put him in a position to challenge Fantilli when it looked like no one would for a bit.
Adam Fantilli, C, Michigan (2023)
The top NHL Draft prospect playing in college hockey this year played beyond his years, dominating college competition to lead the country in scoring by a significant margin. When you consider Fantilli missed multiple games due to Team Canada duties, an illness and a suspension, his scoring dominance is only more impressive. It's not easy for first-year players to come in and take over a team as he did.
Michigan sustained some significant roster losses from last year's Frozen Four team with four of those players making the NHL right out of school. They didn't miss a beat thanks to the talent in this recruiting class led by Fantilli. To me, among the three players still standing for the award, Fantilli is the best option. Take nothing away from the Minnesota players because their seasons were fantastic. Fantilli's was better.
Congratulations Adam Fantilli! He is a Hobey Hat Trick Finalist!#Fantilli4Hobey #GoBlue〽️ pic.twitter.com/dy9vlDn4EV

— Michigan Hockey (@umichhockey) March 30, 2023
Fantilli is one of the top point producers of the last 20 years in college hockey with his 64 points. Among freshman, he has a higher points-per-game rate (1.83) than Jack Eichel (1.73) did in his Hobey Baker winning season and is just below Kyle Connor's (1.87) from the year he was runner up for Hobey.
Additionally, Fantilli played in all situations. Michigan used him on the power play and the PK. He played a physical game and was disruptive on the forecheck. His ability to make plays and score big goals allowed him to have tremendous success regardless of the strength of opposition. He had 21 more points than the next closest forward on his team, showing how heavily they relied on his scoring prowess.
The only check mark against him is an awfully flimsy one, in that he was heavily penalized this year including multiple game misconducts. Sportsmanship is part of the criteria for the award, but last I checked, this is still hockey and there are a lot of players that took a lot more penalties than Fantilli. I don't think a player should be punished for playing hard and with emotion.
The Hobey Baker is a snapshot of a season and I've watched an awful lot of college hockey this year. I didn't see a better player over the course of the season than Fantilli.
Matthew Knies, LW, Minnesota (TOR)
The reigning Big Ten Player of the Year, Knies had another strong season as a sophomore. He did a little bit of everything for Minnesota and scored a number of big goals this year. He had 41 points this season, which is tied for 18th in the NCAA.
Knies scored some big goals this year and made a lot of crafty plays while being a physical presence that was able to clear some room for Cooley and Snuggerud to work this year. For his efforts, he was named Big Ten Player of the Year, while neither Cooley nor Fantilli were finalists for the award, somewhat curiously.
Make no mistake, Matt Knies is one of college hockey's most talented players and best NHL prospects. He had a tremendous impact on his team and is a big reason his team is in the position it's in, contending for a national title. However, his inclusion has drawn some ire from people familiar with the history of the award.
𝐓𝐡𝐞 𝐁𝐞𝐬𝐭 𝐢𝐧 𝐭𝐡𝐞 𝐁𝐢𝐠 𝐓𝐞𝐧 (and the country tbh)@Matthew_Knies is your 2022-23 B1G Player of the Year! ⭐#PrideOnIce pic.twitter.com/AxSMdoUJVL

— Minnesota Men's Hockey (@GopherHockey) March 14, 2023
We shouldn't discredit anything Knies has done because he had an exceptional season, but saying it wasn't at the Hobey Baker caliber is not exactly controversial.
While Knies is a good two-way player and a physical presence, he was the third leading scorer on his own line. He has 15 fewer points than Cooley and nine fewer points than Snuggerud. He is tied for 18th in NCAA scoring with Ohio State freshman Stephen Halliday (OTT) and Merrimack junior Alex Jefferies (NYI). Should he win the Hobey Baker he would be -- by far -- the lowest-scoring forward in the history of the award. Most of the defensemen that have won it have also had more points.
The selection committee had a lot of options this year, many good options and I believe Knies is deserving of other honors this season. I just don't think there's a single case that can be made that he was one of the three best players in college hockey this season.
I think as long as Knies wins the national title, which is exactly what he came back for for his sophomore season, all of this debate will be moot anyway.
Stray Hobey Thoughts
I am not and have never been on the Hobey Baker selection committee. If I was, my second-place vote would have gone to Lane Hutson of Boston University.
The Montreal Canadiens prospect has had the best season by a freshman defenseman in NCAA hockey history. When you consider the era he's in and how difficult it is for freshmen to make as large an impact as he did, there's no doubt in my mind that this was an historic season by Hutson. He is one point behind Cale Makar's point total in his Hobey Baker season as a sophomore. Only Matt Carle and Tom Kurvers are the other defensemen winners that outproduced Hutson.
When you consider his age and the level of impact he had on a team that went to the Frozen Four after not even making the tournament last year, you have to give him some significant consideration.
I also thought Western Michigan's Jason Polin, as the nation's leading goal scorer and one of the best leaders in the country, would get a really good look at the top three. Additionally, Collin Graf's dominance for Quinnipiac was something I thought we could see recognized in the Hat Trick.
I didn't think we'd see a goalie in the mix this year and was not surprised one of Devon Levi or Yaniv Perets was not included, though I think the race for the Mike Richter Award is especially interesting this year.
The Hobey Baker Memorial Award will be presented on April 7 at 6 p.m. ET in Tampa.