NCAA DI Men's Hockey
Frozen Four: Luke Hughes, Lane Hutson Among 15 Pivotal Prospects To Watch
Frozen Four: Luke Hughes, Lane Hutson Among 15 Pivotal Prospects To Watch
Prospect analyst Chris Peters details 15 NHL prospects to watch at the 2023 NCAA Men's Frozen Four.
Apr 5, 2023
by Chris Peters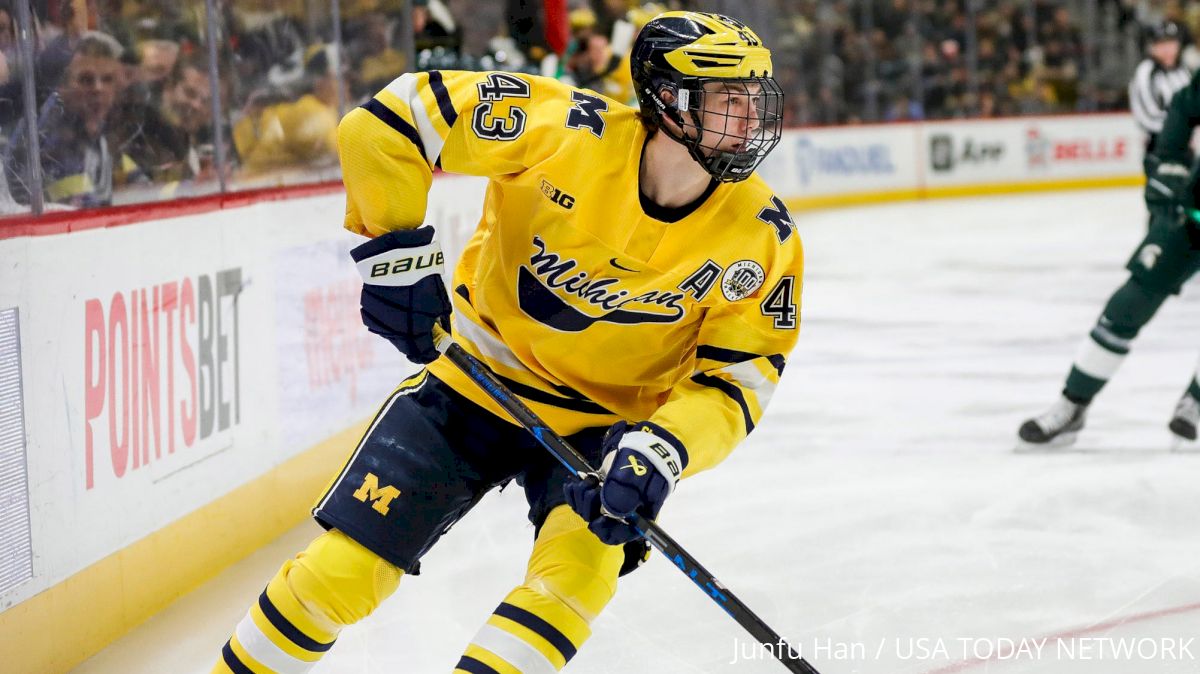 The 2023 Men's Frozen Four is almost here, with two of the most exciting days on the hockey calendar awaiting April 6 and 8 in Tampa, Florida.
Each of the last four teams standing have a number of critical players that will play substantial roles at this most dramatic time of the season. In all, there are 41 players who have been drafted by NHL teams (full list), a number of others who will be drafted and some key undrafted free agents. Simply put, this is one of the more star-studded Frozen Four fields we've had.
With just three games left on the schedule before we close the book on 2022-23, here's a look at 15 players of particular intrigue as we get set to crown a national champion.
Frozen Four Field Set: Minnesota, Boston U, Quinnipiac, Michigan
Note: Each participating team has a minimum of three players on this list.
Adam Fantilli, C, Michigan (2023)
The leading scorer in the nation with 64 points and an average of 1.83 points per game, Fantilli has a penchant for scoring big goals and making key plays in all of the big games. The 18-year-old's speed and aggressiveness allow him to impact every shift and his skill puts defenders on their heels on the regular. If Michigan is to advance past the suffocating defensive prowess of Quinnipiac, their No. 1 forward will need to be a big part of it. The Bobcats will be looking to do anything they can to slow him down, so the national semifinal will be Fantilli's biggest NCAA test yet.
Adam Fantilli with his 29th goal of the season from Rutger McGroarty and Mackie Samoskevich. WE ARE tied. pic.twitter.com/RSYpgWbIX5

— Michigan Hockey (@umichhockey) March 27, 2023
Logan Cooley, C, Minnesota (ARI)
One of the most dynamic players in the country, Cooley has speed to burn and has mystified collegiate defenses throughout the season. Leading Minnesota's top line with Jimmy Snuggerud and Matthew Knies, Cooley is the driver of that trio. He's second in the country with 57 points and enters the Frozen Four with two or more points in each of his last six games. He's the kind of player you have to be aware of at all times he's on the ice, but even if you're aware, sometimes it just doesn't matter. He's going to find a way to be dangerous offensively.
Luke Hughes, D, Michigan (NJD)
At his very best, Hughes is one of the best prospects outside of the NHL. A dynamic skater with puck skills and the ability to do things most defensemen cannot. He gets up the ice quickly and is always dangerous in the offensive zone. Meanwhile, his defending is a lot better than he gets credit for. Though Hughes can make some mistakes with the puck, when he's set in the defensive zone, he makes it hard for the opposition to get to the middle.
Lane Hutson, D, Boston University (MTL)
The top scoring defenseman in the nation, Hutson is having an historic season for a freshman blueliner. He is as dynamic as anyone in the country, forward or defenseman and is a constant threat to score from the back end. When Hutson is on the ice, opposing defenses can't just concern themselves with the BU forwards because Hutson is always lurking and can be difficult to detect. He'll play major minutes, too.
Here's Lane Hutson's goal that put him ahead of Brian Leetch for the most points by a U-19 NCAA defenseman in 35 years. pic.twitter.com/qaaojlH4ns

— Steven Ellis (@SEllisHockey) March 23, 2023
Matthew Knies, LW, Minnesota (TOR)
One of the most physically gifted players in the country, Knies is a true power forward who is difficult to contain. He gets to the middle of the ice with ease and has the hands to make plays under duress and in dangerous areas of the ice. The Hobey Baker finalist and Big Ten Player of the Year has 21 goals this season and also can lower the boom. Opposing defenders always have their hands full when Knies is on the ice, which creates extra space for linemates Logan Cooley and Jimmy Snuggerud.
Hobey Baker Top Three Finalists: Logan Cooley, Adam Fantilli, Matthew Knies
Brock Faber, D, Minnesota (MIN)
As pure a defender as you can find in the college game, Faber makes every shift difficult for the opposition. He is cerebral in his approach to the game, always taking good angles, knowing when to close and when to jump plays. While defense is the hallmark of his game, Faber's production jumped up this year as he hit career highs in goals (4), assists (21) and points (25). It won't be long before he's a top-four defenseman at the NHL level.
Drew Commesso, G, Boston University (CHI)
If BU is going to have a chance against Minnesota, Commesso will likely be the biggest reason. The junior netminder has been fairly inconsistent this season, but at the most important time of the year, he's been rock solid. Though he has a .914 save percentage on the season, Commesso has won each of his last nine starts and owns a .936 save percentage over that span.
Jimmy Snuggerud, RW, Minnesota (STL)
One of just five players in the country with 50 or more points, Snuggerud has been a dominant scorer in his first NCAA season. He plays with such tenacity and forechecks like he's a fourth line grinder. Yet he has natural goal-scoring ability and one of the more devastating one-timers in the NCAA. He had 21 goals this season and always presents himself as an option for his linemates.
HIMMY

SNUGGERUD pic.twitter.com/TV5ywxsVvs

— Minnesota Men's Hockey (@GopherHockey) March 24, 2023
Yaniv Perets, G, Quinnipiac (UFA)
With his impressive numbers, Perets was a Hobey Top 10 finalist and a top three finalist for the Mike Richter Award as goalie of the year. The sophomore goalie has won 32 of his 39 starts this season, posting a .932 save percentage and 1.46 goals-against average. He's second in the former category and first in the latter. He also tied for the NCAA lead in shutouts with 10, two shy of the single-season record. What has made Perets even more impressive of late is that the shot volume has grown a bit but he continues to lock it down. There were only two games all season where Perets allowed more than three goals.
Jackson LaCombe, D, Minnesota (ANA)
The opportunity in front of Minnesota is exactly why LaCombe came back for his senior season. One of the most productive blueliners of the last four years in college hockey, LaCombe is an expert puck mover who finds seems as well as anyone. He posted career-bests in goals (9) and points (35) this season and his next point will be the 100th of his NCAA career. He's going to get a lot of minutes and he helps Minnesota win the possession game.
Collin Graf, LW, Quinnipiac (UFA)
Quinnipiac's ability to defend wouldn't mean as much if they couldn't score, and no one on that team has scored more than Graf. The sophomore transfer from Union is third in the country with 56 points including 20 goals. He's been a little less productive in the postseason, which could be a concern if the Bobcats get into a track meet with Michigan, but Graf has skill and an ability to get to the dangerous scoring areas.
Winner, winner, someone by this two goal-scorer a nice dinner! 🍽️ Collin Graf puts home two tonight to help the Bobcats to a 5-0 shutout of St. Lawrence.#ECACHockey x @QU_MIH pic.twitter.com/xmFbgL301F

— ECAC Hockey (@ecachockey) February 12, 2023
Mackie Samoskevich, RW, Michigan (FLA)
A speedy, skilled forward with high-end offensive instincts, Samoskevich is a big reason the Wolverines are in Tampa. He scored the game-winning goal in OT against Penn State for Michigan to book its ticket to the Frozen Four. Often overshadowed by higher-ranked players, Samoskevich somewhat quietly put up 20 goals and 43 points this season, which puts him among the most productive players in the NCAA.
Domenick Fensore, D, Boston University (CAR)
BU's captain has been a critical player down the stretch for the Terriers, playing big minutes and providing some offense from the back end. The 5-7 blueliner is a gifted skater who can get pucks up ice quickly. With BU dealing with some injuries, his minutes have gone up and he's had to play solidly at both ends of the ice, which he continues to do.
Skylar Brind'Amour, C, Quinnipiac (EDM)
One of the most gifted defensive forwards in college hockey, the apple apparently does not fall far from the tree of his Selke Trophy-winning father. Brind'Amour is having the best season of his career by a wide margin, posting 32 points and also earning ECAC Defensive Forward of the Year honors.
Rutger McGroarty, LW, Michigan (WPG)
This is the time of year McGroarty thrives in. He's been one of Michigan's best postseason performers and is riding a seven-game point streak going into the Frozen Four. McGroarty netted a hat trick against Colgate and assisted on the game-tying goal against Penn State. In the Big Ten championship game, he was in on three of Michigan's four goals, scoring two himself. His rugged, competitive style and ability to get to the net front will be critical for Michigan.
Rutger McGroarty with two goals in 34 seconds and Michigan leads 2-1! pic.twitter.com/RnQPI8zwp8

— Michigan Hockey (@umichhockey) March 19, 2023