2023 Northern Michigan vs Minnesota State - Men's
A Look At The Matchup For The 2023 CCHA Mason Cup Final
A Look At The Matchup For The 2023 CCHA Mason Cup Final
Minnesota State and Northern Michigan are set to meet Saturday in the final of the 2023 CCHA Mason Cup Playoffs.
Mar 15, 2023
by Tim Rappleye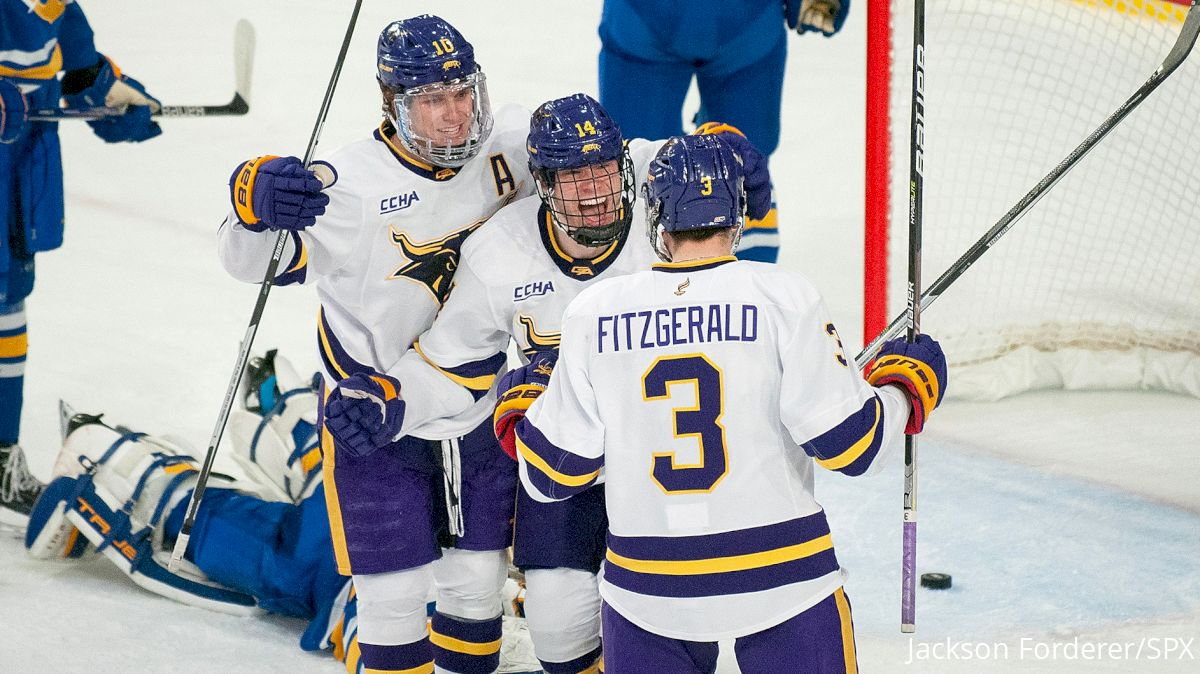 The CCHA All-Rookie team was announced this week, as was CCHA Rookie of the Year.
Because of the crowded field, the hottest scorer in the CCHA was completely ignored.
Minnesota State's Top Guns
Minnesota State freshman, Christian Fitzgerald, has been white-hot as of late, racking up eight points in the Mavericks' three playoff games. He had eight goals in his last 10 games, contests to determine both the MacNaughton Cup and Mason Cup.
Both of those stats – the eight points and eight goals – are exactly double what star teammate David Silye has produced, and Silye was just named the CCHA Forward of the Year.
MSU head coach Mike Hastings is not allowed to vote for his own player, but there's no way he would have left Fitzgerald off his rookie list.
"Without him this season, I don't know if we're where we're at," Hastings told the Maverick Insider. "He deserves a boatload of credit. He's one of the best freshmen in our league."
No Christian Fitzgerald here is somewhat surprising. Certainly worthy. https://t.co/jGRNiQaKGI

— Dan Myers (@DanMyers) March 13, 2023
Fitzgerald has been used in all three forward positions, including regular stints on Minnesota State's devastating power play.
He has delivered in every scenario, with none bigger than the first period in last Saturday's win-or-go home quarterfinal against Ferris State. With his club trailing by a goal and fans in the Mayo Clinic Events Center fearing the worst, the rookie potted his 15th goal of the year at even strength. A mere 28 seconds later, he set up Silye on the power play, igniting the home crowd.
"After we scored the first one, the energy in the building increased," Hastings said. "I thought we drew momentum from that."
Fitzgerald no longer is a wide-eyed freshman simply happy to be in the lineup. He recently found himself on the first line with established stars Silye and Ryan Sandelin, and he embraces the responsibility to produce.
"When playoffs come around, we need everyone to step up and pull their own rope," Hastings added.
Fitzgerald has done just that, torching Lake State for five points (2G, 3A) in the quarterfinals, and three points against Ferris in their semifinal (1-2-3).
With CCHA Rookie of the Year Kyle Kukkonen forced to watch the championship game at home, Fitzgerald will be front and center in Mankato Saturday. He gladly forego would the limelight if he could contribute once again to extend the Mavericks' season.
For a look at the path for Minnesota State and Northern Michigan, click here.
The Northern Lights
Northern Michigan head coach Grant Potulny has a pair of All-Rookie team members in winger Joey Larson and defenseman Josh Zinger, but it is his senior class he is singling out for praise during their NCAA-best seven-game winning streak.
These are the young men who are propelling the Wildcats to Northern's third league championship game in Potulny's career, and the players who have become his top priority.
"For me, it's not about winning the championship – that's going to be the byproduct of it," Potulny said. "I want to get some more time with these guys. I really, really want to continue the season. We're starting to get to our game, and I'm not ready to be done."
Potulny admits his club was tight in his two failed attempts in prior playoff championships. Now, he feels all the cylinders are firing in synch.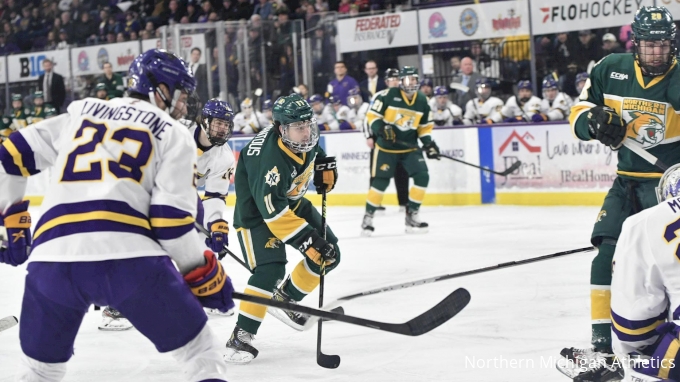 Starting two weeks ago, he put a message up on the team's white board: "Who will be Mr. March?"
He was hoping to implore his veterans to carry the club to a championship and beyond.
His seniors responded, none more so than winger Andre Ghantous. The undersized warrior (5-foot-9) from Los Angeles has racked up five points (2G, 3A) in their three-game run through the CCHA playoffs.
Dre nets his 13th of the season!#NMUwildcats #ShareNMU pic.twitter.com/FTXlzD3Ho0

— Northern Michigan Hockey (@NMUHockey) March 11, 2023
He has been a tremendous asset, on both sides of the puck, for the Wildcats in a splendid career.
"Our team has been feeling really good this past month," said Ghantous, the CCHA's leading active scorer with 124 points. "It's been really special to wear the Northern logo."
Ghantous was in the lineup when Northern fell short in the league title game two years ago, but he clearly is on a mission to get Potulny and his mates into the NCAA Tournament for the first time. He is a major reason to watch this championship tilt Saturday night.
Prediction: There are so many reasons to like Northern in this game, not the least of which is Potulny finally getting to the NCAA Tournament as a coach.
But, in the words of Hastings, "Hockey is a cruel game."
There is no substitute for experience in postseason hockey, and Hastings has a dozen battle-tested warriors who thrive under the bright lights.
To harken back to America's greatest sportswriter from a century ago, Damon Runyon, when making this painful prediction:
"The race is not always to the swift, nor the battle to the strong, but that's how the smart money bets."
Minnesota State by two, thanks to an empty-net goal.