2023 Northern Michigan vs Michigan Tech - Men's
CCHA RinkRap: Yooper Curse Lifted, Champs Roar In Mankato
CCHA RinkRap: Yooper Curse Lifted, Champs Roar In Mankato
In this week's RinkRap, a Yooper curse is lifted, and the champs roar in Mankato. Northern Michigan and Minnesota State will meet in the Mason Cup final.
Mar 14, 2023
by Tim Rappleye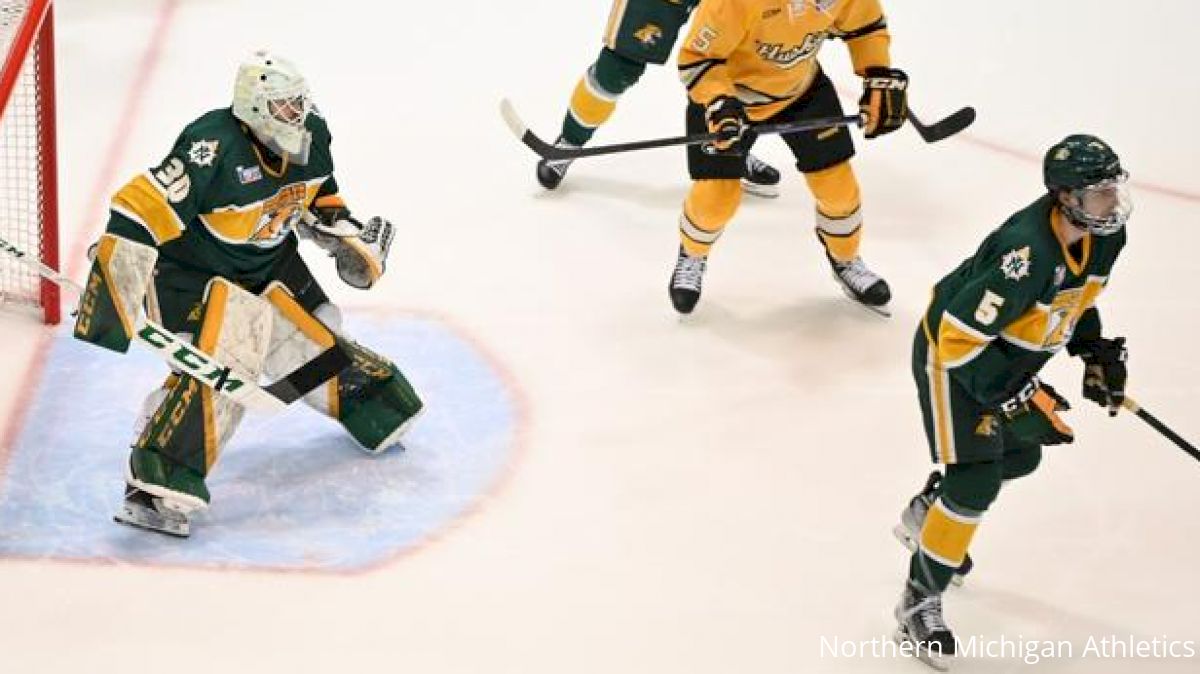 In this week's RinkRap, a Yooper curse is lifted, and the champs roar in Mankato.
"Curse of Craighead" Is Broken
Feb. 29, Leap Year Day, 2020.
In a post-game hockey celebration stolen from the pages of football's Florida State, Northern Michigan senior Darien Craighead sprinted 100 feet toward center ice with his stick held over his head like a spear.
He then planting it into the Michigan Tech logo, angering every witness at MacInnes Arena.
From that moment forward, Tech has owned its neighbor to the east, going an incredible 14-2-1 over four years. It started the very next weekend, as Tech ended Northern's season in triple overtime.
The "Curse of Craighead" lasted until this Leap Year, a stretch of futility for Northern, which never won another game in regulation against its rivals – until last Saturday.
In the single-game semifinal in Houghton, Grant Potulny's Wildcats finally broke the "Curse of Craighead," as senior captains Michael van Unen and Andre Ghantous (alternate) played starring roles in the 4-0 whitewash of favored Michigan Tech.
"To help us get that win, especially after the past four years, makes it even more special," Ghantous said. The senior scored a YouTube-highlight goal while parked next to the Huskies goal post, going backhand-forehand-shelf to puncture All-CCHA goalie Blake Pietila for the Cats' second goal.
Barely three minutes later, Van Unen stunned the home crowd with a rink-length rush and finish, only his third goal of the season. It was a shocking display of quick-strike offense – three goals in the first 11 minutes of the contest – the equivalent of a first-round round knockout in boxing.
Northern's freshman goalie Beni Halasz grabbed the headlines with his 44-save shutout, but coach Tech coach Joe Shawhan echoed the majority when he said, "Their goaltender didn't have to make any really big saves, despite the volume of shots."
Halasz was the beneficiary of the Wildcat seniors, six men who all suffered through a 2-14-1 stretch since Craighead speared the Husky logo.
Was there ever a doubt? Beni Halasz is named the CCHA Goaltender of the Week after his 44-save shutout at Michigan Tech. #NMUwildcats #ShareNMU pic.twitter.com/o3O04VMOom

— Northern Michigan Hockey (@NMUHockey) March 13, 2023
Ghantous spoke for Van Unen, Vincent de Mey, A.J. Vanderbeck, Tanner Vescio and Jett Jungels after helping lift the curse.
"I don't think we once doubted ourselves and our ability to beat Tech during that span," said Ghantous, who has carried the Cats offensively with 13 points in their last seven games. "We came in with a really good plan, having the belief that we were going to beat them, if we just stick with our structure."
Nine wins in their last 10 makes Northern the hottest team in the country, but none of those wins carry the magnitude of beating its Upper Peninsula neighbors, the team that had virtually owned them for four years.
Dark skies have finally cleared for Northern, a shattered curse in the wake. The Wildcats now set their sights on Mankato.
Minnesota State Handles Ferris, Gets Revenge
Three months ago, Minnesota State couldn't recover after giving up the first goal to Ferris State.
They were a fragile team in December, a team with two uncertain goalies that was swept at home, despite outshooting Ferris by enormous margins.
Those days are a distant memory to the MacNaughton Cup champs.
In the words of junior defenseman Akito Hirose, "We don't remember anything before Christmas."
In Saturday's semifinal against upset-minded Ferris, MSU once again gave up the first goal. This time, the Mavericks responded with a vengeance, scoring four in a row and seven of the next eight.
Coach Hastings comments following a 7-2 CCHA Semifinal win over Ferris State.

Up next: Mason Cup Championship game next Saturday vs Northern Michigan at home. pic.twitter.com/DZtobPfaYB

— Minnesota State Hockey (@MinnStMHockey) March 12, 2023
"It's not the first time we haven't started the game exactly the way we wanted to, but I liked how we reacted," said MSU coach Mike Hastings, whose club turned a deficit into a lead by the first intermission. "Answering within that first period, and not going into the locker room thinking about the last two games we played against them. Extending the lead allowed us the freedoms to roll four lines."
With the exception of sparkling rookie Christian Fitzgerald, all the scoring was done by upperclassmen, all with extensive NCAA tournament resumes.
Frozen Four fixtures, such as David Silye, Brendan Furry, Cade Borchardt, Ondrej Pavel, Lucas Sowder and Jake Livingstone, tore holes in the Bulldogs net. That experience showed most on the power play, where Minnesota State rang up three goals with the extra man.
In the last four games – all with championships at stake – the Mavericks have gone an unimaginable 10-for-17. Mavericks junior defenseman Livingstone claims their power-play success comes from the roster, not the whiteboard.
"At the end of the day, you've just got to be a hockey player and make good plays," said Livingstone, who banged in his eighth goal of the season after a brilliant, cross-seam feed from Ryan Sandelin. "We've got a lot of good hockey players on both [power-play] units."
The Mavericks now embody the classic sports adage: "It's not about the Xs and Os, it's about the Jimmys and the Joes."
All that raw talent has been forged by pressure and baked under the hot lights of elimination games.
This group of postseason specialists combine to make Minnesota State significantly better than its No. 13 Pairwise ranking.
They'll have another home game to defend their 2022 Mason Cup, and then in all likelihood, they get another crack at a national championship.
Pity the No. 1 seed that must face them in the NCAA Tournament.