Men's Big Ten Hockey
2023 Hobey Baker Top 10: Breaking Down The Finalists Led By Fantilli, Knies
2023 Hobey Baker Top 10: Breaking Down The Finalists Led By Fantilli, Knies
The race for the Hobey Baker is down to 10 led by top 2023 draft prospect Adam Fantilli, Harvard star Sean Farrell and Minnesota standout Matt Knies.
Mar 15, 2023
by Chris Peters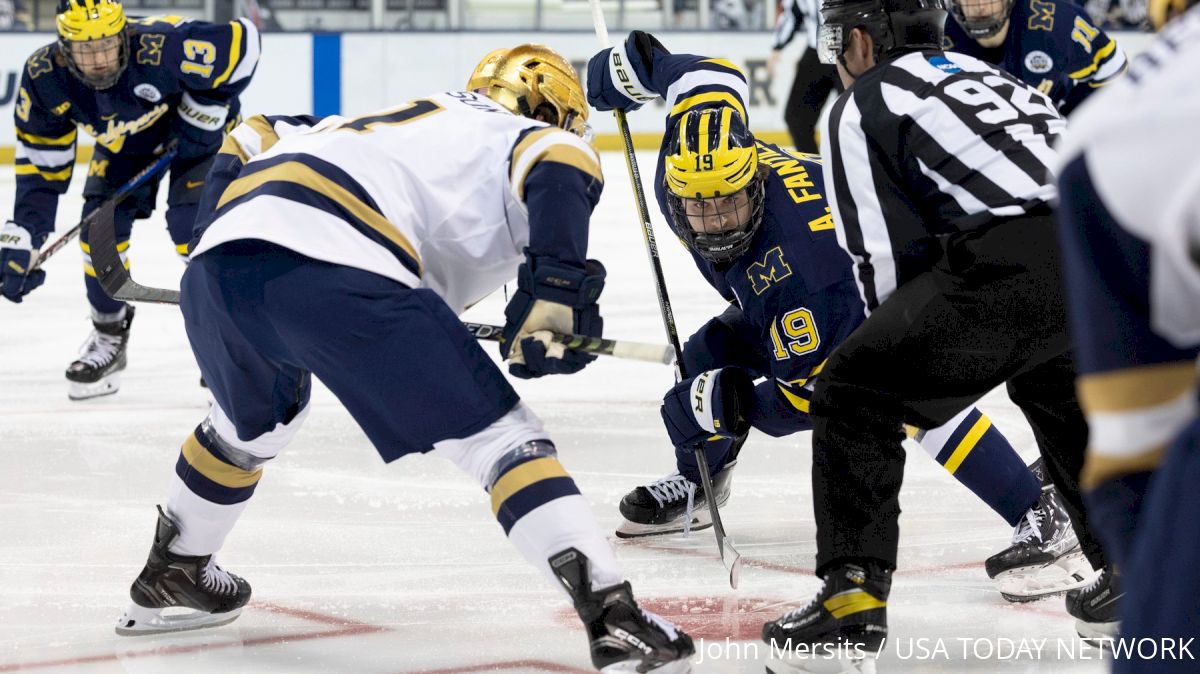 For the most storied individual prize in men's college hockey, only 10 players remain in the hunt. The Hobey Baker Memorial Award's selection committee announced the 10 players that are finalists for the illustrious trophy.
Of the finalists, three players are freshmen, five are NHL draft picks, three are goaltenders, one is a defenseman, one is an NHL Draft top prospect and all but one player are part of teams that are expected to be part of the 2023 NCAA tournament.
The Hobey Baker Award, hydrated by BioSteel, is pleased to announce the 2023 Top Ten Finalists in alphabetical order. For in-depth bios, top ten highlight video and fan vote info visit https://t.co/CGEVafN9rB @biosteelsports #hobeybaker #NCAAHockey #CollegeHockey pic.twitter.com/sptkHHquY4

— Hobey Baker Award (@HobeyBakerAward) March 15, 2023
The committee will take into account the next few weeks including the NCAA regionals as part of their voting process to get down to the top three players, dubbed the "Hobey Hat Trick." From that group, a winner will be announced April 7 in Tampa, Fla., as part of the festivities of the 2023 NCAA Men's Frozen Four.
Here's a look at the list with all 10 players with the case and why they have a chance to join a highly exclusive club in mid-April.
Hobey Baker Top Ten Finalists
Listed in Alphabetical Order
Logan Cooley, C, Minnesota (Arizona Coyotes)
The freshman phenom who went third overall in the 2022 NHL Draft to Arizona has been a driving offensive force for one of the most potent scoring teams in the country. Centering the very best line in the NCAA featuring fellow NHL prospects Jimmy Snuggerud (STL) and Matthew Knies (TOR), Cooley has put up 50 points in 34 games. He is currently fourth in NCAA scoring and being the top scorer on the nation's best team often goes a long way.
Adam Fantilli, C, Michigan (2023 NHL Draft)
The leading scorer in the country with 60 points despite missing multiple games this season, Fantilli is in the midst of the most productive campaign by a draft-eligible freshman since Paul Kariya in 1992-93. Fantilli is averaging 1.88 points per game, which is ahead of the scoring pace Jack Eichel had in his Hobey Baker-winning freshman season by 0.10 points per game. Fantilli's play in the second half of the season has been remarkable. While he should be a lock to win the award, his not being named Big Ten Player of the Year and the fact he has multiple game ejections could potentially factor into the committee's decision. It wouldn't be the first time they've overthought the award.
Adam Fantilli is ready to take the world by storm. 〽️🔥@umichhockey pic.twitter.com/NUfCFpUdVf

— B/R Open Ice (@BR_OpenIce) December 26, 2022
Sean Farrell, LW, Harvard (Montreal Canadiens)
Farrell is currently third in NCAA scoring with 51 points, but trails only Fantilli in points per game. The junior forward, who had to sit out what would have been his freshman season in 2020-21 due to Harvard not having hockey amid the pandemic, has been a driver for the Crimson offense. In addition to being a supremely talented playmaker, Farrell has shown a proclivity for scoring goals more this season with 20 so far on the campaign. He has a few more weeks to improve his case, which is already fairly strong. Big performances at the ECAC tournament and NCAA regionals might lock him into Hobey Hat Trick territory if he isn't there already for the voters.
Collin Graf, RW, Quinnipiac
After transferring from Union in the offseason, Graf blossomed in his sophomore campaign. He is second in the NCAA with 51 points and has been far and away the most consistent scorer on the team with the fewest losses in NCAA men's hockey this year. Graf has really turned it up at the end of the season with 15 points in his last seven games. Rarely held off the score sheet, he's made the offense go for the Bobcats in another very strong season atop the ECAC.
Lane Hutson, D, Boston University (Montreal Canadiens)
Simply put, Lane Hutson is in the midst of one of the best seasons by a freshman defenseman in NCAA history. He already has 44 points to lead BU in scoring to this point. He also surpassed the incredible freshman seasons of Adam Fox and Luke Hughes, and is currently ahead of the scoring pace of Hockey Hall of Famer Brian Leetch when he was the same age at Boston College in 1986-87. Hutson is in unique company and has helped propel BU to the top of Hockey East and back into contender status. A freshman defenseman has never won the Hobey Baker Award and while I'm not sure Hutson will become the first, this season will go down as one of the best ever by a first-year player.
To the surprise of absolutely nobody, Lane Hutson is the Hockey East Rookie of the Year!#ProudToBU pic.twitter.com/OZUraaCgyq

— BU Men's Hockey (@TerrierHockey) March 15, 2023
Matthew Knies, LW, Minnesota (Toronto Maple Leafs)
A big power forward who can score, Knies was recently named Big Ten Player of the Year despite being outscored by both his line mates and Fantilli in conference play. That said, Knies impacts every single game he plays in ways beyond the score sheet and I think that's a big part of his candidacy for this award. While Cooley drives the line, Knies is creating space and is a continual scoring threat. That said, Knies has the fewest points of any finalist with 40, which ranks just inside the top 17 of the NCAA. While I don't think his statistical profile fits, that's not going to be the only part of the decision process and I understand his inclusion as a finalist.
𝐓𝐡𝐞 𝐁𝐞𝐬𝐭 𝐢𝐧 𝐭𝐡𝐞 𝐁𝐢𝐠 𝐓𝐞𝐧 (and the country tbh)@Matthew_Knies is your 2022-23 B1G Player of the Year! ⭐#PrideOnIce pic.twitter.com/AxSMdoUJVL

— Minnesota Men's Hockey (@GopherHockey) March 14, 2023
Devon Levi, G, Northeastern (Buffalo Sabres)
As we wrote earlier this week, he should go down as one of the best goalies of the modern NCAA and Levi also should have won the Hobey Baker last year with near historic numbers against a heavier workload than any of his peers up for the big awards. Levi finished this season with a .933 save percentage, which currently leads the NCAA. He is the only candidate whose team is already done playing, which is going to significantly diminish his chances at winning. There's no question he was among the best goalies in the country this year and unfortunately did not get the honor last year when his numbers were even better and so was the team.
Yaniv Perets, G, Quinnipiac
The only goaltender with 30 wins this season, Perets has been the backstop for one of the nation's stingiest teams. He also leads the NCAA with a 1.52 goals-against average and posted nine shutouts this season, which is currently second in the country. His .927 save percentage ranks fifth among qualified goalies. Perets had a tremendous year and deserves recognition. However, in much the same way I thought last year's winner Dryden McKay was aided greatly by a tremendous team in front of him, I think the same can be said for Perets. I think he had an amazing season, but I don't think it was a Hobey-caliber season. And I think that's true of all three goalies in the Top 10.
Blake Pietila, G, Michigan Tech
Few players in the country, perhaps none, were more valuable to their team than Pietila was to Michigan Tech this year. He's put up an NCAA-best 10 shutouts so far, is tied for third with a .929 save percentage and brought a Michigan Tech team that very few believed would be competitive into the NCAA tournament picture. The Huskies fell a goal short of their first CCHA regular-season title and unfortunately had a weak CCHA semifinal performance. Pietila is up for the Richter Award along with Levi and Perets and I think he has a strong case for that trophy (even though I think Levi nabs his second straight). Pietila should be an All-American and as one of only two seniors up for this award, he'll get plenty of love from the committee in this process as well.
Huskies hold on, Blake Pietila earns his 10th shutout of the year. This sequence was absolutely bananas. @mtuhky pic.twitter.com/Xh90GwEiq1

— Ryan Sikes (@ryan_sikes10) March 4, 2023
Jason Polin, RW, Western Michigan
The nation's leading goal-scorer, Polin had a breakout senior campaign for the Broncos. This likely ends with him getting an NHL contract and I think the Hobey Baker committee is going to give him a very, very long look for the top prize. Polin is on the cusp of the 30-goal mark and has keyed the offense for one of the top five scoring teams in the country. Goal scoring has factored into Hobey voting in the past, where the national goals leader won over the national points leader in certain situations. Polin is also a senior, and the committee has been known to prefer upper classmen. On merit, Polin is a legitimate candidate and even though Western got bounced in the quarterfinal of the NCHC tournament, they are going to be a feared team in the NCAA tournament thanks in large part to a goal scorer of Polin's quality.