Men's Hockey East
Why Devon Levi Should Go Down As One Of College Hockey's Greatest Goalies
Why Devon Levi Should Go Down As One Of College Hockey's Greatest Goalies
With Northeastern's season over, Devon Levi's NCAA career likely ends with some of the best numbers ever put up by a goaltender in the college ranks.
Mar 13, 2023
by Chris Peters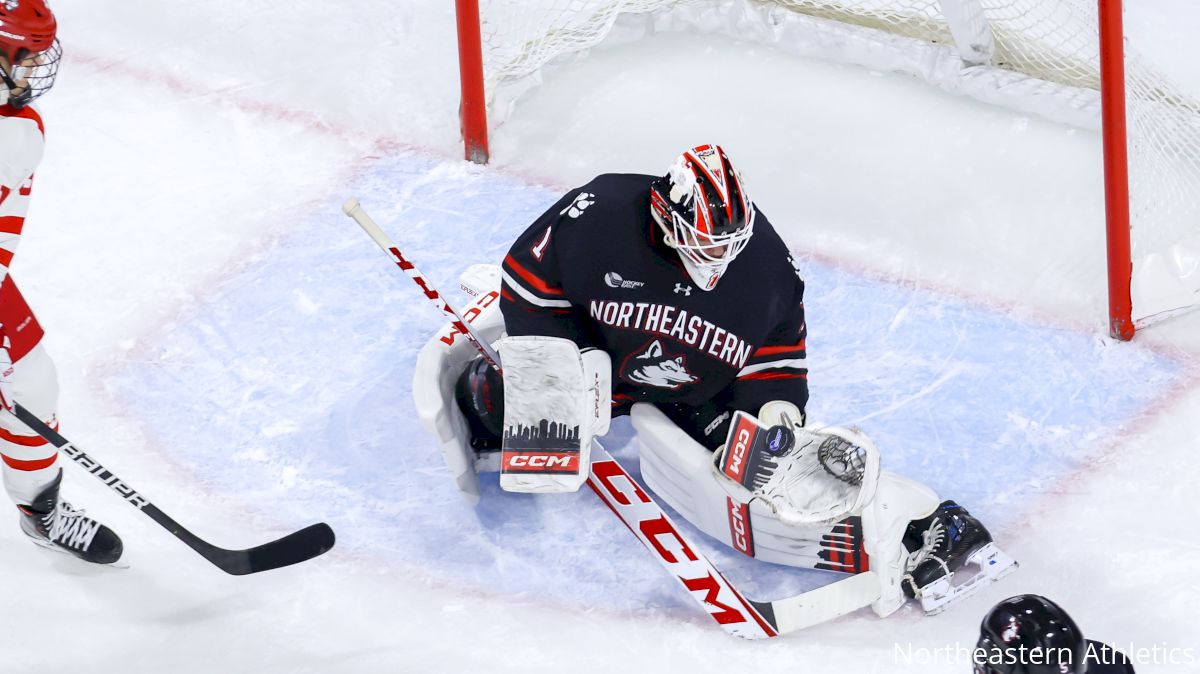 Saturday night's Hockey East quarterfinal played out like so many games had this season for the Northeastern Huskies. The Providence Friars kept piling up shots, especially in the second period when they delivered an astonishing 20 pucks to the net.
And like so many games before it, Devon Levi stood in the Huskies' crease, dutifully turning aside the vast majority of the flying rubber he faced. He stopped 19 of the 20 shots in that overwhelming middle frame, ceding only one goal that allowed the Friars to level the score after Northeastern held a 1-0 lead following a first period goal of their own.
Northeastern held Providence to 14 shots outside of that second period, but the only shot that mattered in the end was the diving stab at a rebound by Brady Berard that snuck past Levi four minutes into overtime. Levi stopped 32 of 34, but Northeastern's season ended on home ice in that fateful quarterfinal.
It also likely marked the end of one of the most brilliant two-year spans a goalie has ever had in the collegiate ranks. Levi is expected to sign with the Buffalo Sabres in the near future after two full seasons manning the crease for the Huskies.
It would have been three, but the netminder missed his entire freshman season due to injury sustained at the 2021 World Junior Championship where he had a record-setting performance in net for Canada.
🇨🇦 Devon Levi continues to make history. #WorldJuniors pic.twitter.com/7gQH6Uzb63

— TSN (@TSN_Sports) January 5, 2021
In 66 career games in the NCAA, Levi went 38-22-6, with a .942 save percentage, 1.90 goals-against average and 16 shutouts.
Levi's .942 career save percentage is the second best mark in the history of men's college hockey. Connor Hellebuyck is the all-time leader with a .946 career save percentage in eight fewer games.
For many, Ryan Miller is the best NCAA goalie ever. He has the Hobey Baker to show for it and one of the most remarkable careers over three full seasons at Michigan State. Hellebuyck is also up there as a record holder and owner of one of the best two-year runs we've ever seen at the collegiate level and has turned that into a Vezina Trophy-winning career in the NHL.
In terms of collegiate prowess, Levi is right in that conversation with those two players and if he had a better team in front of him over the last two years, he likely would have achieved even more accolades than he's already gotten.
Devon Levi anchors the @GoNUMHockey penalty kill, sliding post-to-post to make a diving save and retain a shutout. #HEPlaysOfTheYear pic.twitter.com/j66u86p1BY

— Hockey East (@hockey_east) August 3, 2022
In his first full collegiate season in 2021-22, Levi posted a .952 save percentage which tied Hellebuyck for the second best full-season save percentage in NCAA history. Despite missing some games to be part of Canada's Olympic team at the 2022 Winter Olympics, Levi carried his team to the NCAA tournament and made 34 saves in a 2-1 loss to Western Michigan.
What makes Levi's career so special isn't just that he made a lot of saves. He made so many that I'd argue no player in the country was more valuable to his team than Levi was to Northeastern.
He faced an average of 32 shots against per game. For reference, last year's Hobey Baker winner Dryden McKay faced an average of 21 shots against per game over a four-year career. Additionally, Miller saw an average of 26 shots against per game in three years at Michigan State, while Hellebuyck saw an average of 29 shots against per game.
Levi had to work a bit harder for his lofty numbers because the team in front of him was among the leakiest in the nation. Among the 62 Division I college teams this year, Northeastern allowed the 11th most shots against per game, while they were 12th among 59 teams in 2021-22.
Despite that, Northeastern won the Hockey East regular-season title last season. This year, the Huskies couldn't score enough to help Levi out. And the junior goalie did have one of his tougher stretches of his career in the middle of the season.
That's what makes his season kind of remarkable in another way, though. In the most critical part of the season, Levi stood tall. He helped the team win its second straight Beanpot after missing last year's tournament for the Olympics, stopping 63 of the 66 shots he faced against Boston University and Harvard. Levi was named the Beanpot MVP.
Levi 🚫
Levi 🚫
Levi 🚫
Devon Levi makes 32 saves and goes 3/3 in the shootout as No. 16 Northeastern takes The 70th Beanpot with a 3-2 W over No. 9 Harvard.

Stopping 65/68 shots in the tourney, Levi earns Beanpot MVP.

"He's made for these moments. A special kid." -Jerry Keefe pic.twitter.com/zAtjgzLtLO

— Kris Baker (@SabresProspects) February 14, 2023
Despite a tough November-December run, Levi still finished the year with a .933 save percentage, which is once again tops in the country. He will likely be a finalist for the Hobey Baker Memorial Award for a second time, but is unlikely to win it. He more than likely will be able to collect his second Mike Richter Award as the nation's top goalie, just as he did last season, as he is one of three finalists. Levi is also going to be a two-time All-America selection.
There isn't a College Hockey Hall of Fame, but if there was one, Levi would be a first-ballot entry. The two-year run he just had is exceptional and should be celebrated as one of the all-time great performances we've seen. He will likely go down as the best player in Northeastern's history, despite the fact that they do have a Hobey Baker winner in their history in Adam Gaudette.
Without Devon Levi, these last two seasons could have been very different for Northeastern. Instead, he kept them competitive and relevant to the very end. He probably deserved a better end to his collegiate career, but like he did every time out, he gave everything he had and kept his team in a position to win at nearly all times.
As he heads to the Buffalo Sabres soon, he will have a chance to become an NHL starter in the near future. Though Levi lacks the prototypical NHL size, he has excelled at every step of the way in his career. His historic numbers build up a lot of credibility, but now he has to prove it on an even bigger stage.
If his career to date is any indication, there is no stage too big for Devon Levi. He's going to show up, he's going to play and he's going to stop an awful lot of pucks.