2023 Northern Michigan vs Minnesota State - Men's
2023 CCHA Hockey Playoffs Schedule
2023 CCHA Hockey Playoffs Schedule
The CCHA Hockey playoffs are underway and the Mason Cup is up for grabs. Here's a look at the CCHA Playoff schedule.
Mar 10, 2023
by Joe Harrington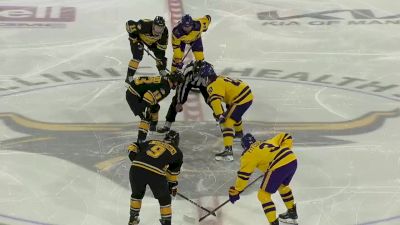 The semifinals of the Mason Cup CCHA Playoffs begin on March 11 as teams look to advance to the championship game and inch closer to the NCAA hockey tournament.
The first round of the CCHA playoffs featured a big upset when Ferris State beat No.3 seed Bowling Green 2-0 to advance to the semifinals.
The upset kicked in the re-seeding of the tournament, meaning No. 4 seed Northern Michigan, who advanced by beating Bemidji, will face Michigan Tech instead of powerhouse No. 1 seed Minnesota State.
Subscribe To FloHockey For More College Hockey Coverage
The Mavericks will instead face Ferris State.
Here's what to know about the CCHA playoff schedule.
When are the CCHA Playoffs?
The Mason Cup CCHA 2023 Playoffs began on March 3 with the quarterfinals best-of-three series. Minnesota State, Michigan Tech, Northern Michigan and Ferris State all advanced to the semifinals by sweeping their opponents 2-0.
When Is The Mason Cup CCHA 2023 Semifinals?
The semifinals begin March 11 and are single elimination games instead of a best-of-three series. The higher seeds will host the lower seeds and the teams are reseeded after the quarterfinals.
When is the Mason Cup Final?
The Mason Cup final is March 18 and will be held on the campus of the highest seed in the game.
CCHA Playoff Schedule
Here is the semifinals schedule:
No.6 Ferris State at Minnesota State, 7:07 p.m. ET, March 11.
No. 4 Northern Michigan at Michigan Tech, 6:07 p.m. ET, March 11.
CCHA Playoff Team Records
Here's how each of the semifinalist have done so far:
Minnesota State: 23-12-1, 16-9-1 in conference
Michigan Tech 24-9-4, 15-7-4
Northern Michigan 20-16-0, 14-12-0
Ferris State 14-18-4, 9-14-3
How to watch The 2023 Mason Cup CCHA Playoffs Semifinals On FloHockey
The CCHA playoffs are streaming live on FloHockey and the FloSports app. The FloSports app is available on multiple streaming platforms like Roku devices.
Subscribe To FloHockey To Watch CCHA Hockey
There are several price options and subscriptions available for FloSports and FloHockey.
A PRO subscription unlocks:
Live events
Event replays
Event results
Breaking news
Limited ads on PRO videos
A subscription allows up to 12 streams on one or many devices connected to the same wifi.