Men's CCHA Hockey
CCHA RinkRap: Players Step Up For Michigan Tech, Minnesota State
CCHA RinkRap: Players Step Up For Michigan Tech, Minnesota State
This week's CCHA RinkRap focuses on the last four CCHA programs battling for the Mason Cup.
Mar 6, 2023
by Tim Rappleye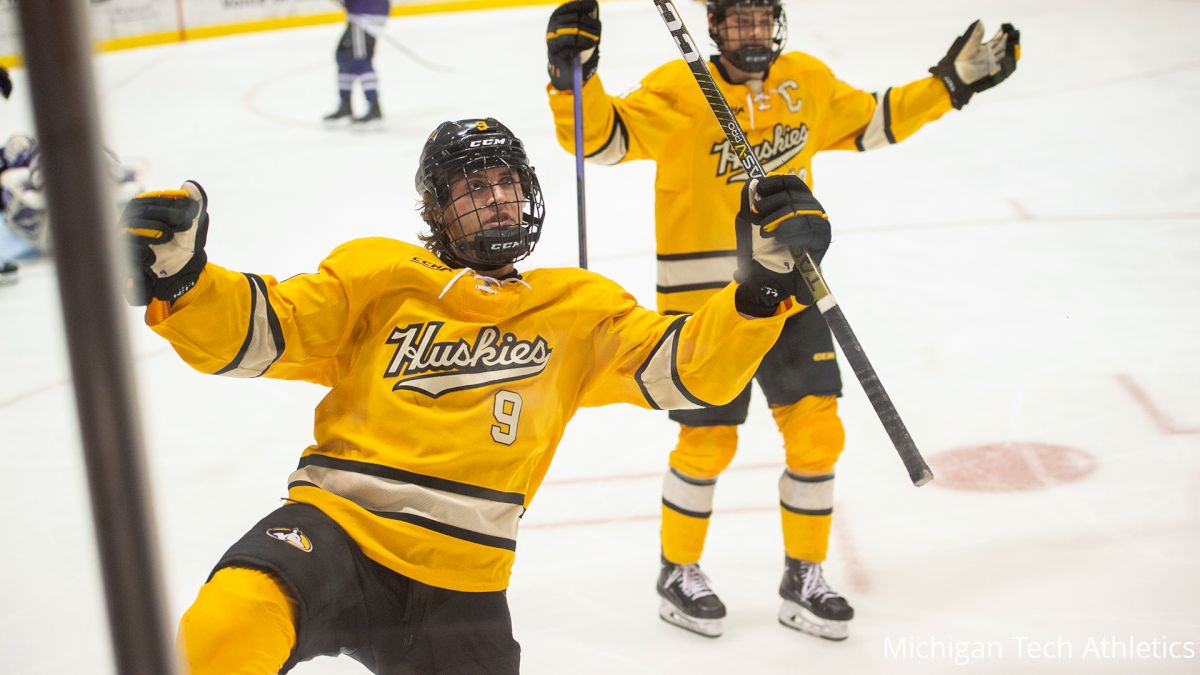 This week's CCHA RinkRap focuses on the last four squads racin' for Mason. A gunslinger prowls the Great Lakes, a masterful resurrection in Big Rapids, small games on the large ice of Marquette, and the Big Three of Minnesota State rekindle memories of an NHL dynasty.
The Rifleman
Fans of black and white TV westerns all know Lucas McCain, the square-jawed rancher who dealt out justice with his infamous rifle. The CCHA has it's own Rifleman: 20-year-old Kyle Kukkonen, who also fires in rapid succession. Lost in the shock and awe of Michigan Tech goaltender Blake Pietila's heroic shutout numbers is the prodigious goal production of Kukkonen.
College hockey is in the dead-puck era: due to team defense and blocked shots, coupled with elite goalies sporting bulked-up pads, goal scoring is down nearly 40 percent from the run-and-gun 1980s and '90s. There is no Hrkac Circus; the days of Kariya and Montgomery combining on hat tricks in a single period are now lost to posterity.
Yet here comes a gunslinging freshman from the Twin Cities who shoots from the hip, scoring eight goals in his last six games, all with major trophies hanging in the balance.
Kukkonen's goals come in all varieties: massive short-handed tallies, one-timers off the rush, deadly wrist shots from every conceivable angle. Saturday's series-clincher versus St. Thomas was a classic example. Bearing down the right wing with a defender draped over him, Kukkonen snapped home a shot that forced its way through Aaron Trotter's wickets. Yet another notch on the handle.
The fictional McCain did his firing with a Winchester .44, a 20-inch barrel with a modified lever for rapid firing. Kukkonen, a right shot, describes his real-world weapon.
"Lie is standard, flex is 75," Kukkonen shared by email.
"I use a P28 Max Blade for the curve, a big toe curve. Length is to my nose when standing without shoes, a more rounded shaft."
This is the weapon that has produced 18 goals to date, in the lethal hands of a young man whose production is carrying the offense for Michigan Tech. In a sport where coaches pull out their hair trying to increase scoring totals, the Huskies have their own Rifleman.
A Revival In Big Rapids
It was the last quarterfinal still to be determined in the CCHA, as Ferris State and Bowling Green battled into their second straight overtime Saturday night in Ohio. Four minutes into the extra session, Ferris senior Jason Brancheau found a skating lane down the left boards. He willed his fatigued legs to create distance between his defender and the puck he carried. Although he did not have a great angle facing Falcon netminder Christian Stoever, it was a clean look. Brancheau did not hesitate. In less than a second the puck catapulted in-and-out of the twine, a seeing-eye snipe that beat a worthy goalie high to the glove side. Just like that, two years of suffering had come to an end for the jubilant visitors.
Thirteen of the twenty celebrants in the fire-engine red dogpile had lived through a season of ignominy in 2020-21: not a single Division I victory. Yet there they were, unlikely conquerors of a quality team, heading into the Mason cup semifinals.
"We never stopped believing, we never quit," Daniels said of that forgettable year, "Our [current] success began that season." It is perhaps Daniels' greatest coaching accomplishment—in a career that has spanned over three decades—that he could create success from the ashes of a winless season.
The Bulldogs road to their first tournament championship game since 2016 goes through Mankato. His thirteen survivors, the upperclassmen who have crawled through the desert of 2020-21, gave Minnesota State fits that March in a grueling quarterfinal. This year they have the confidence of having already swept the nationally-ranked Mavericks in Mankato.
Beware the Bulldogs, who have arisen from the smoldering ruins of a lost season. They are now thriving in the world of elimination games and sudden death.
Small Games On Big Ice
Northern Michigan's on-ice fortunes are encapsulated in this historic quote from Winston Churchill: "A riddle wrapped in a mystery inside an enigma." Enigma, indeed.
While eliminating Bemidji this weekend, NMU scored seven goals Friday, but needed overtime to pot a second goal Saturday. They have a deadly marksman in A.J. Vanderbeck, but he has only managed but a single tally in the last 10 games. They play on the biggest ice sheet in college hockey, yet forsake the stretch pass. The Cats have gone from the league's worst penalty killers to one of the best. A season destined for the dumpster is now one of championship promise.
What in the name of Rick Comley is going on in Marquette? Time for NMU's unflappable coach Grant Potulny to sort things out.
"We've been better each weekend," Potulny said Saturday after sweeping Bemidji.
"We talked about being a process-based team, and that's repeatable success."
This begs the question, what are the goals of the Potulny process?
"We can repeat our connectivity. We're not a team that stretches a lot of people. we want to be five guys moving around the rink [in unison]. I want to make a bunch of 10-foot passes coming out of our end, because that's how you're going to score off the rush."
Scoring has been the driving force in the Cats six-game winning streak, the longest of the remaining four teams closing in on the Mason Cup. Scoring remains the enigma of a sport overflowing with 24-year-old checkers. If Potulny's Cats have indeed solved that mystery, and their 4.9 goals per game average over their last eight indicate they have, then they are on the verge of decoding hockey's Churchill-esque riddle.
A Flashback To The Dynastic Canadiens
Three pillars on defense carried the Montreal Canadiens to four straight Stanley Cups in the late 1970s: Hall of Famers Serge Savard, Guy Lapointe and Larry Robinson. Between them, they could score, defend, and most importantly, keep the puck out of their own end for large stretches of time.
The six-time MacNaughton Cup champions Minnesota State have their own elite triumvirate on defense: Akito Hirose, Jake Livingstone and Andy Carroll. In the three games since falling out of first place on February 24, the trio have amassed nine points to help recapture the MacNaughton Cup. Those wins not only ensured home ice for the rest of the Mason Cup, but has given the team a strong likelihood of returning to the NCAA tourney.
"Hey, we're hockey players, finding a way to make a play," said Caroll, who set up the MacNaughton Cup-winning goal in the closing moments agains Michigan Tech.
"As competitive athletes, those are the games you live [for]. You grow up playing in the basement, tie game, two minutes left, you want to be on the ice making the play that sends your team to victory."
Minnesota State's big three have all taken turns doing exactly that during this current stretch, whether it be Livingstone generating seeing-eye passes on the power play Saturday versus Lake State, Hirose creating shooting lanes from the blue line or Caroll turning second place into first with ice water running through his veins.
Most college teams covet a single defenseman with those kinds of skill and experience. Minnesota State has three.
According to the Pairwise Probability Matrix, Minnesota State has a 78 percent chance of making the NCAA tournament. Those cold numbers don't take into account the fact that this trio has played in a dozen gigantic games the past three years, they've all been to the last two Frozen Fours. None of that is factored into the computer's calculations.
There is a good chance that all three will be playing pro hockey this spring, but Hirose, Livingstone and Carroll are playing like that is the furthest thing from their minds. They are determined to extend their college careers until April.