NHL
2023 NHL College Free Agent Tracker: Analysis On Every Signing
2023 NHL College Free Agent Tracker: Analysis On Every Signing
Prospect analyst Chris Peters provides notes on each of the college free agents signed to NHL contracts this spring.
Mar 20, 2023
by Chris Peters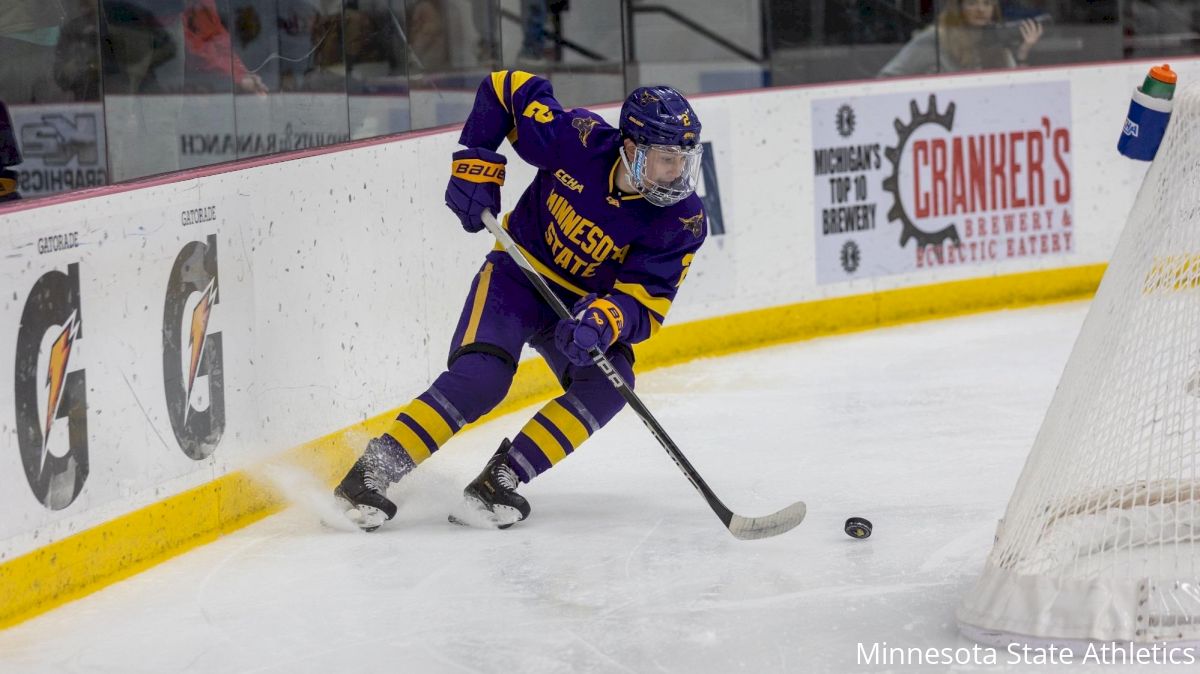 The college free agent season is in full swing. As more NCAA teams see their seasons end, the more NHL teams will be snapping up undrafted players that they hope can mature into an option for their NHL roster. That will be especially true of teams that have made significant changes to their prospect pools and future draft picks.
Many college free agents are going to pan out more as organizational depth and players for the AHL roster than NHL impact players. But they are still valuable commodities as older, stronger and more physically developed players that have shown at least some NHL-caliber tools as they've developed in college hockey.
As these players get signed, however, I'll provide some quick notes on each player so you'll know what your favorite NHL team is getting out of the player they just signed.
Also, be sure to refer to my list of top undrafted free agents in the NCAA this season.
NHL Signings
Yaniv Perets, G, Quinnipiac (CAR) -- April 12
What a week for Yaniv Perets. He wins a national championship on Saturday and by midweek he's signed his first NHL contract. The Hurricanes may have a goalie of the future already in Pyotor Kochetkov, but Perets will help bring more depth to the organization and with his pedigree, he may have a chance to play for the Canes down the line.
In 74 career NCAA games, Perets posted a .935 save percentage with Quinnipiac. He had a .939 mark last season and a .931 in 2022-23. Perets had a good defense in front of him, but he clearly honed his craft in a way that made him an especially effective netminder at the NCAA level and could serve him well as a professional.
Perets is slightly below average for NHL goalie size, but has good quickness, high-end hockey sense and he plays a very contained, controlled game. He had 21 shutouts over the last two seasons and was the picture of consistency. That predictability helps a lot and it also will endear him to coaches if that can continue as a professional. Carolina has plenty of room to add depth to their goalie pool and Perets was one of the best remaining goalies on the free agent market.
Pen to paper: Making it 𝐎𝐅𝐅𝐈𝐂𝐈𝐀𝐋 📝#BobcatNation x @Canes x @_pretzel33 pic.twitter.com/UuKnIlMZEv

— Quinnipiac Men's Ice Hockey (@QU_MIH) April 12, 2023
Cole McWard, D, Ohio State (VAN) -- April 4
The Vancouver Canucks tapped into the college free agent market once again after landing two of the bigger fish in Akito Hirose and Max Sasson. Cole McWard was an under-the-radar free agent because he just completed his second NCAA season. I did not list him on a top free agent list more because I didn't anticipate he'd be leaving school yet. But I'd have to imagine his excellent performance in the college hockey postseason accelerated the interest in McWard's services.
The 21-year-old had a strong USHL career before becoming a Buckeye and really came into his own this season, playing major minutes for Ohio State. He finished the season with a career-best nine goals and 21 points. Four of his nine goals came over the last 10 games of the season as the Buckeyes were battling for postseason positioning, while two of those came in their rout of Harvard in the first round of the NCAA tournament.
Cole McWard from the point makes it 2-0 @OhioStateMHKY. Harvard challenged for goaltender interference, was ruled a good goal. pic.twitter.com/2LZm0MXYfT

— Ryan Sikes (@ryan_sikes10) March 24, 2023
A right-shot defenseman with true two-way capabilities, McWard makes smart passes without much flair. He is decisive with the puck on his stick and puts some zip on it when he finds the right option. He can shoot it a little bit and was quite the goal scoring blueliner in his final USHL season when he put up 14 goals for the Tri-City Storm. McWard's offensive game may not translate as much to the NHL level, but his ability to defend does. He can take care of the middle of the ice and plays sturdy defense. His footwork is solid and he keeps relatively good gaps on the rush. I thought he probably could have used another year to get that offensive game honed in, especially int he absence of Ohio State's Mason Lohrei, who was drafted and signed by the Boston Bruins. That said, it's hard to look a bona fide NHL deal in the face and turn it down.
Relative to the kinds of players that typically sign as college free agents, I think McWard has a little more upside and has an NHL toolkit. He probably tops out as a depth defenseman, but I think the Canucks were wise to get aggressive on this particular player and see what they can get out of him within their development system.
Ryan McAllister, LW, Western Michigan (FLA) -- April 3
Yet another Western Michigan Bronco is turning pro via college free agency this spring. Ryan McAllister is the third and final player from his high-scoring line at WMU to sign, joining Jason Polin (COL) and Max Sasson (VAN) under NHL contract. Additionally, defenseman Aidan Fulp (NYI) also recently signed an NHL deal. The crafty winger was one of college hockey's most productive freshmen. McAllister had 49 points, which ranks sixth in the NCAA.
McAllister has high-end vision and good offensive instincts. His size and skating are in the below-average category, but he thinks the game at an especially high level which allowed him to dismantle defenses at the NCAA level. The 21-year-old is listed at 5-10, 183. He has some tenacity to his game, but is best in space and knows how to maximize the time and space he has to make smart plays.
Congratulations to Ryan McAllister on an incredible first season in the NCHC! He's been named to the NCHC All-Rookie Team! #BroncosReign pic.twitter.com/lcGcHUNyCO

— WMU Hockey (@WMUHockey) March 7, 2023
A pass-first player, McAllister racked up 36 assists which tied him for third in the NCAA. At one point, he appeared on a pace that would rival a number of recent high-scoring freshman campaigns of recent memory, however, McAllister's hot streak ran a little cold in the second half of the season.
If he's going to make it, it's likely in a middle-six depth scoring role. McAllister had drawn interest from NHL clubs last summer when he put together the highest scoring season in the AJHL in nearly 40 years with 139 points for the Brooks Bandits in 2021-22. When he proved himself further against college opponents, playing in one of the nation's toughest conferences in the NCHC, the interest only grew more widespread. The Panthers have a good depth piece for their organization and if nothing else, he'll help their AHL club in the near term with a chance to carve out a role with the big club.
Aidan Fulp, D, Western Michigan (NYI) -- March 31
The New York Islanders landed two of the better remaining defensemen in the free agent market that thinned out quickly. Fulp is a bit of a throwback defenseman who defends especially well, keeps a tight gap and can lower the boom when needed. He also makes a good first pass, but no one would confuse him with a dynamic puck mover.
Some nice passing leads to the @aidanfulp goal to tie the game! #BroncosReign pic.twitter.com/PZdIZZ00xD

— WMU Hockey (@WMUHockey) March 4, 2023
Fulp is 23 years old, comes in at 6-foot-3, 209 pounds. He uses that frame to his advantage and skates well enough to close quickly on opposing forwards. He didn't make my top free agents list, but it's not hard to see why teams were interested in Fulp after his three seasons at Western Michigan. There's still space for heavy defenders in the NHL.
Part of two NCAA tournament teams at WMU, Fulp had 13 points in 2021-22 and 15 in 2022-23. He could have returned for his senior season, but with a number of other NCAA free agents moving on, might as well strike while the iron is hot. Fulp projects as a bottom-pairing possibility down the road, but more conservatively ends up being more organizational depth. He's worth an ELC to find out where that ceiling ultimately is.
Travis Mitchell, D, Cornell (NYI) -- March 31
I've always thought Cornell plays NHL-playoff style hockey where defense is at a premium and they'll out-big the more skilled, quick teams. That is part of what makes Mitchell so intriguing as a defensive add for the New York Islanders, who also added another top defender in Aidan Fulp on the same day.
Mitchell has the size to play the heavy style that is such a hallmark of Cornell Big Red hockey. It will serve him well as he tries to make it to the NHL. At 6-foot-3, 201 pounds, Mitchell wins his share of battles at the net front and along the walls. He makes intelligent decisions with the puck and showed a little more offensive upside this season. He had six goals and 19 points, which was a career best.
The captain called it 🤩

Travis Mitchell scored to make it 6-3 in the second period and the Big Red kept it going, cruising to an 8-4 victory over American International.#ECACHockey x @CornellMHockey pic.twitter.com/H15FCblr0D

— ECAC Hockey (@ecachockey) December 30, 2022
Mitchell missed an entire year of hockey due to the Ivy League shutting down athletics for 2020-21, but it did not seem to deter his development. Mitchell has a chance to be a low-lineup defenseman who is used in tough matchups and can play on the PK. He's not an exciting prospect, but he has NHL traits which is why multiple teams were in on him as a blue line option.
Ondrej Pavel, C/W, Minnesota State (COL) -- March 30
The Colorado Avalanche have stuck again as Pavel is the third college UFA the club has signed in the last 24 hours after adding high-scoring winger Jason Polin Wednesday and crafty right-shot defenseman Sam Malinski earlier Thursday. Now they've signed big Ondrej Pavel out of Minnesota State.
On my early-season UFA watch list, Pavel was on it. My more recent list, he was relegated to the "other notable free agents" but that's largely because his numbers kind of tanked this year. That said, I still have a lot of admiration for the player and how he plays the game. Scoring was never going to be what got NHL teams interested in him. While he does have some skill, Pavel's value lies in his size, ability to close on pucks and play a heavy game. He has good feet, a nose for the puck and he plays every shift hard.
Ondrej Pavel pushes the @MinnStMHockey lead to 5-2 in the 3rd!

Watch live on @FloHockey
💻: https://t.co/WoFCBfU2EN #CCHAHockey | #MasonCup pic.twitter.com/GUas3S2LcF

— CCHA (@CCHAHockey) March 12, 2023
Pavel is a unique talent in that he does so many little things well and his game has plenty of nice detail to it. He just can't finish. He had six goals and 15 points in 39 games this year after a 22-point campaign as a sophomore. Yet every game I watched of Minnesota State over the last two years, I came away noticing Pavel most times he was on the ice.
He is an incredible forechecker and puts pressure on opposing players quickly. He closes on pucks incredibly well. Then he has the frame to take his opponent off of it. His skating is good enough and he packs a lot of strength onto his 6-2, 205-pound frame.
Pavel projects as a bottom-of-the-lineup, grind-it-out forward. He'll score the odd goal and he'll challenge defenders, but he's never going to be a scoring champion. I thought he might go back for one more year of school to try to find his scoring touch, but tough to turn down an NHL offer from the defending champs. I think this is a nice, under-the-radar pickup for Colorado.
Sam Malinski, D, Cornell (COL) -- March 30
The Colorado Avalanche continue to replenish their prospect pool with college free agent signings and made another big pickup on Thursday. Malinski was one of the three most coveted defensemen available in this undrafted free agent market with Jake Livingstone and Akito Hirose being the other two. The Cornell captain has been through a lot in these last few seasons, so it's nice to see him rewarded with an NHL deal.
In Malinski's freshman season, Cornell was one of the top teams in the country and a legit national title contender. Then the pandemic shut down the college hockey postseason before the Big Red could actually challenge for the title. Then his sophomore year was wiped out as the Ivy League stayed shut down during the 2020-21 season. Malinski was too old to return to junior hockey and had to sit out that entire year. But he had great performances in his junior and senior years and NHL interest really picked up this year.
Another game, another point for Sam Malinski.

The senior defenseman opens the scoring against Dartmouth with a power-play goal to extend his point streak to seven games!

📺: https://t.co/TZ0JLYTJCV#YellCornell pic.twitter.com/DdpiIwK6zj

— Cornell Video (@CornellVideo) January 28, 2023
The 24-year-old is an intelligent puck-moving right-shot defenseman. He doesn't have amazing skating ability and is somewhat below average in size for defensemen, but his hockey sense and awareness are high-end traits. Malinski also has a good shot from the point and gets it off effectively. His ability to see through the layers of the opposing defense to find the best option is one of the things that stands out when watching his play.
While he isn't an explosive skater, he does have some deceptive footwork and uses his edges well to escape pressure. Meanwhile, at 5-11, 190, he actually plays pretty sturdy defense. He uses leverage well and can win puck battles. Meanwhile, he rarely allows himself to get out of position.
Odds are Malinski is organizational depth with a chance to grow into a NHL call-up and maybe even perhaps an everyday fifth or sixth defenseman. Should Colorado need to shore up their blue line in the next few seasons, Malinski gives them a cheap option to plug in.
Jake Livingstone, D, Minnesota State (NSH) -- March 29
One of the top free agents on the market is headed to Music City as Nashville announced they've signed Jake Livingstone. The 6-foot-3, right-shot defenseman has been pursued by NHL teams going back to his freshman season at Minnesota State and he's only gotten better since then.
Livingstone is an offensive-minded defenseman who was among the top scorers for the Mavericks this season with career-best 34 points. He also can throw around his weight, playing a physical brand of defense. Livingstone has the puck on his stick a lot, and while he's often very effective with it, doesn't always make the best decisions. That said, he has the reach and confidence with the puck on his stick to often get himself out of trouble when under pressure.
Jake Livingstone's second of the year gives No. 5 @MinnStMHockey a 3-0 lead after one! #CCHAHockey pic.twitter.com/Cx1yneHbXZ

— CCHA (@CCHAHockey) October 15, 2022
Teams were intrigued by Livingstone for years because of his big frame and his being a right-shot defenseman with some offensive upside. His numbers have gone up in each of the last three years and he was near a point-per-game with the Langley Rivermen in the BCHL in his final year of junior hockey.
Livingstone will turn 24 in April, which makes him on the older end for college free agents. However, Nashville has a strong track record of developing defensemen and I could see Livingstone fighting his way into their lineup at various points next season. The most likely scenario for Livingstone is a depth defenseman on the NHL roster and possibly an option on the power play. He'll need some time to get up to NHL pace, but he has a lot of the tools teams covet in undrafted free agents.
Jason Polin, LW, Western Michigan (COL) -- March 29
After landing top college free agent Ben Meyers from Minnesota last season, the Colorado Avalanche landed one of the most highly-regarded free agents this year in Jason Polin. With 30 goals this season, Polin's college hockey season ended with him on top of the NCAA's goal-scoring list after a major breakout season with Western Michigan.
"His consistency, his repeatability, his leadership, his everyday approach, his professionalism. All those things are Jason Polin in a nutshell."

No better choice for the @HobeyBakerAward than Jason Polin!#BroncosReign | #Pol1n4Hobey pic.twitter.com/LzDUUiLpgu

— WMU Hockey (@WMUHockey) March 28, 2023
Playing on WMU's top line, Polin was the primary finisher. He had 30 goals while taking 152 shots on net, which ranked second in the NCAA. He had increased his career-best in goals and points by 14 and 21, respectively. The 23-year-old got an elevated role and made the most of it. Teams sometimes worry about players with one massive production season over a four-year career, but Polin was also once a 50-point scorer in the USHL, so there's a little more track record there.
Polin is more likely going to make the NHL in a depth role where he provides secondary scoring. He skates well enough, has a heavy shot and knows how to get himself into good positions to score. There isn't any one tool that jumps out about Polin, but he plays the game with a good work ethic and is a high-character player as well. Roster spots will be scarce, but he can endear himself to the organization by finding a decent depth role at an especially affordable cap hit for the team.
Polin was the NCHC player of the year and is a top-10 finalist for the Hobey Baker. He will likely be an All-American when that is announced next week.
Akito Hirose, D, Minnesota State (VAN) -- March 29
The Vancouver Canucks continued their aggressive push into the college free agent market by landing one of the top defensemen available in the class with 23-year-old junior Akito Hirose. A tremendous skater who moves pucks effectively and defends well, Hirose has been pursued by NHL teams since his impressive freshman season with Minnesota State. In each of the last two years, he opted to return to school and the market for his services did not fade.
A former standout with the Salmon Arm Silverbacks, Hirose had 51 points from the blue line in his last year in the BCHL. Over three years in college, he proved his puck moving bona fides and improved his play in his own zone with each passing year. Hirose relies a lot on his feet to help him at both ends of the ice. He can skate pucks out of trouble, change direction quickly and he always seems to find a good outlet to get the puck up ice.
He never had earth-shattering numbers at Minnesota State, finishing this season with a career-best 27 points in his junior season -- just one point better than his sophomore campaign. That said, Hirose became increasingly relied upon in all situations by Minnesota State. He became tougher to play against in his own zone and helped his team often win the possession battle when he was on the ice.
Akito Hirose breaks the tie in the third 🔥 pic.twitter.com/gQa4XJYnwk

— Minnesota State Hockey (@MinnStMHockey) January 22, 2023
As an NHLer, he's a bit tougher to project. He's an average-sized defenseman who probably needs to continue to add strength to be an effective pro. His skating ability is absolutely NHL-quality and he thinks the game at a high level. Those two factors give him a chance to be a solid depth defenseman down the line. I'll be most interested to see how his game translates first to the AHL and see where he lands from there, but there's a reason why teams have pursued him for each of the last three seasons and I'll look forward to seeing the next step for him.
Max Sasson, C, Western Michigan (VAN) -- March 26
The Vancouver Canucks were expected to be aggressive on the college free agent front and they made their first signing official Sunday morning. Sasson, 22, signed a two-year entry-level deal that won't start until next season. He is going to join the Abbotsford Canucks in the AHL for the remainder of the season.
Sasson is a speedy two-way forward that plays an honest, detailed game. He also saw a massive uptick in production this year, going from 22 points as a freshman to 42 points as a sophomore while centering Western Michigan's top line, which was one of the nation's most productive, with Ryan McAllister and Jason Polin. All three players are expected to get NHL deals.
.@WMUHockey with the game-winner in OT! What a finish! pic.twitter.com/2tPO2TfDsU

— CBS Sports Network (@CBSSportsNet) February 4, 2023
While Polin and McAllister were the more skilled players on the line, a lot of their success was driven by Sasson, who hunted pucks, made good plays in his own zone and brought speed through the neutral zone to open up space for both of his linemates. Sasson is 6-foot-1 and sturdy, which made him hard to knock off the puck and good at getting it away from the opposition. That's why I feel pretty strongly that he's going to find a way to carve out a role in the NHL, albeit lower in the lineup. He does so many little things well and even going back to his USHL days, he's made his teams a lot better when he's on the ice.
Parker Ford, C/W, Providence College (WPG) -- March 25
The Winnipeg Jets had major interest in Parker Ford for some time and sources indicated to me there was an offer on the table for him to sign last offseason. Winnipeg's patience paid off.
Ford is a gritty player who gets in hard on the forecheck, plays with a high motor and has good defensive sense. At 5-foot-9, Ford's lack of offensive pop was a major reason he did not get drafted. It's still a concern regarding his overall NHL prospects, but he does more than enough off the puck to create some value. Despite the size, he's also physically quite strong, which makes him harder to take off pucks and allows him to dispossess opponents frequently. His ability to close on pucks is one of his better attributes and he's often been an asset on the penalty kill.
Unreal effort by Parker Ford to split the D and finish for his seventh of the season and our fifth shorthanded goal of the year! Craig Needham earns an assist.https://t.co/Vh8XM1NGi8 pic.twitter.com/XPGYA04asC

— PC Men's Hockey (@FriarsHockey) December 31, 2022
Ford was a standout in the USHL with the Sioux City Musketeers, has been a good college player and even made Team USA at the World Junior Championship in 2020. He finished his NCAA career with 94 points in 131 games with Providence.
Ford is no sure bet to reach the NHL, but he has a chance to carve out a role for himself and endear himself to coaches quickly with his work ethic, his defensive commitment and being able to provide just enough offensively to get him by. We'll see where it all ends up.
Carl Berglund, C, UMass-Lowell (EDM) -- Marc 23
Berglund wasn't a player that was high on my radar for an NHL contract, but he checks a lot of boxes. Notably, he's 6-foot-2 and over 200 pounds. He plays a heavier game, has a good stick and he also has a pretty heavy shot. Much of his success comes from the interior as he's able to get to the middle of the ice and make himself a dangerous option in the offensive zone. He can throw his weight around, too, which will help him establish himself a bit better as a pro. Berglund won an awful lot of puck battles during his time with Lowell.
Player of the Week: Carl Berglund @RiverHawkHockey pic.twitter.com/Q4vqtid5sX

— Hockey East (@hockey_east) March 8, 2022
He's got some decent tools, but I don't think he'll be much of a potent scorer as a professional. While he doesn't have great skating ability, he does think the game quite well and puts himself in good positions. He could top out as more of organizational depth, AHL-NHL tweener with a chance to get called up for a low-lineup role on occasion.
Hunter McKown, RW, Colorado College (CBJ) -- March 20
The Blue Jackets landed one of the top players in the undrafted free agent market. McKown scored 21 goals this season as the CC Tigers made it to the NCHC Tournament championship game. He played a key offensive role for the team, leading the low-scoring squad with 28 points in 38 games. At the time of his signing, he was one of just 17 players across NCAA hockey to have scored 21 or more goals with 21 this season. He's been on a rapid ascent over the last two years, looking more like the classic late bloomer that finds their way onto an NHL roster after not garnering much NHL interest when they were draft eligible.
What makes McKown unique among the class of college UFAs is his age. At just 20 years old, he's just past draft eligibility. Most college UFAs come in at 22-24. So the Blue Jackets signed a player that is ascending in his development and still has plenty of time to reach the elevated ceiling he's shown over the last two years.
Power-play goal from the left circle by Hunter McKown. Sounds familiar!#CCTigers pic.twitter.com/mQATMWso5O

— CC Hockey (@CCTigerHKY) March 17, 2023
McKown's stock rose rapidly after he made the summer World Junior Championship roster for Team USA. He saw time on the power play and showed the added strength and skill that never was plainly evident earlier in his career. His offensive instincts look strong and he's got the physical tools to handle professional defenders. Columbus landed one of the players I'm most intrigued by and I think he could really push players internally for more NHL time in the near future. This is a nice pickup for the Blue Jackets organization as they look to rebound from an abysmal season on the ice.
Anton Malmström, D, Bowling Green (STL) -- March 8
Malmström had generated buzz over the course of the season thanks in large part to his big frame and ability to defend at a high level. He has little to no offensive upside, however, which makes me skeptical there's an NHL future for him. Malmström, at worst, will provide a steady presence on the back end at the AHL level. With his size and skating ability, he gives himself a chance to be a little more than that. It's just very rare to see a defenseman with his statistical profile reach the top level.
Goal Six:
🚨Anton Malmstrom (2)
🍎Adam Pitters
19:55 of the 2nd period
6-4 BG#SweepLake #TwitterlessAnton @Am_Pitters21 (7/8) pic.twitter.com/TREodQ46qR

— BGSU Hockey Fans (@BGHockeyFans) December 3, 2022
Will Zmolek, D, Bemidji State (PHI) -- March 8
Will Zmolek is a big defenseman who saw his offensive game tick up the last few seasons. He makes a good first pass and plays a very steady defensive brand of hockey. There's physicality to his game and some toughness as well. His dad Doug Zmolek played in the NHL and the apple doesn't fall far from the tree here in terms of style. Zmolek is not the kind of player that gets you super excited, but he's definitely worth an NHL contract to find out what else he can unleash in his game. At 6-foot-3 and close to 200 pounds, it's easy to see why an NHL team had a deal waiting for this right-shot defenseman. His four-year development arc at Bemidji certainly showed he's improved year over year.
Will Zmolek goes off the bar and in for a short-handed goal and we're tied at 1!

2:15 left in the 1st.#GoBeavers #BeaverTerritory pic.twitter.com/9fzlHoBcN5

— Bemidji State Men's Hockey (@BSUBeaversMHKY) February 26, 2023