NCAA DI Men's Hockey
Top College Free Agents Eligible To Sign With NHL Teams in 2023
Top College Free Agents Eligible To Sign With NHL Teams in 2023
Jake Livingstone and Hunter McKown are among the top NCAA free agents that NHL teams will be after this spring.
Mar 7, 2023
by Chris Peters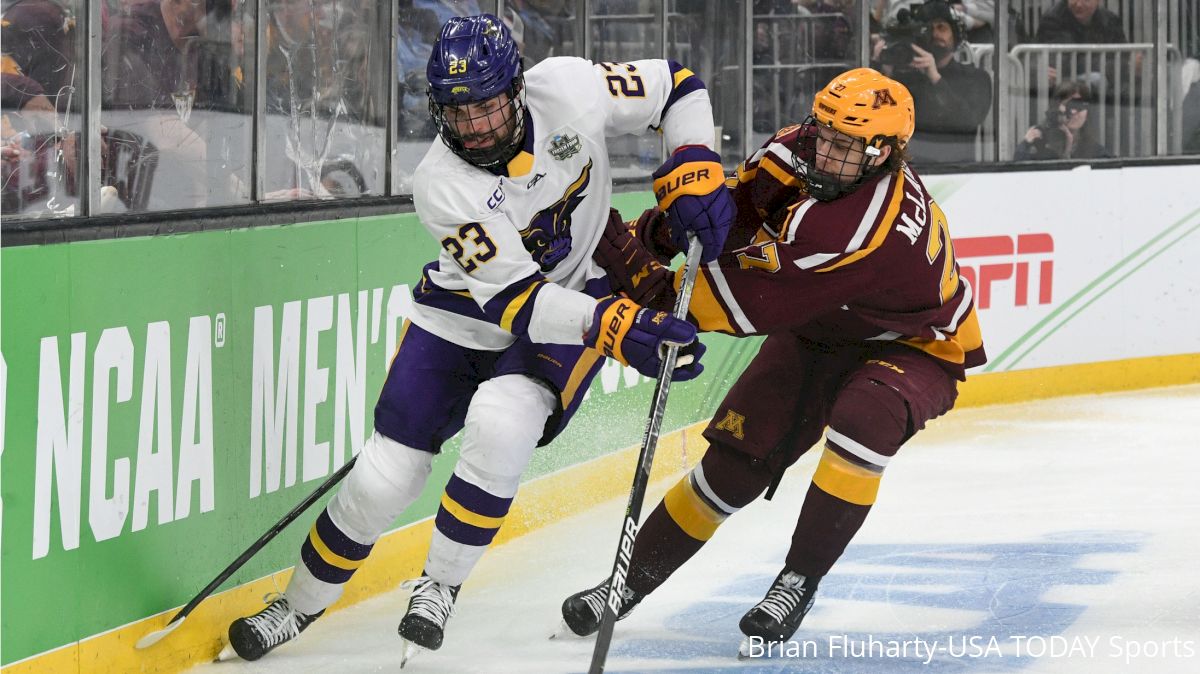 Every year, NHL teams do a lot of homework on undrafted players. The best-case scenario is mining a gem that becomes an impact player for your team. In most cases, however, the undrafted free agent is going to provide some organizational depth with a player that at least has a chance to crack the NHL roster.
If you paid attention to the NHL trade deadline, seeing draft picks traded like GM's were giving away candy on Halloween, you'll know some teams are going to have some needs. Undrafted free agents are really good at filling gaps in prospect systems. They're further along in their development and have a little bit more of a known quantity to them. Meanwhile, others may even have the upside to be more valuable than any of the draft picks that were sent away.
This year's free agent class, among Europe, CHL and college is a little bit underwhelming compared to previous years. There's still value to be had and players that can make an impact, but some teams may wait for players on expiring draft rights to become available later in the summer before pouncing.
With several teams seeing their college seasons end this weekend, college free agent season is under way. In fact, the St. Louis Blues already started things off by signing big defenseman Anton Malmström from Bowling Green State University. So before anyone else gets snapped up, I wanted to give you a sampling of some of the players that will be getting the most interest. Keep in mind, this is not a comprehensive list, but as good a collection as I can muster based on what I've been hearing about players garnering the most interest.
Jake Livingstone, RHD, Minnesota State
A 23-year-old defenseman who has been pursued by NHL teams for each of the last three seasons, Livingstone is a strong offensive performer with size and good mobility. He's second on his team in scoring with 30 points. He defends well on top of producing, and can be a weapon in transition.
The right-shot defenseman comes in at 6-foot-3, 205, so he has the size NHL teams are interested in. On top of that, he's got some track record with two 30-plus point seasons in college hockey and good numbers from his junior days in the BCHL. He likely tops out as a bottom-pairing defenseman, but there's a lot to like in his game.
Jake Livingstone's second of the year gives No. 5 @MinnStMHockey a 3-0 lead after one! #CCHAHockey pic.twitter.com/Cx1yneHbXZ

— CCHA (@CCHAHockey) October 15, 2022
Hunter McKown, RW, Colorado College
A real late bloomer, McKown went through the National Team Development Program but didn't look like much of a prospect while there. That has drastically changed in his three years at Colorado College. Now 6-1, 205 pounds and skilled, McKown has developed into a legitimate scoring threat. He has 19 goals so far this season on a team that has really struggled to score. The one red flag in those goal numbers is that 12 of those tallies have come on the power play.
Despite the lack of five-on-five scoring, he's involved in every game and every time I've watched him this season, he's stood out. He's involved in all zones and with that scoring touch he does possess, there's reason to believe he has more offense he can tap into.
🚨 potential goal of the year by Hunter McKown 🚨 pic.twitter.com/t5GsUrAHff

— EVERYTHING COLLEGE HOCKEY (@TeamECH) December 10, 2022
McKown turned heads when he made the U.S. National Junior Team for the rescheduled 2022 World Juniors. He held attention with his play this year and should have a number of offers in front of him should he decide to leave a year early. He has the frame and the hands that give him a chance to be a productive player at the top level, if put in the right situations.
Victor Östman, G, Maine
Maine has been a goalie factory over the years with the likes of Jimmy Howard, Ben Bishop and Jeremy Swayman among the most recent graduates from Maine to the NHL. Östman has had a tremendous junior season for the Black Bears. He has a .919 save percentage and five shutouts for a Maine team that has managed to move closer to the middle of the pack after a few years near the basement.
Ostman has the size NHL teams covet at 6-4, 205. He's shown refined skills this year and at 22 years old, still has plenty of development runway ahead of him. There aren't a ton of goalies that are especially enticing in this year's college UFA market, which may increase interest in him though he still has the option to return to school.
UPDATED, Mar 17: Östman has stated his intentions to return to school for the 2023-24 campaign, which will take him off the market for this season. Teams are expected to maintain their interest through next season, however.
Sam Malinski, RHD, Cornell
There has been some late buzz on Malinski who is having a tremendous year with Cornell. The 24-year-old has a career-best eight goals and 25 points so far this season for the Big Red. He lost a full year due to the Ivy League schools not playing in 2020-21, but he's an older player with good skill and mobility from the back end. His skating and overall footwork are advanced. He's below average in the size department, but he's a right shot defenseman with skill and those guys will always have a market and Malinski has grown his with a standout season.
Another game, another point for Sam Malinski.

The senior defenseman opens the scoring against Dartmouth with a power-play goal to extend his point streak to seven games!

📺: https://t.co/TZ0JLYTJCV#YellCornell pic.twitter.com/DdpiIwK6zj

— Cornell Video (@CornellVideo) January 28, 2023
Riese Gaber, RW, North Dakota
An absolute spark-plug of a player, Gaber has won a lot of fans across the game because of his unrelenting motor every shift he plays. At 5-foot-8, he doesn't have much choice but to work hard. Every step of his career, however, he's been productive. He has a career-best 19 goals this season for UND, which has struggled throughout the season. Gaber has that work ethic that you want every player on your team to have and he's been beloved by coaches and teammates wherever he's been. Having eclipsed 50 points twice in the USHL and being a productive college player, he's going to find an NHL deal somewhere.
Akito Hirose, LHD, Minnesota State
A brilliant skater with good vision and offensive instincts, Hirose has had NHL interest after each of his three years at Minnesota State. The 23-year-old blueliner has always been a productive player dating back to his time in the BCHL. At Minnesota State, he's become a better defender, but it still isn't a strength of his game. That said, his mobility is going to go a long way for him and he clearly has the intelligence to play at a higher level.
Akito Hirose breaks the tie in the third 🔥 pic.twitter.com/gQa4XJYnwk

— Minnesota State Hockey (@MinnStMHockey) January 22, 2023
Ryan McAllister, RW, Western Michigan
Coming into his freshman season, McAllister had the highest-scoring season in the AJHL since the 1980s with 137 points. This season, he's been among the top scorers in college hockey with 45 points so far. He had NHL interest even after last season, but has now proven himself against even better competition which has made more believers in him. He's an incredibly intelligent, crafty offensive player who lacks size, but has a good feel for how to create offense. McAllister doesn't necessarily have to sign, but the interest in him is more widespread than it was for him coming out of junior.
Austen Swankler, C, Bowling Green
Swankler is one of the more unique cases as he played a full year in the OHL before regaining his college eligibility. This season, he was among the nation's top scorers with 44 points in 35 games for Bowling Green. The Falcons' season just ended in the first round of the CCHA playoffs, so Swankler could be available to sign.
He still has plenty of NCAA eligibility left, but he's an average-sized, highly-skilled player who has good feel in the offensive zone and can make a lot of plays. His skating is OK, but he processes the game at a pretty good pace. I would expect him to have a few offers this year.
Austen Swankler scores for his 40th point of the season! @BGFalconHockey strike first in Houghton.

Watch live on @FloHockey
💻: https://t.co/WoFCBfU2EN #CCHAHockey pic.twitter.com/FXSUuGpp16

— CCHA (@CCHAHockey) February 11, 2023
Parker Ford, C, Providence College
Ford had an NHL deal on the table last year, but opted to come back for his senior season. He's two points off of his career-high of 27 points that he hit last season, but Ford's value on the market isn't necessarily as a scorer.
A gritty, two-way forward with the ability to play in tough matchups allowed Ford to get some NHL attention. He's a former U.S. National Junior Team player, having skated in the 2020 World Juniors. He won't have a big market, but there are teams that like his effort and energy level that could lead to his playing a depth role down the line.
Jaxon Nelson, C, Minnesota
A 6-foot-4, right-shot center is going to get a lot of interest on the open market. Teams have been sniffing around on him for the last two years. Now a senior, Nelson is having a career year on the nation's best team. That said, his numbers are still low for the players that typically get contracts and become impactful UFAs. He has 21 points so far this season. He has a good-enough defensive game, but there are still some overall concerns about his hockey sense and his feet. Still, big centers are hard to find and there will definitely be a few teams out there that want to give him a chance at the pro level.
Jason Polin, LW, Western Michigan
The leading goal scorer in college hockey this season, Polin is breaking out in a major way in his senior season. With 29 goals, he has matched the highest goal-scoring season in NCHC history. His 45 points make him a top-10 scorer in the country, too. Polin is average sized with good strength and has that big shot that teams should be interested in. He was a productive junior player, too, which always helps the cause of a college free agent. It shows this season wasn't a fluke and has he ever been impressive this season.
The @NCAAIceHockey goal leader is at it again! 🎯

Jason Polin's 2⃣8⃣th snipe of the season is now second in #NCHChockey single-season history (one behind Josh Archibald's record of 29 in 2013-14)

📺: https://t.co/ZyUdpPaF0J @WMUHockey // #BroncosReign pic.twitter.com/TnqAihmqSd

— The NCHC (@TheNCHC) March 4, 2023
Max Sasson, C, Western Michigan
Sasson could go back for another year at Western, but he's had two strong college seasons that have caught the attention of NHL scouts. He's a fast two-way center with an aggressiveness and some grit to his game. He's averaging better than a point per game this year and can play in every situation. I wouldn't be shocked to see him go back for one more year at Western, but he's built up some nice buzz for himself and has shown through his USHL career and first two NCAA years that there's something there.
T.J. Hughes, C, Michigan
Hughes is lower on this list because I'm not sure he's going to sign right away. That said, there's going to be some offers out there for him. The No. 2 center behind Adam Fantilli, Hughes has been an integral piece for Michigan. The 21-year-old is just under a point per game, but plays a quick, aggressive style that draws a lot of attention. He's also got good hands and can make defenders miss. Last season, he put up 66 goals and 127 points in the AJHL. If he returns for another season, I think he could make for an even bigger market for his services next season.
Collin Graf, RW, Quinnipiac
Graf is currently the second-leading scorer in the NCAA with 49 points. He transferred from Union College where he had a productive freshman season and landed himself with one of the top teams in the country. His game really opened up. What makes Graf a little more intriguing is that he's pretty young for a college UFA, as he won't turn 21 until next September. There's nothing to suggest he's coming right out this year, but the big season has drawn attention.
He's a smart player who makes good decisions with the puck. Graf has quick hands that gives him an ability to snap passes around and a good release on his shot. To be frank, I think he probably still needs more time to bulk up. He's an average-sized player, but still does a good job of getting inside against college defenseman. That will be tougher at the next level. Whether it's this year or next, Graf has made a strong case for himself to get a contract.
Jacob Bengtsson, LHD, Lake Superior State
Bengtsson has been a player that has drawn interest before, but Lake State had a really tough year. As a result, Bengtsson's number dipped a bit this year. Still at 6-foot-3, 203 pounds, he has the size and the skating ability that makes it look like he has a chance. I don't think there will be a large market for him, but I could see a number of NHL teams inquiring.
Jacob Bengtsson has been named the CCHA Defenseman of the Week. The alternate captain assisted on three goals this weekend, including the GWG Saturday night. Congrats, Jacob!https://t.co/J3qqFgheEt pic.twitter.com/G1UVDm9X1m

— Lake State Hockey (@HockeyLSSU) January 30, 2023
UPDATED Mar. 17: Bengtsson entered the transfer portal last week and appears poised to spend a fourth season in college hockey. It is believed he has already selected his next destination for his final collegiate season.
Other notable college UFAs
Luke Krys, D, Brown
Luke Pavicich, G, UMass
Zach Metsa, D, Quinnipiac
Ryan Siedem, D, Harvard
Gustavs Davis-Grigals, G, UMass-Lowell
Ryan Bischel, G, Notre Dame
Zak Galambos, D, Western Michigan
Ondrej Pavel, C/W, Minnesota State
Ondrej Psenicka, LW, Cornell
Dylan Anhorn, D, St. Cloud State