Men's Big Ten Hockey
NHL Trade Analysis: Kings Acquire Michigan Goalie Erik Portillo
NHL Trade Analysis: Kings Acquire Michigan Goalie Erik Portillo
The Los Angeles Kings acquired goalie prospect Erik Portillo from the Buffalo Sabres. FloHockey prospect analyst Chris Peters breaks down the deal.
Mar 2, 2023
by Chris Peters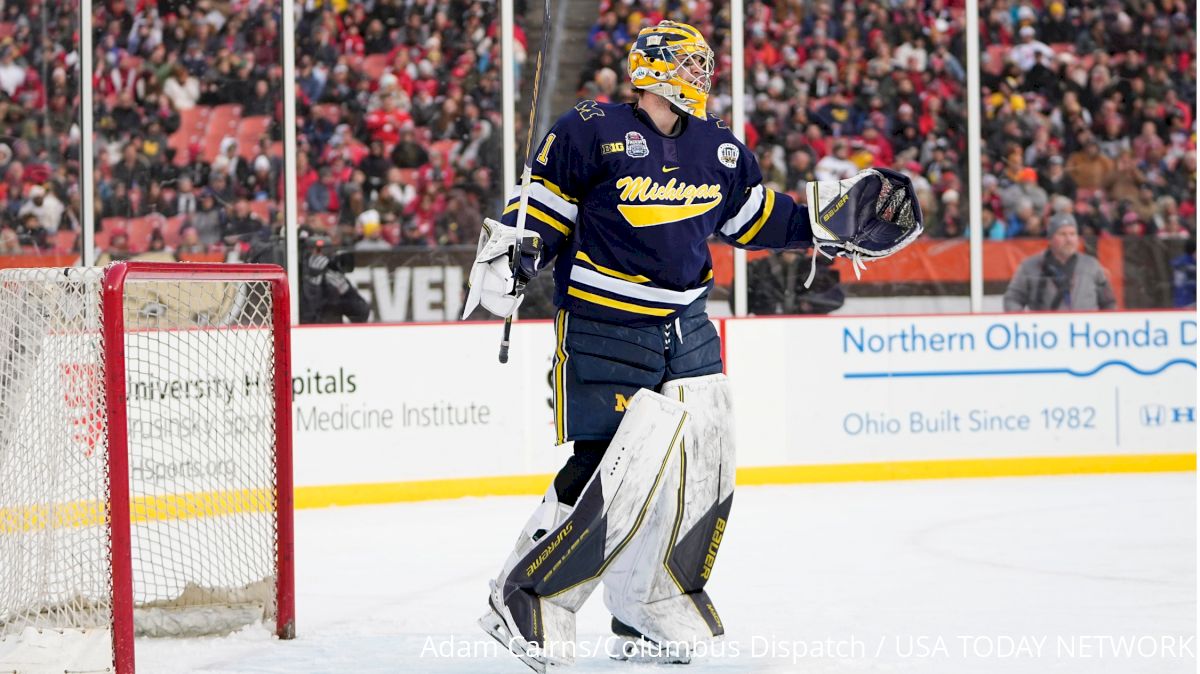 The Los Angeles Kings shocked the hockey world when they traded Jonathan Quick, their Stanley Cup goalie and one of the faces of the franchise for the last decade. The goaltending position has been a sore spot for a team on the rise and while Los Angeles has brought in a lot of young players in recent years, they had not yet adequately addressed their future in net.
They at least started to look more at that position Wednesday as the Kings acquired the draft rights to University of Michigan goalie Erik Portillo from the Buffalo Sabres. Portillo is eligible to become a free agent on Aug. 15 if he does not sign as his draft rights are due to expire this year. So Los Angeles traded a third-round pick in 2023 strictly for the negotiating rights. Should they fail to sign Portillo, they get nothing.
We have acquired the rights to goaltender Erik Portillo from the Buffalo Sabres in exchange for a third-round pick in the 2023 NHL Draft.#GoKingsGo

— LA Kings (@LAKings) March 1, 2023
This was the second trade in as many days where a team spent a draft pick to acquire an NCAA-based prospect with expiring NHL Draft rights as the San Jose Sharks acquired Harvard defenseman Henry Thrun for a 2024 third-round pick Monday.
Portillo was unlikely to sign with Buffalo, which already has a number of goaltending prospects in their pipeline that may have been ahead of him on the depth chart -- namely Ukko-Pekka Luukkonen and Devon Levi. Rather than lose him for nothing, GM Kevyn Adams struck a deal with the Kings to ensure they got some compensation.
Ironically, the Sabres once lost goaltender Cal Petersen for nothing when he allowed his draft rights to expire before ultimately signing as a free agent with the Los Angeles Kings. For a time, Petersen looked like the Kings' goalie of the future, but in the last few years has failed to take the reins and was sent to the American Hockey League earlier this season.
I would be surprised if Portillo does not ink a deal with the Kings. He does have the option of signing with a number of other teams that would surely offer him an NHL contract, but I don't think his decision to not sign with Buffalo was inspired strictly by a desire to have options. I think it was more about opportunity and Los Angeles has plenty of that. The Kings have fewer goalies in the way of Portillo's NHL ascent with only Petersen locked down to a long-term contract and none of their current prospects seizing their opportunities at lower levels.
Erik Portillo made this @umichhockey save in a split second! 💥 pic.twitter.com/6FM1Kgsm3e

— Michigan On BTN (@MichiganOnBTN) November 12, 2021
The key factor for Portillo is to go to a place where he's going to get ample reps at the AHL level and continue on his development. The Kings can offer that in a way that Buffalo certainly could not given their other goalies on the depth chart.
Portillo still has at least a month of hockey left at Michigan. The Wolverines are currently among the top teams in NCAA hockey and a mortal lock for the NCAA tournament. With the Kings in the playoff picture, they may not be able to offer Portillo the opportunity to play in NHL games this season which would burn a year off of his entry-level contract. All that is, is an extra enticement to get him to forgo free agency, but I doubt that will be a deal-breaker in this particular situation.
Per the collective bargaining agreement, the Kings will have until the later of 30 days after he is no longer a bona fide college student or June 1 to sign Portillo. If he does not sign, any team will be free to sign him on Aug. 15. Los Angeles will retain his rights if he elects to return to Michigan for his senior season, but Michigan just picked up a goalie commit for next season as most assume Portillo will exit after his junior campaign.
Should Portillo sign with the Kings, what exactly are they getting?
Erik Portillo snaps this one up#GoBlue pic.twitter.com/OzErRtvs4w

— Michigan Hockey (@umichhockey) January 28, 2023
Portillo is a 6-foot-6 goaltender with quickness and flexibility. He has a lot of the physical traits teams are desperate for in their goaltending prospects. He also has a pretty solid track record.
Born and raised in Sweden, Portillo came up through the vaunted development system with Frölunda, playing up into their U20 ranks before moving to North America and playing for the USHL's Dubuque Fighting Saints. In his one USHL season, Portillo was a first-team all-star and the league's goalie of the year. He moved on to Michigan where he platooned with Strauss Mann in his freshman campaign before taking over as the No. 1 when Mann moved on the following season.
Portillo has been the No. 1 goalie for Michigan for the last two seasons. He backstopped the Wolverines to a Big Ten championship and went all the way to the Men's Frozen Four where they bowed out in the semifinals. Portillo had a .926 save percentage in 42 games as a sophomore.
This season, Portillo has seen his numbers dip while playing behind the nation's youngest team. He has a .906 save percentage in 31 appearances. Michigan has allowed an average of 33.5 shots against per game, eighth most in the country. So the defense has been a bit leakier in front of him in his junior campaign.
What makes Portillo special is also what can be his downfall. Sometimes he can over-rely on his athleticism and ability to stretch for saves in lieu of a more predictable technique. He can get a little too deep in his net at times and rebound control has been an issue in various spurts throughout his career.
The reason so many teams are interested in him as a prospect, however, is that he can do a lot with the big frame he has. There aren't any real mobility issues and he seems to track pucks fine. His hockey sense can leave you wanting at times as sometimes he makes the wrong read or makes a poor decision with his puck-handling. That said, he's one of the better puck-handling goalies in terms of pure puck skills for a goalie. There are flaws, but there's also a lot of correctable areas and he still has that game-saving ability that every big-time goaltender needs to possess.
There's a bit of rawness to Portillo's overall game yet, but at just 22 years old, he still has plenty of runway on his development. Working day-to-day with professional goalie coaches could go a long way for Portillo, especially since the Kings' set up has their AHL and NHL teams sharing the same practice facility. That gives him a lot of facetime with the decision makers and player development staff.
At the professional level, coaches want predictable goalies. Portillo isn't that yet, but he at least has a foundation of skills that could potentially get him there.
I have seen him live an awful lot over the last few years, including last weekend in Ann Arbor. The tools he has are tantalizing, but he still needs time. I'd imagine Los Angeles will still be in the market for a stop-gap goalie or perhaps they can get Petersen back on track. Either way, they won't need Portillo for a little bit and, if he signs, they can get him the opportunity he's going to need to play his way onto their roster.
The acquisition cost -- a third-round pick -- to acquire a young goalie that has the upside Portillo does, was a price worth paying. A lot of goalies get picked in the third round, including Portillo himself in 2019 when Buffalo took him 67th overall. There's probably a slightly better chance that Portillo works out compared to what would have been available to the Kings in the third round this year, which is why I think this was a gamble worth taking.