ECAC
NHL Trade Deadline: Breaking Down Sharks' Risk, Reward In Henry Thrun Trade
NHL Trade Deadline: Breaking Down Sharks' Risk, Reward In Henry Thrun Trade
Harvard's Henry Thrun could become a free agent on Aug. 15, but the San Jose Sharks swung a deal to get the coveted defenseman's negotiating rights.
Mar 1, 2023
by Chris Peters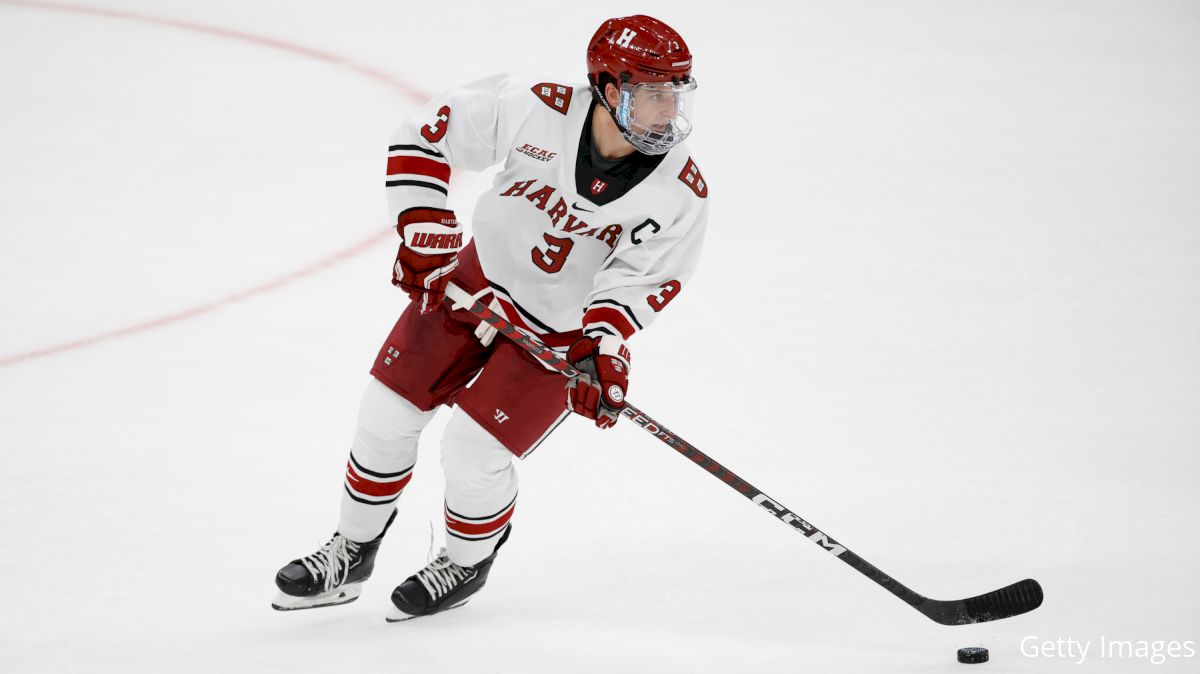 Amid all the blockbusters that have been flying around as the NHL Trade Deadline approaches, the San Jose Sharks made a deal that may not have resonated among the big names moved. San Jose traded a 2024 third-round pick to the Anaheim Ducks for the negotiating rights to collegiate defenseman Henry Thrun, who currently is the captain at Harvard University.
Thrun is one of several NCAA players this season that was drafted in 2019, but will have the option of becoming an unrestricted free agent on Aug. 15 should he not sign with the team that has his negotiating rights, which is now San Jose. This year's class of players with expiring draft rights is large and there is quite a bit of talent among them (more on that coming very soon on FloHockey).
San Jose decided to take a risk by sending a third-round pick – which is a pretty valuable asset around trade time – to see if they could convince Thrun to sign with them. The Harvard senior had made his intentions clear to Anaheim that he was not going to sign with them. In doing so, he allowed the Ducks to collect an asset rather than lose his rights for nothing on Aug. 15.
Coronato ➡️ Thrun ➡️ Tie Game.#GoCrimson | #OneCrimson pic.twitter.com/MnC0bpPnyI

— Harvard Men's Hockey (@HarvardMHockey) January 28, 2023
"While we are disappointed Henry chose to not sign with our club, we appreciate being notified of his intentions in advance of him becoming an Unrestricted Free Agent. We wish him the best of luck in his career," Ducks GM Pat Verbeek said in a statement released by the team.
Thrun is a puck-moving defenseman with good two-way capabilities. While he's a good prospect, the Ducks were already loaded up on the back end with young players like Jamie Drysdale, Pavel Mintyukov, Olen Zellweger on the way. Additionally, University of Minnesota defenseman Jackson LaCombe, who could have also allowed his draft rights expire, has already notified the Ducks he intends to sign. That's a lot of defensemen similar to Thrun that make it a lot tougher to find the ice time or role that matches up with his upside.
San Jose does not have close to the same level of depth. Though they did just add Shakir Mukhamadullin and Nikita Okhotyuk from the New Jersey Devils, which help, they still have plenty of holes to fill in their prospect system. They can offer Thurn a clearer path to the NHL than the Ducks can at this point.
That doesn't mean Thrun will sign, though. He can wait a few more months and pick wherever he wants to go. The line for his services would be long because he's a known commodity with clear NHL upside that can play for a team as early as next season.
The Sharks are gambling on their ability to recruit him away from free agency. Earlier mid-round picks have been the going rate for NCAA players with expiring draft rights.
Just last season, the Arizona Coyotes made two similar gambles with an incredible surplus of mid-round picks. They traded a second-round pick to Minnesota for Jack McBain, who had made it clear he would not be signing with the Wild. They then traded a fourth-round pick to acquire Nathan Smith's rights from the Winnipeg Jets. Both of those players signed.
In a higher-profile case, the Buffalo Sabres gambled and lost when Jimmy Vesey had made it clear he would choose the free agent route. Trying to jump the line for the Hobey Baker winner, then-GM Tim Murray traded a third-round pick to Nashville for Vesey's negotiation rights. Vesey never entertained that option and signed with the New York Rangers later that summer.
So it is possible the Sharks end up with nothing, but if he signs, they get better value than they likely would have gotten from the third-round pick.
Thrun turns 22 in March. He's a 6-foot-2, left-shot defenseman who skates well, but lacks burst. An intelligent puck mover with good vision and decisiveness with the puck on his stick, Thrun makes really good reads to find the best play. He can get pucks out of the zone with his feet or with a good first pass. Thrun is an expert in retrieving pucks and making quick, effective decisions under pressure. In the offensive zone, he has good touch and the ability to extend plays.
Thrun ➡️ Farrell

What pass and what a finish! Crimson up 4!
📺ESPN+ #GoCrimson | #OneCrimson pic.twitter.com/sJCSPe9qEy

— Harvard Men's Hockey (@HarvardMHockey) February 19, 2023
Selected in the fourth round in 2019 from the vaunted National Team Development Program 2001 birth year, Thrun has far exceeded the value typical of a fourth-round pick. While he has not yet played pro games, he projects favorably into an NHL blue line as an everyday player. He at least has the upside to play into a top four role as he has shown he can contribute offensively and is good at helping get pucks up to the forwards with regularity.=
Harvard has done a great job of developing NHL-caliber defensemen. Adam Fox and John Marino are two of the most recent examples. Thrun has been the big-minutes guy on the back end for the Cimson for the last few years. It should have him well prepared to be a contributor as soon as next season.
Though Thrun didn't go to Boston University like head coach David Quinn and general manager Mike Grier did, Thrun is a Massachusetts native and Quinn has had some success as a recruiter before. I would not be at all shocked for him to be involved in some way in the process of getting Thrun to sign.
✋ points for Henry Thrun!

The @HarvardMHockey blueliner is #ECACHockey Defender of the Week! pic.twitter.com/EFSC4S2HpG

— ECAC Hockey (@ecachockey) January 30, 2023
Harvard's season could go for a while as they're one of the top teams in the country and a virtual lock for the NCAA tournament. That said, it should end in time for the Sharks to offer Thrun NHL games this season, which would allow him to burn the first year off of his entry-level contract and get him a step closer to restricted free agency for a contract outside of the entry-level system.
That is a really enticing chip that they can dangle in front of Thrun to get him to be part of their rebuilding process. It's probably the best negotiating ploy they have at this point.
There are very, very few times a drafted player has the sort of leverage Thrun does right now. The Sharks are going to offer a very good situation, but on the other side of the equation is basically picking where you go with a very attractive group of suitors. This is going to take
Now that the Sharks have made this move, it will be interesting to see if they or other teams attempt to hit this class of players on expiring contracts even harder. There are a few options worth looking at if they do.
Some of the other notable 2019 draftees with potential expiring rights (which we'll go into detail in an additional piece) include:
Aidan McDonough, C, Northeastern (Vancouver Canucks)
Erik Portillo, G, Michigan (Buffalo Sabres)
Massimo Rizzo, C, Denver (Carolina Hurricanes)
Carter Gylander, G, Colgate (Detroit Red Wings)
Ryan Johnson, D, Minnesota (Buffalo Sabres)