AHL - Eastern
AHL Skills Competition: Ethen Frank Sets Fastest Skater Record As East Wins
AHL Skills Competition: Ethen Frank Sets Fastest Skater Record As East Wins
Ethen Frank became the first AHL or NHL player to break 13 seconds in a fastest skater lap at the AHL All-Star Skills Competition.
Feb 6, 2023
by Chris Peters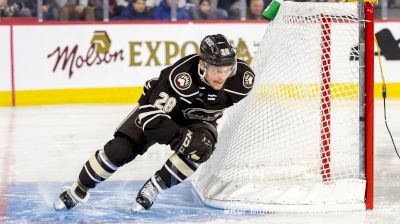 LAVAL, Quebec -- There is a new fastest skater in the hockey world, at least when it comes to skills competitions. Hershey Bears forward Ethen Frank set a new record in the fastest skater event at the AHL All-Star Skills Competition Sunday, becoming the first player in league history to break the 13-second mark.
Frank rounded the ice in a stunning 12.915 seconds, smashing the previous record held by Anthony Greco, who set the pace at 13.251 seconds in 2019.
"When I made it around the first turn and I didn't fall, I was pretty confident," Frank said. "I got some good speed going down the straight away. Then on the last turn, I just rode my edges hard, didn't really pick up any speed, but it went well. I was surprised."
Whoa.

ICYMI, @efrank_98 can FLY 🚀

It's a 🌟NEW LEAGUE RECORD!!!🌟#AHLAllStar pic.twitter.com/ilBDIVObPU

— Hershey Bears (@TheHersheyBears) February 5, 2023
To put it into further context, Frank is the first player in a skills competition at either the NHL or AHL level to break the 13-second mark. He would have won every fastest skater competition in the NHL's event as well, though the format has changed some over the years.
Frank is currently on an AHL-only contract with Hershey. He was among the top scorers in the NCAA last season, but did not manage to secure an NHL contract as an undrafted free agent. Hershey managed to snap him up at the end of last season and immediately inserted him into their lineup.
Now in his first full season in the AHL, the rookie forward from Papillon, Neb., has 37 points in 38 games. That puts hims second in rookie scoring, which is why he's here at the AHL All-Star Classic.
Though he has below-average size for the NHL, Frank's speed and scoring prowess could yet land him an NHL contract in the near future. It is something he's set his sights on.
"There's still some things I'm working on and want to get better at," Frank said when asked if he's thinking about getting a shot at the NHL eventually. "You're always thinking about the future and what's ahead of you. You have to keep that in the back of your head so you can stay focused and have a goal of working towards something."
Talking Hockey Sense: AHL All-Star Classic Preview
Frank wasn't the only player zooming around the Place Bell ice, Sunday night. Michael Carcone of the Tucson Roadrunners put in a time of 13.282, which would rank third all-time at this event, behind Frank and Greco. Right behind him was Anthony Richard, urged on by his hometown crowd as a member of the host Laval Rocket, who put together a run of 13.322 Sunday night, which would be good for fourth all-time at this event.
For context: https://t.co/t9K2ekoO7p pic.twitter.com/WsL6eBSnDv

— American Hockey League (@TheAHL) February 6, 2023
Among other highlights at the 2023 AHL All-Star Skills Competition, Darren Raddysh of the Syracuse Crunch won the hardest shot competition with 102 miles per hour on his second attempt after burning a 101.8 mile-per-hour slap shot on his first attempt. He was the only player to break the century mark, but was well short of the all-time record of 109.2 miles per hour set by Martin Frk in 2020.
Additionally, David Gust of the Rockford Ice Hogs hit four targets on four shots to win the accuracy shooting competition, becoming just the fourth player in AHL history to go four-for-four in the fan-favorite event.
Gusty hit us with his best shot(s) 🤩 pic.twitter.com/QZ3cZXGbha

— American Hockey League (@TheAHL) February 6, 2023
The biggest cheer of the night may have come when the young son of Syracuse Crunch captain Gabriel Dumont took his dad's place in the breakaway challenge and slipped a shot through San Diego Gulls goalie Lukas Dostal's legs. If that wasn't enough, the Mateo Dumont went ham on the celebration whipping the close to 9,000 fans in attendance into a frenzy.
That's #AHLAllStar Mateo Dumont to you. 🚨 pic.twitter.com/kVKuYCjxBH

— Syracuse Crunch (@SyracuseCrunch) February 6, 2023
Lastly, Toronto Marlies goalie Joseph Woll earned the award for the top-performing goaltender at the AHL Skill Competition after a top score in "Rapid Fire" where he stopped eight of 10 shots, stopped all three shots he faced in the pass-and-score event where goalies have to face a 3-on-0 from all-stars on the other team, and Woll stopped four of five shootout attempts.
Jesper Wallstedt Leads Top NHL Prospects Participating At AHL All-Star Skills Classic
The Eastern Conference earned a 16-10 victory in the skills competition ahead of Monday All-Star Classic, which will feature four teams in a 3-on-3 tournament, which will be streamed in full on AHLtv.