AHL - Eastern
AHL All-Star Classic: Jesper Wallstedt, David Jiricek Lead NHL Prospects
AHL All-Star Classic: Jesper Wallstedt, David Jiricek Lead NHL Prospects
Yaroslav Askarov and Lukas Reichel are also among litany of high-end NHL prospects participating in the AHL's All-Star festivities in Laval, Quebec.
Feb 2, 2023
by Chris Peters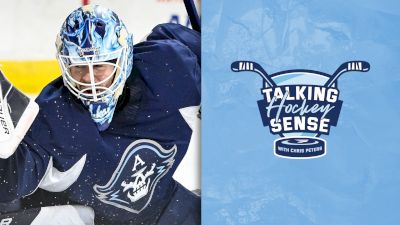 The AHL All-Star Classic is one of the more underrated prospect showcase events on the calendar, just in terms of the collection of talent it brings under one roof. That's especially true this year with a litany of high-end NHL prospects participating in the midseason showcase Sunday and Monday in Laval, Quebec.
More than 94% of all participants in this game have gone on to play in the NHL, with plenty of them going on to impact roles in the NHL and some even ascending to superstardom. Patrice Bergeron and Martin St. Louis are among some of the most notable former AHL All-Stars, but plenty more of today's current NHL players have been invited to this event in the past.
Can't make it to Laval this #AHLAllStar weekend? We've got you covered!

📝: https://t.co/KVxGHYggWE@Bell_FR | @banquemanuvie | @RocketLaval pic.twitter.com/oejZyKHGTa

— American Hockey League (@TheAHL) January 31, 2023
It's still an All-Star game, so it's not like we're going to be evaluating these players based on their performance at this event. Still, this pause in the season allows us to look back at the performances to date of some of the players that will be making their impact felt at the NHL level soon enough.
Since, I'll be heading to Laval for both the skills competition and All-Star tournament, this is the perfect chance to provide some updates on the participants that are among the brightest players not currently in the NHL, many of whom will end up pretty high on our end-of-season NHL-affiliated prospect rankings.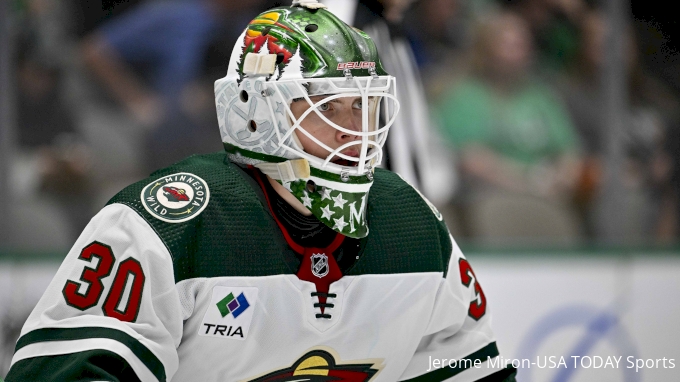 Jesper Wallstedt, G, Iowa Wild (MIN)
To me, he's the top goaltending prospect not currently playing in the NHL, Wallstedt is in his first season of pro hockey in North America after a strong career as a young pro in Sweden. Wallstedt is in the midst of the best stretch of his rookie season in the AHL. He has won each of his last eight starts which included a perfect January over which he went 6-0-0 with a .945 save percentage and one shutout en route to being named the AHL's goalie of the month. Over the full season, Wallstedt is 13-7-3 with a 2.59 goals-against average and .912 save percentage. He also scored a goal earlier this season.
JESPER WALLSTEDT GOALIE GOAL 🚨🚨🚨 pic.twitter.com/cKsPLRB4Jh

— American Hockey League (@TheAHL) November 13, 2022
He hadn't lit the league on fire to start the season, losing each of his first three starts while giving up 11 goals, but things have seemingly flipped for him since the New Year.
An especially polished goalie who is big in the net at 6-foot-3, 213 pounds, Wallstedt looks the modern goalie that so many teams covet. He has strong technique and doesn't get too wild in the net. He's capable of making the big save, but more often than not, he is going to be in the right position and make even the tougher saves look easy. He has all of the hallmarks of a future No. 1 in the NHL and is certainly the goalie of the future for Minnesota.
Talking Hockey Sense: Sebastian Cossa vs. Jesper Wallstedt Revisited
David Jiricek, D, Columbus Monsters (CBJ)
UPDATE Feb. 4 -- David Jiricek will be unavailable to participate in the AHL All-Star Game and has been replaced by teammate Jake Christiansen.
Selected sixth overall in 2022, Jiricek was my top-ranked defenseman heading into the last draft and, though he was taken second, he's done nothing to move me off of that position. In fact, Jiricek is making a stronger case in his first season as a pro in North America.
The 19-year-old blueliner has 21 points through 26 games with Cleveland, good for 0.81 points per game. That scoring rate has Jiricek tied with John Carlson for second all-time among U20 blueliners in AHL history (minimum 25 games). His offensive numbers have probably exceeded expectations, at least for this early stage of his young career.
Talk about a straight shooter.

David Jiricek (@monstershockey) scores his 5th of the season from the blue line in #UTCvsCLE. pic.twitter.com/79qdoMJt8N

— American Hockey League (@TheAHL) December 23, 2022
A true two-way defenseman who skates well, has a bomb of a shot and takes care of his own end well, Jiricek looks poised to be a full-time NHLer by next season, especially after already getting two NHL games this year with injury-depleted Columbus. Considering his excellent performance at the World Juniors last month and what he's shown so far, the early indications on Jiricek are extremely positive for a Columbus squad languishing in the league's basement this season.
Yaroslav Askarov, G, Milwaukee Admirals (NSH)
Askarov has been riding the wave a little bit this year as he continues to adjust to North American pro hockey after starting his pro career in Russia. Selected 11th overall in 2020, Askarov has battled some consistency issues in the last few years, but he's had flashes of the brilliance that made him the highest-drafted goalie in the previous decade. He has the size and quickness to be tough to score on, but plays a much wilder style than many of his peers. It has left him prone to losing his net at times.
Nashville should be thrilled he's in their system with much more say on his development and playing time after a couple years of bouncing around the various levels of Russian hockey. Stability is the best thing for the young netminder at this point.
Lukas Reichel, C, Rockford IceHogs (CHI)
Among the top 20 scorers in the AHL overall with 40 points in 40 games, Reichel ranks second to Calgary's Connor Zary in total points by a U23 player in the league. Having gotten a brief audition with the Hawks this season which included him scoring his first NHL goal and registering three points over four games, Reichel looks close to being a full-timer. Chicago wisely sent him back to Rockford to allow him to continue playing a prominent role in their offense and preparing to be a full-timer by next season for the rebuilding Blackhawks.
Lukas Reichel gave the @goicehogs a 4-3 OT win last night. He now has 36 points in 32 games this season. pic.twitter.com/m9l9xyHWD5

— American Hockey League (@TheAHL) January 4, 2023
Thomas Bordeleau, C, San Jose Barracuda (SJS)
The top goal scorer for the Barracuda so far this season and third among rookies, Bordeleau had made his name more as a playmaker than a scorer but he's found the back of the net 18 times. Bordeleau is still rounding out his game and adjusting to the pro game after a brilliant two-year career at Michigan that saw him make an impact at both ends of the ice. The good news for the Sharks is that his high-end skill and hockey sense are translating to points at the AHL level. He doesn't look terribly far from being able to help them at the NHL level.
Tyson Foerster, RW, Lehigh Valley Phantoms (PHI)
Having spent parts of the previous two seasons in the AHL, Foerster looks more like a pro now than he did before. He has 16 goals and 29 points in 42 games, which might be down a little from what's expected of him as a scorer. Skating still remains one of the pieces of Foerster's game that might hold him back a little more at the NHL level, but he gets where he needs to go, has the frame to make some plays down low and he's still got a tremendous shot that has him on pace for 27 goals this season at 21 years old.
Luke Evangelista, RW, Milwaukee Admirals (NSH)
A top-10 scorer among U23 players in the AHL at just 20 years old is a great spot for Evangelista to be in. He got a brief stint in the league in 2020-21 when the OHL was shut down, but as a full-timer he already has 31 points in 40 games for Milwaukee. Evangelista has always been a good complimentary player, but over the last two years has started driving things a little more on his own.
Luke Evangelista with the shootout winner secured a victory for the @mkeadmirals this afternoon in #MILvsMB. pic.twitter.com/sZSd7b2sLS

— American Hockey League (@TheAHL) December 1, 2022
Dustin Wolf, G, Calgary Wranglers (CGY)
The reigning AHL goalie of the year doesn't look ready to give up his crown. His numbers are actually better this year with a .928 save percentage to go along with a sparkling 25-5-1 record. No goaltender has appeared in more games than Wolf in the AHL as he looks more and more like he's going to prove doubters wrong and find his way to the NHL. As a junior goalie and professional, he has never had a save percentage below .920 over a full season.
Ryker Evans, D, Coachella Valley Firebirds (SEA)
The Seattle Kraken got questioned a bit for taking a re-entry defenseman 35th overall in 2021, but Evans has made them look pretty smart for taking a chance on him. After averaging nearly a point per game in his final year in the WHL in 2021-22, he's off to a hot start to his pro career with 24 points in 38 games in the AHL. Coachella Valley has been one of the big surprises in their expansion season with the best points percentage in the entire AHL. Evans has been a major contributor to that effort.
now we got a 2 point lead all thanks to Ryker Evans🔥 pic.twitter.com/elKQQW3oIp

— Coachella Valley Firebirds (@Firebirds) October 24, 2022
Joel Hofer, G, Springfield Thunderbirds (STL)
The St. Louis Blues have taken the extra-patient approach to Hofer's pro development and after a strong postseason performance last year, he's in the midst of his best season as a pro. Hofer has appeared in 29 games and owns a .918 save percentage. The former World Junior gold medalist has the size and the athleticism to be a contributor at the NHL level in the near future.
Talking Hockey Sense: AHL All-Star Classic Preview
Lukas Dostal, G, San Diego Gulls (ANA)
It's tough being a goaltender on a last-place team. The Gulls, like their parent club in Anaheim, have really struggled. Dostal, however, has done his best to keep his head above water, while facing the second most shots against of any goalie in the league and has been able to maintain a .910 save percentage.
Zac Jones, D, Hartford Wolf Pack (NYR)
Jones is still trying to find his way a little bit at the NHL level, but he's been very effective in the AHL. Now back with Hartford, he has 17 points in 25 games. His 0.68 points per game ranks fifth among U23 defensemen in the AHL.
Sammy Walker, C, Iowa Wild (MIN)
The former University of Minnesota captain has been thriving in the AHL this year with 20 goals and 39 points in 36 games with Iowa. Walker also got six games with the Minnesota Wild and notched his first NHL goal during that stint.
A Sammy Walker shorty ☺️@IAWild | #IAvsGR pic.twitter.com/O8aHWQ09DY

— American Hockey League (@TheAHL) January 14, 2023
Brandon Bussi, G, Providence Bruins (BOS)
Signed as a college free agent last spring out of Western Michigan, Bussi has bounced between the AHL and ECHL in a crowded crease within the Bruins system. However, over 19 games in the AHL, Bussi is the league's save percentage leader with a sparkling .934 mark to go along with a 13-2-4 record. The 6-foot-5 right-catching netminder has performed well above expectations in his first professional season and looks like he's giving himself a chance to one day be part of the Bruins' plans at the NHL level.
Jean-Luc Foudy, C, Colorado Eagles (COL)
Added as a replacement to this game, Foudy is in the midst of his best season as a pro. The former third-round pick of the Avalanche has 30 points in 34 games and even got nine games with the big club earlier this season. A gifted skater with good tenacity off the puck, Foudy is finding a way to carve out a role for himself at the next level.
Ruslan Iskhakov, LW, Bridgeport Islanders (NYI)
It has been an awfully winding path for Iskhakov who went from his native Russia to playing for UConn in the NCAA, then off to Finland and last year Germany before returning to North America to play in the AHL. He has 31 points in 40 games for Bridgeport, showing his high-end skill and creativity in the process. He was added to this game as a replacement.
The @AHLIslanders strike first in #HERvsBRI with a backhanded tally from Ruslan Iskhakov. pic.twitter.com/Lo3y36kel5

— American Hockey League (@TheAHL) December 10, 2022
Samuel Bolduc, D, Bridgeport Islanders (NYI)
UPDATE: Feb. 4 -- Samuel Bolduc will not be available to participate in the event and has been replaced by Lehigh Valley Phantoms defenseman Ronnie Attard (PHI).
When Bolduc was drafted 57th overall in 2019, the Isles had to know they were taking on a project. Bolduc's development was going to take a little while as an extremely athletic 6-foot-4 defenseman. This season, Bolduc has looked like he's starting to deliver on his immense upside. He has 26 points in 40 games so far this season, by far his best mark as a pro, and has even appeared in four games with the NHL Islanders as well.
Declan Chisholm, D, Manitoba Moose (WPG)
In his third AHL season, Chisholm is having his most productive campaign. With 30 points in 40 games, he's at least making a stronger case for himself to get promoted in the near future. He still needs to work on his defensive game, however, and with the Winnipeg Jets rolling, it might be harder to find spots. Either way, Chisholm is showing progression this year and was a worthy All Star add.