2023 IIHF World Junior Championship
2023 World Juniors: Quarterfinals Preview With X-Factors For Each Team
2023 World Juniors: Quarterfinals Preview With X-Factors For Each Team
Chris Peters breaks down the four quarterfinal matchups at the World Juniors.
Jan 1, 2023
by Chris Peters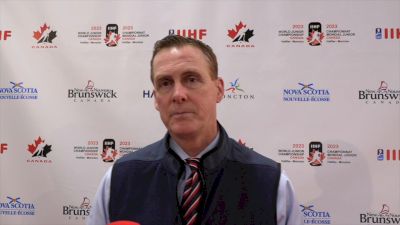 MONCTON, New Brunswick -- After one of the best and most chaotic preliminary rounds in recent memory, we've reached the quarterfinal stage of the World Junior Championship. The field was not decided until New Year's Eve and not until the final buzzer of the final game, but the eight teams still in the hunt for medals at this tournament know where they'll be Monday.
Czechia and the United States will enter the preliminary round as the No. 1 seeds from their respective groups, both by winning their final preliminary-round games. As a result, the Czechs will play fourth place from Group B, Switzerland, and the Americans will get Germany, the fourth-place team from Group A.
🎬 The 2022 #WorldJuniors Preliminary Round was action-packed and filled with fantastic moments 🏆🙌🏻 pic.twitter.com/ARGMGayT6j

— IIHF (@IIHFHockey) January 1, 2023
Rounding out the field is Canada playing Slovakia and one of international hockey's great rivalries will kick Monday's quarterfinal schedule off as Finland will meet Sweden in a mid-day game.
Additionally, Latvia and Austria will square off in a best-of-three games relegation round. The winner of that series will stay up in the top division for another year, while the other will be relegated to Division 1A for next year. Norway earned promotion in the Division 1A tournament last month and will replace the relegated team.
As we get set for the quarterfinals, here's a look at each matchup.
Finland vs. Sweden, 11 a.m. ET, Moncton
Perhaps the most intriguing quarterfinal on paper is the first one as it will be a border battle between Finland and Sweden. The Swedes had won each of their first three games, including an overtime winner against Czechia, but a regulation loss to Canada knocked them all the way back to third place. Finland, meanwhile, had a chance to win Group B, but found themselves with a similar scoreline against the United States to drop to second.
On paper, Sweden has the deeper team. They're more skilled up front, with a ton of forwards that can score. Defensively, they lack depth and it has clearly been a problem area against better teams. Meanwhile, goalie Carl Lindbom (VGK) has been a difference-maker in each of the games except the one against Canada.
For Finland, they don't have the same level of depth and consistent scoring has been an issue. They lost in OT to Switzerland and got rolled over by the U.S. They have some good weapons up front, mostly Joakim Kemell (NSH) who can seemingly score from anywhere. They've also gotten pretty solid goaltending out of Janne Lampinen, who has started two games.
Neither team has looked terribly impressive for long stretches of this tournament, which is why it isn't so surprising to see them in this position where they're left with a very challenging QF opponent.
X-Factor For Finland: Structure
Structure has always been the bread and butter of Finnish teams internationally. They have a commitment to defense and having all five skaters on the ice being part of it. That's going to be especially important against Sweden. They lost their structure against the U.S. and Sweden has a lot of players that can take advantage of mistakes. Finland can help their goalie out a lot by being disciplined and making it tough to get through the middle of the ice.
X-Factor For Sweden: Carl Lindbom
Carl Lindbom (VGK) has played every minute of every game in net for Sweden. Despite giving up five goals to Canada, he still has a .941 save percentage. He had allowed two goals through the three previous games he played in, both to Czechia. While two games were against Germany and Austria, Lindbom has earned his gaudy numbers. This is a continuation of how he's played in Sweden as well as Lindbom owns a .936 save percentage in the second-division Allsvenskan. He's been dialed in all year.
Carl Lindbom #VegasBorn #WorldJuniors2023 pic.twitter.com/tl7SIYGoyz

— Prodavid777 (@DavidPadovese) December 29, 2022
Czechia vs. Switzerland, 1:30 p.m. ET, Halifax
The Czechs started the tournament with a bang, upsetting Canada and announcing emphatically that they're on the hunt for medals at this tournament. The Swiss also started things off with a bang, beating Finland in overtime. Both of these teams won three of their four games which makes for a somewhat interesting stat line for a 1 vs. 4 matchup.
The Czechs certainly have depth on their side and their D corps is a huge separating factor for them in almost any game they play. That will be especially true here. Czechia also has a lot of confidence in its goaltender, Tomas Suchanek, who has played in every game so far.
The Swiss should be confident as well in Kevin Pasche, who was in the net for all three of their wins including a pair of shootout victories where he was brilliant. Where the Swiss are a bit different than the Czechs is that they don't quite have as many offensive weapons. That said, they do have enough to keep the opposition honest. They also have an excellent No. 1 defenseman in Lian Bichsel (DAL), who has played big minutes and impacted every game he's played in.
X-Factor For Czechia: Blue Line
Led by Stanislav Svozil (CBJ) and David Jiricek (CBJ), Czechia may have the best D corps in this tournament. When you add in a quality two-way player like David Spacek (MIN), who has been so impressive in this tournament, and more mobile players like Jiri Tichacek, Czechia is getting major contributions from its back end. Spacek and Svozil are leading the team with six points apiece, Jiricek has four and Tichacek has a pair of goals. With a D corps that is as involved in the offense as Czechia's, it makes them remarkably difficult to match up against.
THIS GAME IS TIED 🚨

Jiri Tichacek gets the equalizer for Czechia!#WorldJuniors pic.twitter.com/nRiOMLWikA

— TSN (@TSN_Sports) December 29, 2022
X-Factor For Switzerland: Attilio Biasca
The Swiss don't have a ton of high-end offensive weapons, but Biasca has looked like one in this tournament. The Halifax Mooseheads forward stands out in every game he plays. He has four points over four games, but he's a constant threat thanks to good puck skills and enough speed to keep defenders honest. He's made some of his team's best overall plays and they're going to need him to find a way to have his best game here. He's not the best player on his team as that would be Bichsel, but Biasca has been among its most impactful on a game-to-game basis.
A @QMJHL connection as Attilio Biasca finds Lorenzo Canonica! 🇨🇭 #WorldJuniors pic.twitter.com/8TUNrVKham

— Canadian Hockey League (@CHLHockey) December 31, 2022
USA vs. Germany, 4 p.m. ET, Moncton
After being humbled in a 6-3 loss to Slovakia, the U.S. appears to have received the message that they needed to play a heck of a lot better to have a chance. Convincing wins over Switzerland and Finland earned them the top seed and they'll take on a German team that had just one win over Austria and found themselves outscored 22-7 in preliminary-round play.
On paper, it's a pretty big mismatch, but Germany did manage to hold Sweden to just one goal in a preliminary-round matchup. If Germany were to win the game, however, it would go down as one of the biggest upsets in medal round history. I just don't see it happening here.
X-Factor For USA: Top Line Scoring
Scoring has not been a problem for the U.S. in the preliminary round. They're averaging nearly five goals per game and a lot of the damage is being done by their top line. Logan Cooley (ARI) and Jimmy Snuggerud (STL) lead the U.S. with seven points each, while linemate Cutter Gauthier (PHI) has collected five assists. I don't see any way that Germany can match up against this trio and have any success at slowing them down. USA's top line is fast, it's skilled and it's already heating up.
Snuggy on swivel 🚨#WorldJuniors | @JSnuggerud pic.twitter.com/whSC9XrPxj

— USA Hockey (@usahockey) December 31, 2022
X-Factor For Germany: Nikita Quapp
Germany's goaltender has had a game that he nearly stole for his team. Nikita Quapp (CAR) made 43 saves in a 1-0 loss to Sweden. Though he has a pair of losses on his ledger, Quapp has a stunning .951 save percentage while facing 103 shots on goal over three games. He's allowed only five goals against. Goaltending can be the difference in any game and Quapp has the ability to steal one. I don't think it's as likely against a team as deep as the U.S., but if they let him get into a rhythm in the game, it's going to be a lot harder to beat him.
Canada vs. Slovakia, 6:30 p.m. ET, Halifax
Canada may have started the tournament with a whimper in a 5-2 loss to Czechia, but they ended it with a loud roar. The Canadians scored 22 goals over the next three games and absolutely rolled through the remainder of the preliminary round to get second place in their group. Meanwhile, Slovakia started poorly, but managed wins over the U.S. and Latvia before a shootout loss to Switzerland meant finishing third in the group.
Slovakia has just enough to keep Canada honest in this game. With a No. 1 defenseman in Simon Nemec (NJD) and some offensive weapons led by Dalibor Dvorsky (2023) up front, they're not a team to be taken lightly. That said, Canada's depth and the ability to score in waves is going to be unlike anything Slovakia has seen in the tournament to date. It's hard to imagine a scenario in which the hosts don't win, but who would have picked Slovakia to beat the U.S. either?
X-Factor For Canada: Connor Bedard
The reason Canada has a chance in every game they play isn't because they're deeper than most other teams. That's a factor, sure, but they're the favorites because they have Connor Bedard and no one else does. Canada has scored 24 goals in this tournament and Bedard has been part of 18 of them. He has already tied Canadians scoring records and likely breaks them in this quarterfinal. He is a terrifying offensive presence in this tournament because he can beat you with his shot and when you're all concerned about his shot, he finds the best option for the best scoring chance just about every time. He's a special player with preternatural finishing ability. As long as he's on the ice, Canada has a great chance to score.
Connor Bedard scores from a ridiculous angle 😮#WorldJuniors pic.twitter.com/NRJ95HPajZ

— TSN (@TSN_Sports) December 30, 2022
X-Factor For Slovakia: Adam Gajan
No one knew who he was a few months ago, but the hockey world will have their eyes on him now. Gajan has been in net for each of Slovakia's last three games after being the last goalie added to the roster. He owns a .939 save percentage, stopping 93 of the 99 shots he's faced. Additionally, he was sharp in a shootout, allowing just two goals on 10 shots against. Slovakia has confidence in him and he's incredibly confident. The only way they have a chance is if he makes a whole heck of a lot of saves for them. If you want to learn more about his incredible underdog story, he was recently featured by FloHockey.
---
For more World Junior coverage, be sure to follow @chrismpeters on Twitter.