2023 IIHF World Junior Championship
2023 World Juniors: How Adam Gajan Came Out Of Nowhere To Star At WJC
2023 World Juniors: How Adam Gajan Came Out Of Nowhere To Star At WJC
Not on Slovakia's initial roster for the World Juniors, Adam Gajan has gone 2-0-1 with a win over USA and shutout against Latvia.
Dec 31, 2022
by Chris Peters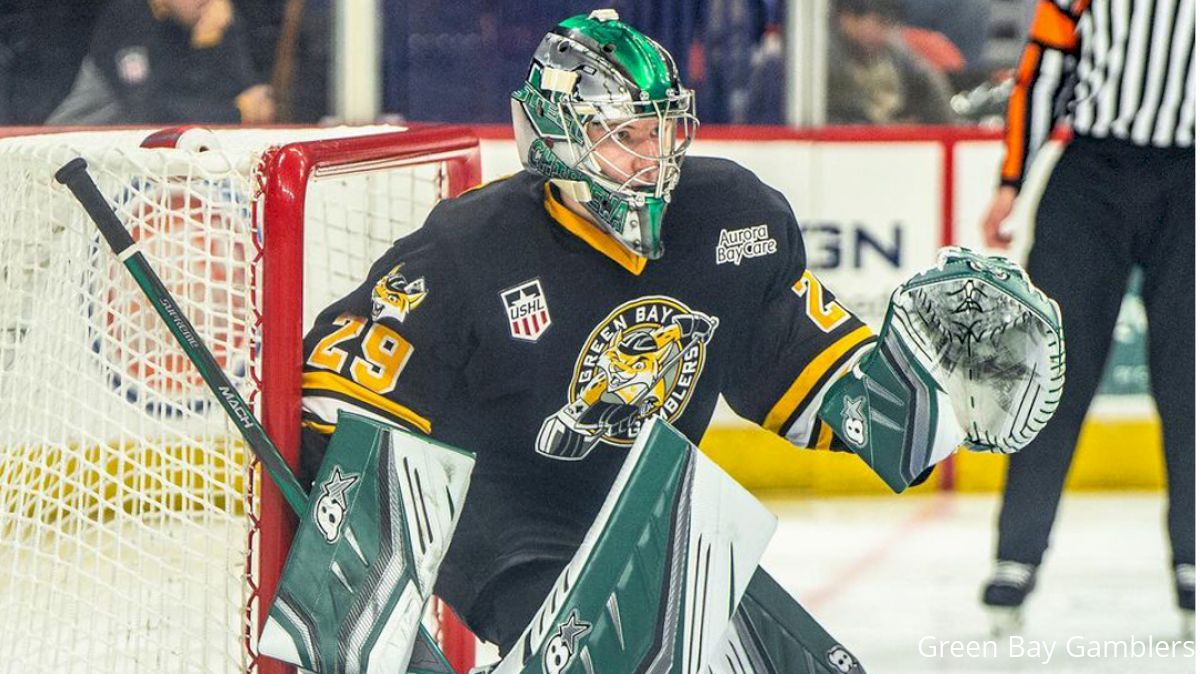 MONCTON, New Brunswick – Adam Gajan wasn't supposed to be here. When Team Slovakia announced their preliminary roster for the 2023 IIHF World Junior Championship, the 18-year-old from Poprad was not one of the three goaltenders listed.
Gajan didn't have much time to sulk about being passed over again. He was busy with a new opportunity in his first season in the United States as he had just been acquired from the NAHL's Chippewa Steel via loan by the Green Bay Gamblers in the USHL. Gajan made two starts for Green Bay in early December, including a 27-save shutout in his second career start. Not long after the game he got a message he dreamed of getting, but one he couldn't possibly have expected.
Slovakia's goalie coach texted Gajan soon after that game that they had a spot for him on the World Junior Roster.
"I flew out the next morning," Gajan said. "It all happened in like 24 hours."
As the last goalie in, not even named to the initial roster, there was no chance he was going to play, right? Not at the World Juniors. Not after never playing a game for the Slovakia national team in a major, or even minor international tournament. No chance.
When Slovakia lost their opener to Finland, Gajan was not even in uniform for that one. The other two goalies were, however. Patrik Andrisik started and allowed four goals on 15 shots. Matej Marinov fared a bit better, but still allowed a goal on eight shots against.
The next day the Slovaks faced a critical game against the United States. The first goalie on the lineup sheet: No. 30 GAJAN.
In hindsight, perhaps there was no better way to find out what you have in a relative unknown than by throwing him directly into the fire against one of the teams that was favored to win the group and a good bet to medal. If he loses, well that was the result that was expected. If he wins, maybe they had something.
Sixty minutes, 33 saves and a huge 6-3 victory over Team USA, Slovakia learned quickly they most definitely had something.
Adam Gajan made 14 saves in the third period, including these massive stops, to help propel Slovakia to a 6-3 win over Team USA! 🎥

Because of his efforts, Gajan was named Slovakia's IIHF Player of the Game! 🚧 pic.twitter.com/FL5oJYeGPe

— Chippewa Steel Hockey (@ChippewaSteel) December 29, 2022
"I was confident," said Gajan about his mindset going into the biggest game of his life to that point. "I knew I could play here. I didn't feel nerves. I felt great on the ice."
For his efforts against the U.S., Gajan was named player of the game.
With Slovakia facing yet another must-win game against a Latvia team that had given a few of the other teams in the group some fits, they went back to Gajan.
Adam Gajan playing outstanding yet again! What a stop on the breakaway! pic.twitter.com/ZrCgvT8AYS

— Chippewa Steel Hockey (@ChippewaSteel) December 30, 2022
The young goaltender rewarded his team's faith in him by turning in a 28-save shutout as Latvia made Slovakia work for their eventual 3-0 win.
He drew praise from 2022 first-round draft picks Simon Nemec (New Jersey Devils) and Filip Mesar (Montreal Canadiens) after both games, with both pointing to his being a big reason they won. Mesar always news his lifelong friend and fellow Poprad native had the ability, he just needed someone to give him a chance.
"I knew that he was really good, but he didn't make the team at 17 or 18," Mesar said. "Right now, everything is very good for him and that's how his career can start now. Great performance."
With Slovakia having a chance to win the group for the first time ever in Saturday's game against Switzerland, Gajan gave his best effort, but ultimately was out-dueled in an epic 10-round shootout. He still made 32 saves in the game including several key stops in overtime.
🇸🇰 @HockeySlovakia goalie Adam Gajan shuts down Lian Bichshel 🇨🇭 on a breakway in overtime🙅🏻‍♂️🥅‼️#SUISVK #WorldJuniors pic.twitter.com/dUTFIv6VcA

— IIHF (@IIHFHockey) December 31, 2022
Slovakia needed to win that game in regulation to have a shot at winning the group, but still have to feel like they have a chance in the quarterfinals now that they know they have a goalie. Gajan is 2-0-0-1 with a sparkling .934 save percentage through his first three career starts.
Gajan can hardly believe the ways his life has changed in the last half-year and certainly did not anticipate it would include a trip to the World Junior Championship. But it was actually the World Juniors that inspired his current career path and desire to explore playing college hockey in the United States.
"It was two years ago when the United States won the World Juniors and I saw that every player on that team was playing college hockey," Gajan recalled. "So I was thinking about it and decided two years ago that I wanted to play college hockey."
He spent last season playing in his native Slovakia, but desired transitioning to North America and if it was going to happen, the opportunity might have had to find him.
Enter Casey Mignone, head coach and general manager of the NAHL's Chippewa Steel. Mignone had been inserted as head coach just days before the 2021-22 season was to begin, leaving him little time to adjust his roster. But he set his sights on 2022-23 as a chance to start from scratch and build his team. What he really needed was a goaltender.
Having come from the St. Cloud Norsemen, also in the NAHL, that team had benefited from the services of Slovakia-born Tomas Bolo, who backstopped St. Cloud all the way to the Robertson Cup finals in the NAHL.
Mignone quickly got in touch with Frank Kollar, a longtime NHL scout of Slovak descent who resides in the U.S. and has often helped find North American opportunities for players from his home country. Mignone asked Kollar if he could find him another Bolo. After a while, Kollar gave him a name and a video that was nine minutes and 28 second long. The name was Adam Gajan and the video "enthralled" Mignone.
"It was 9:28 of a GoPro behind the net. I watched it 20 times in a row," Mignone said. "His movement, his athleticism, his grace. The goals against were on the video as well, which shows there's so much humility in his game and his persona. Everything everyone is seeing now [at the World Juniors] was evident."
A few days later, Mignone got Gajan on a Zoom call to get to learn more about him. By the time the Zoom call was over, there was not a lot left to think about.
"We got the video on May 10, we connected on Zoom on May 15 and committed to bringing him over here," Mignone said. "We said, 'If you want to come, we're bringing you over.'"
He did want to come over, so he did. By the end of training camp, Mignone knew the Steel had something special. But the rest of the hockey world hadn't found out yet.
By the end of the NAHL Showcase in Blaine, Minnesota, that kicks off the NAHL season and is a heavily scouted event, Mignone's office and phone was a revolving door of NCAA Division I coaches and USHL coaches that wanted to talk to Gajan. From unknown the week before, to one of the most hotly pursued recruits on the NCAA goalie recruiting trail is quite a turn.
"It's incredible to me, what he's doing and what he's done," said Mignone.
"After the Showcase in Blaine, he hasn't had a normal day in his life. Every Division I school in the country had interest, every USHL team called about acquiring him. The amount of stress he went through up until we sent him to Green Bay and even then, two weeks later he's at the World Juniors."
In 16 appearances with Chippewa, the 6-foot-3, 176-pound goalie went 8-7-1 and put up a .920 save percentage.
The whirlwind half-year also included Gajan taking an important step towards his desire to play college hockey in the United States in early December. The Slovak netminder made his verbal commitment to the University of Minnesota Duluth, which has been a regular national title contender over the last decade.
Green Bay was also successful in working out a temporary loan agreement to acquire Gajan around the same time.
"A year ago, nobody believed in me that I can play, even in the NAHL, to be the first goalie there," Gajan said. "So yeah, it was pretty crazy. Everything happened so fast."
This life-changing year hasn't changed the humility that Mignone saw from that very first video chat with the teenage netminder. Though he could have left Chippewa for a full-time opportunity in the USHL, he decided he wanted to stay. He'll play around 10 games with Green Bay before returning.
"He knows a lot of what's happened, the opportunity to come here and play here is what started this whirlwind," said Mignone. "He wants to finish his season with his teammates."
The whirlwind is not over, however. As Gajan noted, it's only halfway through the season. He hopes to return and help Chippewa this season, but now he's gotten himself more firmly on NHL Draft radars.
He had actually already earned a C-rating from NHL Central Scouting, just from his early performance this season. Now teams will be thinking less about if they should draft him and more about when.
Before he can get to any of that, he has more work to do in Canada. Slovakia is in the best position they've been in to medal since 2015 when they won bronze on the back of a largely unknown goalie named Denis Godla.
Gajan remembers watching that tournament with great interest and can't believe he's in that position now.
"It's pretty crazy," Gajan said. "Even a year ago, I was always setting my alarm for the middle of the night to for the games. And now I'm here. It's crazy."